Buffalo announced an iPod / storage dock, USB 3.0 ExpressCard and new dual-drive and Windows Storage Server NASes
The refreshed LinkStation Duo takes two easily-removable 3.5" SATA drives, configurable in RAID 0 and 1 and uses a Marvell Kirkwood processor that Buffalo says provides speeds up to 40 MB/s.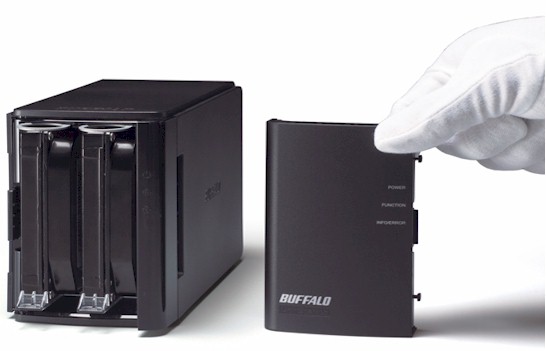 Features include UPnP AV / DLNA and iTunes media servers, backup to attached USB or other Buffalo NASes and Apple Time Machine backup support. Estimated street prices and capacites available are $259.99 for the 1TB (LS-WX1.0TL/R1 ), $339.99 for the 2TB (LS-WX2.0TL/R1) and $499.99 for the 4TB (LS-WX3.0TL/R1).
The Terastation WSS runs Windows Storage Server 2003 R2 Express Edition and is based on a new x86 hardware platform with four quick-swap 3.5" SATA drives. Aimed at business who prefer Windows Server, the WSS provides superior support for NTFS-formatted volumes with granular file permissions and best-in-class Active Directory support.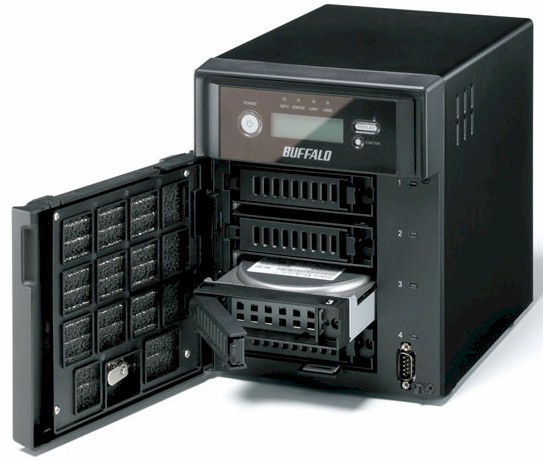 The TeraStation WSS is backed by a limited three-year warranty and will be available at estimated street prices of $1,599.99 for the 2TB (WS-Q2.0TL/R5 and $1,999.99 for the 4TB (WS-Q4.0TL/R5 $1,999.99).
The Buffalo Dualie is a combined storage and docking station for the Apple iPhone or iPod Touch with capability to sync, charge and transfer or back up files. It has both USB 2.0 and FireWire 800 ports on the included Mac-formatted 500 GB portable hard drive with a two-port USB 2.0 hub on the docking station. It is only available through Apple at an estimated street price of $249.99.
The new USB 3.0 ExpressCard accompanies Buffalo's DriveStation HD-HXU3 for a complete SuperSpeed storage solution. It supports transfer speeds of up to 5 Gbps on two USB 3.0 ports. It's available now at $59.99 street. The DriveStation USB 3.0 HD-HXU3 is also shipping at $199.99 for 1TB (HD-HX1.0TU3), $249.99 for 1.5TB (HD-HX1.5TU3) and $399.99 for 2.0TB (HD-HX2.0TU3).