Broadcom is already trying out a new moniker for its 802.11ac devices. And talking about Buffalo and NETGEAR's.ac plans.
Chipmaker Broadcom's announcement that it will be showing its "first family of IEEE 802.11ac chips" at CES next week introduced the term "5G Wi-Fi" to the wireless branding lexicon.
They've even got a nifty logo and website to help get out the word.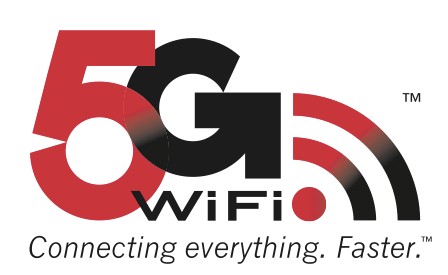 That website, however, has a link to a NETGEAR 802.11ac page and a December Verge article blabbing about its CES briefing invite for Buffalo's 802.11ac products. (Whatever happened to honoring embargo?) Gee, wonder whose chipsets those guys are using, or at least trying out.
Oh, yeah, back to Broadcom. They are introducing four devices supporting a mix of USB and PCIe interfaces. According to the table below from a nice Anandtech writeup, only one of the devices (BCM4360) will support the 1.3 Gbps link rate that will become the new Wi-Fi number to beat.

All devices, however, support the 80 MHz spectrum-hogging bandwidth that will at some point in the future make the 5 GHz band as starved for bandwidth as the 2.4 GHz band now is. At least 5 GHz signals will tend to not make it past your neighbors home's walls…