As usual, NETGEAR announced a handful of new hardware devices. But the big news is that it is launching a platform that will allow its new and future routers and media adapters to add new features via downloadable apps.
Cloud App Platform
The Smart Network Cloud Application Platform essentially brings an app system, similar to the one currently found in NETGEAR's ReadyNAS network storage appliances, to NETGEAR routers, media players and "future products". App-enabled devices will get an AppManager/dashboard that shows available apps and manages their download and purchase.
The company said apps can add media, gaming, security and "smart home" control features. Examples cited were controlling WiFi thermostats, enhanced media streaming performance, printer sharing, cloud printing and image hosting/sharing.
The platform doesn't use iOS or Android apps and will be hosted by NETGEAR. To grow the app list in a hurry, NETGEAR also announced that it will release an SDK based on an XML API. Details weren't discussed in the announcement. But if you want in, you can apply to the Early Access Program at www.netgear.com/smartnetwork.
Routers
The availability of the new app platform is somewhat, uh, cloudy, since it was not mentioned in the announcement of the new WNDR4700 Media Storage Router. This is basically the simultaneous dual-band three-stream N WNDR4500 in a stand-up/lean-back case reminiscent of D-Link's DIR-685 and ASUS' "Black Diamond" RT-N56U.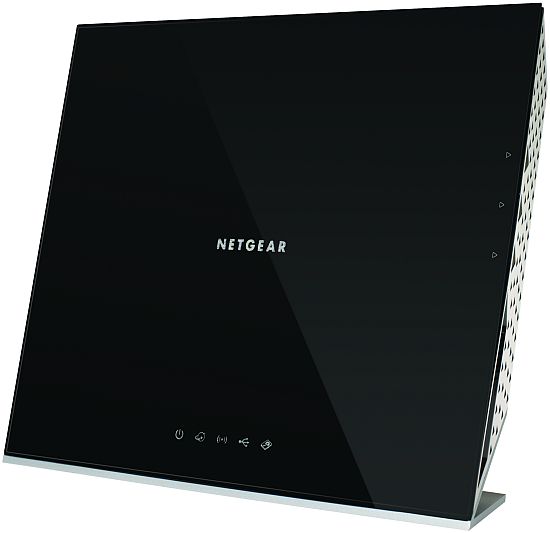 WNDR4700 Media Storage Router
The WNDR4700 has Gigabit Ethernet WAN (1) and switched LAN ports (4), 2 TB hard drive snuggled inside and includes two USB 3.0 ports if you want to add more storage. As near as we can tell, features are the same as the WNDR4500. This means READYSHARE Vault/Apple Time Machine support for file sharing and backup, READYSHARE Cloud remote access, READYSHARE printer sharing to Windows and Mac OS clients, wireless guest network support on both bands, UPnP AV/DLNA media serving, Open-DNS based Parental controls and Internet usage meter.
You won't see the 4700 until "summer" (later vs. sooner, we're assuming) and you'll also need to wait until then to learn the price. At least you can check out its product page now.
The only other router announced is the DGND4000 N750 Wireless Dual Band Gigabit DSL Modem Router. You can think of this one as a WNDR4000 (simultaneous dual-band w/three stream N on 5 GHz only) with built-in DSL modem. This one didn't rate its own announcement, but we did get a picture.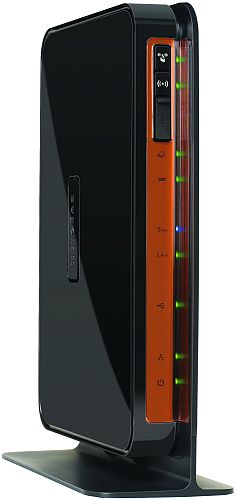 DGND4000 N750 Wireless Dual Band Gigabit DSL Modem Router
Adapters/Extenders
NETGEAR's announcements seem less about routers and more focused on things that connect to them and extend their reach. First up is the WN2500RP Universal Dual-Band WiFi Range Extender. This is the first wireless range extender to support both bands simultaneously. So, yep, that means two radios so that you don't have to choose which band you want to extend.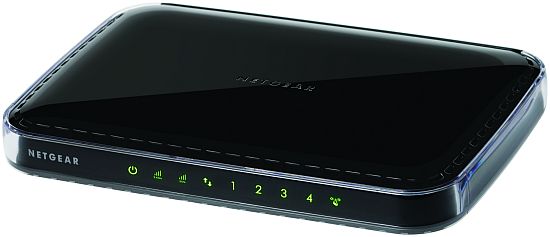 WN2500RP Universal Dual-Band WiFi Range Extender
This won't make deciding where to place the WN2500RP any easier. Due to the marked difference between 2.4 and 5 GHz range, if you really want to extend both bands, you'll end up with less 2.4 GHz range extension.
NETGEAR says FastLane Technology provides a "performance optimized operating mode" for HD video streaming and online gaming. You also can use the box as a bridge and connect up to four Ethernet devices via its built-in 10/100 (not Gigabit) switch. Before you ask, NETGEAR said that the extender cannot bond the two radios into one honkin' 900 Mbps link rate connection. But you can use one radio for backhaul and the other for client connection and avoid the 50% throughput penalty you get with single-radio repeaters. The WN2500RP is said to be shipping now and has a surprisingly low MSRP of $89.99.
For your connectivity flexibility pleasure, NETGEAR has added the XAVB5101 Powerline Nano 500 and WNCE4004 N900 Video and Gaming 4-Port WiFi Adapter. The Nano seems to be following TRENDnet's lead and is just a more compact version of NETGEAR's full-sized 500 Mbps HomePlug AV powerline adapter, the XAVB5001. No switch is built-in; there is only one Gigabit Ethernet port. The Powerline 500 Nano will be available this quarter for $119.99.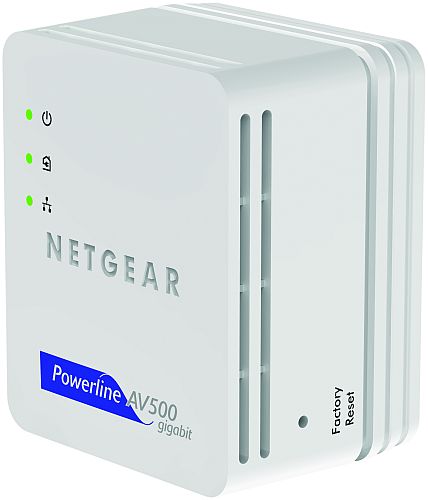 XAVB5101 Powerline Nano 500
If connecting via wireless is more to your taste, you'll have a longer wait for the new WNCE4004 N900 Video and Gaming 4-Port WiFi Adapter. What's clear is that it supports three stream N on both bands (hence, the "N900" moniker), but not at the same time. NETGEAR also confirmed that the ports are 10/100, not Gigabit. The WNCE4004 doesn't ship until this "summer", but NETGEAR says it will list for $79.99 when it does.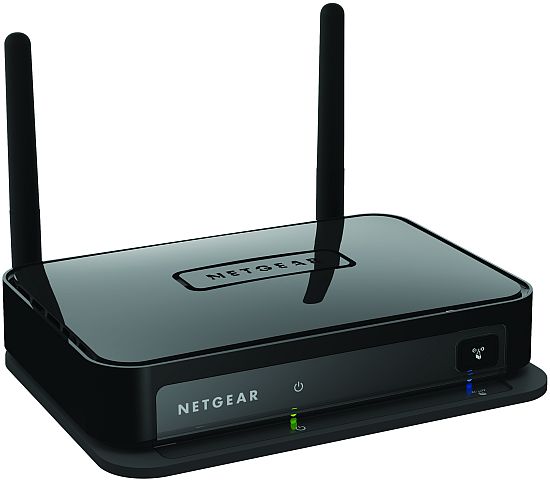 WNCE4004 N900 Video and Gaming 4-Port WiFi Adapter
Odds and Ends
NETGEAR isn't making that big a deal of its 802.11ac plans, at least not publicly. I'll be meeting with them on Wednesday and may have more to report then. All the press release says is that "NETGEAR will also introduce new wireless network devices based on the upcoming IEEE 802.11ac WiFi standard" and includes a link to the website that Broadcom also links to on its 5G WiFi page.
The main question for all the CES 802.11ac introductions is whether companies will be showing empty boxes, technology demos or prototype products. Broadcom will probably be demoing its devices in private meetings, while TRENDnet is showing only non-functioning prototypes. I'll have to wait to see if NETGEAR and Buffalo show anything.
NETGEAR's main show release includes a few other tidbits:
The NETGEAR Genie application, originally introduced as a desktop application for PCs and Macs will be available as a smartphone and tablet app.
Hulu Plus will be available on all NeoTV Streaming Players. (According to NETGEAR, only the NTV200 firmware upgrade goes live today.)
Intel Wireless Display technology (WiDi) will be added to future NeoTV streaming players. WiDi wirelessly connects Intel-based notebooks to HD TV's