Updated 1/19/2012 – Corrected Buffalo demo information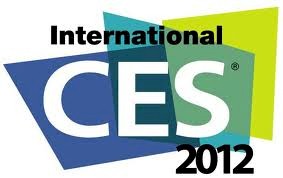 CES 2012 is now in the history books. The CEA says it was the largest show yet, measured in square feet sold. It sure didn't seem like it, though, with lots of unused space in the LVCC. The CEA must be including hotel suites in its calculation…
If you've read other coverage, you know that there were no blockbuster products introduced at the show. David Pogue did a good job of hitting the highlights and trends, so I won't repeat his observations. Suffice it to say that some CE manufacturers (LG most notably) are still trying to get us to buy 3D sets. But the more potentially successful come-on is the encouragement to trade up to larger sets, driven by thinner bezels that provide more image for a given set size. For styling, I really like the look of some of Panasonic's 2012 sets, which are almost edge-to-edge glass with virtually no bezel/frame.
Tablets abounded. But aside from faster processors, bigger (or smaller) screens and the move toward lower prices by lesserknown brands, there isn't much else to say about the category. But bigger names selling thinner large-screen tablets, like Toshiba with its Excite X10, are still trying to get at least $500 for entry-level models.
Wi-Fi Direct and Display
I've been bemoaning the lack of products supporting Wi-Fi Direct for about a year now. The Wi-Fi Alliance reminded me that over 400 products have been Wi-Fi Direct Certified, which its database confirms. Perusing that list shows a mix of internal adapters, TVs, smartphones and even air conditioners! I recently picked up an HP Wi-Fi Mouse and it connected up to my Lenovo x220i with Intel 6300 Centrino wireless nice and easy.
But I've been waiting for the equivalent of Apple's AirPlay and Intel's proprietary Wireless Display (WiDi) for mobile devices that don't have Intel wireless inside. It looks like that could happen this year with the Alliance's rollout of its Wi-Fi Display (WFD) Certification program around mid-year.
Right now, Wi-Fi Display and Intel's WiDi (Intel doesn't really like that name, I'm told, since it sounds like Wireless Dying…) are not interoperable. However, NETGEAR said to expect that Intel will play nice and update WiDi to fix this once the Alliance starts certifying Wi-Fi Display products. So, depending on timing, the combination NeoTV streaming player and WiDi adapter that NETGEAR announced at CES will either ship supporting WFD or be upgraded to support it.
I haven't paid much attention to NETGEAR's current "Push2TV WiDi adapters, because I don't like the idea of an Intel-only platform and wasn't going to rush out to buy a new notebook to test it. But the Lenovo X220i I ended up buying to test three-stream N apparently will support WiDi. So I asked NETGEAR to send me an adapter so that I can see what content owners won't let it send to a big screen.
Apple's AirPlay has so far proved to be a bad joke, since there is practically no video, besides YouTube, that content owners allow to be AirPlayed. So the Apple TV 2 I bought when I was trying to dump DirecTV continues to sit gathering dust on my desk.
You may already know this, but I learned that Wi-Fi Direct is supported in Android 4.0 Ice Cream Sandwich. So I hope that ICS devices will also be upgraded to support WFD, once the Certification program is ready.
Cloudy With A Chance of Intelligence
As predicted in our show preview, app-based routers made their appearance. Both D-Link and NETGEAR announced initiatives focused on making routers do more than share internet connections and, in some cases, USB drives and printers.
D-Link's Cloud Services are closer to reality, perhaps because the company's myDlink.com portal has been hosting its IP cameras for a few years. The iPad app I saw demoed (also available on Android) could do a few tricks, such as let you see if any parental control alerts had been triggered and shut off little Susie's internet access if she was supposed to be doing her homework instead of Facebooking. We should be able to test this soon, since both the low-priced DIR-605L Cloud Router and long-awaited DIR-857 will be available shortly and both support myCloud.
NETGEAR's Smart Network Cloud Application Platform may be more intelligent than D-Link's, but it is further away. Although NETGEAR announced its larger-than-I-thought-it-would-be WNDR4700, it didn't really make clear in its announcements or press conference whether the 4700 would be a smarty-router.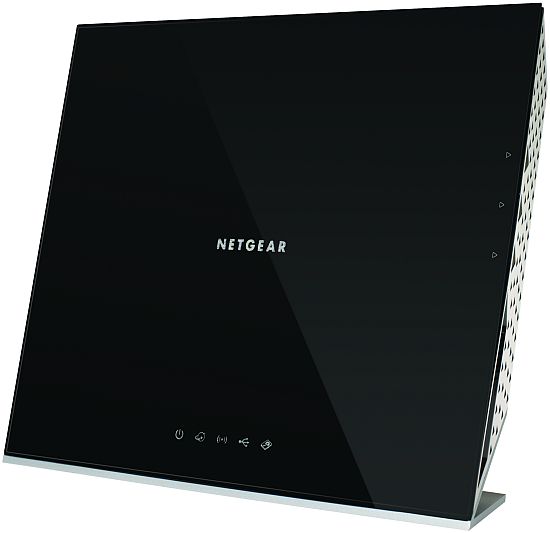 NETGEAR WNDR4700 Media Storage Router
However, in my visit to NETGEAR's suite, I learned that routers with 128 MB of flash and up will be lit up with Smart Network apps, once they become available. Right now, this includes the new WNDR4700, WNDR4500 and WNDR3500L V2. I think the 128 MB of flash is a good clue for other routers, too. By the way, one detail I didn't note in the NETGEAR announcement story is that the WNDR4700 is that takes a full-sized 3.5″ SATA drive.
NETGEAR's main reason for going public with its Smart Network plans at this point is to recruit developers. If you're interested, go here to apply. Given the small size of the customer base compared to iOS and Android, I'd say all the networking companies are going to have a tough time attracting developers.
Just like last year, Cisco didn't announce anything at CES. I did get an NDA briefing, however, and think you won't be disappointed with what the company has planned.
802.11ac
The market hasn't really had time to absorb three-stream "450 Mbps" Wi-Fi products and they are already on their way to being obsoleted. Consumer router manufacturers are hell-bent on slapping a "1350 Mbps" sticker on product boxes in time for the 2012 holiday shopping season. Draft ac products might even be on shelves in time for back-to-school buying, but I think that's a stretch.
Buffalo did have a public demo of 802.11ac that included empty cases of one its concepts for the XXXX ac router it announced. The demo itself was run with Broadcom PCI-e modules in open motherboards with cables connecting the two modules. The photo below from The Verge's coverage tells the story.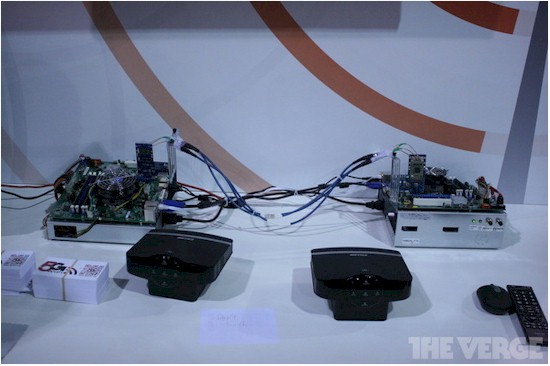 I asked Buffalo how many concurrent data streams were used in the demo to get the ~800 Mbps of total throughput shown on the demo's "speedometer" display and haven't yet gotten an answer. It's a safe bet, though, that it is more than one. It usually takes four concurrent IxChariot streams to produce the highest total throughput when testing 802.11n gear. Buffalo said it used one stream in the demo.
Even though the two boards were cabled together to minimize interference from the hellish RF environment that comes with CES, Buffalo's demo is a fair one for what it demonstrates, i.e. very close-range performance with a matched pair of boards with little RF or Wi-Fi interference. We'll have to wait until near the end of this year to see what you can really get in open-air testing with real product.
Just remember that 802.11ac is going to knock the eight non-overlapping 5 GHz band channels you get on a typical router down to two, because each 802.11ac "channel" uses four 5 GHz band channels. And there is no magic in 802.11ac that is going to appreciably improve range. Let's also hope that manufacturers ship 11ac bridges or at least USB 3.0 adapters along with the routers so that you can actually access all that wonderful higher throughput goodness.
In other 802.11ac news, I met with Quantenna.This is the company with 4×4 MIMO technology that is inside NETGEAR's WNHDB3004 5 GHz bridge [reviewed] introduced two years ago. They have been busy working with service providers since then, leaving the retail networking market alone.
Quantenna is readying an 802.11ac chipset based on its 4×4 technology, but didn't offer any information about design wins. I did learn that a rev of the NETGEAR bridge should be out later this year, with hopefully improved performance from a third-generation chipset.
My sit-down with Qualcomm Atheros didn't yield any 802.11ac information. All I received a briefing on was the company's Wi-Fi Display plans.
Satellite Broadband
I was impressed by my demo of ViaSat's Exede satellite Internet service. Satellite has always been a choice-of-last-resort given its high price, low speed and high latency. ViaSat's new ViaSat-1 satellite changes all that, enabling a 12 Mbps down / 3 Mbps up service starting at $50/month.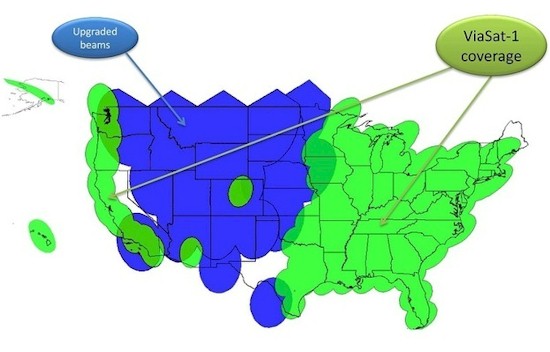 ViaSat Exede satellite Internet coverage map
I was expecting to be disappointed by the demo, but was pleasantly impressed. Web page loads were fast and an HD YouTube Star Trek trailer played clearly and without a glitch. Even the brief Skype call to ViaSat's NOC had both clear audio and video and no more lag than I get with my 5 Mbps / 768 Kbps DSL connection.
The catch is that the service is metered with 7.5, 15 and 25 GB monthly plans that cost $50, $80 and $130 respectively. Installation is around $150 and there is a two-year service commitment. And, of course, if you're a gamer, this isn't for you, given the high latency. Still, if your current broadband isn't making you happy and you have a clear view of the southern sky, Exede might be for you. Check out Sean Gallagher's Ars' article if you'd like more background.
Other Stuff
QNAP – Their announcement of a new series of NASes powered by a new Atom chipset turns out to be a bit premature, since the specific chipset is still undecided. The posters on the booth wall touted the TS-X69 series. Tucked into the announcement was a mention of the JB-1200U-RP expansion cabinet for the TS-x79 series.
IP Cameras – It seems like small 720p HD networked cameras were everywhere. What sets DropCam HD apart is its small size, built-in two-way audio and IR illumination and no-computer-required setup and cloud-based management.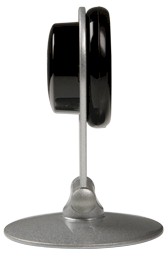 Dropcam HD
Recording (or as Dropcam calls it, "DVR") costs extra, though. Seven day recording for one camera costs $9.95/month for the first Dropcam and $4.95/month for each additional. Thirty day recording runs $29.95/month for one camera and $14.95/month for each additional. (Yearly discounts are available). There is no option to record to your own device or any other cloud service. We've got one on preorder to review over on SmallCloudBuilder when it ships at the end of this month.
Home Control – In addition to its "N900" router, Belkin also unveiled its rebranding and new logo and WeMo home automation line. The first two products are the Home Control Switch (F7C027fc) for $49.99 and Motion Sensor (F7C028fc) for $59.99 (both MSRP), which start shipping in March. Upcoming products include a baby monitor, garage door opener and door lock. The WeMo's all communicate via ZigBee wireless and, of course, will have an iOS app (no Android) to talk to.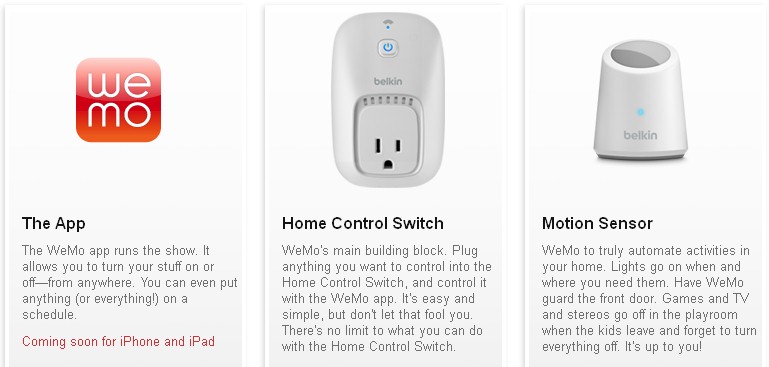 Belkin WeMo
In other home automation news, ThinkEco's modlet that I've been trying to get hold of since I saw it at CES 2010 is finally available to the public after being trialed with a few power companies. You can get it right now only from BestBuy online for $50, which is where our review unit is coming from. This one also is Zigbee based, and lets you track power usage of whatever it's plugged into in addition to letting you control it.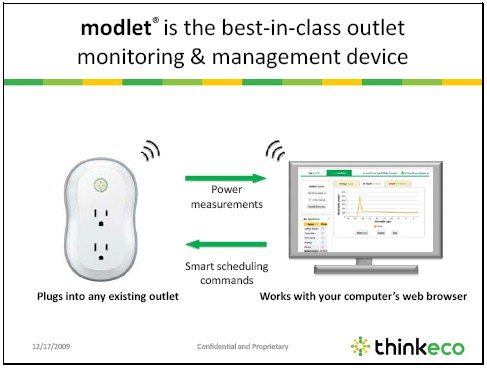 thinkeco's modlet
AirStash – The Maxell stand in North Hall had a small crowd checking out its AirStash
wireless storage expansion flash drive. The new "A02" model has a USB 2.0 port, built-in 802.11b/g/n AP and SD card slot. It also includes a built-in web interface, media server and WebDAV server and an app that lets you read and write files to the places where Apple lets you go in its locked-down iOS.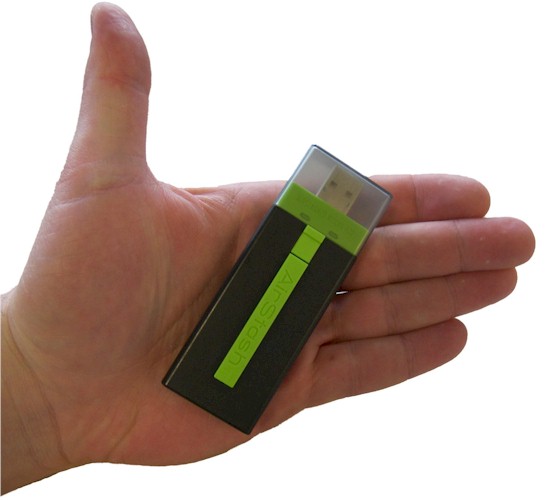 Maxell AirStash A02
There are two models that only differ in the bundled SD card: 8 GB for $150

; 16 GB for $180

. You can get both at Amazon now.
MoCA 2.0 – Entropic was featuring MoCA 2.0 products at its booth, where I spied a NETGEAR MoCA 2.0 bridge. But I couldn't get any information on ship dates or pricing from NETGEAR. So MoCA fans waiting to get hold of 2.0's higher throughput may have a long wait.