Belkin has refreshed its draft 802.11ac routers and added a USB 3.0 adapter.
Belkin announced two new draft 11ac routers. The configurations and specs of the AC1800 DB Wireless Router (F9K1118) and AC750 DB Wireless Router (F9K1116) are familiar enough by now.
The AC1800 version has Gigabit Ethernet ports and two USB 2.0 ports for storage sharing. Belkin didn't say what flavor ports the AC750 has, but given its single USB 2.0 port and aggressive price point, we're guessing they are 10/100.
Belkin is hoping to rise above the growing draft 11ac masses by endowing its routers with IPv6 support, "IntelliStream QoS", Parental Control powered by Norton and media serving and viewing from MyTwonky. There is also Simple Start, a browser-based setup interface that eliminates the need for an installation CD.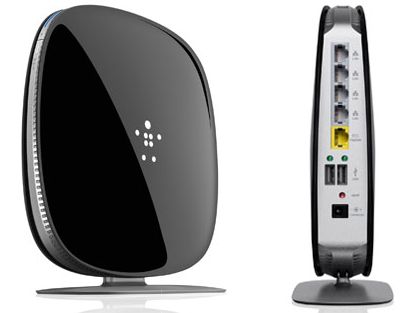 Belkin AC1800 DB Wireless Router
The company is also attempting to differentiate itself in another, but not so good way. The router's "AC1800" designation breaks from the almost-standard convention that other draft 11ac product makers have adopted. With maximum link rates of 300 Mbps on 2.4GHz band + 1.3 Gbps on 5GHz band, the "AC1800" would normally be id'd as an "AC1600" as shown in our handy table below.
Designation
2.4 GHz N Radio
Maximum Link Rate (Mbps)
5 GHz AC Radio
Maximum Link Rate (Mbps)
AC1750
450
1300
AC1600
300
1300
AC1300
450
866/867
AC1200
300
866/867
AC750
300
433
AC580
150
433
Table 1: Draft 802.11ac router type decoder
Oddly, the AC750 moniker is correct, since it has maximum link rates of 300 Mbps on the 2.4 GHz band + 433 Mbps on 5GHz.
The AC1800 DB Wireless Router is available now for $179.99 and the AC750 will be shipping later this month for $89.99 (both prices are MSRP).
To handle the other end of the connection, Belkin also introduced the AC Wi-Fi Dual-Band USB Adapter (F9L1106), MSRP'd at $69.99. It's a 2X2 adapter that connects via USB 3.0, same as the TEW-805UB that TRENDnet just announced. Also like the TRENDnet, it maximum links at 867 Mbps for 5 GHz and 300 Mbps for 2.4 GHz. But unlike TRENDnet's, Belkin's says its adapter is available now.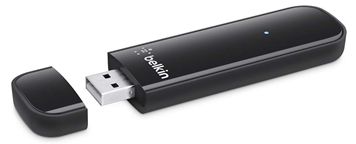 Belkin AC Wi-Fi Dual-Band USB Adapter