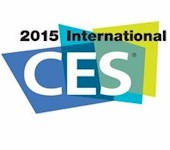 Updated – D-Link unveiled new AC routers, including a ludicrous speed model, powerline and connected home products and yes, more baby cams at CES 2015.
Wi-Fi
We all know by now the "big number" game that wireless router makers play. But with its new ULTRA Performance Series of 11AC Wi-Fi Routers and Adapters, D-Link may have finally jumped the shark.
The slightly menacing-looking lineup includes the top-of-line AC5300 ULTRA Wi-Fi Router (DIR-895L/R), AC3200 ULTRA Wi-Fi Router (DIR-890L/R) and AC3100 ULTRA Wi-Fi Router (DIR-885L/R). All have Gigabit Ethernet ports, an " advanced" QoS engine with a drag-and-drop UI and can be set up using smartphone or tablet using a free app. But D-Link's release didn't talk about USB ports, router features or the chipsets that lie beneath the Ultras' red hoods.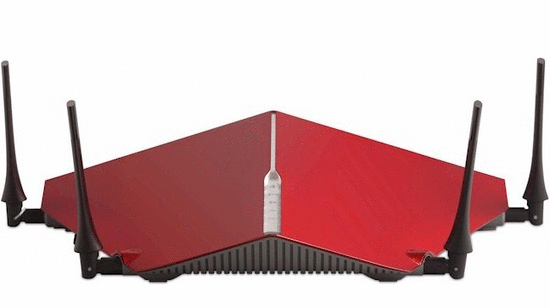 D-Link Ultra Routers
Here how D-Link parses the link rates:
| | DIR-895L | DIR-890L | DIR-885L |
| --- | --- | --- | --- |
| Class | AC5300 | AC3200 | AC3100 |
| # of Antennas | 8 | 6 | 4 |
| Max Link Rates | Up to 2165 Mbps on both 5 GHz bands and 1000 Mbps on 2.4 GHz | Up to 1300 Mbps on both 5 GHz bands and 600 Mbps on 2.4 GHz | Up to 2165 Mbps on 5 GHz and 1000 Mbps on 2.4 GHz |
| MU-MIMO | Yes | No | Yes |
The DIR-890L appears to be a standard AC3200 Broadcom XStream design, so no mystery there. But I have no idea where the 2165 Mbps 5 GHz and 1000 Mbps 2.4 GHz rates come from, since the 802.11n/ac MCS tables top out at 1733 Mbps for 80 MHz bandwidth and jump to 3466.7 for the highly unlikely use of 160 MHz channels.
1/5/2015 update: Looks like my Broadcom hunch was right.
At any rate, the DIR-895L looks very much like a Broadcom XStream kinda design, given its dual 5 GHz radios and eight antennas. Broadcom has a penchant for pushing the Wi-Fi envelope (remember they came up with TurboQAM that pushed 2.4 GHz link rates to 600 Mbps). So I wouldn't be surprised if the DIR-895L and DIR-885L were the first sign of a design based on a new Broadcom 4×4 MU-MIMO AC chipset with something, uh, creative, baked in.
Wi-Fi tweakers constantly bemoan the dearth of wireless adapters that can run with the faster routers. So D-Link is throwing this crowd a bit of a bone with its DWA-192 AC1900 Wi-Fi USB Adapter. While it's not that portable, it will be the only USB (3.0) connected 3×3 AC1900 adapter out there when it ships in Q2 2015 at a T.B.D. price. (The world still awaits ASUS' 4×4 EA-AC87, even though it's an Ethernet-connected bridge.)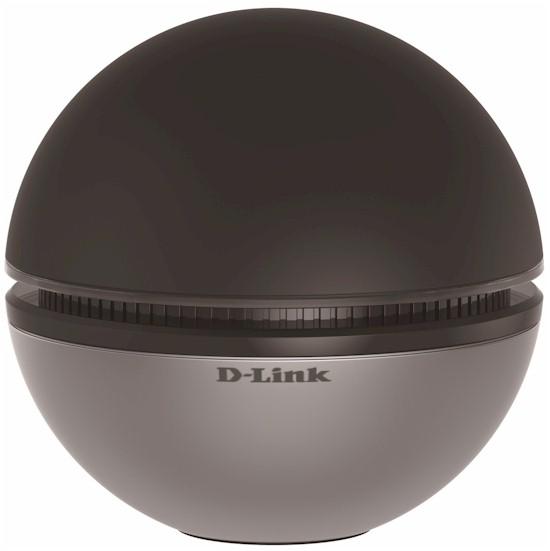 D-Link DWA-192 AC1900 Wi-Fi USB Adapter
Powerline
There must be something in D-Link's water supply, because they have come up with another big number to woo gullible consumers. The DHP-701AV PowerLine AV2 2000 Gigabit Starter Kit sets a new high in the HomePlug AV2 inflated spec game touting "speeds of up to 2000 Mbps". It's an AV2 MIMO adapter that likely uses the 1.5 Gbps HomePlug AV2 profile, since that's the highest available.
The DHP-601AV PowerLine AV2 1000 Gigabit Starter Kit is an AV2 SISO adapter, most likely using the AV2 750 Mbps SISO profile, like ZyXEL's PLA5206KIT [reviewed] that also says it's a "1000 Mbps" adapter.
Both have single Gigabit Ethernet ports, support power save mode and standard HomePlug 128-bit AES Link Encryption. The DHP-701AV and DHP-601AV will hit stores this quarter for MSRPs of $129.99 and $79.99 respectively.
D-Link DHP-601AV & DHP-701AV Gigabit powerline adapters
Home Automation & Security
The CE world continues to look for its next big thing and Home Automation / Control seems to have found its way into the spotlight. D-Link appears to be looking to grab a good slab of the HA pie with its Z-wave based mydlink Home line.
The line consists of the DCH-G020 Connected Home Hub and four companion Z-Wave devices; open/close (DCH-Z110), motion (DCH-Z120) and water (DCH-S160) sensors, and siren (DCH-S220). Like other HA hubs, the DCH-G020 plugs into an existing router to talk to its Z-wave devices and is managed via iOS and Android apps.
The motion and open/close sensors each run on a battery and send push notifications on trigger events. Both have temperature monitors and an LED that lights when the sensor is triggered. The open/close sensor's battery life is spec'd for up to 3.5 years and the motion sensor for up to 2 years.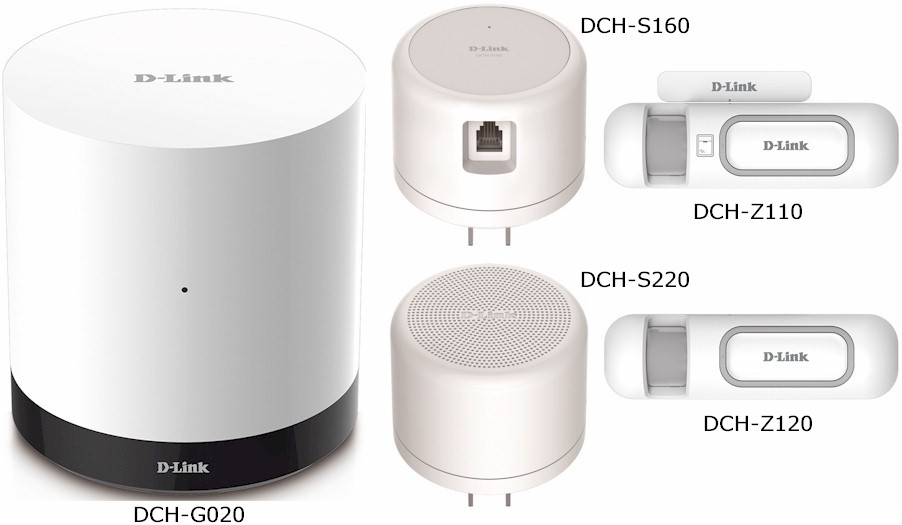 mydlink Connected Home line
The water sensor is AC powered and has a "cable" that can extend to the floor and be wrapped around pipes. The mdlink Home app controls everything and supports extended rule creation that can activate the siren or turn on/off devices using D-Link's Wi-Fi Smart Plugs.
Everything is supposed to be available next quarter (Q2 2015) with MSRPs listed below
mydlink Connected Home Hub (DCH-G020) – $79.99
mydlink Z-Wave Open & Close Sensor (DCH-Z110) – $39.99
mydlink Z-Wave Motion Sensor (DCH-Z120) – $49.99
mydlink Wi-Fi Water Sensor (DCH-S160)- $59.99
mydlink Wi-Fi Siren (DCH-S220) – $49.99
You'll want to protect your "connected" home, so D-Link has you covered with the introduction of two security kits. The DCH-101KT D.I.Y. Security Kit – HD Edition and DCH-301KT D.I.Y. Security Kit – HD Pan & Tilt Edition bundle a network camera, Wi-Fi Smart Plug and Wi-Fi Motion Sensor for your protection pleasure.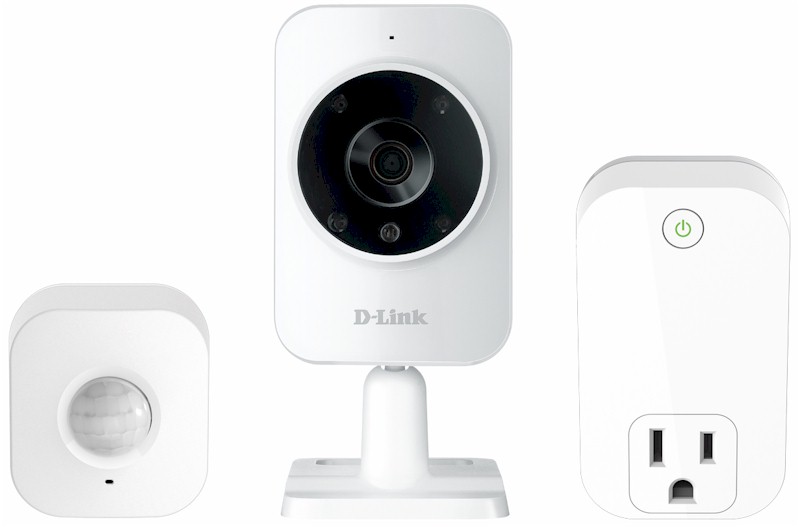 D-Link DCH-101KT D.I.Y. Security Kit
Both kits bundle a DSP-W110 Wi-Fi Smart Plug and DCH-S150 Wi-Fi Motion Sensor [reviewed] with a DCS-935L HD Wi-Fi Camera in the HD kit and DCS-5222L HD Pan & Tilt Wi-Fi Camera in the HD Pan & Tilt Edition kit. The former is a new fixed-focus and position 720p HD network cam with 5 m IR illumination for night vision and built-in microphone, with 802.11a/b/g/n/ac 1×1 Wi-Fi only connection. It will also be sold separately.
The DCS-5222L was announced last July and offers 720p HD recording at up to 30fps, pan/tilt (170deg on each side) digital zoom, wireless N and ethernet connectivity, integrated motion-sensing and night-vision technology.
Both kits work with the free mydlink Home iOS and Android apps to view live camera feeds, turn devices on/off, receive motion sensor alerts and create more complex action sequences. The net cams work with D-Link's NVRs and also with a new mydlink Cloud video recording option. The new free service enables recording and saving up to ten motion detection triggered 30-second clips per day on a first-in-first-out rolling week storage. All clips can be accesses from the mydlink Home app.
The new cloud recording option will also be supported on select mydlink Wi-Fi Cameras including the DCS-935L, DCS-5010L, DCS-5020L and DCS-5222L (revision B1/B2), starting " late January".
The D.I.Y. Security Kit – HD Edition (DCH-101KT), D.I.Y. Security Kit – HD Pan & Tilt Edition (DCH-301KT) and HD Wi-Fi Camera (DCS-935L) will be available in late January for $189.99, $229.99 and $119.99, respectively.
Baby Cams
Fans of D-Link's first DCS-825L baby cam introduced last year looking to upgrade are now rewarded. The DCS-855L HD Pan & Tilt Wi-Fi Baby Camera has everything its predecessor has—including the white, pink and blue "accent" rings—plus motorized pan and tilt.
Here's the spec rundown: 720p resolution, 16 ft. infrared night vision, built-in mic and speaker for two-way audio, digital zoom, 802.11n wireless connection, auto-record to an internal micro-SD card slot, auto record and push alerts on sound / motion triggers, temperature sensor with push alerts and five pre-recorded "classic" lullabies.
The DCS-855L is shipping now at $229.99 list. You'll also be able to get a standard VGA version of the cam as the DCS-850L Pan & Tilt Wi-Fi Baby Camera later this month for $139.99 MSRP.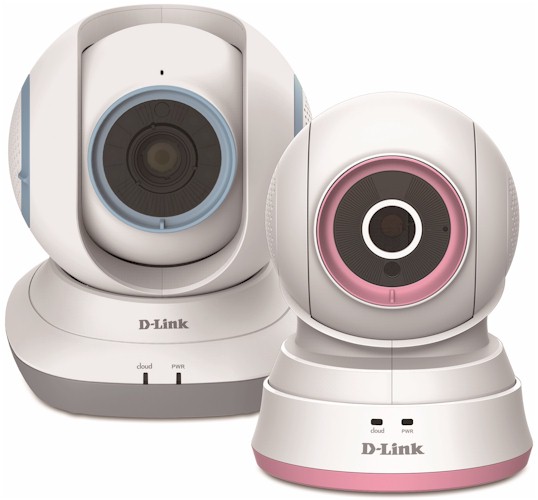 D-Link DCS-855L & DCS-850L Wi-Fi Baby Cameras