At a glance
Product
Lenovo IdeaPad Tablet K1 (13042QU) [Website]
Summary
First Android tablet to officially support Netflix
Pros
• Supports Netflix
• Built-in screenshot feature
Cons
• Won't wake up from sleep without rebooting
• Sluggish performance
Typical Price: $500
Features
OS
Android
OS Version
3.1 Honeycomb
Weight
1.65
Width
10.4
Height
7.4
Thickness
0.52
Battery

?

CPU
nVidia Tegra 2
CPU Detail
Dual Core 250 @ 1 GHz
RAM
1024
Flash
16
Flash Options
32, 64
SD

N

uSD

Y
Screen
Size
10
Resolution
1280×800
Touch
Capacitive
If you're expecting a complete review of Lenovo's first crack at an Android tablet, this ain't it. You've probably already read the Engadget review anyway. No, this is going to be a bit of a rant. So for the faint of heart, just move on.
As soon as I heard of Lenovo's Honeycomb tablet with official Netflix support, I hopped onto Lenovo's site and preordered one. But after the July 31 start of shipment date passed, Lenovo's ship status showed that the K1 still wouldn't ship until about the end of the following week.
So I checked Amazon, saw the K1 was in stock and shipping there, ordered it and had it the next day (thanks Amazon Prime!). I then contacted Lenovo to cancel the order, initially via email. But when I didn't get an acknowledgement by the end of that day, I called Lenovo the next day and cancelled. Of course, an email arrived the following day saying the order had already been cancelled.
But despite double cancellation, Lenovo's stone age order processing system still managed to ship the K1, which took about a week to arrive from its plant in China. I should have taken a photo of the box that UPS dropped off, which held four boxes, only one of which held an actual tablet. Go figure.
That puppy has gone back to Lenovo, which should issue a refund in about two weeks. Unlike Amazon, Lenovo's order system doesn't notify you by email of either the receipt of your return or the refund of your money. You need to call them to find out. And this is a computer company?
Cameras
Front
2
Rear
5
Flash

N
Connectivity
Wi-Fi

Y

Dual-Band

N

3G

N

4G

N

Bluetooth

Y

uHDMI

Y

HDMI

N

USB

N
The trouble with the K1 started at first boot. Despite this being a factory fresh K1, there was no sign of Netflix anywhere on it. But first I should note a few unique things about the K1 first boot.
The first bad thing is that the boot throws up a license agreement, which is annoying enough. But there was no "I accept" button or anything other action indicated.
The other annoyance is that the nVidia splash screen that is part of the boot includes a breathy semi-wispered "nVidia" in a female voice followed by a spacey tingly-jingle. Not so bad to have to listen to once in a great while when you have to boot. But it became really annoying when the K1's key problem surfaced later.
After I managed to get the agreement to go away, I was pleasantly pleased to see an instructional video launch. In less than a minute, I was acquainted with the controls and basic gestures that I'd need to operate the K1. This should be a standard part of every Android first boot.
The little video was particularly useful to help figure out what enlongated button on the front panel was for. The diagram below isn't in the online (only) user guide, but instead found among the Hints and Tips in the Lenovo Support site (Introduction to IdeaPad Tablet K1 interface).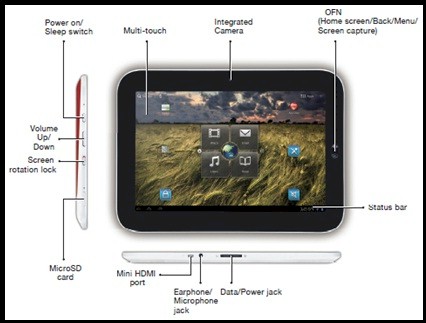 Turns out that little button is a combination back, Home and (thank you, Lenovo!) screenshot button. It also is sort of a scroll control, but that seems to require a deft touch to work consistently. Unfortunately, Lenovo didn't go the whole way and make it a sleep / wake button too.
After Googling around I found how to initiate the system update that brought with it the Netflix app that was the main reason I'd purchased the K1. This upgrade also wiped out all settings and apps on the tablet, yet another annoyance. But on the way to trying out Netflix, I found the K1's fatal flaw.
When Toshiba's Thrive had an occasional wake-up-from sleep problem, it was widely reported. During my time with the Thrive I experienced the problem only once. The K1, on the other hand, has consistently not been able to wake up properly from sleep since I got it.
Whenever the screen shuts off, I have to hold the power down for about 10 seconds until the lights surrounding the front panel button blink once. Then I have to release the button and press it down again until those lights come on steady, indicating the start of a boot.
I tried a reset to factory cycle, which retained the Netflix upgrade, but didn't fix the sleep problem. In fact, when I worked with the K1 a bit this past weekend, it showed a new, even more annoying trick. This time, after it went to sleep, it spontaneously rebooted! And not once, but continuously. I eventually tired of listening to the "nVidia" startup voice and shut it down. It look like a reboot fixed that problem, but not the wake-up problem, which has been constant.
In the brief time I have worked with the K1, it hasn't impressed with its overall sluggishness. I'm not one to notice slight performance nuances in tablets, but there is definitely something off about the K1. This was brought home clearly when I picked up the ASUS Transformer that I've bought and actually kept after not using it for awhile. I was shocked at how much faster and responsive the Transformer was running its version of Android 3.2 vs. the K1's version of 3.1.
I've used other Android 3.2 tablets, so that alone doesn't explain the difference. Something else if definitely afoot somewhere in Lenovo's version of Honeycomb and it ain't good.
And Neflix? The little I've used it leaves me with mixed feelings, but mostly disappointment. Picture quality is somewhat soft and it takes awhile for picture quality to move from heavily pixelated to clear. Once the buffer gets full enough, the picture is better, but still subject to slow frame rates from time to time. The picture was even more disapointing when I connected the K1 via HDMI to a Samsung 2333 HD TV / Display.
Compared to Netflix on the iPad (original) or its ABC app, Netflix on the K1 is disappointing. But having something decent to watch on the Android platform is better than suffering through the commercials on the various TV network sites.
In all, the K1 is a very big disappointment and definitely not on my recommended list. Hell, it's not even on my "give it a try and decide for yourself" list. I'll be glad to put this one back into its box and get it out of here. Stay away.