At a glance
Product
Samsung Galaxy Tab 10.1 WiFi (GT-P7510MAYXAB) [Website]
Summary
Lightest and thinnest Android tablet yet. But software quirks, lack of ports and SD expansion make it much less attractive.
Pros
• Light, thin and well put together
• Nice screen with wide viewing angles
Cons
• Buggy browser changes bookmarks
• Unimpressive video performance
Typical Price: $500 Buy From Amazon
Features
OS
Android
OS Version
3.1 (Honeycomb)
Weight
1.25
Width
10.1
Height
6.9
Thickness
0.3
Battery
7000
CPU
nVidia Tegra 2
CPU Detail
Dual-core c50 @ 1 GHz
RAM
1024
Flash
16
Flash Options
32
SD

N

uSD

N
Connectivity
Wi-Fi

Y

Dual-Band

Y

3G

Y

4G

Y

Bluetooth

Y

uHDMI

N

HDMI

N

USB

N
I've been spending the past few weeks with the tablet that is supposed to be the Android iPad2. Although the Galaxy Tab 10.1 is the lightest, thinnest and best put together Android tablet yet, its shortcomings will keep Apple's tablet juggernaut safely at its 90+% market share.
Hardware and Features
I purchased the black 16 GB version for review (model GT-P7510MAYXAB, to be exact). If you want more storage, you can cough up the usual $100 more and buy the 32 GB version (GT-P7510MAVXAB). The Tab 10's key specs are summarized in the boxes to the right, but let's run through some of 'em anyway, eh?
The Tab 10 doesn't distance itself from its less-expensive ASUS Transformer and Acer Iconia A500 competition in its choice of processor or RAM complement. It has the same dual-core nVidia Tegra 2 CPU and 1 GB of RAM.
The dual-band 802.11 a/b/g/n radio picked up both bands of my dual-band router. I didn't try out the Bluetooth, which the product webpage specs as "Bluetooth 3.0" while the user manual says it's 2.1. No mention of EDR in either spec. GPS isn't called out either, but the Use GPS Satellites checkbox in Location & Security > My Location Settings appears to work.
It was nice to see Samsung say that the Tab 10 supports Wi-Fi Direct! Now we just need someone to make a Wi-Fi Direct box like those for Intel's Wi-Di, so that Android users don't have to be envious of iPad's AirPlay.
Like Apple, Samsung doesn't want you expanding memory on your own or connecting to anything other than a host Windows or MacOS machine via the supplied USB to custom-connector cable. Samsung is again taking a page from Apple's playbook and says it will offer adapters to add a standard USB or HDMI port.
Samsung's spec sheet (below) calls out 3G and 4G models and Liliputing recently reported that Verizon has a 4G LTE model up for pre-order.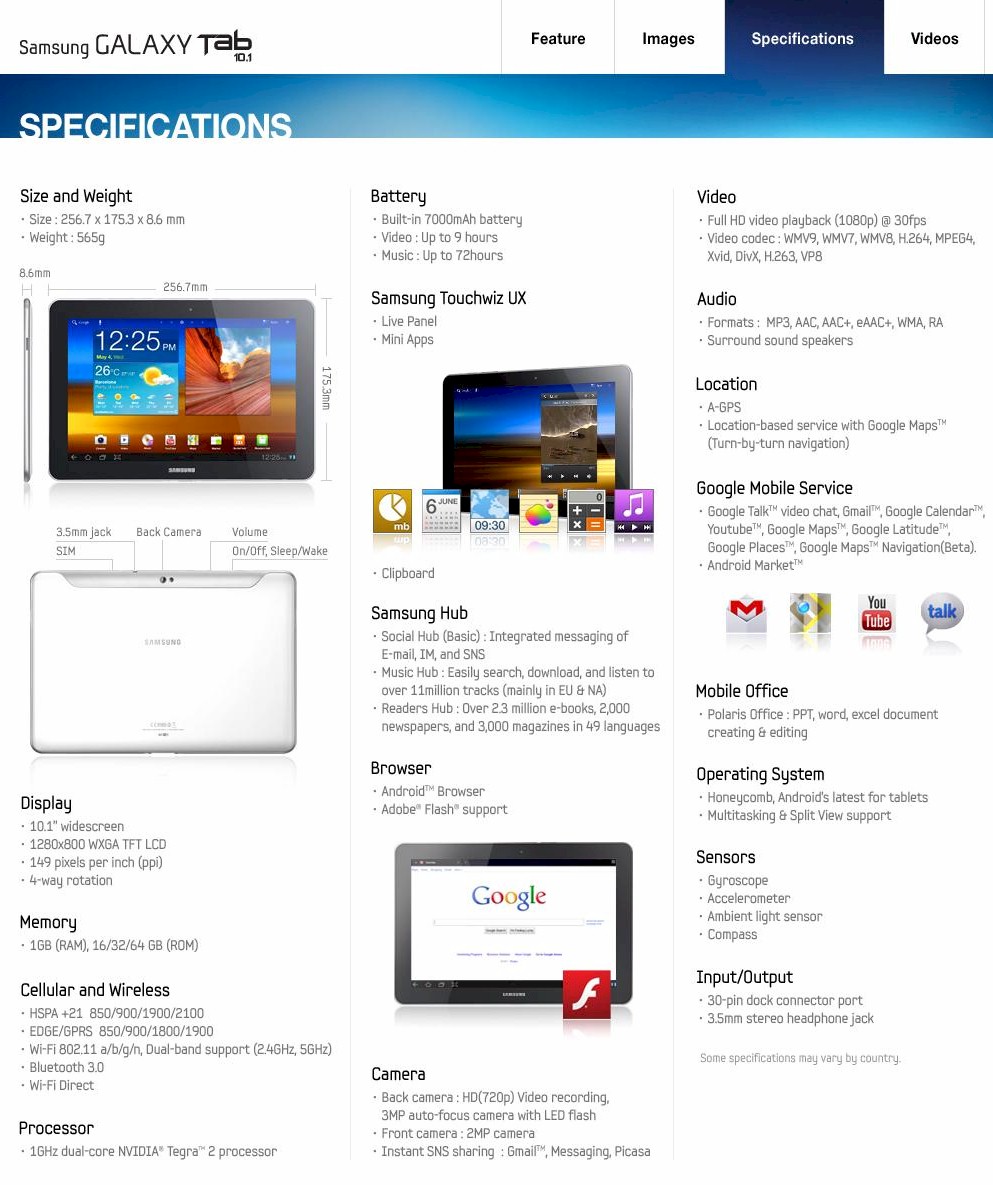 The diagram below from the user manual shows the ports and controls on the "top and bottom" edges. The rest of the callout diagrams are in the gallery. The power and volume buttons on the top edge won't be accidentally pressed in normal (landscape mode) use. Speakers are on the left and right sides, so won't be muffled if the tablet is lying on a table.
The Tab 10 has the "haptic" feedback I found in the Acer A500. And, like the A500, the Tab 10 will still provide "feedback" after you shut it off, although it seemed much less often than the Acer.
I like tablets that can charge from a USB charger, so the Tab 10 gets a thumbs up from me. Samsung's charger is nice and compact, too.
In Use
Screen
Size
10
Resolution
1280×800
Touch
Capacitive
Cameras
Front
2.0
Rear
3.0
Flash

Y
The Tab 10 is definitely the lightest 10" Android tablet yet. I haven't held an iPad2, but others who have, report that the hefts are comparable. I did a hand-by-hand comparison with my iPad 1 and the Tab 10 felt a bit lighter.
The tablet construction is also right up there with the Motorola Xoom and BlackBerry PlayBook in terms of fit and finish. It really puts the Acer and ASUS products to shame, although they are less expensive.
The 10.1″ 1280×800 screen is active matrix TFT, like the Acer A500, and plenty bright and clear enough to my eye. Viewing angles both up and down and side to side are more than adequate for any normal viewing positions you're liable to use. There are some shots in the gallery if you don't take my word for it
Front and side callout view
Back view with callouts
Head on screen quality
Low front angle screen view
Diagonal low angle view
Other reviewers have moaned about two second (horrors!) screen rotation times. But the Tab's rotation didn't seem any slower (or faster) than other tablets I've used.
I didn't see any big innovations in stability or usability between the $399 ASUS Transformer running Android 3.0.1 and the Tab 10 running 3.1. From reading other reviews, I had thought the skies would clear and angels sing when I fired up Android 3.1. But there are no obvious differences that leap out at you.
One annoying thing I did notice was the Tab 10's insistence on modifying browser bookmarks. I'm surprised other reviewers haven't mentioned this. Besides thinking you're imagining things, it's very annoying.
I put together Table 1 to summarize the differences between the ASUS Transformer and Tab 10.1 for a test I ran using the Browser app. I first reset both devices to factory defaults, then cleared out all pre-installed bookmarks. I also entered about:debug into both tablets' browsers and checked the user agent setting. The Tab reported "Android", while the Transformer showed "Tablet".
I then browsed to three sites, entering the URLS my.yahoo.com, techmeme.com and nytimes.com.
The Site column indicates whether the full or mobile version of the site came up on first access. I then used controls provided by each site to switch to the full version of the site and set boomarks, i.e. my.yahoo.com/?m=1, techmeme.com/?full=t, nytimes.com/?nytmobile=0.
Galaxy
Transformer
URL
Bookmark
Site
Bookmark
Site
My Yahoo
Changed
Mobile
Unchanged
Mobile
Techmeme
Changed
Mobile
Unchanged
Mobile
NY Times
Unchanged
Mobile
Unchanged
Full
Table 1: Browser test summary
After closing the browser, then coming back, the table shows that two of the three bookmarks on the Tab 10 were changed to the root domains, i.e. the first slash and everything after it were deleted from the bookmark. This, of course, brought me back to the mobile sites, where I had to do the dance all over again.
I was happy to find that I'm not crazy, since this xda-developers thread documents the behavior and attributes it to improper handling of HTTP Response Codes. So the effect is definitely real and I've only encountered it to date on the Tab 10.1. This is not a generic Android 3.1 issue, because the Transformer is also running 3.1 and doesn't have the problem.
Battery
I didn't run formal battery rundown tests on the Tab 10. Instead, here's a table of what other reviewers have reported.
Battery life reports
The results are split between five and nine hourish results, so YMMV. I used the Tab for email and web browsing sessions of about an hour a day and only had to charge it every couple of days.
I didn't notice the tablet waking up from sleep like the Acer did. But, as I noted in that review, this could have been due to a weather app auto-refreshing. I had to reboot the tablet, though, to get rid of the "Connect your Charger" message on the wake-up splash screen.
Applications
Samsung doesn't load up the Tab 10 with much crapware. But it does include the very useful QuickOffice HD free, that worked smoothly with the eMail app to view attachments. Also included are Pulse news reader and Samsung's Music Hub and Apps. Other reviewers don't seem to be impressed by either of Samsung's offerings. I didn't even look at them.
Samsung will soon be rolling out an update that will, depending on your point of view, junk up the apps screen or turn the Tab 10 into a really nifty tablet. The big deal is allegedly the addition of Samsung's TouchWiz interface—another contribution to the fragmentation of the Android user "experience".
Partner deals will add Amazon Music Cloud Player and Kindle apps from Amazon and Zynga's Words with Friends apps.
Apps that aren't on the tablet include video and UPnP / DLNA players or local and networked file browsers. I just don't get how Android tablets can be pitched as multimedia devices without including video players.
Audio
I used the supplied cable to connect the Tab 10 to a Win 7 machine to copy over my set of test media files. The.MP3 and.M4A test music files were copied to the Music folder, where the Music app picked them up and played them, but did not add missing meta information.
I still marvel at how loud and clear the tiny speakers are that they fit into these things, but don't wonder why there isn't much bass (or even mid-lows). If you like your music with plenty of mids, then you'll be thrilled with the sound from the Tab 10.
The Pandora app installed without problem and worked like a champ.
Video
Since the Tab 10 has the same Tegra 2 chipset as the Acer A500, I didn't expect any difference in video playback between the two. The first time I opened the Browser, I was prompted to install the missing Flash, which I did, with version 10.3.
One of the alleged advantages Android tablets have over the iPad is that they play Flash content in addition to the HTML 5 that the iPad supports. So I hit some of my usual sites to see how this worked. All videos were played full screen.
| Site | Type | Content | Quality | Frame Rate |
| --- | --- | --- | --- | --- |
| NY Times | HTML5 | David Pogue's Xoom review | Sharp | Full – no drops |
| ABC.com | Flash | Castle episode | Sharp | Full – no drops |
| CBS.com | Flash | Late Late Night show clip | A bit soft | Full – no drops |
| NBC.com | ? | 30 Rock episode | Blocked | Blocked |
| Fox.com | Flash | Glee episode | Flips between soft and sharp | Mostly full, w/ occasional lows |
| Netflix | | Not supported | – | – |
| Hulu | | Not supported | – | – |
Web video playback test summary
Flash isn't all it's cracked up to be on Android tablets. Yes, you do get to watch Flash ads and access the clueless sites that depend on Flash for navigation and key content presentation. But if you're primarily getting an Android tablet in hopes of using it to watch website-based TV, you may be disappointed. The only way you'll know is to try one out.
I moved on to the set of video files I copied into the Tab 10's Video folder. Since Samsung didn't see fit to include a video player, I loaded up MoboPlayer, which had worked for me when testing the Acer. But MoboPlayer didn't work as well on the Tab 10, refusing to play the Apple 720p trailer.
So I downloaded the VPlayer trial, which at least played all files with the results summarized in the table below.
Format
Content
Quality
Frame Rate
640×480 MJPEG 30 fps
Canon digicam SD AVI
Sharp
Bad, streaky color
Full
H264 MPEG4 1280×544 24 fps
Apple "720p" trailer
Sharp
Full – no drops
H264 MPEG4 1280×720 23.980275 fp
Blue Man Group "Up to The Roof" video
Sharp
Low
H264 MPEG4 1920×816 24 fps
Apple "1080p" trailer
Sharp
Low
H264 MPEG4 1280×720 30fps
Canon digicam HD AVI
Sharp. Audio out of sync
Low
Local video playback test summary
These results are disappointing, to say the least, especially since Samsung specs "Full HD video playback (1080p) @ 30 fps". But a 1280×800 screen can support 1080 only via interpolation, which would make it 1080i, wouldn't it?
At any rate, the Tab 10 couldn't even play 720p content like the Blue Man Group video at full frame rate. There is probably a magic combination of player, codec and frame rate that will make the Tab 10 (and other Android tablets) shine. But since Samsung doesn't even try to provide a solution here, you're on your own.
I took a few indoor shots with the rear camera and they looked like the shots I've taken with other Android tablets. Laptopmag has some insightful comments in its review and Engadget's review has a gallery of sample photos if you'd like more details.
Closing Thoughts
I haven't looked at that many Android Honeycomb tablets, but they're already blurring into sameness. Given that manufacturers use the same processor and don't screw up cheap out and use a screen with poor viewing angles as Viewsonic did on the gTablet, you're left with little differentiation.
The way I parse out the Samsung Galaxy Tab 10.1 is that it's a iPad2 poseur, without the apps and content choices to justify its $500 price. You can get everything that the Tab 10 does for $100 less with the ASUS Transformer, as long as you don't mind a bit more weight and don't need to impress people on airplanes or in the office. The Transformer comes with built-in microSD and mini HDMI connectors instead of expensive and inconvenient dongles, too. And there's that handy keyboard dock.
No folks, the Galaxy Tab 10.1 won't kill the iPad2. But for those who feel that $500 is a fair price for a 10" Android tablet and don't mind the ability to expand memory or lack of HDMI out, at least for now, it's the sleekest choice.
Buy Galaxy Tab 10.1 WiFi from Amazon