An interesting dynamic in many emerging economies is the notion of small and medium businesses (SMBs). Typically, they start with the proverbial "two guys in a garage" or a small office/home office (SOHO) with a lot of passion, a lot of effort, and something unique to offer. From an IT perspective, this segment initially uses technology just like any regular consumer, buying and implementing what is familiar, easy, and affordable.
However, as the small business grows, their needs grow, fast. Soon, they are in need of enterprise-grade IT solutions so that the SMB can compete with larger companies with their agility and creativity as a short-term barrier to entry.
The web and internet boom of the 1990s lowered the barrier to entry for many SMBs by giving them the ability to effectively market their products and services to channels and regions that were previously unreachable. With dial up internet access, consumers merely hit a website to understand an SMB's offerings, store hours, location, and make a purchase.
Fast forward 20 years through a few recessions, technology and business bubbles, and the IT environment today might seem like more of the same, with 'cloud' replacing 'the web' and 'information superhighway' as the buzzwords for IT products and services. Is cloud really different from hosting, managed servers, and application service providers from just a few short years ago? The answer is yes, due to several factors:
1) Broadband access is much more ubiquitous and on many more devices as shown by the graph below.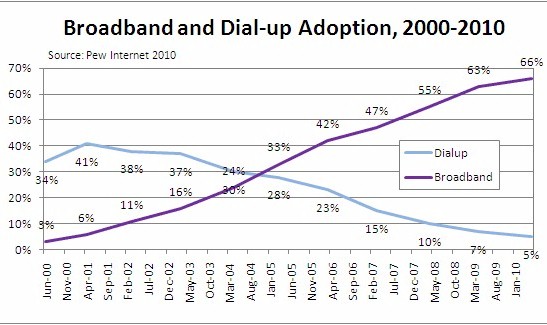 2) Consumers have multiple devices with broadband access, making them highly connected and highly mobile.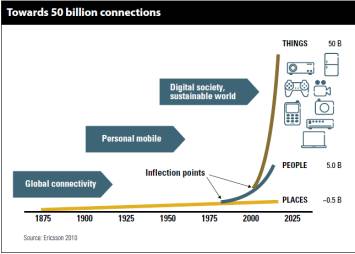 3) The availability and capability of data center operational hardware and software has lead to a Cambrian explosion of providers for infrastructure as a service, platform as a service, and software as a service. These services can now be offered on a low-cost subscription basis, not a long-term "locked-in" model
With these advances, the delivery of enterprise-grade IT solutions is within the budget of SMBs and the costs are operational, not capital investment. So as an SMB needing IT services, you only need to pay for what you use, when you use it and access it from anywhere. Most importantly, you can scale down or scale up at any time as your business hits rough times, or experiences an unexpected growth spurt.
I am the first to admit that cloud is first and foremost a marketing term – something coined to explain a complex and technical concept to a larger audience, much like "the web" or "the information superhighway" explained the network connected devices of the 1990s. It is no coincidence that a cloud often represented the internet, as it still does today.
The important thing for the small business owner is that capabilities of the many cloud vendors represent real opportunities to leverage the latest in IT capabilities to help you operate and succeed as a business. In the coming weeks, I hope to cover various aspects of cloud services in deeper detail, such as IaaS, SaaS, PaaS, security, business continuity and disaster recovery (BCDR), and cloud services for business operations.
My goal is to cover topics that are of interest to the SmallCloudBuilder community. So I'd appreciate feedback in the cloud service areas that are of most interest to you, so that I can provide information and advice that simplifies the cloud for SMBs. You can leave comments and ask questions right in the Disqus box below. No registration is required.
I am excited for the opportunity to blog at SmallCloudBuilder on cloud services for the business audience that needs to make critical decisions and requires a simplification of the cloud. I look forward to the discussion.
---
Disclosure: I work for Verecloud as the product manager for our cloud aggregation and integration platform, targeting small and medium businesses. Although our company is a reseller of cloud services from many different vendors, I am not responsible for the selection, marketing, or selling of the solutions we offer. I will be writing from the perspective of a small business user of many different cloud services and not as a representative of Verecloud.
I have been in IT for the past 15 years, primarily in software development, and predominantly for very large enterprises. Although I am an "IT guy" at heart, I am a business entrepreneur as well. I completed my MBA in order to better facilitate the mapping of business strategy with IT capabilities, a gap that represents the strategy for successful companies, and an opportunity for small businesses looking to gain an advantage. Cloud services are a particular area of interest for me because the options allow entrepreneurial business owners to easily use enterprise-grade solutions to support their operations.