If you have a Cisco Linksys EA series "smart" router (EA2700, EA3500, EA4500) and have visited its admin page, you've probably noticed the conversion to Cisco Connect Cloud (CCC). This happened automatically, since all Cisco Linksys routers have an automatic firmware update process that is enabled by default.
This changeover has been an unhappy surprise to some buyers and an anticipated event to others. But if you're one of the unhappy folks surprised by the screen below, there's no need to fret. You can easily undo the change and go back to the old non-cloud administration method.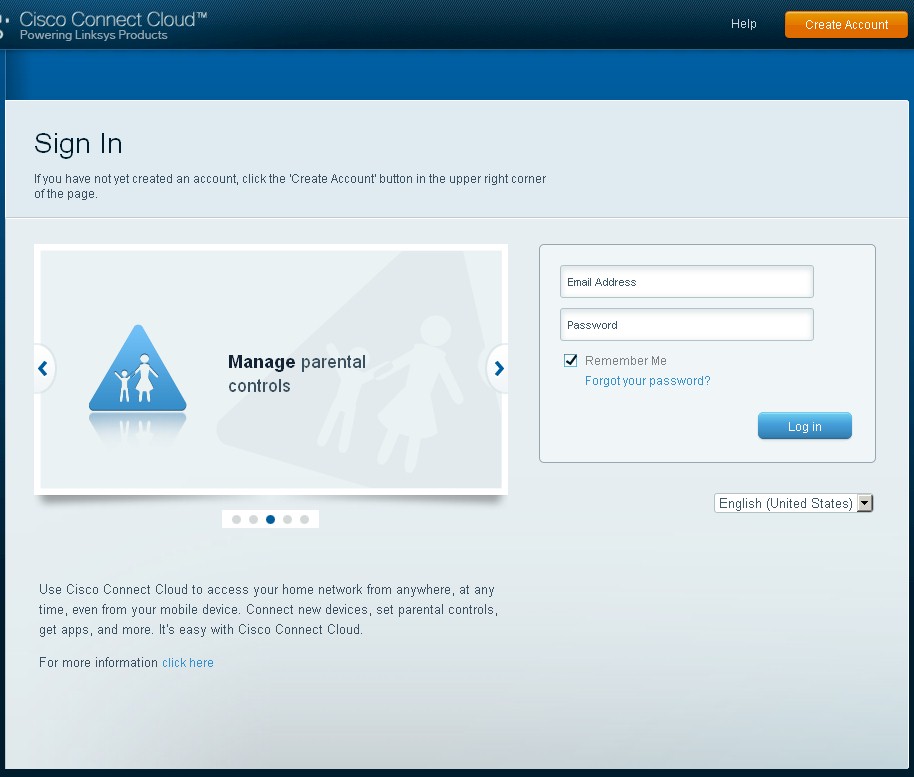 Cicso Connect Cloud Router sign in
The fallback process consists of manually loading what is actually the latest E4200v2 firmware (v2.0.37 Build 131047). Once the process is complete, the EA4500 that I downgraded would not auto-update to CCC, even when I manually checked for new firmware. Although the E4200v2 is capable of being upgraded to CCC since its hardware is identical to the EA4500's, there is no auto-upgrade process in place right now.
Of course, by falling back to the old firmware, you're opting out of the "app enabled" features of the EA series, since the update is needed to enable them. The new firmware also provides basic admin features if your internet connection goes down (or you unplug the WAN port of the router). Just log into the alternate admin screen you'll see (shown below) with your router password.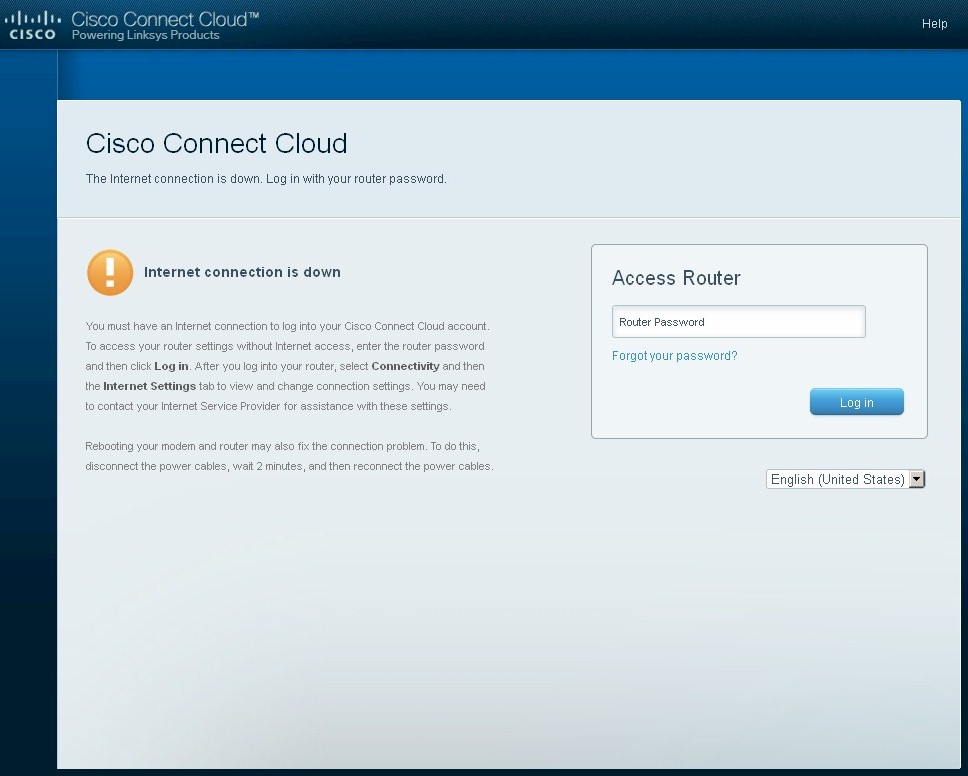 No internet admin login
The gallery below shows you the admin features you get this way. You can't access any port forwarding or parental controls. But all the controls you'll need to get on the internet and set up wireless are there.
Main settings page
Connectivity settings page. You can set wireless SSIDs, WAN connections (Internet Settings tab) and set LAN IP address and access DHCP server settings. Note also the firmware update options.
Basic status only
Note that you can reboot and reset to factory defaults here
Sorry, but no guest network settings here
If you want to opt out of CCC because of concerns about privacy (fanned by some websites plying the well-known trade known as linkbait), you may want to reconsider. Read this Cisco Blog post by the VP and GM of Cisco Home Networking, Brett Wingo. Although admittedly written in Marketingese, it clarifies CCC's use of personal information.

Cisco has also removed language about storing web history and traffic from the Cisco Connect Cloud Supplement to its Cisco Privacy Statement that was causing some concern. But before you get your shorts in a twist about that, check your ISP's TOS. CenturyLink's (my ISP) TOS (below) give them access to not only my router, but my computer! And of course, they will cough up my data if subpoenaed.
CenturyLink TOS excerpt
In contrast, the terms now removed from the Cisco Connect Cloud privacy supplement seem less intrusive:
When you use the Service, we may keep track of certain information related to your use of the Service, including but not limited to the status and health of your network and networked products; which apps relating to the Service you are using; which features you are using within the Service infrastructure; network traffic (e.g., megabytes per hour); Internet history; how frequently you encounter errors on the Service system and other related information ("Other Information"). We use this Other Information to help us quickly and efficiently respond to inquiries and requests, and to enhance or administer our overall Service for our customers. We may also use this Other Information for traffic analysis (for example, determining when the most customers are using the Service) and to determine which features within the Service are most or least effective or useful to you. In addition, we may periodically transmit system information to our servers in order to optimize your overall experience with the Service. We may share aggregated and anonymous user experience information with service providers, contractors or other third parties to assist us with improving the Service and user experience, but any shared information will be consistent with Cisco's overall Privacy Statement and will not identify you personally in any way.
So while Cisco may have overreached a bit in its CCC launch, they've quickly regrouped, said sorry and provided a way to opt out. But I'm staying opted in to CCC and tracking the next stage in the evolution of the home router.