A new Kickstarter project wants to make cloud backup cheap, easy and plentiful.
Cloudster is a just-launched Kickstarter project with the goal of designing a 1 TB cloud-connected NAS that automatically backs up all of that Terabyte to the cloud. Any device that works with SMB/CIFS, which is just about any networked device today, can read and write files to Cloudster, which has a Gigabit Ethernet LAN connection.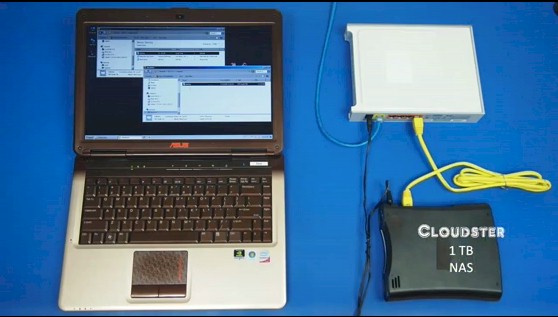 Cloudster Prototype
There are no limits on file size or type, everything moves over a secure connection to/from the cloud and is encrypted in the cloud store. There are no limits on the number of computers or devices that can access Cloudster, either.
LaCie has its $200 CloudBox that provides only 100 GB of storage and costs $129/year after the first year. Cloudster's press kit cites a $449 price for the hardware and first year of service with $180/yr or $24/month thereafter for storage.
If you're pressed for cash, they plan to offer a $324 option for hardware and one month of service. Pledge $449 or more and you'll get a Cloudster if the project moves forward. Pledge $399 or more and the first 50 pledgers will get a $50 discount.
The two-person Boston-based team already has a working prototype using "off the shelf NAS hardware from a reputable, high volume vendor" and "an established cloud storage provider willing to offer large storage quotas in bulk to our users". They are looking for at least $20,000 by May 23 to move forward to production.
Hit their Kickstarter page if you want to contribute or just learn more.