At a glance
Product
Amazon Cloud Drive () [Website]
Summary
Cloud storage offering from the King of Online Retailing
Pros
• Easy to use
• Attractively priced
• Works well with Cloud Player
Cons
• Data is not encrypted
• Privacy is not guaranteed
• Requires Flash
• Few advanced options
Typical Price: $20
Cloud Drive is an online storage solution that allows users to upload and manage various types of data files over the internet. Think of this as a globally accessible way to access your stored data. There are limitless applications this service may be used for, but beware, there are some significant risks in using the Cloud Drive service.
So what's the big deal about this particular online storage solution? For starters, the Cloud Drive can be used for a variety of applications. Online backup solutions, sharable IT management software applications and simple access to work or personal files are only a few of the ways people can use this service.
Pricing Options
Along with easy accessibility, there are several price options for Cloud Drive storage plans. These plans range from free (5GB) up to $1000+ annually (1000GB+). This wide variety of choices lends itself favorably to home users and businesses alike. Whether it's accessing a few gigs of music or larger mission critical database files, Amazon Cloud Drive provides a scalable, easy to use solution.
Storage Plan

Songs
Holds up to:

Photos
Holds up to:

HD Video
Holds up to:

5 GB

Free

1,000

2,000

20 minutes

20 GB

$20 / year

4,000

8,000

1.5 hours

50 GB

$50 / year

10,000

20,000

3.5 hours

100 GB

$100 / year

20,000

40,000

7 hours

200 GB

$200 / year

40,000

80,000

14 hours

500 GB

$500 / year

100,000

200,000

35 hours

1000 GB

$1000 / year

200,000

400,000

70 hours
Pricing Plan for Cloud Drive Storage
Cloud Drive pricing is pretty competitive. SugarSync charges $50 /year for only 30 GB of storage, while Dropbox' minimum buy-in is 50 GB for $99 /year.
How Do I Get a Cloud Drive?
Signing up for Cloud Drive access is a simple process. If you already have an Amazon.com account, you already have a Cloud Drive with 5GB of free storage. It's that easy! Some countries do not have the option of increasing the 5GB that comes with signing up for an account. These countries include:
| | | |
| --- | --- | --- |
| Austria | Belgium | Bulgaria |
| Cyprus | Czech Republic | Denmark |
| Estonia | Finland | France |
| Germany | Greece | Hungary |
| Ireland | Italy | Latvia |
| Lithuania | Luxembourg | Malta |
| Netherlands | Poland | Portugal |
| Romania | Slovakia | Slovenia |
| Spain | Sweden | United Kingdom |
Once you create an Amazon.com account, (you will have to have one if you choose to use this service) there is a Cloud Drive option on Amazon's homepage. Clicking on this link will take you to your Cloud Drive.

Cloud Drive Link on Amazon
Once you open your Cloud Drive homepage, there is a standard folder-structured layout. By default, you will have folders for Documents, Music, Pictures and Videos. These folders can be renamed and rearranged. By clicking on either the folder name or the adjacent dropdown menu, all contents can be viewed and organized. The left hand side of the screen has options for browsing your folders in a drop down menu. It also has a list that shows Amazon.mp3 purchases and all uploaded content.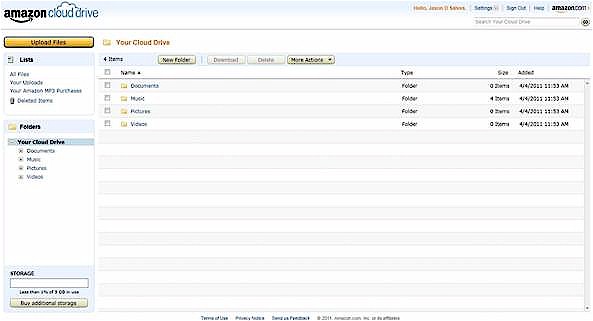 Uploading files is accomplished by selecting the yellow "Upload Files" button at the top left of the home screen. When clicked, you will be prompted to browse for the file you would like copied. An individual file larger than 2 GB cannot be uploaded.
You also have the option to place an upload directly into a specified Cloud Drive folder. Amazon's support page indicates that all file types can be uploaded. Once a file is selected, a progress bar at the top of the screen shows you real time information on your upload.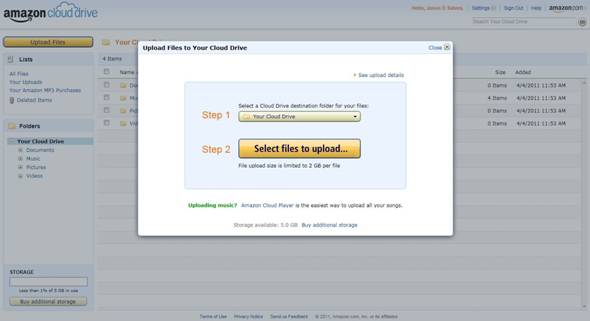 Moving files is a simple process. When you navigate to individual files within a folder, you select a file by placing a check mark next to it, click the "More Actions" button and choose the new destination folder. The user interface is easy to navigate, and most users will not have trouble accessing and organizing files.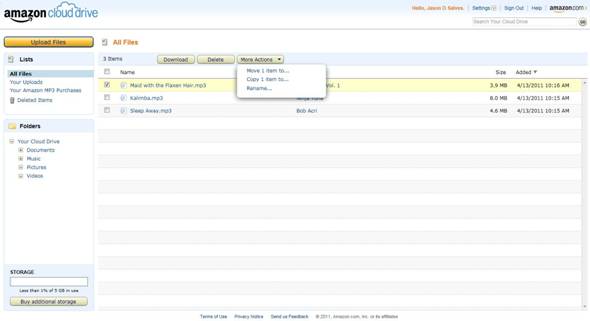 Access
Access to Cloud Drive is via web browser only. Internet Explorer 7 or higher, new versions of Safari, Chrome and Firefox are all recommended. Because of reported issues with Opera, Amazon does not recommend using this browser.JavaScript and Adobe Flash Player are also prerequisites that need to be installed and enabled for this service to work correctly on your PC/Mac
Customer Support
There are many support options for Cloud Drive. Help access is as easy as clicking on the help option from Amazon's home page. The online FAQ addresses several issues and is very easy to navigate and there are also online tutorials. Amazon provides phone support if users wish to call in or you can email for help.
As with most services, there is a large online support presence outside the confines of Amazon.com. Most common issues appear to be easy fixes such as software updates or basic network troubleshooting. I found the amount of support information a nice addition to the service and a welcome resource for those who may be new to cloud computing.
Safety and Security
One of the largest drawbacks to Cloud Drive is the lack of security. Although transfers are done via secure HTTPS, it does not appear that your files are encrypted before being sent or when they are stored on Amazon's servers.
Amazon also clearly states they do not guarantee your data's safety or security.
5.3 Security. We do not guarantee that Your Files will not be subject to misappropriation, loss or damage and we will not be liable if they are. You're responsible for maintaining appropriate security, protection and backup of Your Files.
For an online solution that provides storage of up to a Terabyte, this is a disappointing stipulation. If the complete lack of security isn't bad enough, Amazon also states they have the right to access your data at any time, for any reason, without your consent or knowledge. The following is outlined in Cloud Drive's Terms of Use agreement.
"5.2 Our Right to Access Your Files. You give us the right to access, retain, use and disclose your account information and Your Files: to provide you with technical support and address technical issues; to investigate compliance with the terms of this Agreement, enforce the terms of this Agreement and protect the Service and its users from fraud or security threats; or as we determine is necessary to provide the Service or comply with applicable law"
This is a huge concern, especially if you want to store personal or business sensitive data. Other cloud based storage solutions offer personal encryption, so Amazon's lack of privacy is somewhat puzzling. Needless to say, this fact alone may turn people away. If security is not a concern and quick access to stored data is a priority, then this may not be an issue.
Another clear drawback to this service is the complete lack of redundancy and backup options. If a file somehow becomes lost or corrupt, it is not recoverable. This makes Cloud Drive a hard service to recommend to businesses that need large secure storage solutions.
Amazon does have a S3 Service Level Agreement that allows users to benefit from any downtime. The service is rated for 99.9% uptime between billing cycles and allows for compensation if down time exceeds.01%. Earlier this month Amazon had a network issue that severely hindered client access to several hosted services. Although this did not affect Cloud Drive access, it does remind us that downtime is a possibility with online storage solutions.
Conclusion
At its core, Amazon Cloud Drive is a great resource for those that are looking to store music, pictures and movies. When this service is combined with Cloud Player, access to playing music files becomes intuitive and enjoyable.
Sadly, this is about as good as it gets for Cloud Drive. The lack of security, redundancy and privacy makes Cloud Drive a very bad option for businesses or users that need to store private data securely.
Overall, this is a simple storage solution that fails in its execution to be competitive against its peers.