Box has stepped up security and brought Intel in to help.
Box announced it has beefed up its security with three new features. Its Smart Links feature now includes security options allowing users to limit who can view a file or folder (see image below).
Editors and owners can set the option on individual files, and owners can set it for the entire folder.
Box's Trusted Access Management feature, which tracks each Box login from a new browser, now includes tracking of logins from mobile devices, desktops via Box Sync and custom apps via Box APIs.
In addition to tracking logins and alerting users to new access instances, IT admins can now limit the number of devices an employee can access from the same user ID.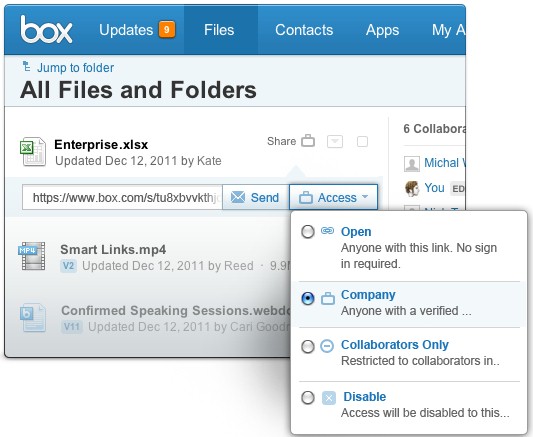 The third enhancement is for Box accounts linked to an Active Directory (AD). IT admins can opt to have their AD groups automatically populated within Box. So when users log into Box, they will be added or removed from Box groups based on their AD groups. Admins can also create new groups in Box from AD and easily add or remove users from within a Box group.
Box' partnership with Intel adds acces to Intel Cloud Access 360 security features. Administrators can use Expressway Cloud Access 360 (ECA 360) to automatically provision Box accounts, eliminating the need for additional authentication. ECA 360 also enables two-factor authentication via one-time passwords delivered to mobile phone.
Hit this Box blog post for more info on the new features and this one for more of a marketing take.