At a glance
Product
Genie9 TimeLine Cloud Family Edition () [Website]
Summary
Easy to use Windows-only multiuser cloud backup service using Amazon S3 back end.
Pros
• Very easy to use
• Backs up networked drives
• Multi-user
• Private security key
• Good video tutorials
Cons
• Pricier than other services
• 300 GB storage cap
• FAQs are not very helpful
Typical Price: $5
Backup
Exclude

Y

Include

Y

Drive selection

Y

Folder selection

Y

File type selection

Y

File selection

Y

File size filter

Y

Archiving

Y

File versioning (number)
9999
File versioning (days)
9999
File size limit (GB)

?

Force full backup

Y

Auto file type organization

Y

Auto resume

Y

Transfer Backup

Y

Bandwidth Control

Y

Account Types
Unlimited

N

Free

N

Free Trial

Y

Home

Y

Business

N

Monthly Billed

Y

Yearly Billed

Y

Min. Limit (GB)
10
Max. Limit (GB)
300
Free Space (GB)
0

Restore
Web download

Y

Zip File

N

DVD

N

Hard Drive

N

OS
Windows

Y

Mac OS

N

Linux

N
How does a product stand out in a crowded market? Cloud backup can be intimidating if you are not familiar with the theory or technology. But even when you know what you're looking for, how can you find the right product for you?
Genie9's answer for home users is Timeline Cloud Family Backup, which takes a well rounded, easy to understand approach. The result is a cloud backup solution that provides both innovation and ease of use.
Family is a feature-reduced version of Genie9's Timeline Cloud Business program. The Business version includes expanded reporting, a deployment via Active Directory option, different support team and server support. Both versions will back up attached, and networked / mapped drives. (Mapped drive capability was added to the Family version a few weeks ago, according to Genie9.)
Timeline Cloud Family supports a maximum of 10 users, while Business can handle any number of users (depending on how much you pay). If you've always wanted to run your own cloud backup business, you can do that, too, with Timecloud's xSP service.
Cost
For the first 14 days, you can try Timeline Cloud backup for free. The trial version offers all the functionality you need to test and review the program. And the 10 GB storage limit is more than adequate for a trial run.
If you decide that Timeline has the backup solution for you, there are several pricing and storage options available. There is no listed pay per data usage plan; all options come preset with a static amount of storage space.
Family plans are broken into three categories; Starter, Small Family and Big Family. The Starter Plan provides 25 GB of storage at a rate of $4.95 a month or $49.95 per year. The second option, the Small Family Plan offers 100 GB of storage charged at $14.95 per month or $149.95 annually. If you need a solution for a large family (or small business), Timeline provides a plan that accommodates 300 GB of cloud storage space at a rate of $39.50 per month or $399.50 a year.
These should be sufficient for most and offer a nice range of space and pricing. I would have liked to see a larger storage option as many home users may require space to back up HD video and other large file formats.
Installation and Setup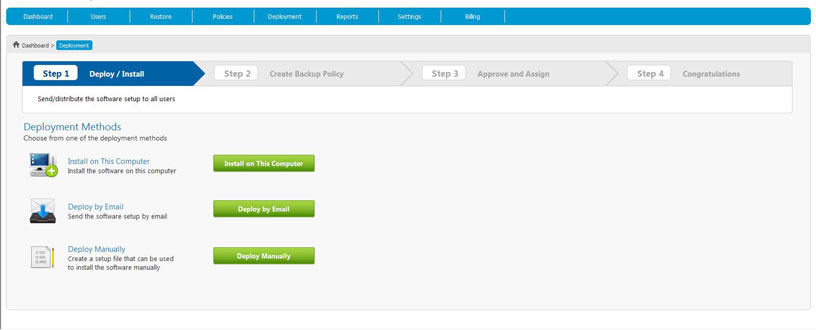 By visiting timecloud.com, you can create your account and get started with the installation process. A confirmation email is sent to you once the account is created. Activation is done via this email and allows the installation of the local software via a web link.
Creating your user account and getting to the point of the actual install is fairly straightforward. The installation package is only 30 MB and downloaded in just minutes. There are not a lot of features accompanying the download, so the program only requires 73 MB of disk space to install.
The local installation provides access to the restore functions while the online portal provides access to all of the backup options including setup configurations and backup policies. Most of the initial work will be done through the online portal.
Some of the real surprises associated to Timeline Cloud come in the form of its setup features. Not only can you assign a user profile, you have the option to set up multiple users. This is a great feature that caters specifically to multi-user households and small businesses.
The master user or administrator account is created when the interface is first set up. From this account, all other sub accounts can be created. The master account has the ability to create, control and delegate permissions to all of the sub accounts. This process is very similar to the way a network administrator allows user permissions in active directory.
Creating backup policies is a snap. Timeline Cloud provides "smart selections" such as common files and folders or you can choose to customize your selection list. Smart selections include one-click backups of music, pictures, bookmarks and office files. By understanding the file extensions associated to your selections, the software can scan your computer and automatically select different file types. File selection is allowed also on attached drives, but not on mapped or networked folders.
Features like smart selections and easy to use web interface options are welcomed addition to the cloud backup universe. Even if you are not well versed in online backup procedures, you should have little to no issues navigating this interface. On the other hand, if you are a power user, you should find this layout refreshingly simple and thorough.
In Use
As with most things relating to computers, creating solid backup jobs can become a complex nightmare. Luckily, this process has been simplified and consolidated in Timeline Cloud Family Edition.
The main portal is accessed over the web. Basic categories such as dashboard, users, policies and reports can be easily found on the ribbon menu at the top of the page. From these master categories, you can drill down to choose individual options relating to its label. For instance, if you would like to change a current policy, choose the Policy option and highlight "Manage Backup Policy".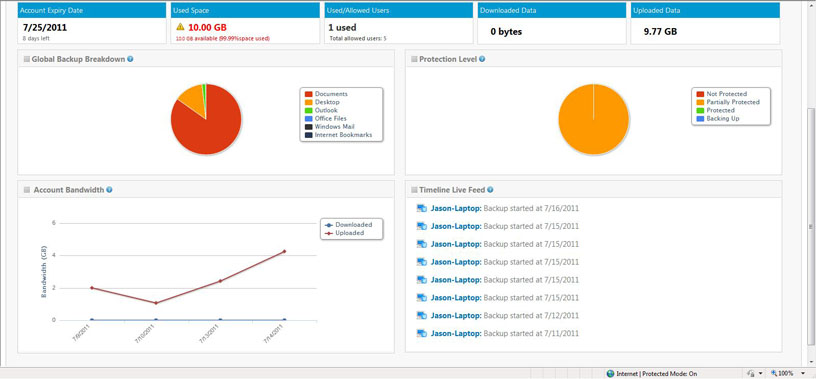 While using this portal, I did not have an issue trying to find any option I needed. From billing history to multi level backup configuration, Timeline Cloud provides easy to use ways to access some not so basic technical features. Hidden files can be backed up with no problem. All backup data is done at the block level which will save time and space.
As access is mostly handled by the web interface, having multiple user accounts works well. Each member of the family can have their own access to the portal and create their own backup sets from various computers. This is one of the features that make this product stand out from its peers.
Deploying access and local installations can be done through the deployment option on the ribbon menu. The administrative account has the ability to invite users and deploy the software either locally or through email or a setup file.
Another nice touch is the addition of reports. The reports screen provides a quick, easy to view snapshot of your current backup information. Available reports include bandwidth usage, user activity, backup breakdown and reports by user account.
These reports are both useful and informative. The backup breakdown report shows the type of data being backed up, total file count associated to the data, size on disk and the percentage of the total backup that data holds. For users that need to track or have a better understanding of their data use, these reports are very helpful.
Genie9 likes to promote Timeline Cloud's speed, saying it is five times faster than its competition. The charts below from Timeline Cloud's website show the basic pitch. I didn't run any tests to verify the company's claim. But Matt Smollinger's experience with services using Amazon's S3 backend (Vembu, Dropbox) has been that they can often saturate the uplink on a 25 / 25 FiOS connection.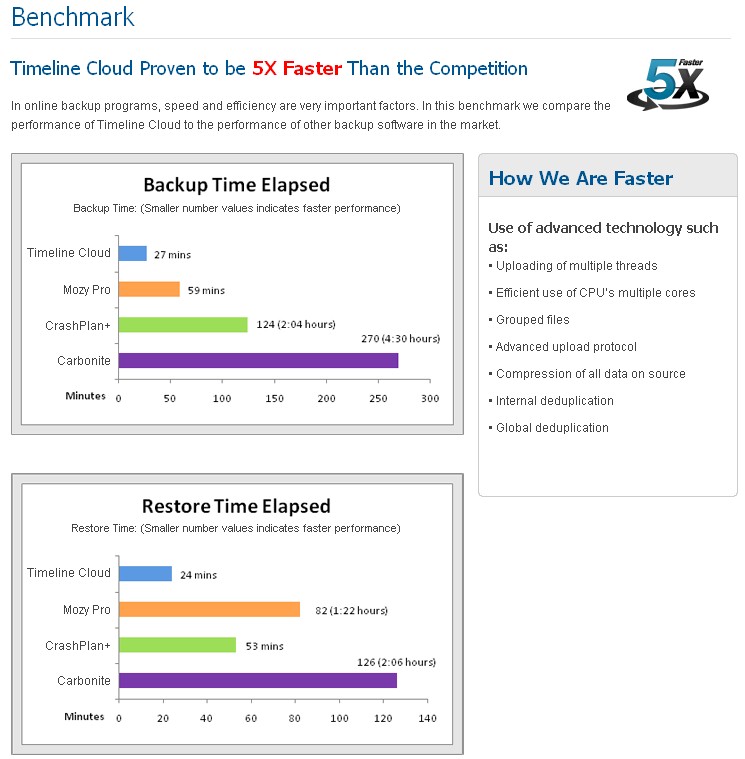 I didn't run any tests to verify its claims
Restore
Data restores can be done through the portal or by using the local installation of the software program. Both interfaces prompt you to choose a backup set, select files, folders or file types and select the restore option. You also have the ability to search for a file by name, policy or by the computer it is associated to.
File restore times will vary depending on the amount selected and your bandwidth speed. All selections are then restored to their original locations on your computer. This process is fairly similar to other cloud based restores, but it does present it in an easy to understand and intuitive interface. Multiple backup sets can be configured, so you have the option of choosing the date to restore your file from.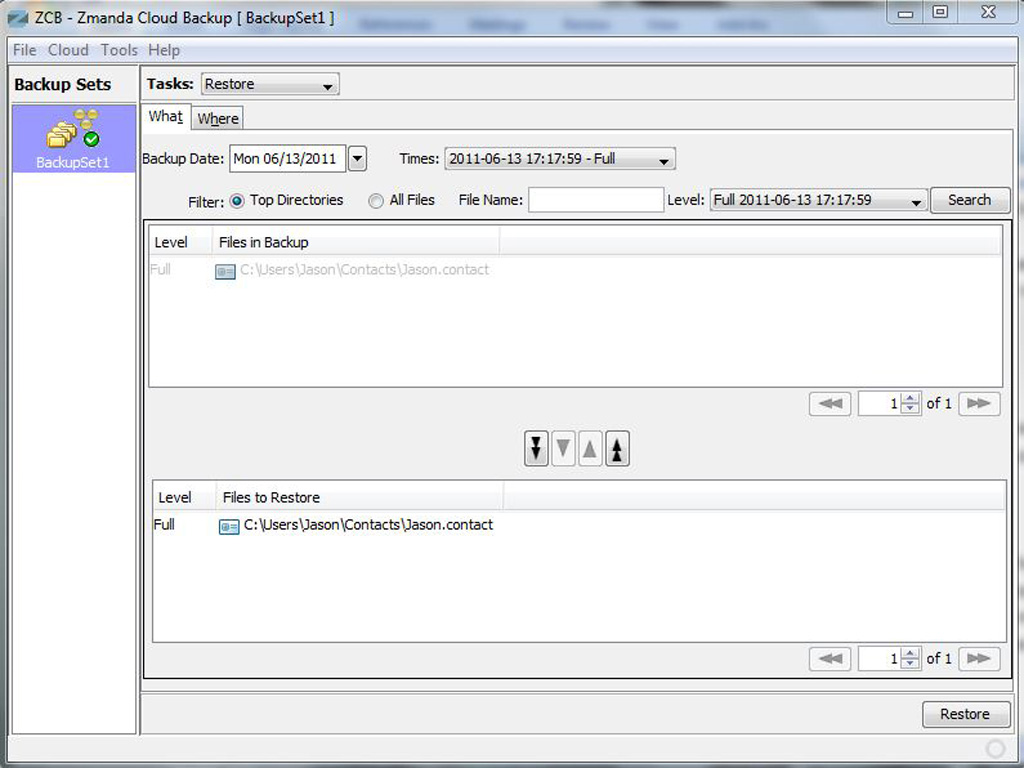 One unique feature Timeline uses is remote disaster recovery. This option allows a user to back up a snapshot of his or her computer including the operating system as well as all programs. Deploying the recovery option can restore a computer back to its previously working state by restoring the system and program files. It does this through the creation of a bootable partition on your hard drive. Once the restore is prompted all you have to do is reboot, choose the disaster recovery partition from the boot menu and the program does the rest.
You can also create a boot disk or bootable USB drive through the disaster recovery interface. This can be useful if your computer can not boot up or if your operating system files become corrupt.
Installation process step two
Installation process step three
Setup options screen
Web backup information can be viewed at a quick glance
Reports give you all the information you need to track your backup data
There are several deployment options available
Backup policies can be created in this screen
Personal encryption options can be controlled by the admistrator account
Access, Support, Security
Support
Email

Y

Online Ticket

Y

IM / Chat

N

Phone

N

Knowledge Base

Y

Tutorials

Y

Access
Browser-based file manager

Y

File Permissions

Y

Folder Permissions

Y

Blackberry

?

iOS

Y

Android

Y

Windows Mobile

Y
Do you need to access your backup on the go? Timeline has you covered. If you own an iPhone, Android or Windows 7 phone you have several options available. Backup data can be searched, accessed and downloaded via an app or through the web.
Music can be listened to within the application and shared files can be emailed or sent directly to Facebook. Monitoring all backup machines as well as reports can also be done via mobile phone. iOS and Android tablets also share in these capabilities.
There was no information regarding other phones or mobile OS choices, so it is fair to assume that they may not be compatible with Timeline Cloud Backup.
All 32 bit and 64 bit platforms of XP, Vista and Windows 7 are supported. If you run a small home business, the software also supports Small Business Server 2008, SBS 2011 as well as Server 2003 and Server 2008.
I did not see any information on the web regarding compatible web browsers, but I did successfully test access with IE9, Google Chrome and Firefox 5.0.1. It seems that most major browsers should have no problem accessing the web portal.
Support is offered online by submitting a question to either the technical support or sales team. Advertised around the clock help desk support is available for all users.
There are also technical papers, video tutorials and a FAQ section available on the website. The FAQs are not in depth and provide little assistance. Comparatively, I did find the video overviews and tutorials to be above average and helpful. If you are stuck on an issue, I recommend viewing the videos first to help resolve the matter.
Concerned about security? Don't be. Timeline provides an excellent standard that other backup solutions could learn from. For starters, Timeline uses 256 bit AES encryption to safeguard your data. Secure Socket Layer authentication is also used in transferring your data to and from the data centers.
Users have the option of adding their own personal encryption key to their backup sets. This means that only the person who creates the password has access to the data and no one else. This holds true internally as well. If a family has multiple users with multiple passwords, each individual backup remains private.
These features, coupled with the security and reliability of being integrated with Amazon's S3 network means your data is safe, secure and recoverable. The S3 architecture promises 99.9% monthly uptime. If for whatever reason this uptime is not met, users are entitled to monetary compensation for their inconveniences.
These measures make Timeline Cloud compliant with HIPPA, Gramm-Leach-Bliley, Sarbanes-Oxley Act, SEC/NASD and PCI DSS standards. Data is encrypted locally, sent securely to the data center and then stored in a guarded location. Security concerns can be laid to rest when using this cloud storage solution.
Conclusion
Timeline Cloud Family Backup impressed me across the board. From website layout to product features, this product is well thought out. If you are a home user looking for a family oriented backup solution, Timeline had you in mind when they created this solution.
Products are the result of many compromises. One option you may want may be sacrificed at the cost of another. In many cases, you don't get the entire package you're looking for. Timeline offers a solution where you can have your cake and eat it too.
For those that are looking for a home based backup solution, I highly recommend Timeline Cloud Family Edition. Although the cost may be slightly higher than other options, the features and security you get with this program are second to none.