I've been running a Linksys SRW2008 managed switch as the main Layer 2 device in my LAN for nearly a year, and it has stood up to the rigors of testing various devices and changing configurations quite well, until recently. Unfortunately, while testing jumbo frame transmissions with a newer NAS device, the SRW froze and become unresponsive. Several of its ports no longer lit up, I couldn't log into it, it wasn't forwarding traffic, it was toast, RIP.
My intent here isn't to deride the Linksys SRW2008, but with Linksys being one of the larger small network device manufacturers, I decided to track the return process and share my experience.
After rebooting, resetting and trying to revive the patient to no avail, I pronounced my SRW dead. So, I started clicking around Linksys' web page, and found their Warranty information page, where I determined the SRW was covered under a limited 5 year warranty, shown in Figure 1.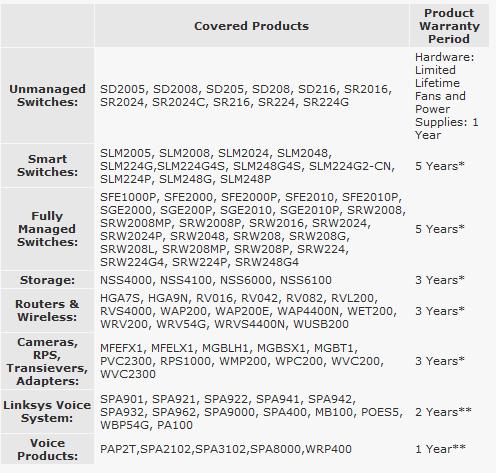 Figure 1: The Warranty
I poked around a bit further, trying to find a way to generate a Return Material Authorization number (RMA) without going through the hassle of sitting on hold and trying to prove to a customer service rep that my device was non-functional. I did find Linksys' RMA page here. But to generate an RMA, a Case ID has to be generated. Unfortunately, getting a Case ID requires speaking to a human. So, I poured myself a big cup of coffee, took a deep breath, and called Linksys Customer Service at the Call Center Contact phone number listed at the bottom of the RMA page.
I was pleasantly surprised. I had to provide my model and serial number, report status of lights and run through some simple diagnostics to satisfy the agent that I wasn't confused about whether the device was defective or simply unplugged. But in a short time we reached agreement that my SRW was indeed dead. I received my Case ID, which I then used to generate an RMA on line and print a packing slip. I was off the phone before I could finish or spill my coffee!
I packed up the device and dropped it off for shipping two days later, and basically forgot about it. Two weeks later, I received an email from Linksys with a link to a status page showing my replacement device had been shipped, complete with a UPS ground tracking number (Figure 2). Later that same day, I received another email confirming my defective unit had been received.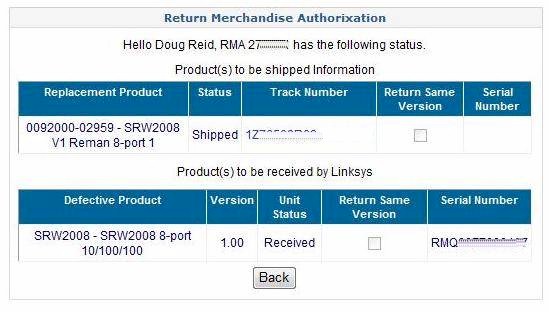 Figure 2: RMA Tracking
The sequence of emails seemed a bit backward, with notification of shipping preceding notification of receipt of the defective device, but the emails were appreciated. Finally, a little over a week later, I had in my hands what was labeled as a re-manufactured SRW2008 but appeared to be brand new, complete with all accessories and packing.
All in all, my experience with Linksys warranty service was positive. Ground shipping was of course the biggest delay in the whole process. It would have been great for Linksys to provide a pre-paid express shipping label shipping label to return the device, and have it returned express as well. This would have added considerable cost to the process, though. Table 1 shows a rough time line of the events.
| Event Time Line | Date |
| --- | --- |
| Opened RMA | June 14, 2008 |
| Shipped Device | June 16, 2008 |
| Replacement Shipped | June 28, 2008 |
| Replacement Received | July 7, 2008 |
Table 1: Timeline summary
When I install a new network device in my network, I invest a lot of time and effort into configurations and optimizations. I expect it to last through repeated reconfigurations, testing of options and features, and of course to process frames and packets flowing through my network. I depend on my network devices to be stable, as I'm sure you do too.
Failure of a device is always disappointing, but it does happen. The key is whether the manufacturer stands behind their product in a reasonable manner. In my case, I feel Linksys did a decent job. Feel free to post a comment on your experiences with RMA processes with Linksys or other manufacturers, we'd love to hear your feedback, and perhaps so will the manufacturers!