New NASes
Buffalo may be down because of its wireless networking battle with CSIRO, but they're not out. The company refreshed its Linkstation networked storage line at CES, adding its first dual-drive NAS.
The LinkStation Pro Duo is a dual-drive SATA NAS with a gigabit Ethernet LAN port that supports jumbo frames and a black enclosure that looks like it was borrowed from Buffalo's existing DriveStation external attached drive line.
Like all Buffalo's NASes, the Pro Duo comes with drives, which in the case of the 1.0 TB LS-W1.0TGL/R1 model announced today, would be two 500 GB 7200 RPM SATAs.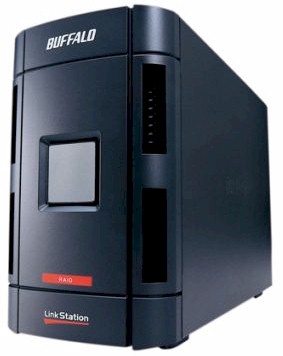 Buffalo Linkstation Pro Duo
The Duo supports RAID 0 and RAID 1 and includes Buffalo's remote Web Access feature. Other features include Active Directory support and a Remote Power feature, which can power up the unit remotely with the included Navigator software. A USB port supports expansion drives and UPS sync. Availability is by the end of January at an estimated street price of $449.
Buffalo must believe that consumers need an easier to set up NAS, because that's what they have with the Linkstation EZ. It comes with a Windows-based installation wizard that should get anyone up and running in no time.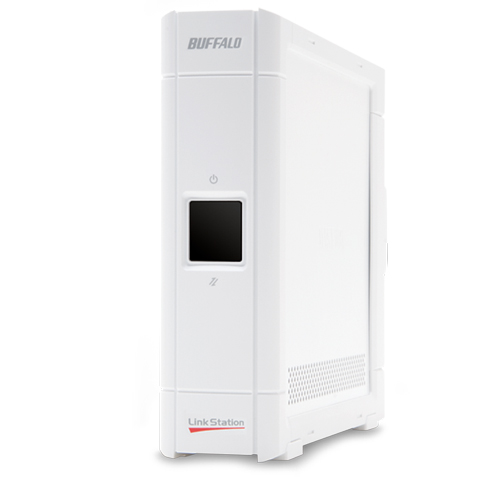 Buffalo Linkstation EZ
The EZ has no media servers and no USB port, but it has a jumbo-frame enabled gigabit Ethernet LAN port. The first model out is the 500 GB LS-500GL sporting a 7200 RPM SATA drive, with more capacities to be added in the coming months. It's available now at an estimated street price of $199.
By the way, both products come bundled with Memeo client backup software.
More Stuff
Maybe I missed the announcement, but it looks like Buffalo has quietly released a rackmount TeraStation. The TeraStation Pro II Rackmount supports 4 SATA drives in a 2U height rackmount chassis and comes in 1, 2 and 4 TB capacities.
Buffalo has finally gotten with the program and made the drives hot-swappable for all five RAID modes (0, 1, 5, 10, JBOD). Other features include both AD and DFS support, FTP server, two USB 2.0 ports for storage expansion and the ubiquitous (at least for Buffalo storage products) Memeo backup client software.
This one is already out and it looks like the 4TB model will cost you around $2,000.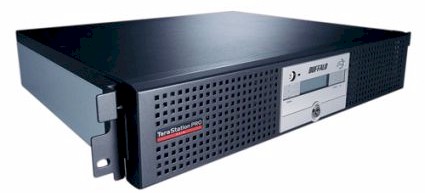 TeraStation Pro II Rackmount
Buffalo couldn't have known about the past few days' HD-DVD brouhaha when it was prepping its MediaStation Blu-ray HD DVD drive. Buffalo says its the first device of its kind to both read and write Blu-Ray discs and also reads HD-DVD discs.
The drive connects via USB 2.0 and will be available this quarter at an estimated street price of $649.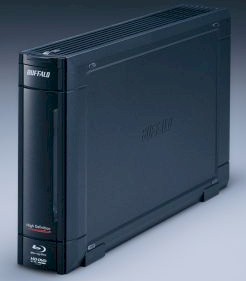 MediaStation Blu-ray HD DVD drive
Since I'm covering non-networked products, I should also mention the release of the 320GB MiniStation TurboUSB. It joins the rest of Buffalo's ultra-portable USB drive line and is available now for $229, estimated street.