It was a big week for NAS announcements last week. Here's a roundup of what happened while we were away.
• QNAP announced Version 3.6 of its NAS OS. The release includes bugfixes and new VPN (PPTP and SSL/TLS-based OpenVPN), LDAP and Proxy servers.
Also in the release are a new version of MyCloudNAS 1.2, QPKG center and several backup enhancements. Read the release or check out the V3.6 page.
• Ahead of next month's CeBit Hannover, Thecus unveiled its new Vision series. The N2800 and N4800 are two and four-bay NASes using Intel's 2.13 GHz D2700 Atom "Cedar Trail" CPU. These new products aim to blur the line between NAS and media center PC by including an HDMI output, allowing HD content to be played directly from the NAS.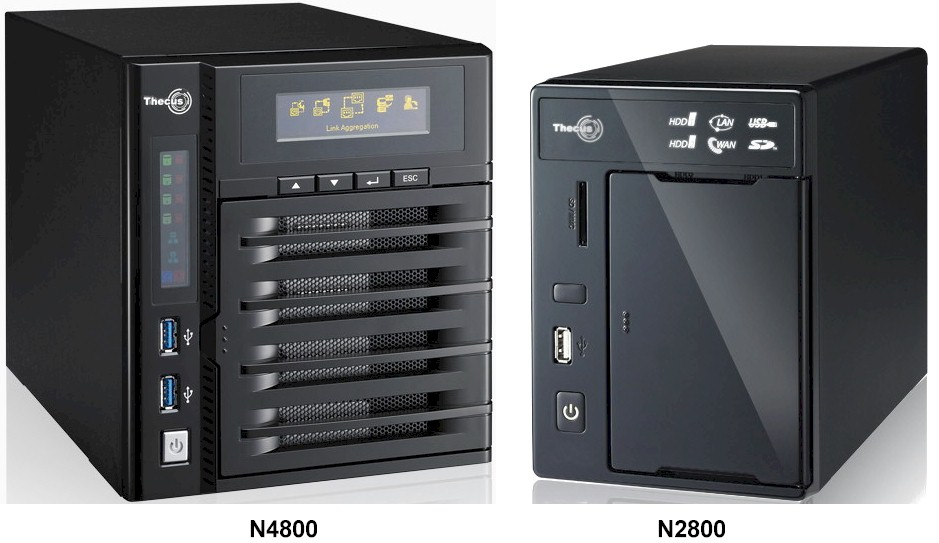 Thecus N2800, N4800 Vision Series NASes
Other hardware features include 2 GB of DDR3 RAM, 1 GB SATA disk-on-memory (flash), USB 3.0 ports, dual Gigabit Ethernet ports, SD Card reader on the N2800 and mini-UPS /battery backup on the N4800. Both products support the entire range of Thecus OS features including multiple volumes, iSCSI thin provisioning, rsync backup and a wide range of storage, cloud and media services.
The N2800 ($460) and N4800 ($710) will ship by the end of this month. Prices are U.S. MSRP.
• Iomega introduced its PX "Server Class" NASes. The new line includes two desktop and two rackmount models, numbered the same as their predecessors—px4-300d, px6-300d, px4-300r, and px12-350r—but with "Server Class" (-sc) appended.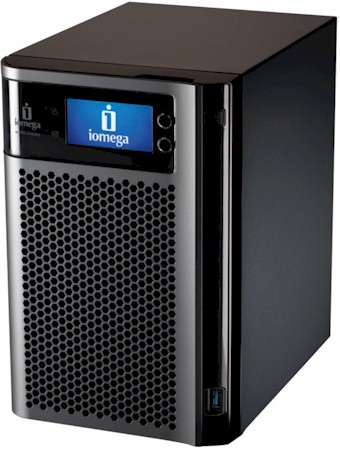 Iomega px6-300d Server Class NAS
The announcement said the line uses Intel Atom, Celeron and Core 2 Duo CPUs, but didn't provide details. Each box also gets "server class" drives and a new EMC Lifeline "industrial strength" OS. The feature set, however, seems similar to that of the current non "server class" line.
The Server Class px4-300d models start at $699.99, the px6-300d at $899.99, the px4-300r at $1,699.99 and px12-350r at $4,999.99. All are shipping shortly and include a standard three-year limited warranty with phone support up to 13 hours a day, five days a week.