D-Link announced two managed gigabit switches with PoE, QNAP started selling its SSD "NASbook" and TRENDnet launched a 4 Megapixel surveillance camera line.
D-Link added the 10-port DGS-1100-10MP and 26-port DGS-1100-26MP to its DGS-1100 Series Gigabit Ethernet Smart Managed switch line. Both models offer all the same features found in other DGS-1100 Series switches, including essential Layer 2 switching options, energy savings and easy management.
The DGS-1100-26MP has 24 Gigabit ports, two Gigabit Combo ports and an overall PoE budget of 370W.. The smaller DGS-1100-10MP has 8 Gigabit PoE ports, two Gigabit SFP ports and a 130W PoE budget. All PoE ports on both models comply with the IEEE 802.3at PoE+ standard, supporting up to 30W of power on each port.
Both begin shipping in May. MSRPs are $449.99 and $759.99 for the -10MP and -26MP, respectively. [Full release]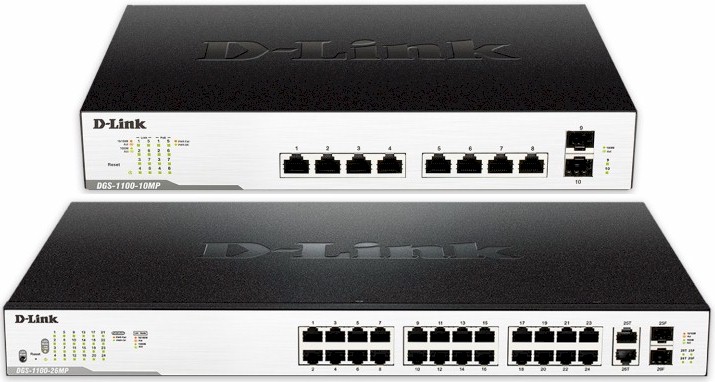 D-Link DGS-1100-10MP & DGS-1100-26MP Smart Gigabit Switches with PoE
QNAP released its TBS-453A NASbook, the world's first M.2 SSD-based NAS. The hardware platform features a 1.6 GHz quad-core Intel Celeron N3150 processor, 4 or 8 GB of DDR3 RAM and 4 GB of flash. Ports include five Gigabit Ethernet, four USB 3.0, one USB 2.0, two HDMI, two 3.5mm microphone input and one audio line output. Bulk storage is provided by populating four M.2 SSD slots.
The TBS-453A is available now, street priced at $449 (4 GB RAM) and $599 (8 GB RAM). [Full release]

QNAP TBS-453A NASbook
TRENDnet announced its new line of 4 MP network surveillance cameras with HTML5 support. Models include the TV-IP314PI Indoor/Outdoor 4 MP PoE Day/Night Network Camera and TV-IP315PI Indoor/Outdoor 4 MP PoE Dome Day/Night Network Camera. Both will be available in late May/early June, each at $204.99 MSRP.
The TV-IP344PI and TV-IP345PI will follow in June/July and feature a varifocal lens that allows the camera to auto-focus when zooming and audio support. Pricing has not been set.
HTML5 support will become available in June through a firmware update. [Full release]

TRENDnet 4MP Surveillance Cameras