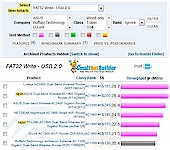 Storage performance benchmarks have been added to the Router Charts.
Routers have included USB ports to support file (and printer) sharing for attached drives for awhile now. And we've been testing them pretty much since the first products arrived. Test results in comparison tables can be found in our router reviews. But we haven't given you a way to easily compare storage performance among products…until now.
We've added eight new benchmark views to the Router Charts. You can now compare write and read performance for FAT32 and NTFS formatted drives for both USB 2.0 and USB 3.0 connections. Since storage support has evolved from USB 2.0 to USB 3.0, you won't find all products in all benchmarks. But if we've tested it, you'll now find it in the Charts.
The FAT32 Write – USB 2.0 chart is shown below. It has all filter controls, so you can narrow the view by Company, Class and Test Method. You can even plot Price vs. Performance for any of the benchmarks, if that helps you decide.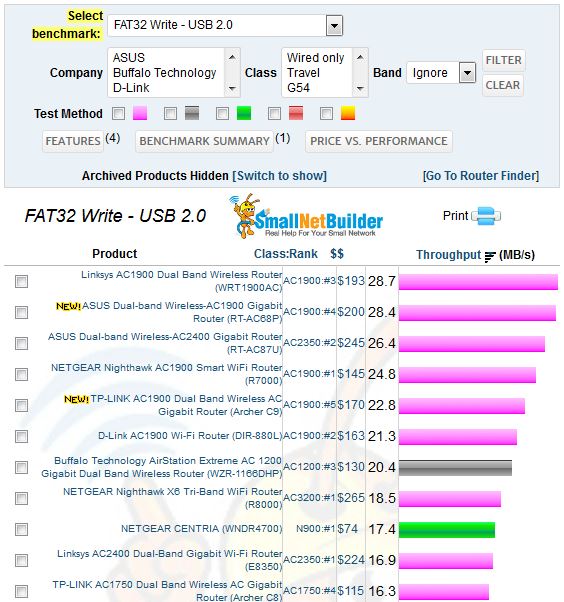 Router Charts Storage Benchmark
You'll also note that we have clarified what the bar colors mean. The former Bar filter checkboxes have been renamed Test Method, which more accurately describes their meaning. Mousing over each Test Method color will show the associated test method.
Links to each test method description can be found by clicking the Test Information button at the top of each chart. Note that this information changes according to the benchmark selected. So if you want information about a wireless test method, first select a wireless benchmark, like 2.4 GHz Downlink Profile, then click the Test Information button.
We hope you like the changes. Be sure to let us know what you think either via the Forums or just by dropping us a line.