Atheros has announced a new family of hybrid powerline / wireless networking solutions.
The company is releasing four new reference designs, including a wireless router (AP98) and three adapters (PL18, PL48 and RE98) that use combinations of its XSPAN wireless LAN, AMP powerline and ETHOS Ethernet chipsets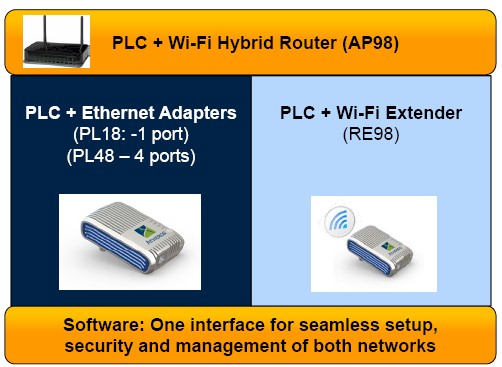 .
The AP98 router includes a dual-stream single band 802.11n AP, 10/100 Ethernet WAN and LAN ports and integrated HomePlug AV powerline networking.
The RE98 extender has the same configuration as the AP98, but has no router and only a single 10/100 Ethernet port.
The PL18 and PL48 are Homeplug AV adapters with one and four (switched) 10/100 ports, respectively.
The announcement signals Atheros' intent to move more aggressively into powerline networking, and better leverage its purchase last year of HomePlug market leader Intellon. While popular in Europe, powerline networking has remained an also-ran in the U.S. when compared to the Wi-Fi juggernaut.
Part of powerline's problem has been buyer confusion due to competing, incompatible standards. And some consumers who were disappointed with first-generation HomePlug's slow and erratic performance have been reluctant to try the technology again.
But the combination of 802.11n wireless and third-generation HomePlug AV technology can help consumers extend wireless networking into hard-to-reach home areas with higher and more reliable throughput than wireless repeater / extender solutions. Our recent round-up found multiple current-generation HomePlug AV adapters that provided 40+ Mbps of reliable throughput in all locations tested.
The new designs are also intended to address powerline networking's reputation as an expensive networking option. Atheros said the hybrid router should be able to be priced around $99, which is an important price point, while the hybrid extender could be on store shelves in the $70 – $80 range. Some single-port 200 Mbps HomePlug AV adapters are already available at $50 per adapter and under, and Atheros' new reference designs should enable more.
All the reference designs will be available in 4Q10, with first retail products expected before the end of this year.