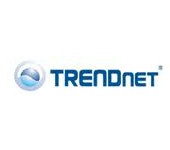 TRENDnet has announced three upcoming PoE+ switches that will ship in August.
The three new switches all support the newer 802.3at Power over Ethernet standard that provides a maximum 25.5W per PoE+-enabled port vs. 802.3af's 15.4W.
All three feature all-metal cases, non-blocking switching and GREENnet power saving.
TRENDnet PoE switches
Models and pricing (MSRP) are below. All three ship come August.
TPE-TG44g 8-Port GREENnet Gigabit PoE+ Switch $149.99
Four Gigabit PoE+ ports; four non PoE+ Gigabit ports
TPE-TG44g features include: four gigabit PoE+ ports; four gigabit (non-PoE) ports; a 16 Gbps switching capacity; a sturdy metal desktop enclosure; and up to 75% GREENnet power savings.
TPE-TG80g 8-Port GREENnet Gigabit PoE+ Switch $279.99
Eight gigabit PoE+ ports
TPE-T88g 16-Port GREENnet 10/100 Mbps PoE+ Switch $279.99
Rackmount; Eight Gigabit PoE+ ports; Eight non PoE+ Gigabit ports