At a glance
Product
Linksys 52-Port Managed PoE+ Gigabit Switch (LGS552P) [Website]
Summary
52-port GbE Smart Switch with PoE and simple Layer 3 functions
Pros
• 375 W total PoE power
• Simple configuration
• Basic Layer 3 features
• Relatively inexpensive
Cons
• Admin browser interface is slow
• Can't configure port groups
• Port-based VLANs are not supported (doc. error)
Typical Price: $0 Buy From Amazon
Introduction
Since the Belkin acquisition in 2013, Linksys has been developing new products targeted at small to medium size businesses. We recently reviewed their two small business routers, the LRT214 and LRT224.
Linksys also produces three different lines of switches: unmanaged; "smart", and managed. Linksys' unmanaged switches have 5-24 Gigabit ports, some of which support Power over Ethernet (PoE.) Linksys' smart switches have 8-26 Gigabit ports, some of which support PoE.
The "smart" switches have configuration options including VLANs, Link Aggregation Groups (LAGs), Spanning Tree Protocol (STP) and other Layer 2 switching features. Finally, the managed switches have 28-52 Gigabit ports, some of which support PoE. Configuration options include Layer 3 routing features, plus basic and advanced Layer 2 switching features.
This review focuses on Linksys' LGS552P managed switch. The LGS552P has 52 Gigabit ports, 48 of which support PoE, plus two Gigabit Copper/SFP (Small Form-Factor Pluggable) combo ports, plus two 10Gb SFP+ uplink ports. The LGS552P can route traffic between VLANs and between other Layer 3 devices. The LGS552P also includes the Layer 2 configuration options found in their smart switches.
Linksys' other managed switches in this family include the LGS552, non-PoE version of the LGS552P and LGS528 / LGS528P, which are 28 port switches with the same feature set, minus the 10Gb uplink ports.

Features
The below list is compiled from Linksys' LGS552P specifications page and product data sheet.
Ports

(50) Gigabit ports, 2 are copper/SFP combo ports
(2) 10 Gigabit ports (SFP+)
(48) PoE ports (802.3af and 802.3at)
375W PoE capacity

Switching Capability

140 Gbps switching capacity
104 Mpps forwarding rate
16K MAC address table capacity
9K jumbo frame support

VLANs

1024 802.1Q VLANs (valid VLAN IDs = 1-4096)
Voice VLAN with OUI recognition and assignment

LAGs

802.3ad LACP
4 LAGs with up to 8 ports per LAG

Spanning Tree

STP, RSTP
STP Root Guard and BPDU Guard

Security

802.1x RADIUS authentication
MAC Security
DHCP snooping
IP Source Guard
ARP Inspection
Storm Control
512 Access Control Lists (MAC and IP based)

QoS

4 hardware queues
Priority queuing and weighted round robin (WRR) queuing
Port-based, 802.1p based, and DHCP based
Port and traffic flow bandwidth controls

Other

9K Jumbo frame support
SNMP, SNTP
IGMP Snooping
Port Mirroring
Inside
The LGS552P can be rack mounted (rack mount hardware included) or placed flat on a surface (adhesive pads included.) However, with 52 ports and 3 cooling fans, it's too big (17.3″W x 13.8″D x 1.75″H) and loud to be a desktop switch.
The front of the device has the Ethernet ports and LEDs.

Front
The rear of the device has the AC power connector.

Rear
The components of the LGS552P include 128 MB RAM, 16 MB Flash, and a Marvell 98Dx3036 chipset with an embedded CPU. The internal photo below shows the LGS552P has two circuit boards in the bottom half of the image, as well as its power components in the top left of the image. The LGS552P I received is a reviewer's model, which I hope explains the masking tape over several components in the bottom right of the image.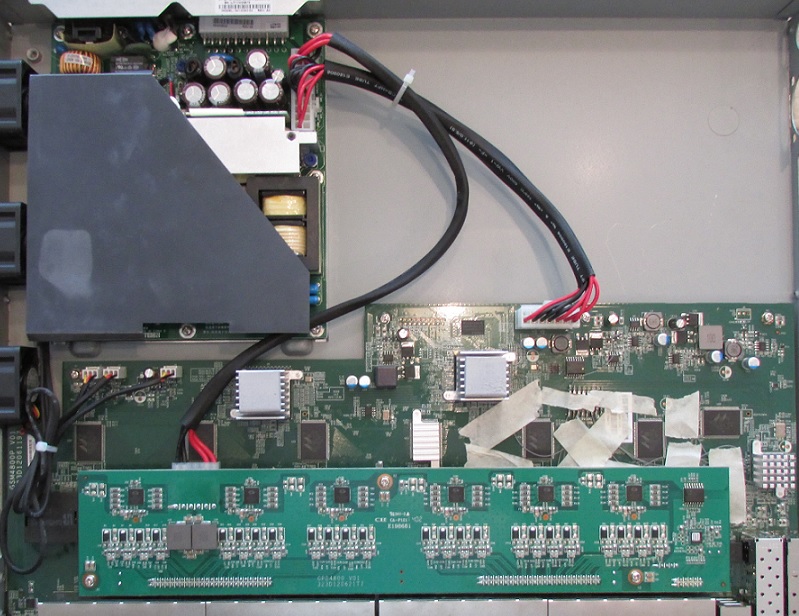 Linksys LGS552P Main Board
Menu/Configuration
The LGS552P can be configured from a web gui or from the command line via a console port or telnet. The menus on the LGS552P are easy to figure out. They remind me of the menus on Cisco's small business SG switches, such as the SG500-28P I reviewed awhile back. Interestingly, they both share a slight menu lag with the same "Processing Data" pop-up window (shown below) when a configuration is being applied.

Menu Lag
Below is a summary of the LGS552P menus, which provides an overview of configuration options. The headers in the below list are the main menus and bulleted items are sub-menus. Note, some of the sub-menus have additional menus.

System Management

System Information
Time
SNMP
Logs

Port Management

Ports
Link Aggregation
Green Ethernet
PoE

VLAN Management

VLANs
Interfaces
VLAN Memberships
Voice VLAN

Spanning Tree Management

Spanning Tree
STP Interfaces
RSTP Interfaces

MAC Address Management

Multicast

Feature Configuration
IGMP Snooping
Multicast Router Ports
Forward All
Unregistered Multicast
IGMP IP Group Addresses
MAC Group Address FDB
IP Group Address FDB

IP Interface

IP Network Operations

Domain Name System
DHCP
IP Source Guard
DHCP Snooping Binding DB
ARP Inspection
Interface Settings

Security

Security Management
RADIUS
Network Access Control
Port Security
Storm Control

Access Control List

MAC Based ACL
MAC Based ACE
IP Based ACL
IP Based ACE
ACL Binding

Quality of Service

Feature Configuration
Queue Scheduling
Bandwidth Control
Basic QoS
Advanced QoS
An important aspect to configuring the LGS552P is you need to save your configurations after they've been applied, or you'll lose them in a power cycle. You'll find the option to save your configurations in the LGS552P's maintenance menu.
One thing I would like to see on the 52-port LGS552P is an efficient method to configure multiple ports simultaneously. As it stands, you can use the VLAN Membership menu to click and change VLAN assignments to ports relatively easily. But it would be nice to have a range function to apply changes to a range of ports at the same time.
PoE
The LGS552P can provide up to 375 watts of power to PoE-capable devices on ports 1-48. I successfully powered multiple PoE devices to the LGS552P, including a Ubiquiti Access Point, Grandstream VoIP device and a NETGEAR M4100 switch. As you can see below, the LGS552P reports those three devices are drawing a total of 21800 milli-Watts, or 21.8 Watts.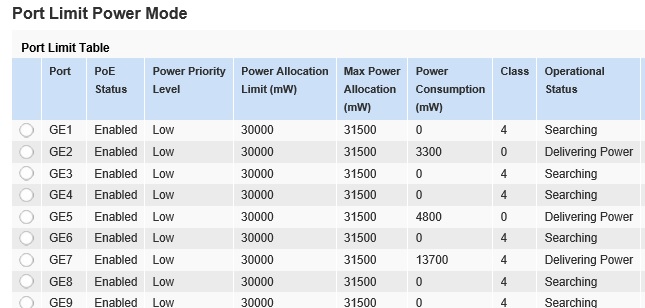 Power over Ethernet
The LGS552P supports a maximum of 30 W per port. Of course, if all ports drew 30 W, that would exceed the switch's PoE capacity. So the LGS552P has configuration options to limit power by port, PoE class or priority. My three devices are drawing an average of 7.27 W each. 7.27 W to 48 ports totals 350 W, which is within the LGS552P's power budget of 375 W.
Power consumption on the LGS552P can be reduced with its Green Ethernet options. Options include 802.3 EEE (Energy Efficient Ethernet), which reduces power when there is no traffic on an interface, Energy-Detect mode, which reduces power when an interface is down, and Short-Reach mode, which reduces power on cables with a detected length of less than 50m. The interface LEDs can also be disabled to further reduce power consumption.
Layer 3
A basic switch operates at OSI Layer 2. That means it forwards data by examining source and destination MAC addresses. Switches forward data via hardware, allowing them to pass traffic at line rate. Line rate references the speed of the ports, which in this case is Gigabit speed. (The LGS552P also has two 10 Gigabit ports!) However, if data has to go from one VLAN to another, a Layer 2 switch typically sends the traffic to a router. Small network routers often route data packets with software, which is slower than hardware.
A Layer 3 switch can forward data based on MAC addresses at line rate, plus it can route data based on IP addresses (Layer 3) at line rate. Thus, a Layer 3 switch can improve performance in a network with multiple VLANs using different IP ranges because it can route data from one VLAN to another without sending the traffic to a router. It's important to note that even with a Layer 3 switch, you still need a router for software based functions like Network Address Translations (NAT.)
To use Layer 3 functions on the LGS552P, you need to enable Layer 3 mode, as shown in the screenshot below. This erases all previously configured settings, so you need to do this first if you plan to use Layer 3 routing. Layer 2 functionality is still available after Layer 3 mode is enabled, so you don't lose anything by enabling Layer 3 mode, as long as your connections and configurations are correct.

Layer 3 Mode
The LGS552P has basic Layer 3 functionality. You can assign an IP address to each VLAN in the switch, which enables it to automatically route traffic between those VLANs. You can also enter up to 64 static routes for routing traffic to other Layer 3 devices. The LGS552P also supports MAC and IP based Access Control Lists for filtering traffic between VLANs and/or to/from other Layer 3 devices. The LGS552P doesn't provide a DHCP server or support dynamic routing protocols like RIP or OSPF.
The screenshot below shows both the IPv4 route table and the IPv4 VLAN interface table. (The LGS552P also supports IPv6.) As you can see, the LGS552P has a static default route pointing to my router at 172.23.1.1, plus it has directly connected routes to 172.23.1.0 and 192.168.1.0. Those connected routes were automatically created by assigning IP address to each VLAN on the switch, which creates a VLAN interface.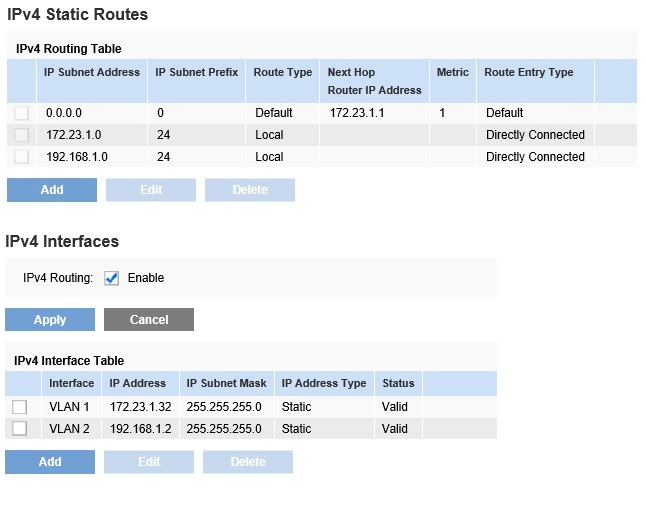 Route Table
I tested routing on the LGS552P with a PC connected to each VLAN. I gave each PC the LGS552P's VLAN interface as their gateway. I was able to successfully ping the Internet and ping devices on other VLANs. A traceroute confirmed the LGS552P was routing packets as intended.
VLAN
The LGS552P supports 802.1Q VLANs. Up to 1024 active 802.1Q VLANs can be configured, using numbers from 1-4096. I tested untagged and tagged VLANs between the LGS552P, a Cisco SG200-26 and a NETGEAR GS108T. The LGS552P successfully passed VLAN tags over trunks to and from both switches. Below is a screenshot showing multiple ports configured as access or trunk ports with different VLAN assignments.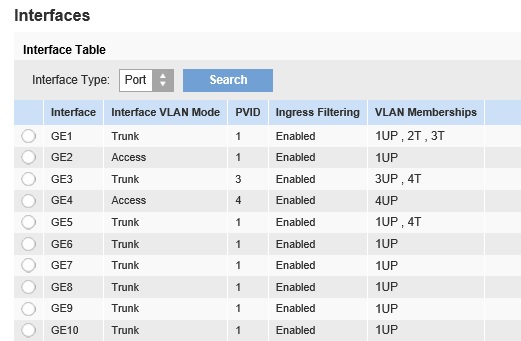 VLANs
The LGS552P data sheet lists support for port-based VLANs, yet port-based VLANs aren't mentioned anywhere in the manual. Further, there isn't a configuration option for enabling port-based VLANs. Moreover, port-based VLANs on an 802.1Q switch (see my how to here) require ports that can be untagged members of multiple VLANs, which doesn't appear to be supported by the LGS552P.
The LGS552P supports a single Voice VLAN, which can be automatically assigned to ports with recognized VoIP devices. If a VoIP device with a recognized OUI (Organizationally Unique Identifier = the first six characters of the MAC address) sends a frame on a Voice VLAN enabled port, that port will be enabled as a tagged member of the Voice VLAN. I added a couple VoIP devices and their OUI to the LGS552P and observed the switch correctly make their ports tagged members of the Voice VLAN.
In the screenshot below, you can see I've added Grandstream and Panasonic OUIs. In my previous VLAN screenshot, notice that ports 3 and 5 are tagged members of VLAN 4, which is the Voice VLAN I created. Ports 3 and 5 automatically became tagged members of VLAN 4 by enabling the LGS552P Telephony OUI Voice VLAN feature and detecting the OUIs of the Grandstream and Panasonic VoIP devices. Note there doesn't appear to be an LLDP (Link Layer Discover Protocol) option to automatically communicate the Voice VLAN ID to the VoIP device, so putting Voice traffic onto the Voice VLAN may also require manual configuration of the VoIP device.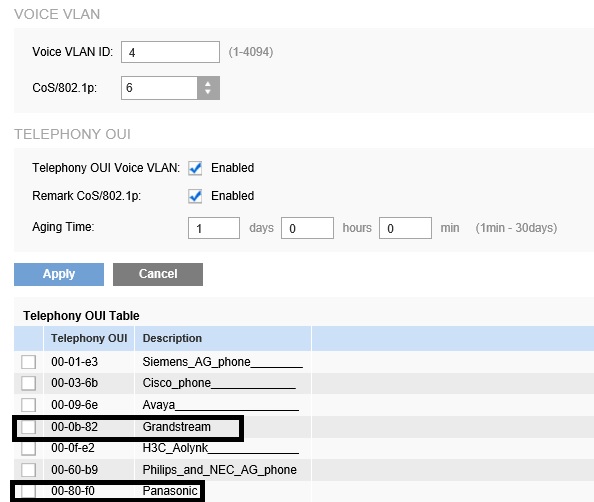 Voice VLAN
A guest VLAN can also be defined where devices are placed in specific VLAN based on authentication permissions. I'll discuss authentication in the security section below.
STP
Spanning Tree Protocol is enabled by default. Both STP and RSTP (Rapid Spanning Tree Protocol) are supported, with RSTP as the default. I gave the LGS552P my usual STP test, which is to plug both ends of an Ethernet cable into two ports of the switch on the same VLAN. With STP disabled, the switch would likely crash. With STP enabled, there should be little or no network interruption.
I connected my Ethernet cable to ports 13 and 14 with STP enabled. As shown below, port 14 has been placed into a Discarding state, meaning it is not passing traffic, successfully preventing a switching loop.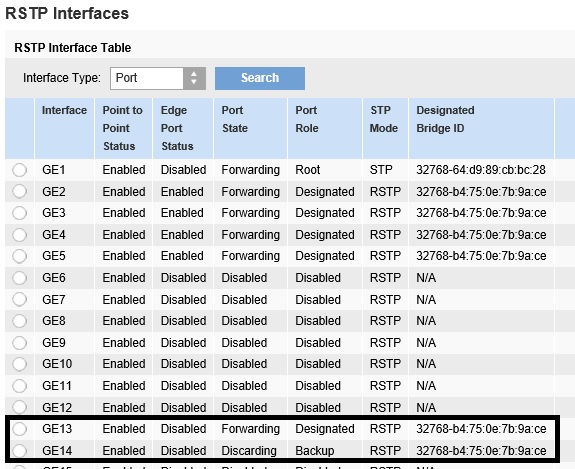 Rapid Spanning Tree
LAG
The LGS552P supports up to four Link Aggregation Groups (LAGs) with up to 8 ports per LAG. Automatic LAGs utilizing Link Aggregation Control Protocol (LACP) and manual LAGs are supported.
I had no problem setting up a LAG between the LGS552P and a Cisco SG200-26. The key to setting up a LAG is to first make sure all the ports in the LAG are members of the same VLAN and have the same port type (access or trunk). Then add the ports to the LAG and assign additional VLANs to the LAG instead of the ports. In the screenshot below, you can see the ports GE25 and GE26 are members of an active LAG utilizing LACP to establish the connection.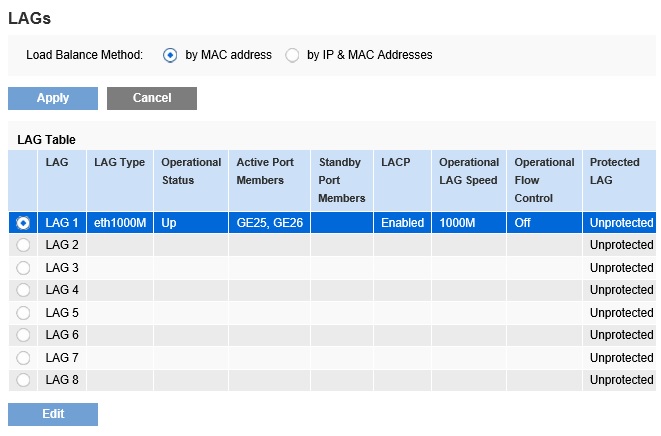 Link Aggregation Group
Security
The LGS552P allows you to filter traffic based on MAC or IP address. The configuration is modular, requiring you to create an Access Control List (ACL), create Access Control Entries (ACE) to define the traffic to filter and finally bind the ACL to a port or LAG. A MAC-based ACL can filter traffic based on source and destination MAC addresses, VLAN ID, and 802.1p value. An IP based ACL can filter traffic based on protocol, source and destination IP addresses, source and destination layer 4 port, DSCP values, and IP Precedence values. Up to 256 ACLs and 256 ACEs can be created.
The LGS552P can control access to the network through MAC-based security where you define the number of permitted MAC addresses per port. The LGS552P can also provide authenticated network access control via an external RADIUS server using the 802.1X protocol.
Other security tools on the LGS552P include DHCP snooping which allows you to control which ports can have a DHCP server, IP Source Guard which helps prevent IP address spoofing, ARP inspection which helps prevent MAC address spoofing, and Storm Control which controls the rate of packets permitted to enter the switch on a specific port.
QoS
The LGS552P allows you to configure ingress and egress bandwidth controls per port, as well as select between basic and advanced QoS modes. Bandwidth controls define ingress rate limits and committed burst size, plus egress committed information rates and burst size. I set up the bandwidth control as shown below on port 2 of the LGS552P to set the egress rate limit to 10,000Kbps. With this bandwidth control in place, a throughput test using Totusoft's LAN Speed Test tool showed traffic going to a PC on port 2 maxed at about 8,500Kbps, validating the effectiveness of the bandwidth control.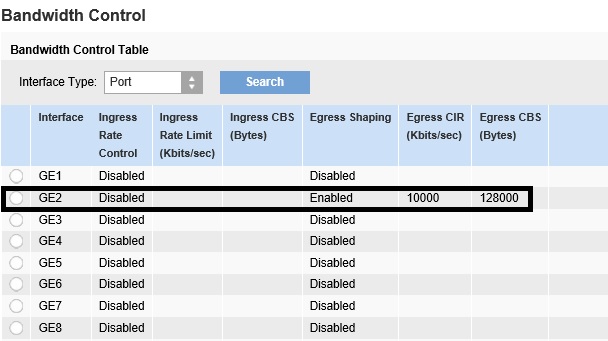 Bandwidth Controls
Basic QoS is enabled by default on the LGS552P, which allows you to define CoS values by port, define whether to trust QoS values received on each port and then select between strict priority or weighted round robin queuing to manage traffic congestion. Mapping QoS values to queues is not configurable.
Advanced QoS on the LGS552P is a bit more complex. You start by creating ACLs to match specific traffic flows. You then create a Class Map where you select the ACL you created to match a traffic flow. A Policy Class Map than assigns a single or aggregate traffic policer to a Class Map. A traffic policer defines the ingress committed information rate (in kilobits per second) and ingress committed burst size (in bytes.) A Policy Class Map is then bound to one or more interfaces to apply the QoS configuration to the actual traffic.
Closing Thoughts
NETGEAR's M4100 and Cisco's SG300 are similar managed switch families that also vary by ports and PoE capability. The NETGEAR and Cisco models that most closely compare to the Linksys LGS552P are the NETGEAR M4100-50G-PoE+ and the Cisco SG300-52P.
The chart below provides a basic comparison of these three switches. Note, the Linksys LGS552P is the only one with 10Gbps SFP ports. While all three switches carry "lifetime" warranty, each warranty has its unique limitations. So be sure to check before you buy. Price information is from Amazon.com.
| Feature | Linksys LGS552P | Cisco SG300-52P | NETGEAR M4100-50G-PoE+ |
| --- | --- | --- | --- |
| Copper RJ45 Ports | 50 | 48 | 40 |
| Combo RJ45/SFP | 4 | 2 | 4 |
| PoE Max (Watts) | 375 | 375 | 380 |
| VLANs | 1024 | 4000 | 1024 |
| Static Routes | 64 | 64 | 64 |
| Switching Capacity (Gbps) | 140 | 104 | 100 |
| Forwarding Rate (Mpps) | 104.16 | 77.38 | 74.4 |
| MAC Table | 16K | 16K | 16K |
| Warranty | Limited lifetime warranty | Cisco Limited lifetime warranty | NETGEAR ProSAFE Lifetime Hardware Warranty |
| Price | $1081 | $1125 | $1186 |
Overall, I found the Linksys LGS552P easy to configure and stable. Some of the configuration options could be more efficient, but those are minor nits.
The bottom line, as you can see in the above table, is the LGS552P has higher switching capacity and forwarding rate and is slightly less expensive than the Cisco and NETGEAR. If you have the need and budget for lots of Gigabit Ethernet ports, generous PoE power and a little bit of Layer 3 features, the LGS552P is worth a look.
Buy 52-Port Managed PoE+ Gigabit Switch from Amazon