The RV042 V3 is an update of Cisco's ever-popular small business VPN router. The hardware design has been redone since the original model, which we looked at back in 2007.
Aside from a change to a darker-grey motif and removal of the older model's Linksys branding, the outside looks pretty much the same.
At a glance
Product
Cisco Dual WAN VPN Router (RV042 v3) [Website]
Summary
New version of popular Cisco small-business VPN router
Pros
• Flexible Dual WAN ports
• Dual-stack IPv6 support
• Up and downlink priority and bandwidth QoS
• 50 IPsec tunnels
• Subscription content filtering option
Cons
• 10/100 vs. Gigabit ports
• Admin access problem with Firefox / Windows
Typical Price: $0 Buy From Amazon
All indicators are on the front and all ports are on the back. All ports are still 10/100 with two WAN ports, one of which can be switched to a dedicated DMZ port and four LAN ports. The number of IPsec VPN tunnels has been raised from 30 to 50, however.

Cisco wasn't forthcoming on component details despite multiple requests. Cisco came through with a summary of the changes between the original and RV0XX V3 versions. The internal photo below shows a Realtek RTL8309G switch instead of the Infineon ADM6999 in the V1 and I was able to identify 32 MB of flash, up from 8 MB in the V1. The two Mira P3R12E4JFF chips provide 128 MB of RAM, up from the original 32.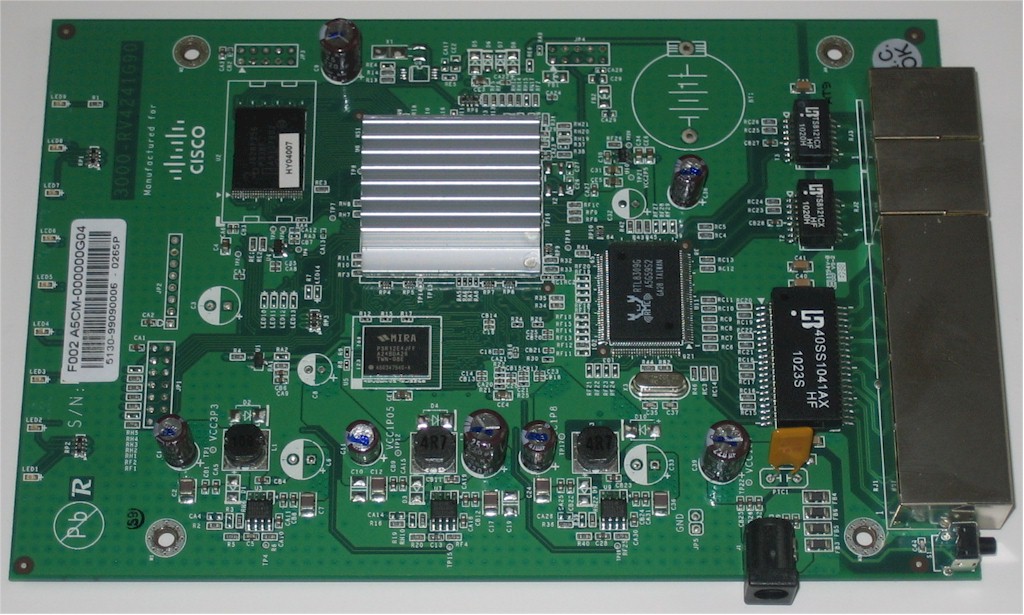 The Cisco document identified a 300 MHz Cavium CN5010 as the CPU, replacing the Intel IXP425-266 in the V1. The CN5010 is also used in Cisco's newest small biz routers, RV220W and RV120W. (The RV220W's CN5010 is clocked at 400 MHz, while the RV120W's runs at 300 MHz.) You can also see a Lattice LCMXO2-256 PLD on the board bottom, which I don't think was in the original design.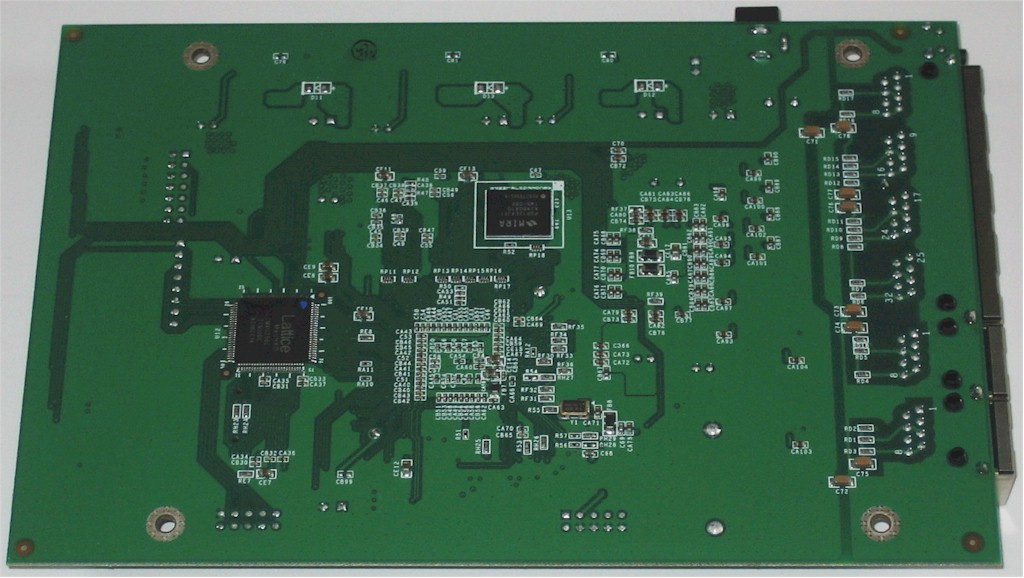 The RV042 has a completely redesigned user interface from the original and looks more like the other recent Cisco small business products, like the RV220W. Note that support for IPv6 still is missing from the admin interface. Here's a quick rundown of some of the features:
DHCP, Static, PPPoE, PPTP, L2TP, Telstra Cable WAN types
DHCP server with MAC address reservation
VLAN support
Dual-WAN with failover and load balance modes
Built-in Dynamic DNS client
Static and dynamic routing
SPI firewall disable, multicast, WAN ping and IDENT filtering and Proxy, Java, ActiveX and Cooking blocking
Single port forwarding and Port Range forwarding and triggered ports
HTTPS admin access, remote management (HTTP / HTTPS) enable with IP range restriction and port setting
Incoming, outgoing, Security and DHCP onscreen log access with support for Linksys Logviewer recording
Optional Cisco ProtectLink cloud-based security service
Uplink and downlink QoS, priority and bandwidth limit modes
50 IPsec site-to-site and 50 client-to-gateway tunnels
5 PPTP tunnels
Routing Performance
Routing throughput running the latest v4.0.0.07-tm firmware and our router test process measured around 90 Mbps WAN to LAN, LAN to WAN and total with up and down tests running simultaneously. The IxChariot composite plot below shows upload speed lower than download in the simultaneous routing test. The Maximum Simultaneous Connection test maxed out at our test method limit of 34925 sessions.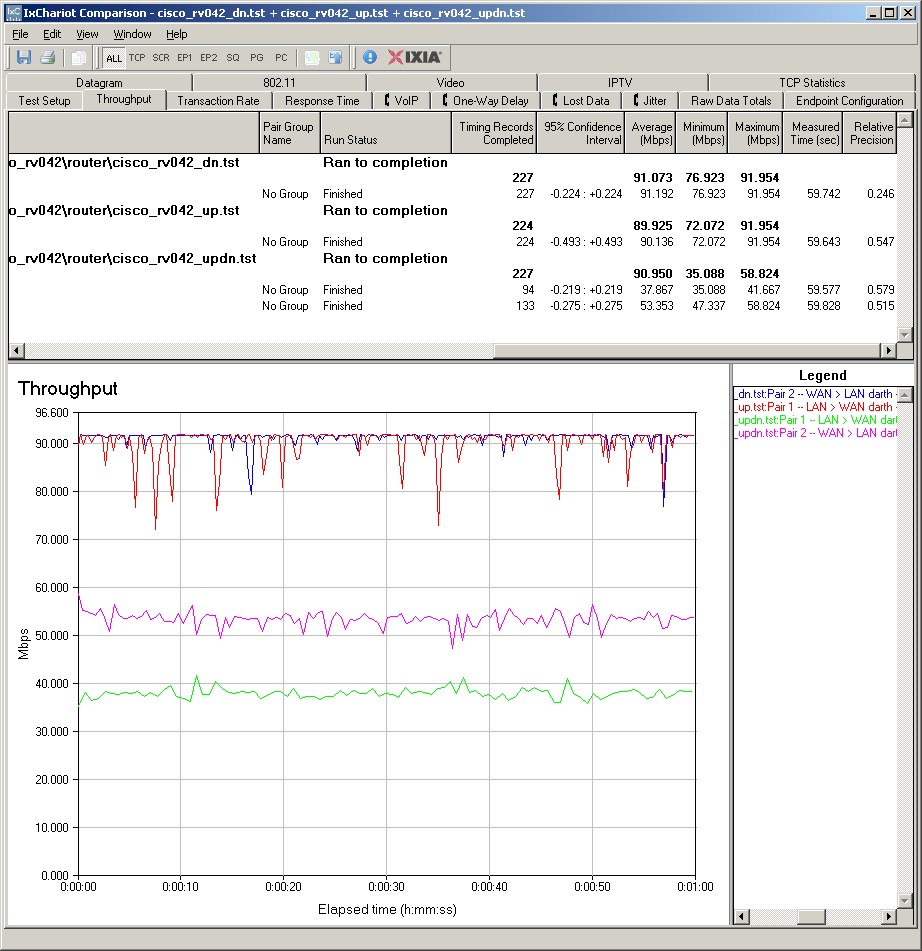 Read the full review.
Buy Dual WAN VPN Router from Amazon