At a Glance
Product
TRENDnet 16-Port Gigabit Web Smart Switch with 2 Shared Mini-GBIC Slots [TEG-160WS]
Summary
Value priced 16 port Layer 2 managed switch with a few key missing features
Pros
• Easy and quick to configure
• Silent
• Good configuration examples in manual
Cons
• No ingress / egress bandwidth controls
• Can't view LAG status or MAC table
• No MAC filtering
Introduction
TRENDnet and TP-LINK both focus on producing "value" products with attractive combinations of features and price. A few months back, I looked at TP-LINK's version of an aggressively-priced 16 port Gigabit "smart" switch in the form of its TL-SG2216. So today I'm going to give TRENDnet a chance to see what it can do with 16 smart Gigabit ports for about the same $150 or so.
TRENDnet has three lines of switch products. The first line includes 22 different models of unmanaged switches with 5-24 ports. The second line includes five different models of "Web Smart" switches with 16-48 ports. These switches support layer 2 technologies such as VLANs, yet are designed to be easy to configure and manage.
The third line has three models of managed layer 2 switches with 8-24 ports. These switches have multiple configuration options, greater switching capacity and can be a bit more complex.
In this review, I'm going to look at one of TRENDnet's second line switches, the TEG-160WS 16 port Web Smart switch. TRENDnet also offers a 24 port version, the TEG-240WS.
The TEG-160WS is enclosed in a 17.3"W x 8.3"D x 1.73"H. dark metal case with rack mounting brackets and adhesive rubber feet included. All its 16 10/100/1000 Ethernet ports, two mini-GBIC fiber ports and indicator lights are on the front of the switch. Ports 15 and 16 are shared with the 2 fiber ports, so you get 16 total ports, not 18.

TRENDnet TEG-160WS front
The rear of the device, further below, has the power connector and a reset button.

TRENDnet TEG-160WS back
Inside
The internal view below shows a Marvell-based design with a Marvell 98DX163-A2 16-port GE L2+ SecureSmart switch at its core (large device at top center). Three 88E1240 Alaska Quad Gigabit Ethernet transceivers connect the switch to twelve of the 16 ports with four 88E1112 10/100/1000 Gigabit Ethernet Transceives with Auto-Media Detect handling the other four ports, plus the two Mini-GBIC ports.
An 88E6218 Gateway SoC runs the whole show with the power of a 150 MHz ARM9E CPU with 2 MB of flash and 8 MB of RAM, if I'm not mistaken. Firmware version 3.02.01, which is the latest version, came loaded on the review sample.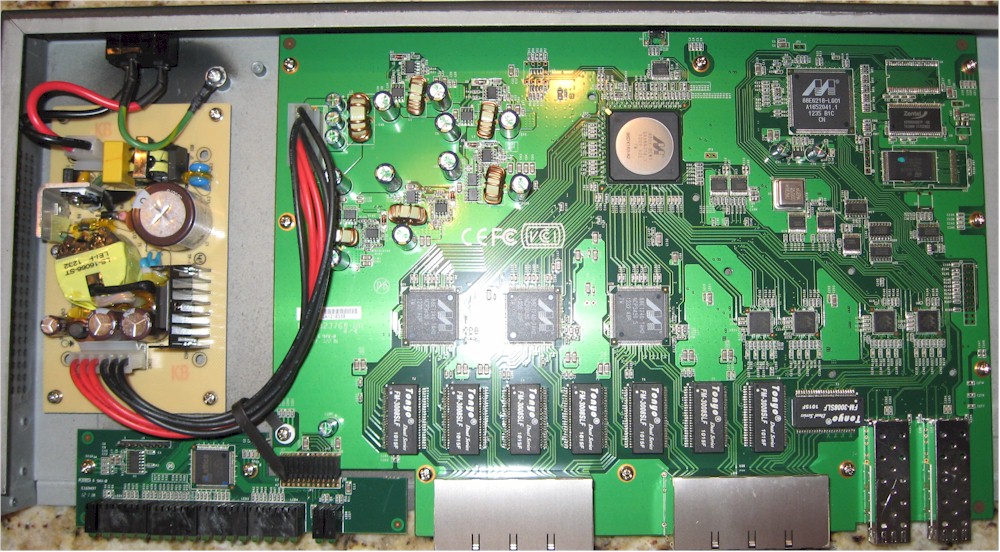 TRENDnet TEG-160WS inside
This is not a Power over Ethernet (PoE) switch, so it has lower power and cooling requirements. Its power supply is internal and there is no cooling fan for silent operation.
Features
The feature list below is from TRENDnet's product page for the TEG-160WS.
16 x 10/100/1000Mbps Auto-MDIX RJ-45 ports
2 x 1000Base-SX/LX Mini-GBIC slots (shared with Gigabit ports 15-16)
32Gbps switching capacity
IEEE 802.3x Full Duplex Flow Control and Back Pressure
IEEE 802.3ad Port Trunk
IEEE 802.1D Spanning Tree Protocol
IEEE 802.1p QoS
IEEE 802.1X Authentication and SNMP v1
Supports port based IEEE 802.1Q VLAN Tag and Asymmetric VLAN
Store and Forward switching method
Front panel diagnostic LEDs
Supports Jumbo Frame packets (max size up to 10Kbytes)
Integrated address look-up engine supports up to 8K absolute MAC addresses
Supports 512Kbytes RAM for data buffering
Easy configuration via Web browser
Standard 19" (1U) rackmount size (rackmount kit included)
Power consumption 30 watts (max)
17.3"W x 8.3"D x 1.73"H
3-Year Limited Warranty
Take note of that last bullet, warranty. The TP-LINK TL-SG2216 that I'm using for a comparative product carries a five year warranty. But the warranty for both products is much shorter than the lifetime warranty NETGEAR and D-Link offer on many of their switches.
Configuration
Configuration on the TEG-160WS is via a nicely organized web GUI with three main menus as shown below. I liked how nearly all of the menus were point and click. Most configurable options are in dropdown menus, minimizing the need to enter values via the keyboard.
| SETUP | ADVANCED | SYSTEM |
| --- | --- | --- |
| Port Setting | SNMP | Info |
| 802.1q | STP | Settings |
| Trunk | 802.1x | Traps |
| Mirror | IGMP Snooping | Password |
| 802.1p | | Stats |
| Broadcast Control | | Reset |
| Jumbo Frame | | Backup |
| | | Firmware |
| | | Reboot |
Menu summary
The GUI is also responsive and quick. For example, the TEG-160WS supports jumbo frames up to 10240 bytes. On other switches I've tested, such as the Cisco SG500, enabling jumbo frames requires a device reboot. On the TEG-160WS, simply click enable and click apply, and jumbo frames are enabled. Once enabled, the TEG-160WS was able to pass jumbo frames up to my PC's 4000 byte limit.
The TEG-160WS' 81 page user manual is brief but useful. The section on VLAN configuration had several nice examples, including a detailed description of how to use and configure port-based VLANs.
VLAN
VLANs separate ports on a switch to improve network performance, security, and management. The 802.1q VLAN standard specifies that data frames traversing a trunk between switches are tagged with a VLAN ID.
The TEG-160WS supports up to 256 VLANs with point-and-click configuration. To add a port to a VLAN, just click on the VLAN and click on tagged or untagged to make it a member of that VLAN. To create a VLAN trunk, assign one untagged VLAN and one or more tagged VLANs to that port.
In the screenshot below, I made port 9 an untagged member of VLAN 2 and port 10 an untagged member of VLAN 1 and a tagged member of VLAN 2.

VLAN configuration
I used the following simple test to validate 802.1q VLAN tagging. This test requires the test switch, a known good switch that supports 802.1q tagging, two basic routers with their DHCP server enabled, and two PCs.
On router 1, configure DHCP server to provide IP addresses in 192.168.1.0 range.
On router 2, configure DHCP server to provide IP addresses in 192.168.2.0 range.
On the test switch:

Configure VLAN 2 and assign a port to VLAN 2, untagged.
Configure an 802.1q trunk for VLAN 1 untagged and VLAN 2 tagged.
Connect router 1 to an access port configured for VLAN 1, untagged.
Connect router 2 to an access port configured for VLAN 2, untagged.

On the known good switch:

Configure VLAN 2 and assign a port to VLAN 2, untagged
Configure an 802.1q trunk for VLAN 1 untagged and VLAN 2 tagged.
Connect 802.1q trunk between test and known good switches.
Connect PC 1 to an access port configured for VLAN 1, untagged.

It should get an IP address from router 1 in 192.168.1.0 range.

Connect PC 2 to an access port configured for VLAN 2, untagged.

It should get an IP address from router 2 in 192.168.2.0 range.
I ran the above test on the TEG-160WS with a Netgear GS108T. The test was successful, the TEG-160WS correctly passed the VLAN 2 tag and my PC got an IP address from router 2.
The TEG-160WS also supports port-based VLANs. Port based VLANs on the TEG-160WS are called Asymmetric VLANs. An Asymmetric VLAN on the TEG-160WS basically allows a port to be a member of multiple VLANs without tagging.
As mentioned, the TEG-160WS manual provides a decent port-based VLAN example. The manual walks you through the settings to configure the ports on the switch in three different VLANs, with all ports able to access the Internet, yet ensuring inter-VLAN traffic is blocked.
STP
Spanning Tree Protocol (STP) prevents switching loops that can cause significant network performance problems. The TEG-160WS supports only basic STP. It does not support Rapid STP (RSTP) or Multiple STP (MST). RSTP and MST can manage network loops faster and have more options, but STP should satisfy the needs of buyers with smaller networks. The TEG-160WS has STP options for adjusting the STP bridge priority value, as well as the STP timers. STP is disabled by default on the TEG-160WS.
STP is easy to test. I ran a continuous ping on my network across the switch, using the DOS command ping (IP address) –t. With STP disabled, I plugged both ends of an Ethernet cable into two ports assigned to the same VLAN, creating a loop. I created a loop on ports 15 and 16 on my TEG-160WS. Almost immediately, my ping and all network activity on that VLAN came to a screeching halt.
To complete the test, I removed the loop and allowed the switch to come back on line. Then, I enabled STP and plugged my cable back in, recreating the loop. This time, the switch detected the loop and blocked port 15, as shown in the screen shot below. My ping continued uninterrupted and activity on that VLAN was unaffected, proving the functionality of STP on the TEG-160WS.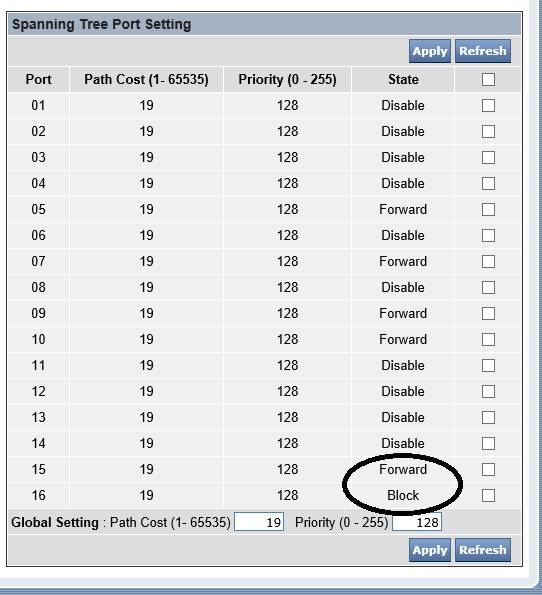 STP successfully blocking a port
Link Aggregation / Trunking
Most switches I've tested call a multiport link between switches a Link Aggregation Group, or LAG. The TRENDnet TEG-160WS refers to a Link Aggregation Group as a "trunk". According to TRENDnet's specifications, the TEG-160WS will support up to 6 trunks/LAGs with up to 8 members in each.
Naming conventions aside, the important question is – does it work? To verify trunk/LAGs on the TEG-160WS, I configured port 13 and 14 to be members of a trunk/LAG, along with two ports on a Cisco SG200 to also be members of a trunk/LAG. I connected these ports and saw the TEG-160WS successfully establish the 2 port trunk/LAG to the Cisco switch.
The only negative with the TEG-160WS' trunk/LAG capability is there are no indicators in the TEG-160WS menus that a trunk/LAG is established. The only indicators I had that the trunk/LAG was working were I was able to pass traffic between the two switches and the Cisco switch menu showed the active LAG, below.

Cisco switch showing active LAG
QoS
The TEG-160WS supports 802.1p priority tagging for managing Quality of Service on the switch. Each port can be assigned to one of four different queues, shown below, labeled as Low, Middle (default), High and Highest. Additional QoS features, such as per port ingress and egress bandwidth controls, are not available.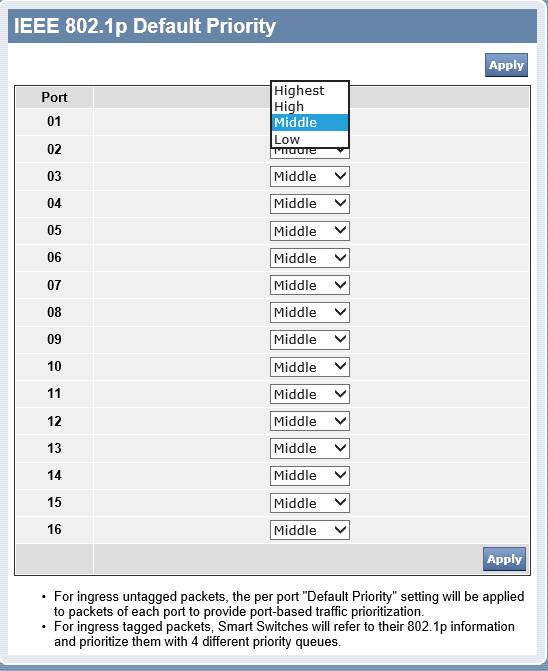 Setting QoS priority
Other Features
The TEG-160WS system menu provides an easy-to-read display of traffic statistics by port. In the screenshot below, you can see the packet counts on port 5, 7, 13 and 14 on my test TEG-160WS.
Traffic statistics
Security options on the TEG-160WS include support for 802.1x authentication and a Broadcast Control feature. The 802.1x feature allows per port authentication of end devices via an external RADIUS server.
The Broadcast Control feature is quite basic. It can be applied only to the whole switch, not to individual ports. When enabled, the feature allows for selecting a rate limit of 8,000-4,096,000 bytes per second, (screen shot below) protecting against rogue devices sending excessive traffic.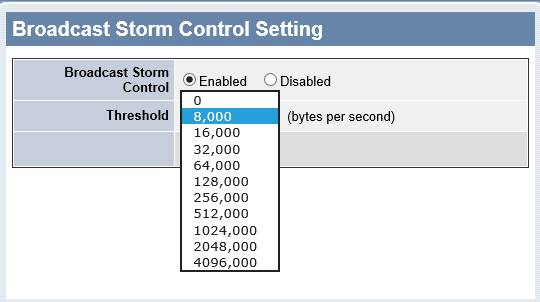 Broadcast Storm control
Port mirroring, SNMP support, and IGMP Snooping are the three other features supported by the TEG-160WS. Any of the 16 ports on the switch can be configured to copy transmit, receive, or both traffic flows to a specific port for packet captures. I set up a simple port mirror, shown below, to copy all traffic on port 7 and send it to port 5.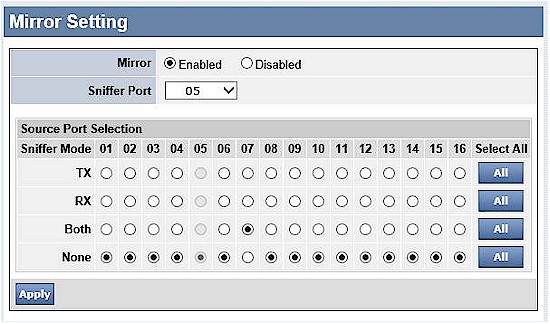 Port mirroring
The TEG-160WS supports Simple Network Management Protocol (SNMP) polling and sending (SNMP traps) of messages. SNMP messages can be sent on bootup, up/down status of any port, and errors on any port.
Finally, IGMP snooping can be utilized on the TEG-160WS. IGMP snooping can improve network performance when there is multicast traffic present. IGMP snooping can be enabled per VLAN.
Competitive Comparison
The TEG-160WS faces some strong competition among inexpensive 16 port smart switches. As you can see from my table below, the TEG-160WS comes in around $40 more expensive than the TP-Link TP-SG2216 I reviewed a couple months ago. But the TRENDnet has two years' shorter warranty and supports half the number of VLANs.
| Make and Model | RJ45 ports | SFP ports | MAC addresses | Backplane (Gbps) | VLANs | Warranty | Price |
| --- | --- | --- | --- | --- | --- | --- | --- |
| TRENDnet TEG-160WS | 16 | 2 | 8k | 48 | 256 | 3 years | $150.72 |
| TP-LINK TP-SG2216 | 16 | 2 | 8k | 32 | 512 | 5 years | $111.44 |
| Cisco SG200-18 | 18 | 2 | 8k | 32 | 256 | Limited Lifetime | $234.00 |
| NETGEAR GS716T-200 | 16 | 2 | 8k | 32 | 128 | Lifetime | $218.95 |
16 port smart switch competitive comparison
Further, the TEG-160WS lacks features found on other smart switches in this table. Minor points are the lack of display of trunk/LAG status and switch MAC table. But larger disadvantages of the TEG-160WS are its lack of ingress and egress bandwidth controls and basic security options, such as MAC-based filtering.
To net it out, the TEG-160WS is a basic smart switch with common smart switch features including VLAN tagging, Link Aggregation Groups, port mirroring, STP, and traffic prioritization. But TP-LINK's TP-SG2216 is a better value with lower price, longer warranty and more features.