Updated SmallNetBuilder has learned of another new Intel-based NAS coming from Synology.
The preliminary specs we've found for the DS710+ two-bay NAS show an "Intel 1.6 GHz" CPU, 512 MB of DDR800 RAM, single Gigabit Ethernet LAN, three USB 2.0, one eSATA and serial console VGA ports. Either 2.5" or 3.5" SATA drives can be used.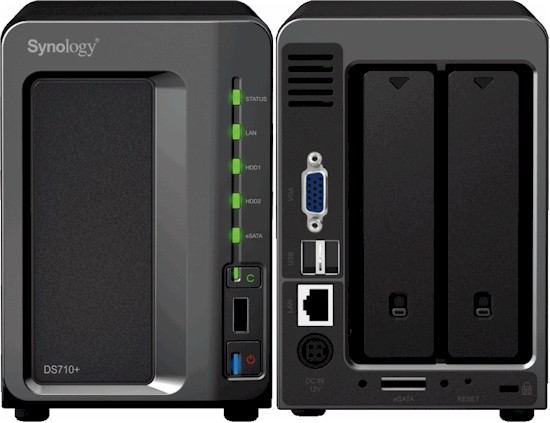 The spec also indicates that the 710+ can be expanded with the DX510 expansion chassis, same as the soon-to-be-available DS1010+.
Amazon's product page
indicates "110+ MB/Sec Reading, 93+MB/Sec Writing" performance and support for Basic (individual drives), JBOD, RAID 0/1 volumes. Provantage and NCIX product pages have similar info. NCIX's page indicates a February 20 arrival date for stock. Pricing ranges from $514 to $572.