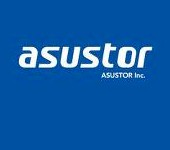 Updated – ASUSTOR has expanded its Intel Celeron-based 5 Series NAS family with four new members.
The AS5008T and AS5010T are eight and ten bay models running on a 2.41 GHz dual-core Intel J1800 Celeron platform with 1 GB of DDR3 RAM. The AS5108T and AS5110T are eight and ten bay models running on a 2.0 GHz quad-core Intel J1900 Celeron platform with 2 GB of DDR3 RAM. The RAM in all four can be expanded to a total of 8 GB.
Ports on all models include three USB 3.0, two USB 2.0, two eSATA, four Gigabit Ethernet, one HDMI 1.4a and one S/PDIF. All accept 2.5" and 3.5" hard and solid state drives configurable in multiple individual, JBOD and RAID 0, 1, 5, 6 and 10 volumes with support for online RAID expansion and level migration.

ASUSTOR AS5110t
Like other ASUSTOR NASes, the new 5 series models run the latest ADM 2.3 NAS OS that supports SMB 2.0, which ASUSTOR says "effectively increases overall performance by 30%-50%". Other ADM 2.3 features include MyArchive storage technology that allows users to use hard disks as removable storage archives, and installable apps to add antivirus and Dropbox, Google Drive and HiDrive cloud storage access, among other features.
The AS5008T($708), AS5010T ($808), AS5108T ($808) and AS5110T ($908) come with three-year limited warranties and are available shortly. Prices are U.S. MSRP.