ASUSTOR's new 10 series is pretty affordable.
ASUSTOR's two-bay AS1002T and four-bay AS1004T are powered by Marvell 1.0 GHz dual-core processors with 512 MB of RAM, one Gigabit Ethernet and two USB 3.0 ports. The tool-less design supports 3.5" SATA drives only.
Read and write performance are specified at 95 MB/s and 110 MB/s. The Marvell SoC includes a hardware encryption engine and FPU that boost encrypted volume performance and speed photo thumbnail generation and other media processing.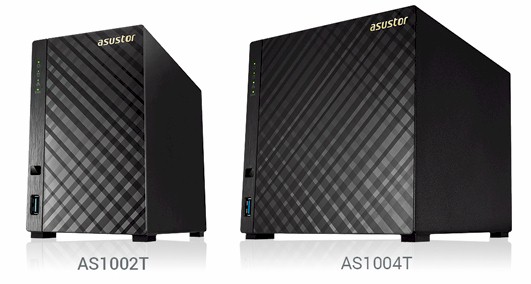 ASUSTOR 10 series
Features of ASUSTOR's ADM (ASUSTOR Data Master) 2.5 firmware include internal backup, shared folder based network recycle bins and iSCSI LUN snapshots.
ASUSTOR's App Central includes new Apps such as Syslog Server and DataSync for Microsoft OneDrive along with newly upgraded versions of existing Apps such as Photo Gallery and LooksGood.

The AS1002T and AS1004T will be shipping shortly at MSRPs of $179 and $289, respectively.