Iomega has announced a trio of Intel Atom and Celeron based NASes.
The StorCenter PX Series is based on Iomega's LifeLine OS and includes four and six bay desktop and four bay rackmount models and are Iomega's first to be offered in diskless configurations. 7200 rpm SATA HDDs and SSD drives are available from Iomega or may be purchased from an approved vendor list. Drives mount on a drive carrier that can accommodate 2.5-inch and 3.5 inch HDD or SSD drives.
The px4-300d and px6-300d desktops are powered by Intel D525 Atom CPUs, while the rackmount px4-300r runs on an Intel Celeron CPU. All have 2 GB of RAM, dual Gigabit Ethernet LAN interfaces and support up to 3 TB SATA drives configurable into RAID 0, 1, 10, 5, 5+1 (hot spare) and 6 volumes, with automatic RAID rebuild and hot swap.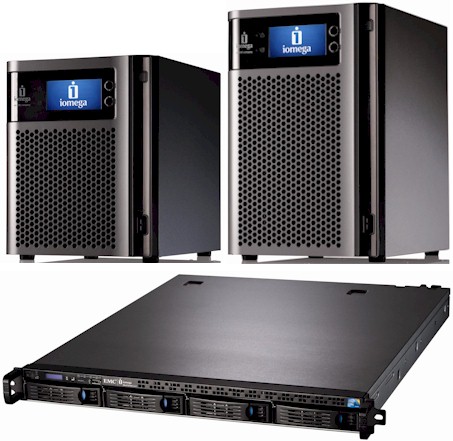 Other features include Active Directory support, SMB, AFP and NFS network file protocols, iSCSI block-level access, data replication and NAS-to-NAS copy, Iomega's Personal Cloud technology and hosting of up to 12 AXIS IP security cameras for video surveillance.
All models are VMware vSphere 4.0, Citrix XenServer, and Windows Server 2003/2008/2008 R2 certified.
The StorCenter px4-300d Network Storage model starts at $799.99 for diskless, $1,199.99 for 4TB (2x2TB HDDs), $2,299.99 for 8TB (4x2TB HDDs) and $2,999.99 for 12TB (4x3TB HDDs).
The StorCenter px6-300d Network Storage model starts at $1,199.99 for diskless, $1,699.99 for 6TB (3x2TB HDDs), $3,299.99 for 12TB (6x2TB HDDs) and $3,999.99 for 18TB (6x3TB HDDs).
The rackmount StorCenter px4-300r Network Storage Array model starts at $2,299.99 for diskless, $2,999.99 for 8TB (4x2TB HDDs) and $3,799.99 for 12TB (4x3HDDs).
All prices are U.S. MSRP. All models are available now and have a three-year limited warranty (with registration).