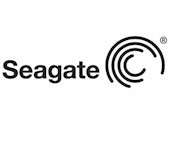 Seagate has announced a two rackmount NASes and two drive and data protection plans.
The Seagate Business Storage 4-Bay NAS is powered by a 2.13 GHz dual-core Intel Atom CPU with 2 GB of RAM and dual Gigabit Ethernet ports in a 1U height rackmount format.
The Seagate Business Storage 8-Bay NAS packs eight 3.5" SATA drives into the same 1U height. Its hardware platform is based on a 2.3 GHz dual-core Intel CPU with 4 GB of RAM and dual Gigabit Ethernet ports in a 1U height rackmount format.

Seagate Four and Eight Bay Business Storage NASes
By using sliding mounting rails, the 8-bay model's drives are still hot-swappable, as are its fans.
Seagate Eight Bay Business Storage NAS hot swaps
Features common to both models include iSCSI and Apple Time Machine targets and Seagate's Wuala cloud storage and backup.
The 8-bay will start shipping in October in 8, 12, 16, 24 and 32 TB capacities at MSRPs between $2999.99 for the 8 TB
model to $5999.99 for 32 TB.
The 4-bay NAS will ship "later this quarter" in diskless, 4, 8, 12 and 16 TB versions at MSRPs between $999.99 for diskless to $2499.99 for the 16 TB.
Seagate also debuted its Seagate Rescue and Seagate Rescue and Replace data protection plans. The plans offer coverage for "nearly any brand" of internal or external hard disk drive or solid-state drive. The plans can cover data recovery services for lost data due to physical damage, corruption or accidental deletion, at a "fraction" of the cost of data recovery services purchased after the event.
The service will first be made available through Seagate.com and later from retail and manufacturer partners at the time of purchase of a computer, external storage drive or NAS.
The Seagate Rescue plans come in 2-year, $29.99; 3-year, $39.99; and 4-year, $49.99 MSRP packages. The plan for Seagate Rescue and Replace, where the data is restored and a new drive is provided, has 2-, 3- and 4 -year offerings, for: $39.99, $49.99 and $59.99 MSRP, respectively.