Introduction
Updated 5/15/2014: U.S. Support added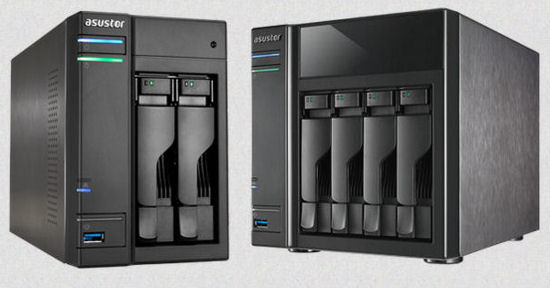 At a Glance
Product
ASUSTOR AS-202TE and AS-204TE
Summary
Intel Atom CE5310 dual-core two and four-bay NASes with HDMI, USB 3.0 and wide range of downloadable apps
Pros
• Wide range of downloadable apps
• Very quiet
• Attractive user interface
Cons
• Must reset to default to delete volume
• Long volume build times
• Relatively low performance for its class
Almost a year and a half ago, Tim reviewed ASUSTOR's top-end AS-604T four bay NAS. Since then, the ASUS-backed NAS maker has expanded its offerings with two other families.
The AS-30XT series is aimed at Home to Power User market with a two (AS-302T) and four bay (AS-304T) models powered by Intel Atom CE5335 processors. The AS-20X "Personal To Home" series has two 2-bay models (AS-202T and AS-202TE) and two 4 bay models (AS-204T and AS-204TE). The "T" models in the 2 series lack the entertainment features (IR receiver, HDMI output and 3.5 mm Audio jack) found on the "TE" models. All are powered by Intel Atom CE5310's.
(The AS-60X series, including the AS-604T that Tim reviewed, is aimed at power users and businesses and a powered by Intel's Atom D2700 processor.)
In this review, we'll be focusing on the AS-202TE and AS-204TE. All of the 2 series share a common processor, memory, form factor, etc. The differences are limited to the features found on the "T" and "TE" models, and the differences of available RAID configurations based on the number of drives. The comparison chart below, generated from the ASUSTOR web site, shows these differences.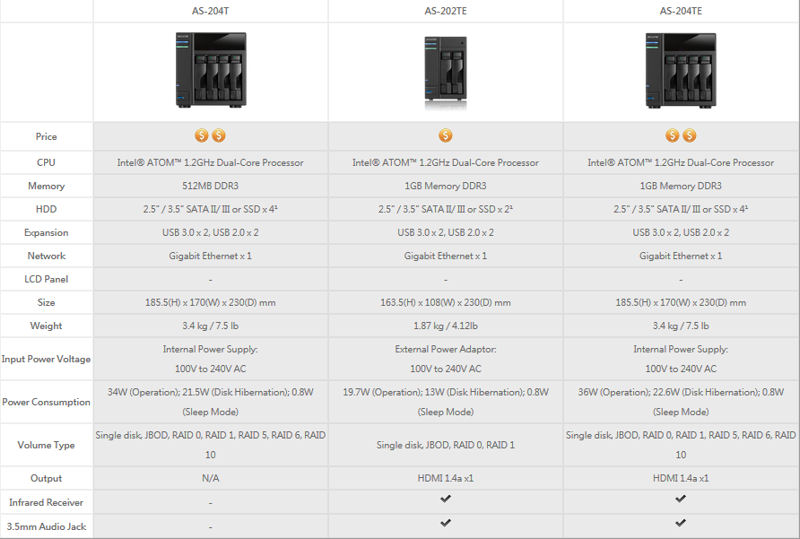 ASUSTOR AS-202/AS-204 product comparison
ASUSTOR's own published performance benchmarks show increasing performance as you move up from the 2 series to the 3 series and finally to the 6 series products.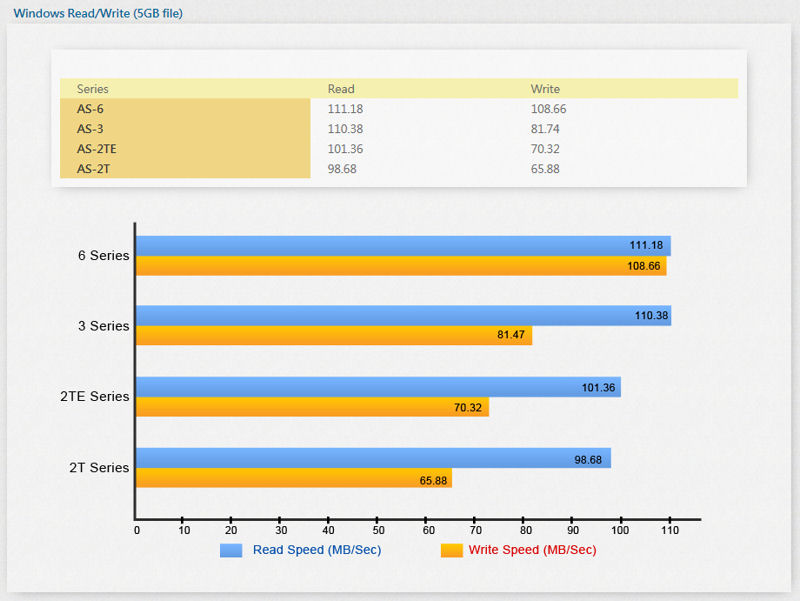 ASUSTOR's published benchmarks show increasing performance as you move up in the product series
Both the ASUSTOR AS-202TE and AS-204TE, hereafter referred to collectively as AS-20XTE, use disk trays that accept 2.5″ or 3.5″ drives. You'll find a list of compatible hard disks here. After mounting the disks in the tray, you just insert the drive into a bay and push down on the drive bay lever to secure the drive in place. If you plan to start with just a single drive and expand your storage later, you need to install the single drive in the left most bay.
The Quick Installation Guide and the User Guide is common to all "2" series products. The callouts on the two images below indicate the features supported on each series. The front panel contains LEDs for each hard disk, and individual LEDs for power, system status, network and USB. As compared to the "6" series, the AS-20XTE products do not have an LCD information panel. In addition to the indicators, one of the device's two USB 3.0 ports is located in the lower left corner.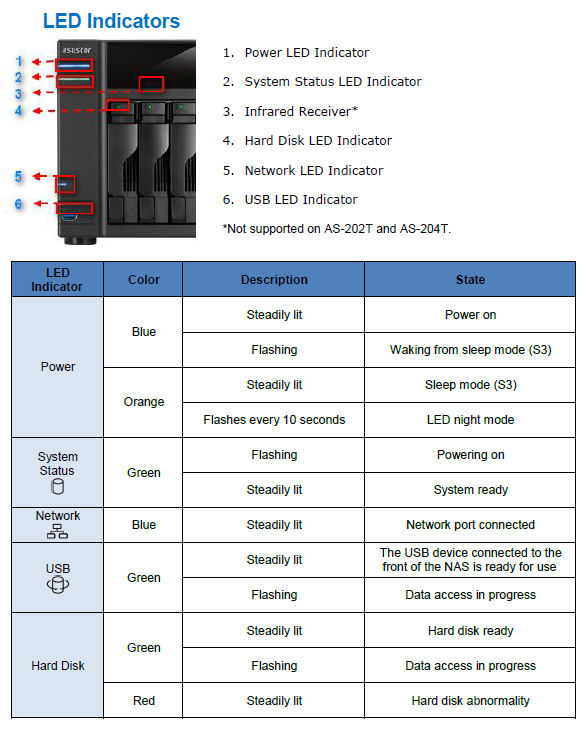 ASUSTOR front panel callouts
The power supply for the AS-20XTE are built in. The rear panel has a socket for an AC power cord, Audio Jack, reset button, second USB 3.0 port, HDMI port, Gigabit Ethernet port, USB 2.0 ports (x2), system fan and a security lock hole.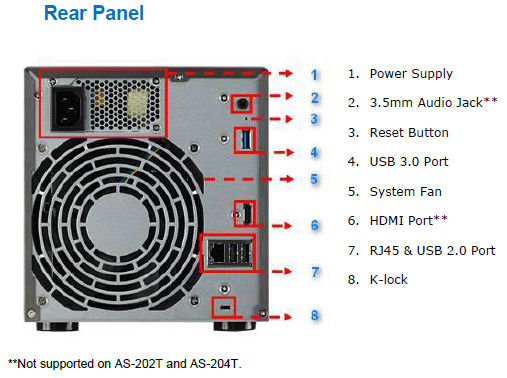 ASUSTOR rear panel callouts
Inside
The AS-20XTEs are powered by an Intel Atom CE5310 dual core processor running at 1.2 GHz. On the AS-204TE, there's an Asmedia ASM1061 PCI Express to dual port SATA on the backplane to provide the third and fourth SATA ports for the four bay version.
Other components are collected in Table 1, along with two other dual-core Atom NASes, ASUSTOR's AS-604T and a slightly less expensive Thecus N4560.

ASUSTOR AS-204TE
ASUSTOR AS-604T
Thecus N4560
Price
$428
$588
$401
CPU
Inel Atom CE5310 @ 1.2 GHz (dual core)
Intel Atom D2700 @ 2.13 GHz
Intel CE5335 @ 1.6 GHz (dual core)
RAM
1GB DDR3 on board
1 GB DDR2 DIMM (expandable to 3GB)
2GB on board Hynix H5TQ4G63MFR (x4)
Flash
16 MB Spansion FL128SAIF00
512 MB DOM
– 4GB Samsung KLM4G1YE4C X1
– 4MB Winbond 25Q32BVSIG
Etherent
Realtek RTL8211E
Broadcom BCM57781 (x2)
Realtek RTL 8211E
Companion
?
Intel NM10 (guess)
?
USB 3.0
Etron Tech EJ188H
NEC D720200AF
Eltron Tech EJ168A USB 3.0 Host controller
SATA
Asmedia ASM1061 PCI Express to two ports of Serial ATA (on back plane – AS-204TE only)
Marvell 88SE9125 SATA 6GB/s and PATA Host controller (x2)
Dual port host controller 3.0 GB/s SATA device support PCEe 1.0 host bus
Table 1: Key component summary and comparison
Below is a photo of the component side of the PCB. The processor is covered by a large heatsink. To the right of the processor is the connector for the riser board that contains the connectors for the disks. Above the CPU is the strip that connects to the power supply. Interestingly, the PCB is silkscreened with AS-30XT, so you might assume that the components are the same for the "3" series with the exception of a slightly beefier processor (1.6 GHz).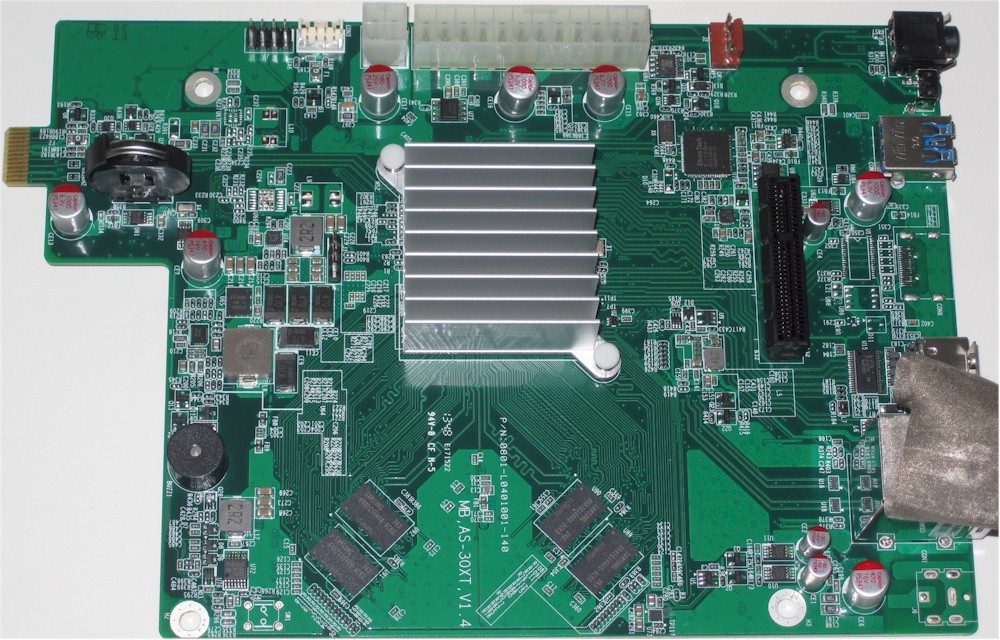 ASUSTOR AS-20XTE PCB component side
For an inside shot of the chassis, you can refer to the AS-604T review – the construction, as you can tell from the rear panel connector layout, appears to be very similar.
Features
When Tim reviewed the AS-604T, the device was running on version 1.0.4.RBU2 firmware. In February, ASUSTOR has upgraded their "ADM" (ASUSTOR Data Master) to version 2.1 with the tested version being 2.1.1.R3B2. Tim posted a news release that highlighted the new features here. To summarize, new features include:
An improved file explorer
MyArchive which allows users to use hard disks as removable storage archives.
VPN Server app supporting PPTP and OpenVPN
Integrated Avast Anti-Virus
AiMusic app for Android and iOS to enable streaming from the NAS to mobile devices.
Download Center Helper add-on for FireFox and Chrome browsers.
To give you a feel for ASUSTOR's GUI, here's a screenshot of the landing page. As with Android devices, if you have more than one page of icons, you can scroll left or right. We will be doing an in-depth review of the ADM 2.0 in a few weeks. In the meantime, if you can't wait for the review, you can visit ASUSTOR's live demo page and navigate your way through the interface and App Central.
In App Central, you can download additional programs that run on the server platform and add functionality to your ASUSTOR NAS. App Central sems to have grown since Tim's review of the AS-604T. According to my count, using the live demo, there are now 124 apps in App Central. Tim counted 85 in January of 2013, so you can't say that the number of available apps is "exploding".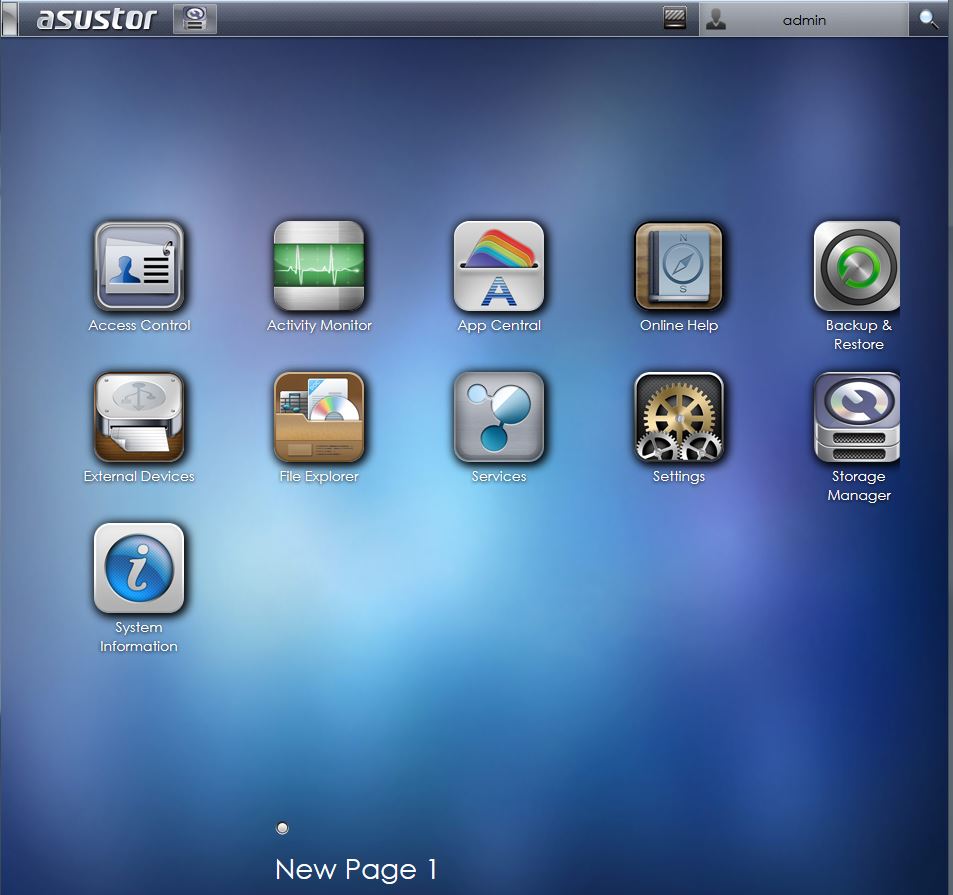 ASUSTOR ADM 2.1 landing page
The feature list for the AS20XTE for the most part, lines up pretty well with what Tim reported for the AS-604T. Here's that summary, edited to reflect the differences in the devices.
General Features

Network file sharing via SMB/CIFS, NFS, AFP, WebDAV
Hot-swappable Single disk, JBOD, RAID 0, 1, 5, 6, 10 with hot spare (AS-204TE)
Hot-swappable Single disk, JBOD, RAID 0, 1 (AS-202TE)
Optional AES256 volume encryption
Online RAID expansion and RAID level migration
Web server
MySQL server
Bonjour / UPNP support
Joins NT Domain / Active Directories for account information
Share access control by user, group and app
iSCSI target support
iSCSI Thin Provisioning, MPIO, MCS, Persistent Reservations supported
ISO mounts
User quotas
Email alerts
Logging
USB print serving (up to 3 printers)
Programmable idle disk spindown

Backup

Schedulable backup to/from USB and eSATA drives
Schedulable to/from rsync backup with optional encryption and compression
Schedulable to/from FTP backup
Schedulable backup to Amazon S3
Apple Time Machine backup
Client Backup: ASUSTOR Backup Plan utility ( Vista, 7, 8, Server 2003/ 2008/ 2012)
Scheduled backup of system settings

Network

Wi-Fi connection via optional USB adapter
IPv6 support (very basic)
Jumbo Frame (MTU)
VLAN
Cloud Connect
DDNS and EZ-Router
Supports Wake-on-LAN (WOL)

Administration

HTTP / HTTPs admin access
User Quota
Network Recycle Bin
UPS support
Activity plots for CPU, Memory, Network
Disk usage pie chart
Sortable process list
Online help
Logged in user display
Performance
ADM 2.1.1.R3B2 firmware was loaded onto a AS-204TE for testing, using the recently introduced Revision 5 NAS test process. The results for products tested with Revision 5 will vary slightly from the results created using Revision 4 and therefore are not directly comparable. Products tested with Revision 5 use a new, dark gray bar as compared to the lighter gray bar used for Revision 4.
Since the AS-202TE uses the same processor, RAM and Ethernet components, all testing was done on the AS-204TE. The AS-204TE tests used four drives configured in single RAID 0, 5 and 10 volumes. The AS-202TE tests used two drives in single RAID 0 and 1 volumes.
The AS-204TE's Benchmark Summary below shows Windows File Copy write performance about the same for RAID 5 and 10, (~ 69 MB/s), but RAID 0 writes were almost 10% faster (76.2 MB/s) For Windows File Copy read performance, again, RAID 5 and RAID 10 turned in almost identical results. (~ 97 MB/s). However, RAID 0 read results trailed slightly behind at 94.9 MB/s. NASPT file copy write tests were faster than the corresponding windows file copy write tests for all RAID levels. The NASPT file copy read tests were slower than the corresponding Windows file copy read tests for all RAID levels.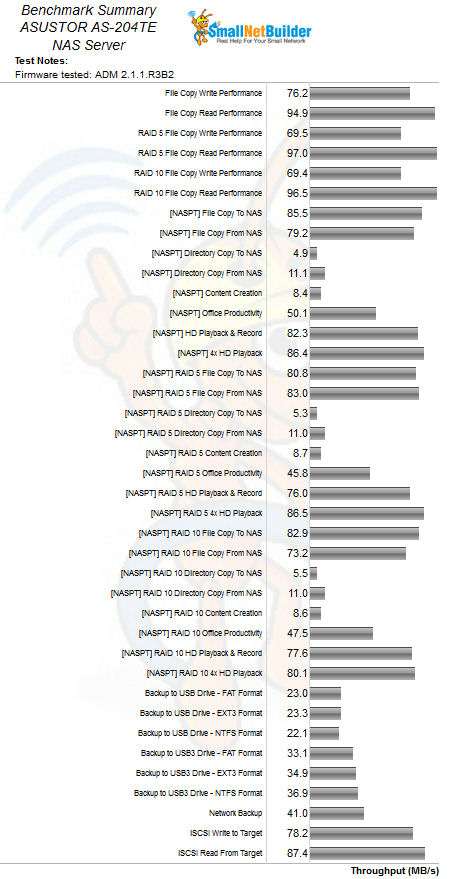 ASUSTOR AS-204TE Benchmark Summary
With two drives mounted in the AS-204TE to represent the performance of the AS-202TE, RAID 0 Windows file copy write was about 2% faster than the corresponding RAID 0 write results with 4 drives (77.0 vs. 76.2 MB/s). With just 2 drives, RAID 0 Windows file copy write results were about 6% faster than the RAID 1 write results (77.9 vs. 73.5 MB/s).
For file copy read results, however, the story was reversed. RAID 1 windows file copy read was about 7.6% faster than the corresponding RAID 0 read results (97.4 vs. 90.5 MB/s). As with the AS-204TE NASPT tests, NASPT file copy tests were faster than the Windows file copy tests for write operations, and slower for read operations for both RAID 0 and RAID 1.
ASUSTOR AS-202TE Benchmark Summary
Comparative Performance – Four Bay
Filtering the NAS Ranker for 4 drives and dual core Atom processors you'll see that the ASUSTOR AS-604T, with Total NAS ranking of 11 out of 72, ranks as the top four-bay NAS. Looking down the chart, you'll see that the ASUSTOR AS-204TE comes in fifth of nine total products for the filtered results. From a value perspective, the AS-204TE looks like it's properly positioned, as there are no other less expensive devices with a better (lower) Total NAS ranking.
NAS Ranker for dual core Atom 4 bay NASes
To understand the differences between the $588 AS-604T, its less expensive, somewhat lower-powered $428 AS-204TE sibling,and the $401 Thecus N4560, I created the composite Ranker Performance Summary below. Phrased another way, the detailed performance results help you to understand what you get if you spend the extra $160 to go for the top performing NAS in this filtered view. Or alternatively, what you'd get if you spent $27 less and bought the N4560.
As you can see, the AS-604T blows away the AS-204TE and the N4560 in every sub-category. Most noticeably, the AS-204TE's rankings are dragged down by the relatively poor read and write benchmarks. It ranks #42 for both subcategories. The AS-604T turned in strong performance in all sub-categories with iSCSI results leading the way. iSCSI performance was 96.9 MB/s for Write and 90.0 for Read and ranked #11 and #9 respectively.
Compared to the Thecus N4560, the ASUSTOR AS-204TE ranked lower for the Write benchmarks (#42 vs. #32), the Read benchmarks (#42 vs. #35), and for Video (#29 vs. #16). The AS-204TE outperformed the N4560 for Mixed Read/Write (#16 vs #20), iSCSI (#16 vs. #23), and significantly outranked the N4560 for backup (#24 vs. # 50).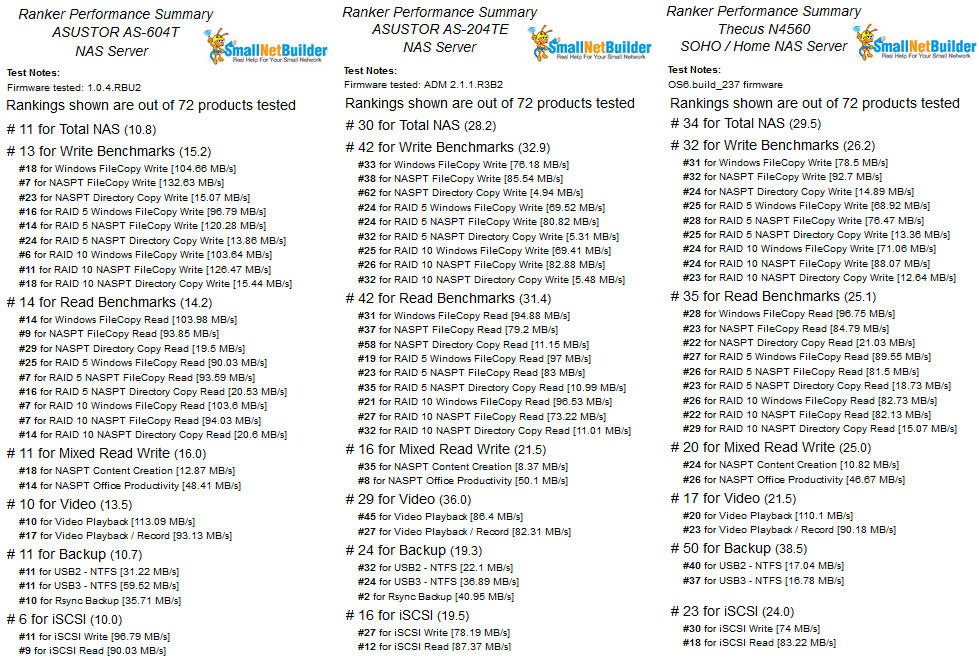 Ranker Performance Summary comparison of the ASUSTOR AS-604T, the AS-204TE and the Thecus N44560
Comparative Performance – Two Bay
Turing our attention to dual core Atom-based 2 disk NASes, the NAS Ranker below shows the filtered results. Ranking #10 overall, the Synology DS713+ Disk Station leads the pack. The ASUSTOR AS-202TE, ranking #28 overall, comes in fourth out of seven products in this filtered view. That's not too surprising, as both the performance leader, as well as the other two products ranked above the AS-202TE are using beefier versions of Atom processors running at higher clock speeds than the AS-204TE.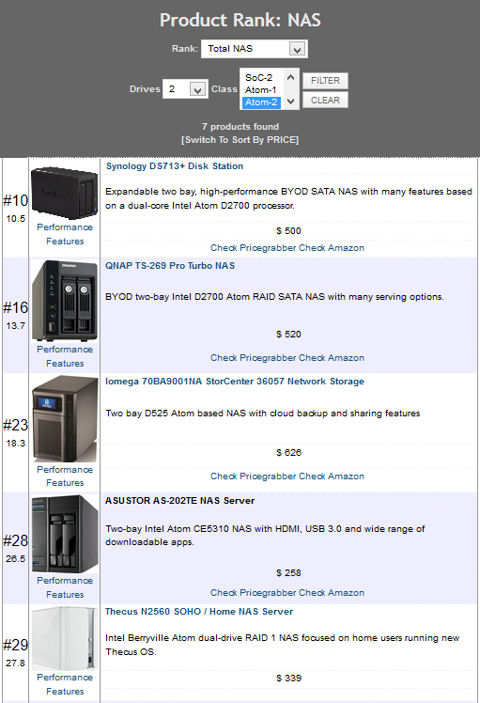 NAS Ranker for dual core Atom 2 bay NASes
For the 2 bay comparison, I decided to compare the AS-202TE with the top-performing Synology DS713+ along with the Thecus N2560. The Thecus 2560, like its four bay sibling the N4560, has a slightly beefier processor (Intel CE5335) running at 1.6 GHz as compared to the Intel CE5310 running at 1.2 GHz that you find in the AS-20xTE NASes. While the Synology DS713+ is the clear winner in this comparison with a Total NAS ranking difference of 18 places between it and the AS-202TE, it also costs $242 more. The AS-202TE, on the other hand, is $81 cheaper than the Thecus N2560, but holds a total NAS rank one level above it. To drill down on the performance differences, I've compiled a NAS Ranker Performance Summary for these three products.
Looking at the sub-categories, the DS713+ easily beats both of the other two NASes in every category except for iSCSI where lower read performance on the DS713+ cost it a place in the rankings. Its write benchmarks are ranked #2 for all NAS products. The Thecus N2560 outranks the AS-202TE for both write benchmarks (#24 vs. #31) as well as read (#33 vs #41).
For a device that touts entertainment features, it was surprising to see that the AS-202TE was ranked #38 for Video benchmarks as compared to the Thecus N2560 (#19) and the Synology DS713+ (#15). The AS-202TE did achieve better rankings than the Thecus N2560 for backup (#21 vs. #39) as well as for Mixed Read/Write (#14 vs. #24).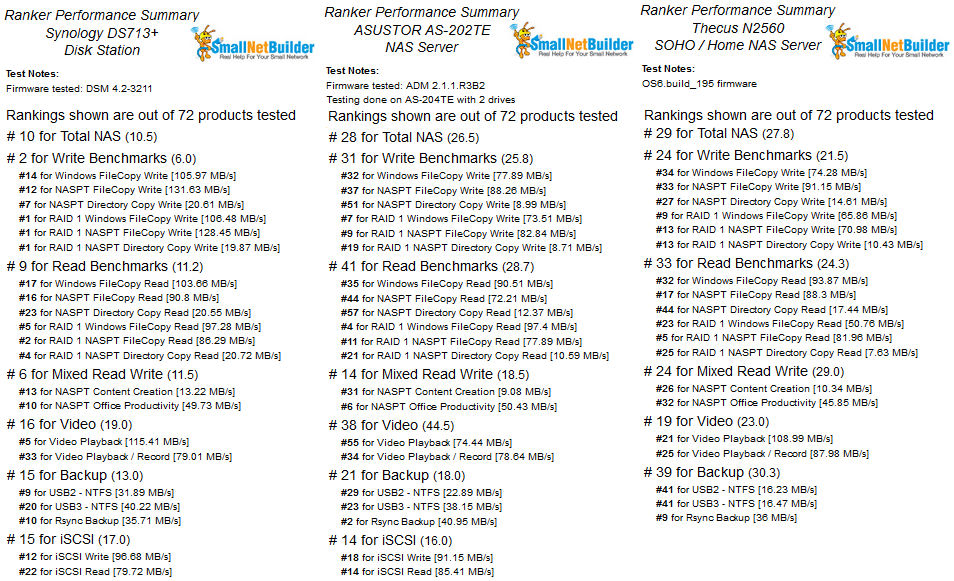 Ranker Performance Summary comparison of the Synology DS-713+, ASUSTOR AS-202TE, and the Thecus N2560
Closing thoughts
ASUSTOR's AS-604T still sits at the top of the NAS Ranker if you filter results using an Atom-2 processor and 4 disks. At $588, the price has come down from when Tim reviewed it, but it's still the most expensive product in the filtered list. It's a high performance product and some people are willing to pay for to top performing model.
In its effort to reduce cost, ASUSTOR may have gone a bit too far in its choice of the least powerful "Berryville" CE5310. Although technically part of the Intel Atom family, the CE processors have more of a cost vs. performance focus, at least when it comes to NAS performance.
Looking at the NAS Ranker for both two and four drive NASes, the Thecus N2560 and N4560 both have a slightly lower ranking than their ASUSTOR AS-20xTE counterparts. But the N2560 priced at $339 is ranked #29 Vs. #28 for the AS-202TE at $258. But in categories that are most likely to be important to consumers, ie, Read, Write and Video performance, the less expensive N2560 holds a performance edge in all three categories.
For the four drive version, the $401 Thecus N4560's overall ranking is lower than the $428 ASUSTOR AS-204TE's (#34 Vs. #30). However, like the two disk models, the Thecus N4560 outperformed the AS-204TE in the Read, Write and Video performance sub-categories.
The bottom line is that a four bay NAS with dual core Atom-based processor, the Thecus N4560 is a better choice. But whether you choose the $401 Thecus or the $428 ASUSTOR AS-204TE, you'll have to spend quite a bit more to climb up the NAS ranker performance chart in this class.
For two bay devices, the choice seems fairly clear. If you want to save around $80, you could opt for the AS-202TE as compared to the lower ranked, but more expensive N2560. The price difference may be compelling enough to persuade some potential buyers. Alternatively, you could go to the top of the charts and purchase the Synology DS713+ but that's going to almost double your cost.
Updated 5/15/2014
If you opt for an ASUSTOR, keep in mind that they are still playing catchup on U.S. support. QNAP, Synology and Thecus all have US-based offices, with U.S. phone numbers you can call (check the "Contact US" links). Though ASUSTOR now has the "ASUSTOR College" populated with 39 "How To" articles, they have yet to establish US phone based tech support or an office to handle RMAs. Once they remedy this situation, they'll be in a better position to battle the incumbents.
Our previous caveats regarding the lack of U.S. support have been addressed. As of 15 May 2014, ASUSTOR has begun U.S. based phone and email support.