Introduction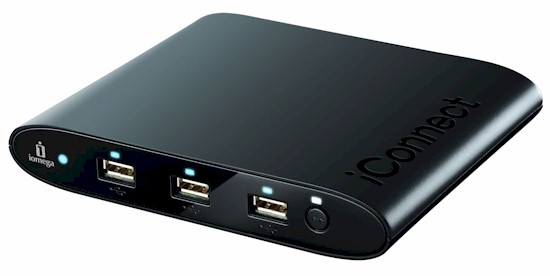 At a Glance
Product
Iomega iConnect Wireless Data Station (34779)
Summary
Marvell Kirkwood-based USB drive to NAS converter with media serving, Torrent downloading and more
Pros
• Reads about as fast as USB 2.0 will go
• Very flexible backup features including to/from networked shares
• Apple Time Machine support
• Torrent downloader
Cons
• Limited wireless controls
• No wireless link / activity light
Devices that take USB hard and flash drives and share them on your network seem to be the current craze. We've looked at products from Ctera [CTERA CloudPlug Reviewed], Cloud Engines [Cloud Engines Pogoplug V2 Reviewed] and Seagate [Seagate FreeAgent Dockstar Reviewed], with each one providing its own twist on what can be a simple product.
Iomega apparently thinks that this trend has legs and has jumped in with its iConnect offering that throws the magic word "wireless" into the fray. Even though wireless is a lousy way to connect to networked storage (even 802.11n connections will prevent you from getting the maximum available speed from most of today's NASes, the iConnect included), the iConnect has plenty of other reasons to make it worth your consideration as an entry-level network storage option.
Figure 1 shows the front of the iConnect, with all callouts explained in the larger image. The lights above each port probably could have been omitted and not missed, since they don't blink to show drive activity, but only to show a drive error. The button is there to initiate a "Quick Transfer" of copies between devices that you can set up in the web admin interface.
Figure 1: Front Panel
The rear panel shot in Figure 2 shows the 10/100/1000 Ethernet LAN connector that will be your fastest way to share connected drives. The wireless antenna is internal, which you'll see in a minute.
Figure 2: Back Panel
Internal Details
Figure 3 shows the iConnect's board, which is based on Marvell's 88F6281 "Kirkwood" clocked at 1 GHz, supported by 256 MB of RAM and 512 MB of flash. A Marvell 88E81116R provides the Gigabit Ethernet port and an Alcor AU6256 USB 2.0 hub supports the four ports. Note that jumbo frames are not supported.
Figure 3: iConnect board top
Figure 4 shows detail for the wireless card mounted on the bottom of the board and the antenna, which is secured to the top cover via tape and a strong adhesive. The card is a SparkLan WPER-116GN mini PCIe single stream 802.11n adapter, using a Ralink RT3090 chipset.
Figure 4: ix4-200d drive bay
Single stream N operation means that it will connect at a maximum 65 Mbps link rate if your N router is set to its proper 20 MHz bandwidth default for the 2.4 GHz band and 130 Mbps if you're using 40 MHz bandwidth mode. It should also work fine with older 802.11G routers.
Setup
Setup is very easy. As is my custom, I didn't install the Storage Manager software on the included CD. Instead, I checked my router's DHCP client list for the iConnect's IP address and entered it into my browser to reach the home page shown in Figure 5. You get auto-forwarded to a three-step wizard, that has you name the iConnect, optionally set up email alerts and set up the internal clock.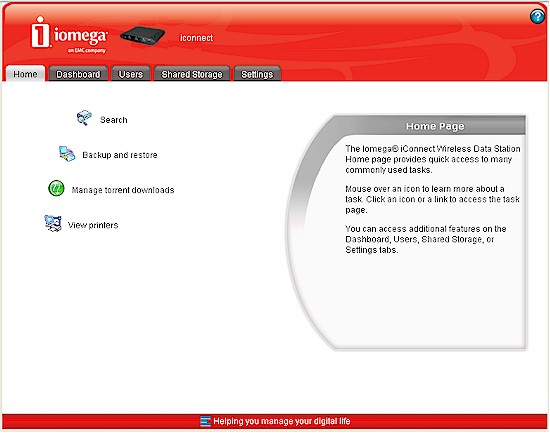 Figure 5: iConnect Home page
As with other recent Iomega NASes, the admin interface is also available via secure HTTPS. But it won't auto-forward you to HTTPS if you connect via HTTP. Once I did connect via HTTPS, however, I couldn't get it to go back to a non-encrypted connection.
Features
Since the iConnect runs EMC's Linux-based Lifeline OS, the iConnect shares many of the features of the ix2-200 and ix4-200d. Figure 6 shows the iConnect's Settings page…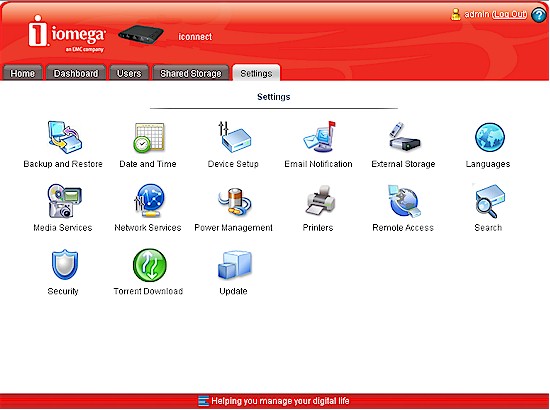 Figure 6: iConnect Settings page
… which you can compare to the ix4-200d's page shown in Figure 7.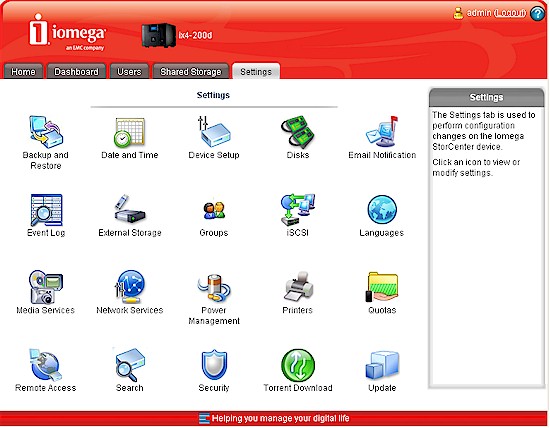 Figure 7: ix4-200d Settings page
Features supported by the iConnect are:
Network file sharing via SMB/CIFS, AFP
NTFS, FAT32, HFS+ and EXT3 drive formats supported
HTTP / HTTPs file and admin access
Email alerts
Network Backup: Schedulable (smallest interval is one day) to / from rsync targets and SMB/CIFS shares
Unlimited Retrospect Backup clients for Windows and Mac OS
Supports Apple Time Machine backup
Auto file copy from PTP-enabled digital cameras
Secure Web-based remote access (locally hosted)
USB printer serving
UPnP AV / DLNA media server (Twonky Media)
Photo slideshow (uses Cooliris)
iTunes server
BitTorrent downloader
There are a few things that are missing, but probably won't be missed by the iConnect's target consumer:
NFS and AD are not supported
No FTP support
No storage quotas
No logging
No user groups
No drive spindown
No UPS shutdown sync
One feature alone might put the iConnect on your shopping list and that's Copy Jobs. This handy little feature will copy files between drives attached to the iConnect. But you can also use it to copy to and from the iConnect's drives and any networked SMB/CIFS shares, or even just between networked shares!
Figure 8 shows a scheduled job I set up between a folder on my QNAP TS-109 Pro and one of the iConnect's attached drives. I also covered this feature in the ix4-200d review, so there's a bit more detail there, including a walk through more setup screens.
Figure 8: Copy job from network share to attached drive
I should note that I didn't have any problems browsing network shares. So it looks like the client name resolution problem I found in the ix4-200d has been fixed.
Wireless
Although wireless connectivity is one of the iConnect's claims to fame, the function is somewhat buried. Among all those pretty blue lights on the iConnect, there isn't one to show wireless connection or activity. This proved to be a problem during my testing, since I had inadvertently left the wireless connection active while running performance tests via what I thought was only the Gigabit Ethernet port.
The wired and wireless connections each get their own IP addresses so the dual connections don't cause network storms, i.e. all lights on your LAN's switch blinking wildly. But the dual connections did slow down the performance test results significantly. I didn't discover the dual connections until after I'd completed the testing, so I had to re-test. A wireless link / activity indicator sure would have saved a lot of hassle.
The wireless settings are buried in Settings > Network Services > Network Settings, which brings you to the screen shown in Figure 9 where the wireless connection hasn't been enabled.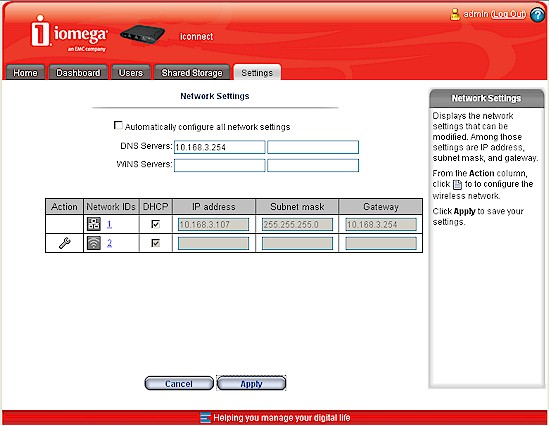 Figure 9: Wired and wireless network settings
Figure 10 shows the screen you get when you enable wireless networking and a network has been found. Note there is no wireless security mode information shown (WEP, WPA, WPA2).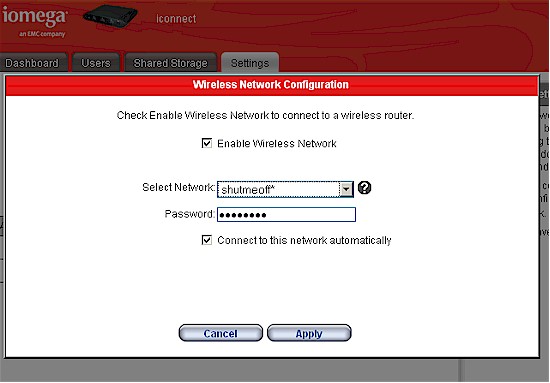 Figure 10: Connecting to a wireless network
The Select Network dropdown has an Add Network option that allows entry of an SSID, Security Mode and password. Once you're connected to a network, you'll see its IP in the screen shown in Figure 9. You can then click on the little link under the Network ID to bring up more information about the connection (Figure 11), which is the only wireless status information available.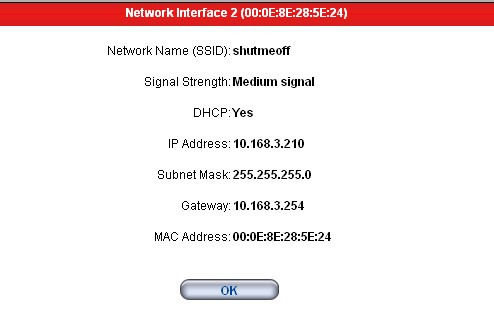 Figure 11: Wireless network status
Once connected, there is no way to forget networks, or reorder their priority. So while these wireless controls will get they job done, they ain't pretty.
Performance
As with other simple "NAS" products, I didn't run our iozone-based tests on the iConnect and instead just ran the Vista SP1 filecopy (described here). I used an Iomega Ultramax Pro [reviewed] with the two drives configured in a RAID 0 volume and ran tests with the volume formatted in FAT 32 and also in NTFS.
Drive Format
Write
(MB/s)
Read
(MB/s)
FAT32
17.38
23.15
NTFS
8.47
23.22
Table 1: Vista SP1 file copy test summary
Table 1 clearly shows that using NTFS formatted drives will cost you dearly in throughput for writes. But reads are about as fast as you can get using a USB 2.0 drive using either format. The reduced NTFS performance is pretty common and also seen in embedded router NAS functions like that on the NETGEAR WNDR3700. Unfortunately, FAT is long in the tooth and limits maximum file size and drive size. So you're forced into a not-so-great tradeoff. I'd expect that using an EXT3 formatted drive would produce results similar to those I got with FAT32, but I didn't test that format or HFS+. Note that there is no built-in format function, so you need to format drives before plugging them into the iConnect.
I started to run some throughput tests using the wireless connection only. But since my retesting already delayed this review by a day, I quit after the 4.35 GB test folder took 45 minutes to copy (throughput ~ 1.6 MB/s) and didn't wait for the read test to complete. For this test, the iConnect was located in my office and the router in the location described below. (The iConnect wireless status showed "Medium signal" strength.)
I also ran a quick range test by moving the iConnect to Locations D and E (described here). I ran the test using my house router, which is currently a NETGEAR WNDR3700. This router sits in a more central location (the wall between the Laundry and Utility room shown here and I have no problem getting a 2.4 GHz band connection in either location with my iPod Touch or any of my notebooks.
The iConnect was able to connect in Location D (showing a very weak signal), but not Location E. I didn't bother running throughput tests in either Location, since I know they would have bordered on unusable. Keep in mind that even 60 Mbps of wireless bandwidth from a single-stream N, 40 MHz mode connection would yield only around 7 MB/s maximum file transfer speed. So if you're expecting to get large files moved around in any reasonable amount of time, you shouldn't be using a wireless connection with any NAS.
Closing Thoughts
For around $100, the iConnect can get your USB drives onto your network and perform some nice tricks with them including making media files available via UPnP AV / DLNA and iTunes, letting you view slideshows from your web browser and automatically downloading Torrents. And it will even share your USB printer if you're lucky (and it's not a multifunction printer).
But, for me, the iConnect's main attraction is its network copy features, which are rivaled only by much more expensive NETGEAR ReadyNASes or Iomega's own ix2-200 and ix4-200d. If you're not a fan of running backup clients on your computers, that feature alone can be worth the iConnect's rather modest price.