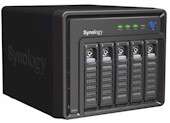 Updated Synology's new DS508 5-drive BYOD SATA top-of-the-line desktop NAS has been added to the NAS Charts.
The DS508 features an attractive and functional new desktop enclosure that is all metal except for the plastic front panel. This is the first Synology desktop NAS to feature hot-swappable drives, which are mounted on key-lockable metal drive trays.
In contrast to the Marvell Orion CPU used in the previous top-of-the-line CS407, the DS508 (and its rack-mount sibling the RS408) opt for a Freescale MPC8543 CPU clocked at 800 MHz. Memory complement is 512MB of DDR2 RAM on a SODIMM and 4 MB of flash. The dual gigabit Ethernet LAN ports are provided via two Marvell 88E1118 PHYs.
There are two SATA controllers, a Marvell 88SX7042 and Silicon Image SiI3512. The Silicon Image chip appears to also support the external eSATA connector. An NEC D720101 provides the two USB 2.0 ports.
The DS508 runs Synology's new Disk Station Manager 2.0 firmware that features an improved AJAX interface that also adds support for recording directly from selected IP cameras and a new photo web-sharing application with blogging support.
All features of the CS407 are present in the DS508 including iTunes and UPnP AV servers, built-in download client supporting FTP, HTTP and BitTorrent downloads, full LAMP webserver and CIFS/SMB and AFP network file systems.
There is still no support for NFS in the User Interface, but users can securely Telnet into the product and enable it via the Linux shell. Synology says it plans to integrate NFS support into the Disk Station Manager, but has no firm schedule.
The DS508's drives can be configured as separate volumes or into RAID 0, 1 and 5 arrays. Migration is supported between individual volumes to RAID 1. RAID expansion is supported on RAID 1 and RAID 5 volumes.
Performance tops the 1000 Mbps RAID 5 average write NAS Charts at 40.1 MB/s for 32 MB to 1 GB file sizes and average read speed with the same conditions measured 40.2 MB/s. Using 4K jumbo frames, however, did not significantly improve average write RAID 5 performance, but bumped RAID 5 read to 44.8 MB/s.
We'll be doing a full review soon. But in the meantime, you can also use the NAS Charts to run your own comparisons and check out the slideshow for more details.