At a Glance
Product
Promise SmartStor (NS4300N)
Summary
Inexpensive four-drive BYOD Network Storage Device
Pros
• Hot-Swap RAID capabilities including 5+ spare and 10
• Gigabit Ethernet with jumbo frame support
• Relatively inexpensive
• Windows, Apple and Linux support
Cons
• Still gets noisy
• Middle-of-the-road performance
• Flimsy case
This is a short update to our earlier review of Promise's inexpensive RAID 5 NAS. Promise has taken to heart the many complaints about the high noise level of the product and revised it to include a variable speed fan. They sent a pre-production sample for me to check out, along with their new dual-drive NS2300N, which we will be reviewing shortly.
What's New
Figure 1 shows that with the new Fan Control option enabled, the system actually shuts off the fan when the system is cool. If I disabled that option, however, the fan spun up to over 3300 RPM, which was very noisy. Like other systems with variable-speed fans, the system also goes through a fan calibration during boot-up, which ramps the fan way up, then down again.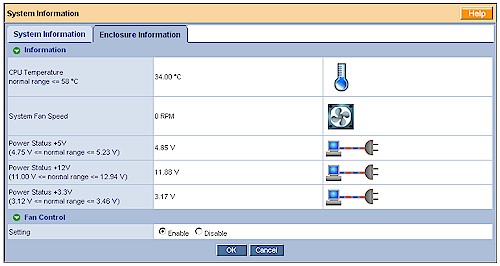 Figure 1: System info with Fan Control
Even with the fan off, however, the system isn't totally quiet (the noise of four 7200 RPM SATA drives aside). The internal power supply's small fan is not variable speed and produced a constant whine that is definitely noticeable and, to me, annoying.
Once CPU temperature hits around 50 degrees C (you can't change this), the System Fan kicks in, running at around 2500 RPM, again, definitely noticeable. Even with the system idle with four SATA drives running, the fan came on after about an hour. Once the system cooled down to 40 degrees C (which took about 30 minutes for an idle system), the fan shut completely off again. So it looks like there is some room for improvement in the fan speed algorithm to take advantage of lower and quieter speeds.
Promise has also added idle drive spin down (Figure 2), which cut power draw in half (with four drives) from 60 W to 30 W.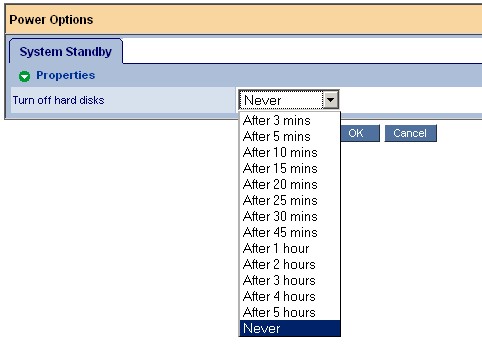 Figure 2: Idle drive spin down
Other new features include an expansion of media servers to include iTunes and support for streaming to Xbox 360 and PS3. The is also an integrated download client for BitTorrent, eDonkey, HTTP and FTP files. Both these functions do not come pre-installed, but are in the form of downloadable "Application Plug-ins". You first, however, must upload the file to a folder on the SmartStor and install it from there. (Same goes for upgrading the main firmware.) I didn't play with any of these new features, but will look at them in the NS2300N review.
The other main improvement is the SmartNAVI management application for folks who don't like web-based management. It comes in both Windows XP / Vista and Mac OS X flavors. I generally don't use these, since I don't like to load up my systems with applications that tend to like to stay in the System Tray. But, again, we will give it a quick look in the 2300N review.
Performance
I reran the NAS Chart tests in RAID 0, 5 and 10 modes with 100 Mbps, 1000 Mbps and 1000 Mbps with 4k jumbo frame LAN connections and posted them in the Charts database under NS4300N Rev B.
Performance change is somewhat of a mixed bag. The Rev B actually loses some ground to the original in some of the 100 Mbps tests. Figure 3 compares the original and Rev B, showing the original rev doing better on writes with larger file sizes.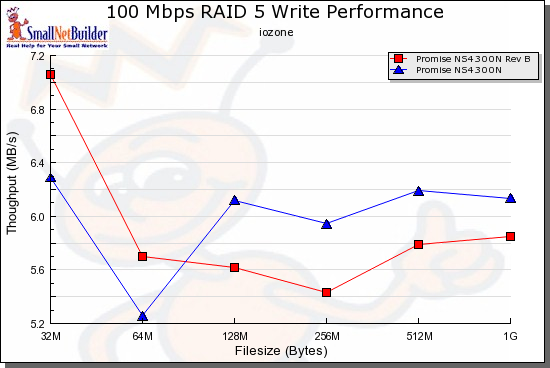 Figure 3: RAID 5 Write performance comparison – 100 Mbps
But for the 100 Mbps read tests shown in Figure 4, the Rev B does consistently better.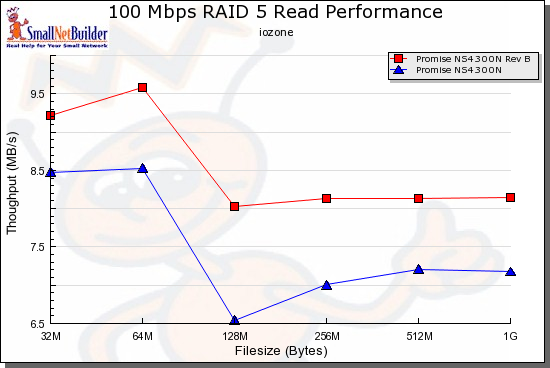 Figure 4: RAID 5 Read performance comparison – 100 Mbps
On the other hand, 1000 Mbps RAID 5 write speeds are significantly improved for the Rev B as Figure 5 shows.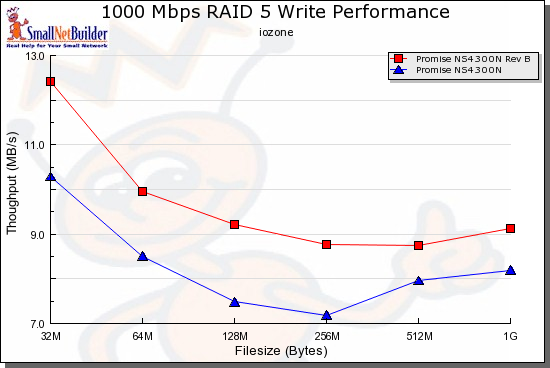 Figure 3: RAID 5 Write performance comparison – 1000 Mbps
But Figure 6 shows a much smaller improvement for Rev B with RAID 5 1000 Mbps reads.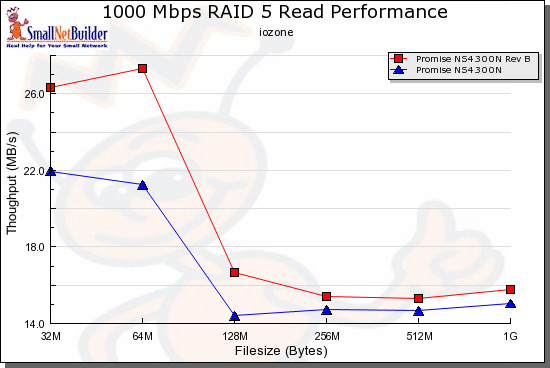 Figure 4: RAID 5 Read performance comparison – 1000 Mbps
Closing Thoughts
It's nice that Promise has tried to fix its first entry into the consumer NAS market. And, what is even better, they are offering to swap out orignal product for the improved Rev B. This assumes that you haven't taken matters into your own hands, however. All you need to do is to contact them via their on-line support to arrange a swap when the new product is available. Promise didn't provide a definite date as to when that would be, however.
If you are buying your first NS4300N, you should look for it in new blue-themed packaging (instead of the current red). Unfortunately, you can't see the product box when buying from e-tailers. So you may end up having to do a swap out, if that's the way you buy.
It looks like Promise wants a place at the table in the consumer NAS market and is trying to differentiate itself by focusing on service and low price. It's way too early to tell whether they will succeed, but the improvements on the NS4300N are certainly a good way to try to get noticed.