At a glance
Product
QNAP Turbo NAS (TS-470 Pro) [Website]
Summary
Four-bay Intel i3-powered SATA NAS with dual Gigabit LAN, USB 3.0 and eSATA ports and optional 10GbE.
Pros
• Dual 10GbE & Gigabit port options
• SSD Cache option
• USB 3.0 & eSATA ports
• Cloud backup to Amazon S3, ElephantDrive, Symform
Cons
• Pretty expensive for a 'home' NAS
Typical Price: $1171 Buy From Amazon
Introduction
Update 6/14/2014 – SMB 3.0 is supported
I can't believe it's been almost a year since we last reviewed a QNAP NAS. But today's review is for one of QNAP's newest, the TS-470 Pro. QNAP slots the 470 Pro in its Home & SOHO family. But you'd have some 'splainin' to do to your spouse should you plunk down the $1200+ (without drives) this puppy will suck from your wallet without getting the go-ahead.
The partial spec comparison generated using QNAP's website tool shows the 470 Pro as a decent step above its TS-469L sibling given the 470 Pro's 3.3 GHz Intel Core i3 and 2 GB of RAM. The other unique attribute of this "Home and SOHO" NAS is that it has a PCI-e slot that can be populated with optional dual Gigabit or single / dual 10GbE cards. The review sample we got had QNAP's dual copper 10GbE card installed so that we could test 10GbE performance.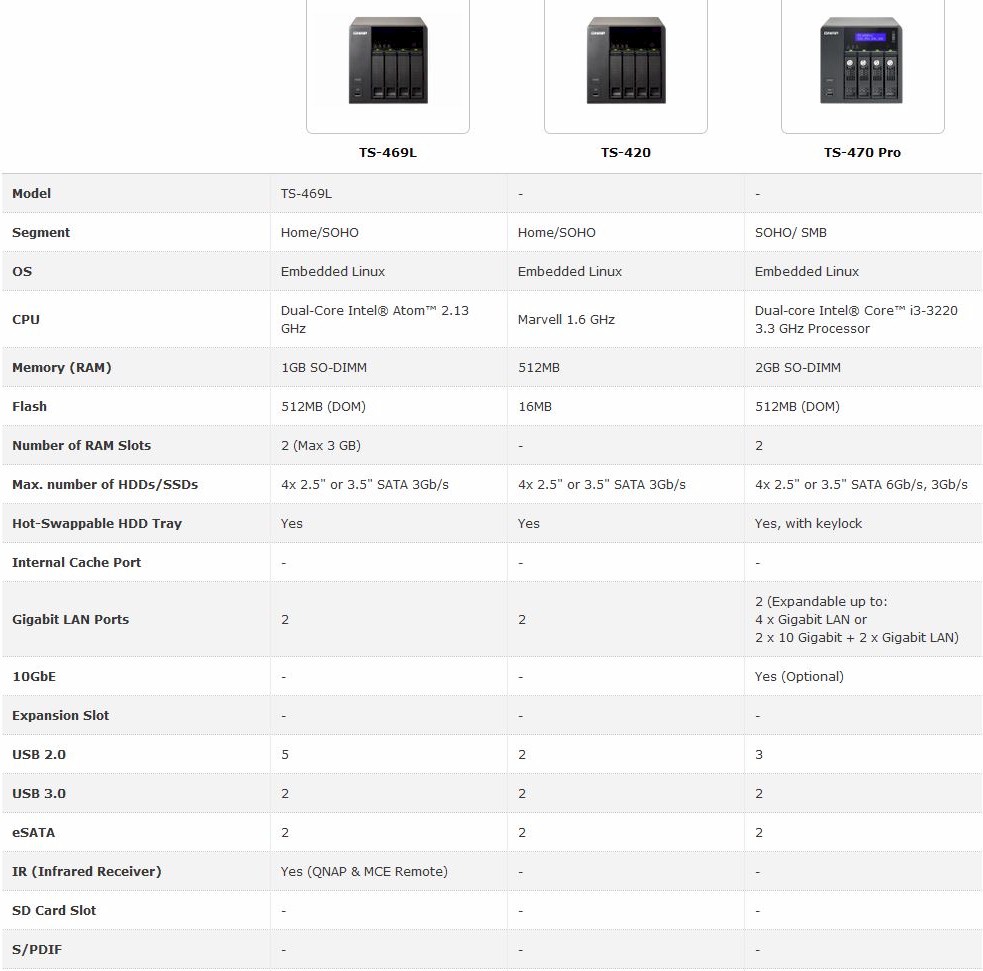 Spec comparison
As has become common for higher-end NASes aimed at the home market, the 470-Pro has an HDMI port and analog mic and audio out jacks. But it lacks the TS-469L's IR receiver for remote control.
The physical design of QNAP's four-bayers hasn't changed since, uh, forever, unless you count the unlockable drive trays in the TS-469L and others. So the only way you know this is a 470 Pro is by scrolling through the LCD panel menu or checking its bottom for the serial number label.
Folks who like plugging things into their NASes will be happy to see the USB 2.0, 3.0 and eSATA ports.
QNAP TS-470 Pro Front and rear panel callouts
Inside
QNAP didn't design the 470 Pro to be easy to service, so I didn't try to get the main board completely free. The back of the main board is in plain view once you pry off the tightly-fitted cover as shown below. Note that there is no SoDIMM slot on this side for easy RAM expansion. I could see both stacked slots filled on the other side of the board, nestled behind the front panel (photo right).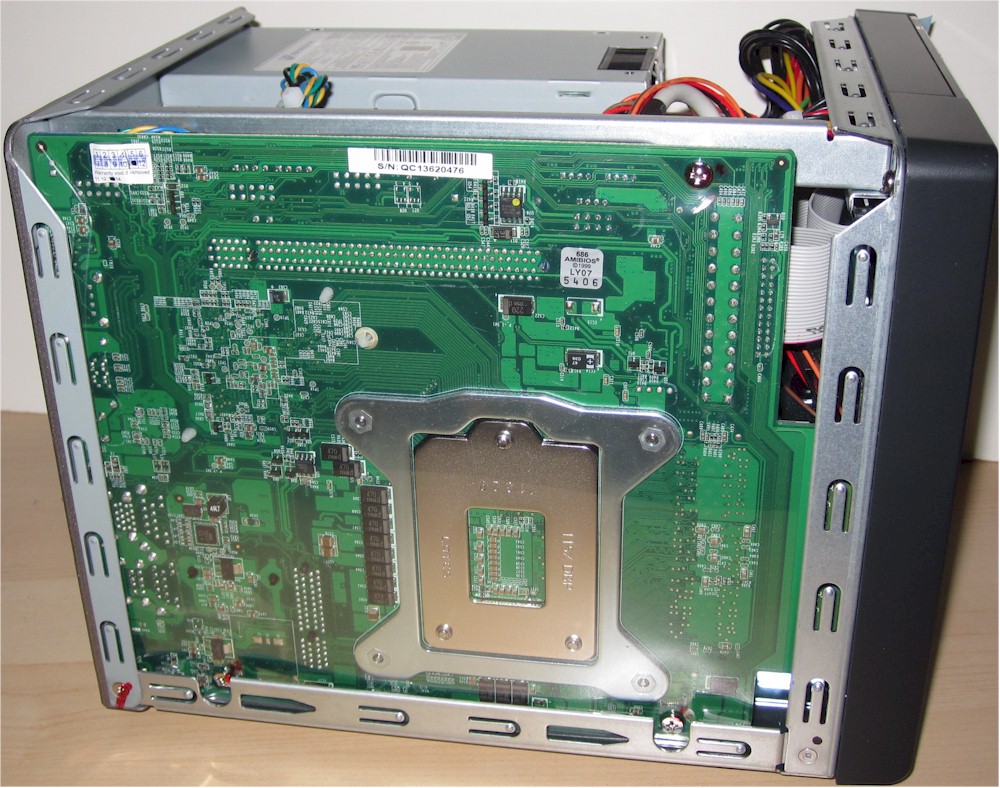 QNAP TS-470 Pro inside
This view with the rear cover removed shows the radiator that is connected to the CPU heatsink via two heat pipes. The radiator sits right behind the right half of the main case fan.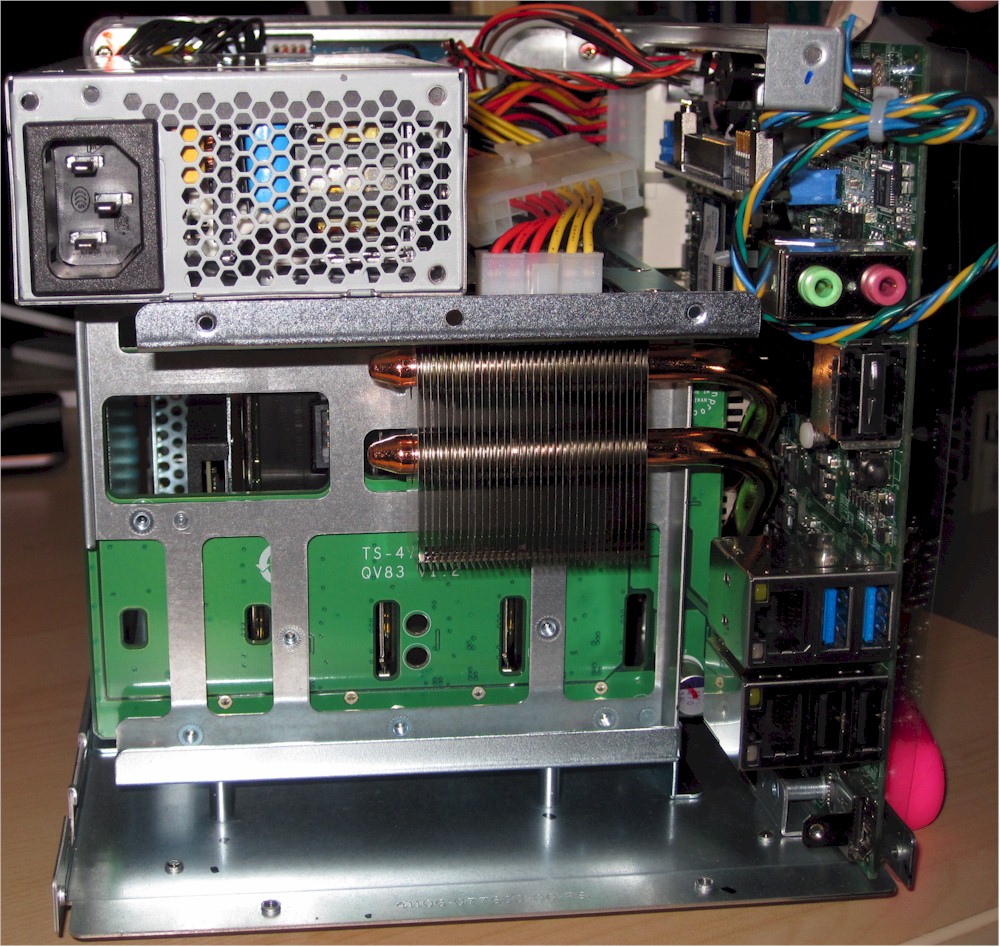 QNAP TS-470 Pro backplane view
The above photo was taken with the dual 10GbE card removed. The photo of the card itself below isn't very revealing and I did not try to remove the heatsink to reveal its chipset. You can see it's a custom card from the odd connectors. They plug into a converter board that is plugged into a standard PCIe connector on the main board. Plugging directly into the main board would have been easier. But it looks like the 10GbE card had to be moved up to miss the analog mic and audio out jacks.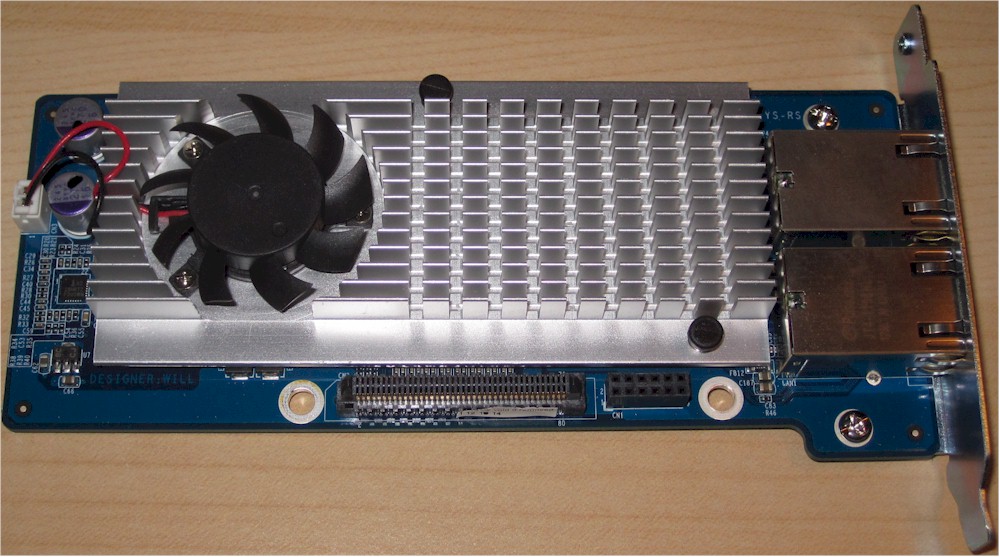 QNAP TS-470 Pro Dual 10GbE card
The key components are summarized in Table 1 with the TS-469L's for comparison.
| | TS-470 Pro | TS-469L |
| --- | --- | --- |
| CPU | Intel Core i3-3220 Dual-core Processor @ 3.3 GHz | Intel Atom Dual-Core D2700 @ 2.13 GHz |
| RAM | 2 GB DDR3 SoDIMM (not expandable) | 1 GB DDR3 1333 SoDIMM (expandable to 3 GB) |
| Flash | 512 MB DOM | 512 MB DOM |
| Ethernet | Intel WG82574L (x2) | Intel WG82574L (x2) |
| Companion | Intel H61 Express Chipset [guess] | Intel NM10 Express Chipset [guess] |
| USB 3.0 | Etron Tech EJ188H | Etron Tech EJ188G |
| SATA | Marvell 88SE9235 quad PCIe to SATA 6 Gb/s controller | Unidentified. On the drive backplane connector side |
| I/O | ITE IT8721F temperature, fan and voltage monitoring controller | ITE IT8721F temperature, fan and voltage monitoring controller |
| Video | Asmedia ASM1442 HDMI level shifter | Asmedia ASM1442 HDMI level shifter |
Table 1: Key component summary and comparison
Since the 470 Pro comes diskless, I installed four WD Re 3 TB (WD3000FYYZ) drives for testing. Power consumption with those drives measured 63 W with the drives spun up and 29 W with them spun down.
Fan and drive noise were classified as medium low since the NAS was clearly audible in my quiet home office with the WD Re drives in use. Fan noise was minimal with no spin up during testing.
Features
This is the first QNAP I have seen with QTS 4.1.0, which was just released. This new version of QNAP's NAS OS brings lots of tweaks to its media and other apps that were covered in the news article linked above. The more interesting improvements, even though the 470 Pro is not positioned as a small-business product, are in 4.1's business features.
The most visible change to me is in the Storage Manager, which now implements QNAP's Flexible Volume Management architecture as shown in the graphic below. (Apparently, the Storage Manager and new FVM archtecture were introduced at some point in QTS 4.0, but for some reason I didn't notice it.) FVM allows drives to be combined into RAID Groups that can in turn be aggregated into multiple Storage Pools. Each Storage Pool is then partitioned into Volumes, which is where Folders and iSCSI LUNs live.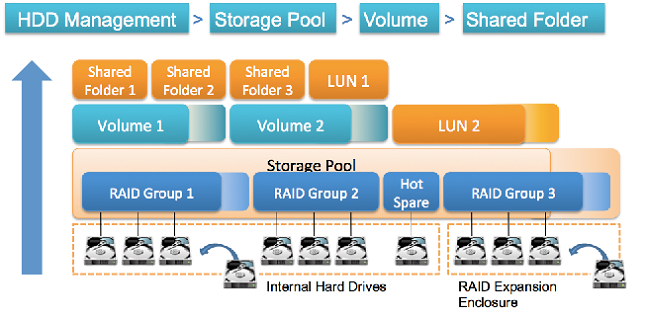 QNAP Flexible Volume Management Architecture
This can be confusing to a home user who just wants to get his or her drives into a RAID array and get on with life. Fortunately, there is a wizard to guide you through the process and can automatically create the required Storage Pool and Volume.
The Storage Manager also has a Cache Acceleration option. This option lets you use populate drive bays 3 and 4 with SSDs, which can be assigned to Volumes to improve throughput. When you create an SSD cache you have the option of LRU (default) or FIFO algorithms. The screenshot below shows the Hit Rate History from a benchmark run with cache enabled. We'll get to the results in the Performance section.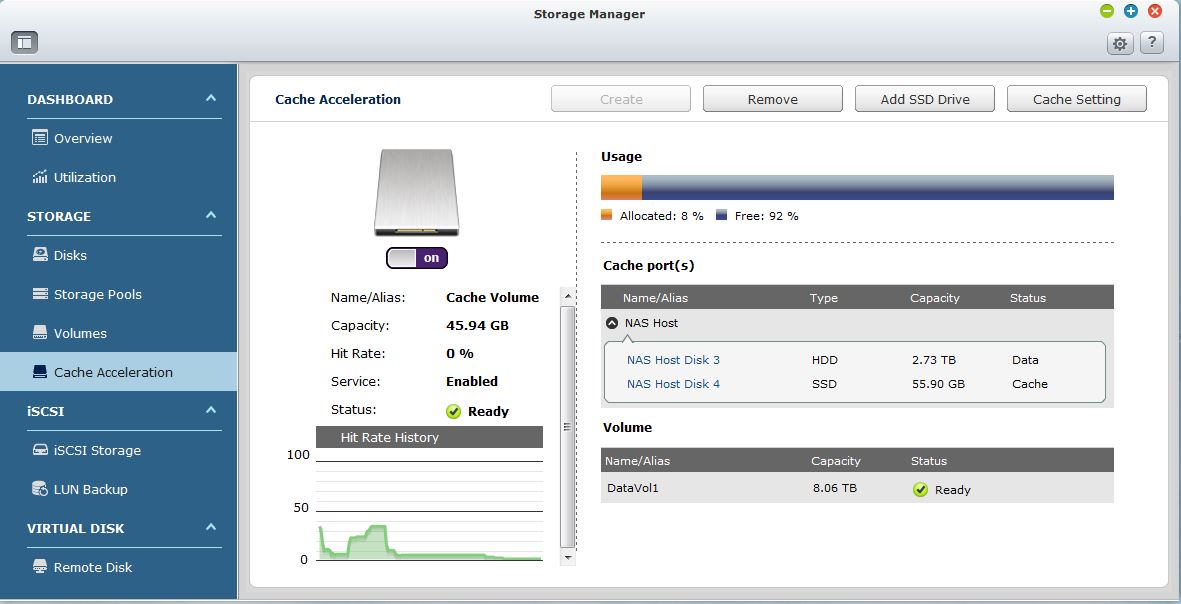 QNAP Storage Manager – Cache Acceleration
The other business-flavored improvements that come with QTS 4.1 include support for SAMBA v4, which adds the Windows Domain controller functionality. SMB 2.0 is now also baked into the OS, which can boost throughput in Win 7 and 8. But QNAP is a generation behind here, since SMB 3.0 is now part of Windows 8.1 and Microsoft Server 2012.
Update 6/14/2014: This forum post points out that SMB 3.0 is supported under Network Services > Win/Mac/NFS>Advanced Options.
Dennis Wood of Cinevate found SMB3's multichannel support enabled very high throughput between 10GbE Win 8.1 clients and MS Server 2012. But SMB3 is not part of QTS 4.1 or any other NAS OS at this time.
With all these changes, it's time for an in-depth review of QTS 4.1, which will come soon. In the meantime, check the gallery below for a few feature highlights.
Some of the Admin GUI uses 'responsive' design. This means that displayed content is adjusted to fit the browser window size. This is the view with a screen size of 1200px or larger
This view has the browser window resized down to about 480px wide. Note the resized images in the long vertical strip
The Home screen is the same as QTS 4.0. From here on, 'responsive' design is no more. You need at least a 1000px wide screen to view most windows.
Home screen with a small window.
The three horizontal bars cribbed from Android indicate where the Main Menu lies.
The revamped App Center has a Search feature and different groupings. Would be nice if there were a count of the number of apps available.
Video transcoding is now available to make files easier to stream.
Performance – 1 Gbps LAN
Firmware tested was the just-released 4.1.0 Build 20140605. I ran our Revision 5 NAS test process on four-drive unencrypted RAID 0, 5 and 10 volumes using WD Re 3 TB (WD3000FYYZ) drives with 1 Gbps and 10 Gbps LAN connections. The 10 Gbps connection was directly between the NAS Testbed and 470 Pro.
The Benchmark Summary below for the benchmarks with 1 Gbps connection shows pretty consistent 110 MB/s-ish throughput for both the Windows and NASPT file copy tests, which measure performance moving multi-Gigabyte files. Throughput for these benchmarks was very consistent regardless of RAID level tested.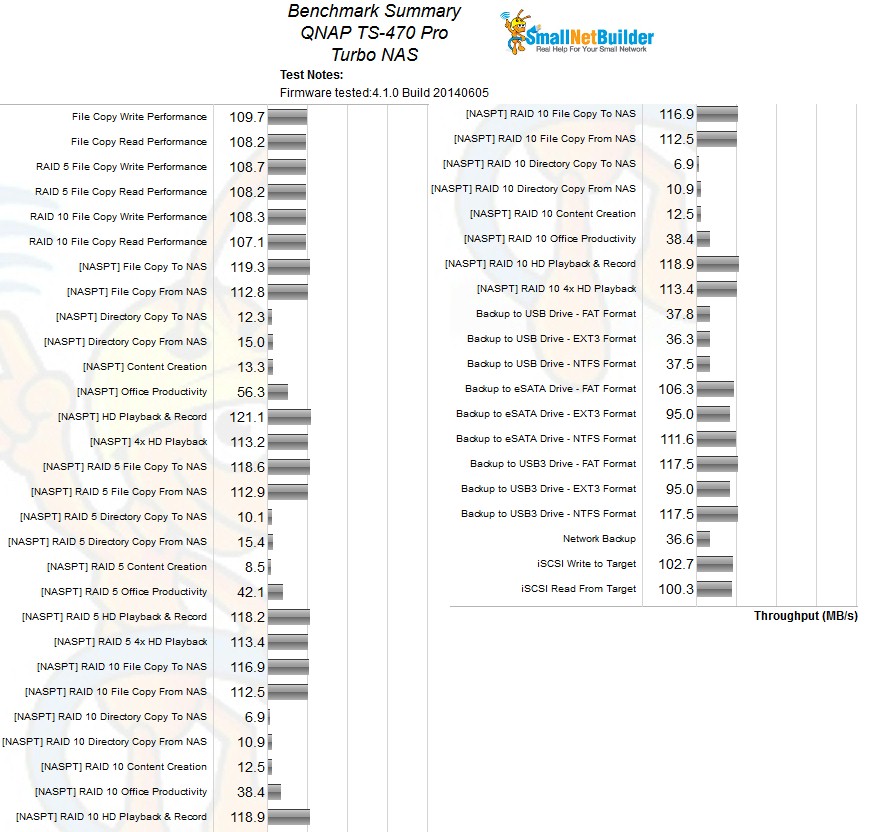 QNAP TS-470 Pro Benchmark Summary – 1 Gbps LAN
iSCSI target write and read performance of 103 and 100 MB/s respectively is among the highest tested and only a few MB/s behind 8 bay products costing twice as much.
Your best option for attached backup looks like USB 3.0 with a FAT or NTFS formatted drive, either of which yielded an impressive 118 MB/s!
Performance – 10 Gbps LAN
The Benchmark Summary below for the benchmarks with 10 Gbps connection shows a fairly wide File Copy benchmark range with a high of 452 MB/s for RAID 0 NASPT File Copy write to a low of 230 MB/s for RAID 10 Windows File Copy write. RAID 5 results are somewhere in the middle. All that throughput disappears, however, when you start dealing with folders of lots of small files as the NASPT Directory Copy test does.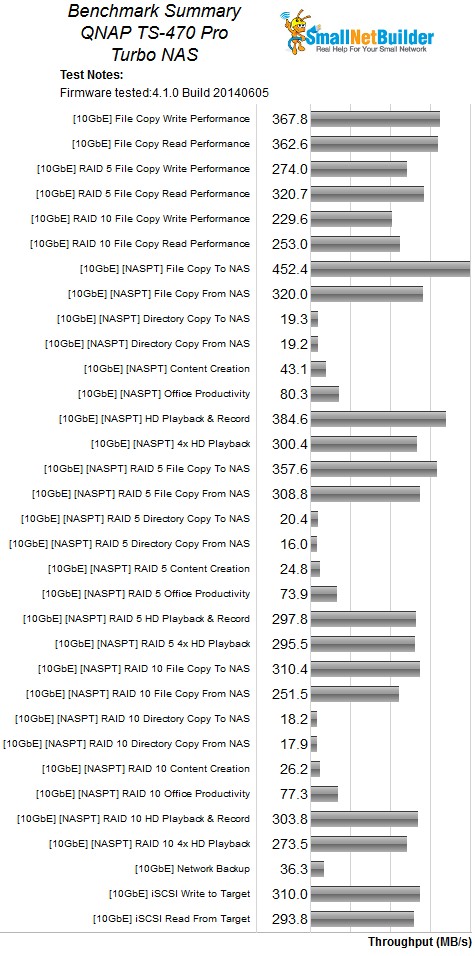 QNAP TS-470 Pro Benchmark Summary – 10 Gbps LAN
iSCSI target writes and reads get a throughput boost from 10GbE with 310 MB/s write and 294 MB/s read on a RAID 5 volume.
Performance – Cache
QNAP introduced Cache Acceleration in QTS 4.0, but I again didn't notice it until 4.1. I had a 60 GB OCZ Agility 2 SSD in the parts pile, so I threw it in and configured it as cache for a three-drive RAID 0 volume. I used RAID 0 because I didn't want to wait the 6+ hours needed for a full RAID 5 resync. You can use a volume while it is resyncing, but I have to wait so that benchmarks tests aren't negatively effected.
I ran the standard benchmark suite with the cache enabled. The Hit Rate History plot shown in the screenshot indicates a peak of 35% cache hit rate, but there is no detailed reporting or history available beyond that little graph.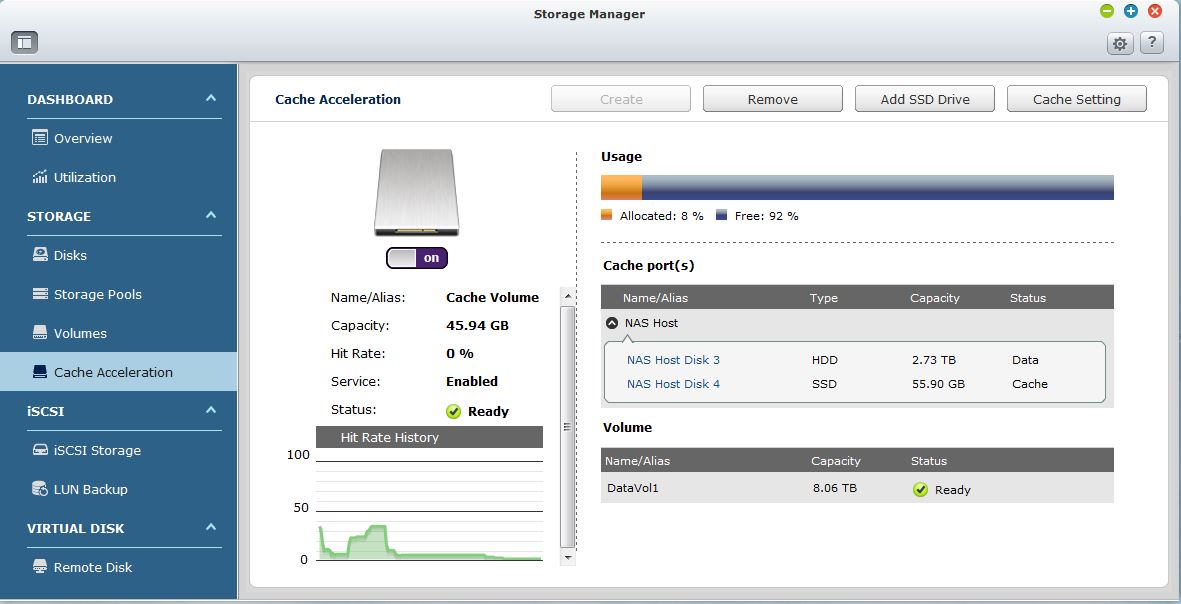 QNAP TS-470 Pro Cache Acceleration
The benchmark results show essentially the same performance in most cases. The NASPT Directory Copy and Content Creation benchmarks had the largest differences. But two of three benchmarks had lower performance with SSD cache enabled, the worst being a 32% throughput reduction in the NASPT Directory Copy To NAS (write) test.

| Benchmark | RAID 0 | RAID 0 w/ cache | % Difference |
| --- | --- | --- | --- |
| Windows File Copy Write | 109.67 | 108.31 | -1 |
| Windows File Copy Read | 108.15 | 108.24 | 0 |
| NASPT FileCopy To NAS | 119.31 | 116.98 | -2 |
| NASPT FileCopy From NAS | 112.75 | 112.14 | -1 |
| NASPT Directory Copy To NAS | 12.27 | 8.34 | -32 |
| NASPT Directory Copy From NAS | 14.99 | 16.15 | +8 |
| NASPT Content Creation | 13.32 | 12.83 | -4 |
| NASPTOffice Productivity | 56.25 | 56.51 | +0.5 |
| NASPT HD Playback & Record | 121.05 | 121.02 | 0 |
| NASPT 4x HD Playback | 113.22 | 112.00 | -1 |
Table 2: SSD Cache Acceleration Comparison
In the QTS 4.1 SMB user manual, QNAP cautions: "Not all applications can benefit from the SSD cache feature. Please make
sure that the SSD cache is supported by your applications". I know the NASPT benchmarks are specifically designed to prevent caching, so perhaps this wasn't a fair test. But it goes show that you can't just throw an SSD in, turn on caching and expect performance miracles.
Competitive Analysis
We just tweaked the NAS Ranker so that it doesn't artificially score products differently when their real-world performance would prove otherwise. With that said, the TS-470 Pro ranked at #5 out of 75 products currently in the NAS database. This is right below the QNAP TS-1079 Pro, which also has an Intel i3 CPU and right above the Synology DS713+ Disk Station, which has a dual-core Atom D2700.
If the Ranker is filtered to show only four-bay NASes, then the TS-470 Pro comes out in the #1 spot, followed by Synology's DS412+, which like the DS713+ also runs on an Intel Atom D2700. If you don't care about 10GbE, then the Synology, at half the 470 Pro's price, is the obvious choice between the two.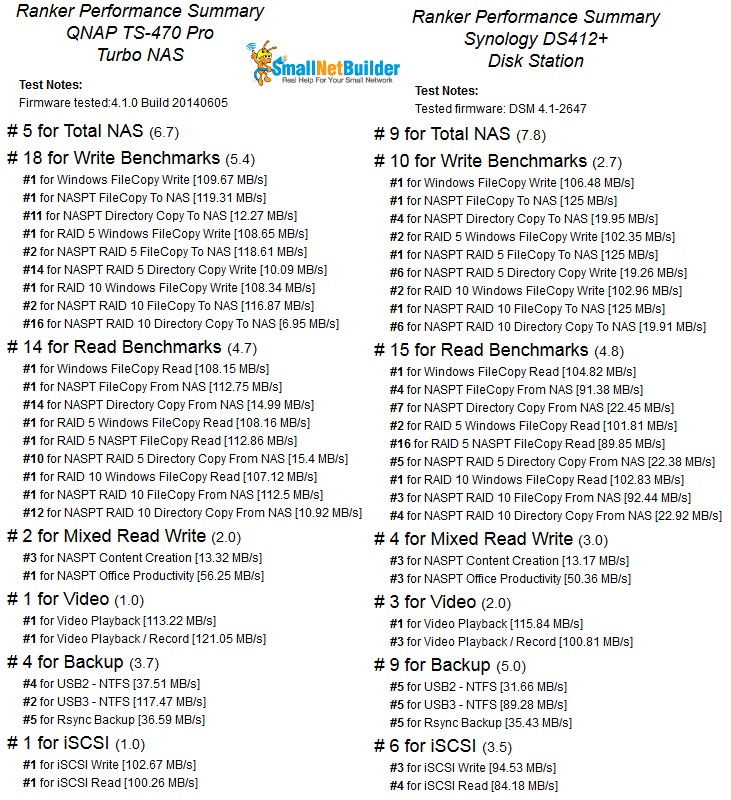 NAS Ranker Performance summary comparison
If we are looking at just 10GbE performance, then we have only NETGEAR's ReadyNAS 716 and Thecus' N7710-G to compare. Since 10GbE performance isn't included in the NAS Ranker, we have to compare performance the old way via the charts. Because 10GbE doesn't do much when working with small files, the composite below looks at NASPT File Copy write and read.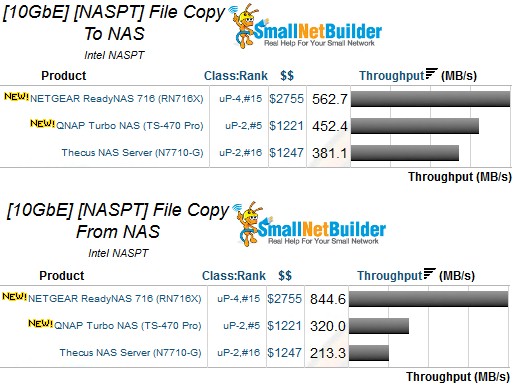 10GbE NASPT File Copy performance comparison
This is a comparison among three Intel-based platforms, from the RN716's most powerful quad-core 2.5 GHz Xeon Ivy Bridge E3-1265Lv2 to the Thecus' 2.9 GHz dual-core Pentium G850, with the QNAP's dual-core i3-3220 in between. As you might expect, the ReadyNAS 716 comes out on top, but you'll pay a stiff price premium for that performance.
Closing Thoughts
At around $1200, the TS-470 Pro is not going to be an impulse purchase for home or SOHO buyers. And that's without its optional $629 dual-port copper 10GbE card or any drives in the box.
If you're looking for a top-performance four-bay NAS and don't care about 10GbE, then Synology's DS412+ at around $600 would put much less strain on your wallet. If you want four bays and just gotta have 10GbE to go with it, then the TS-470 Pro is the only game in town for now.
Buy Turbo NAS from Amazon