At a glance
Product
QNAP Turbo NAS (TS-112P) [Website]
Summary
Single bay Marvell-based NAS with USB and eSATA ports.
Pros
• Cheap!
• USB 2.0, 3.0 & eSATA ports
• Cloud backup to Amazon S3, ElephantDrive, Symform
Cons
• Feels underpowered
• 3.5″ drives only
Typical Price: $170 Buy From Amazon
Introduction
A few weeks back, we looked at Synology's most inexpensive NAS, the DS115j. In the closing, we promised a review of QNAP's equivalent cheapest NAS, so here it is.
The TS-112P Turbo NAS supports the same features as its more expensive siblings (RAID support excepted, of course). It's the least expensive option in QNAP's entry-level Home and SOHO line, which includes the TS-112P, TS-120 (~$125) and new TS-131 (~$170). There's also the SMB entry level single-bay TS-121 (~$215) if you want to spend a lot more.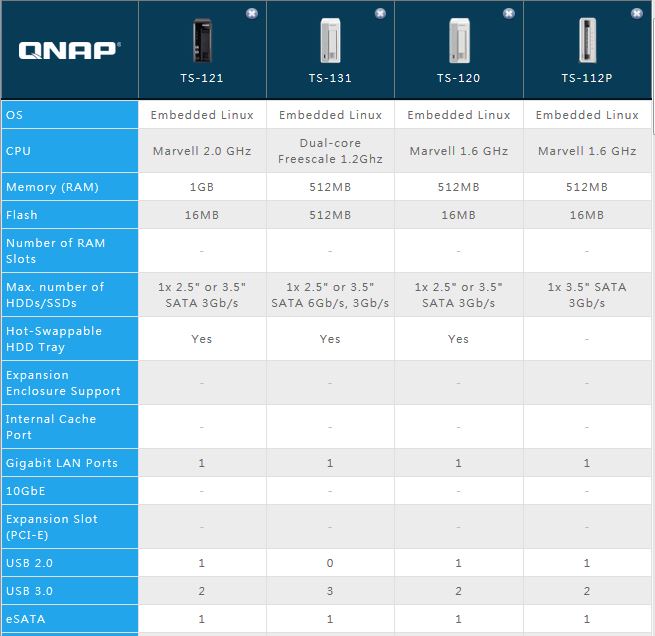 QNAP single bay NASes
The 112P's specs look most like the TS-120. The main difference is the 112P doesn't have a hot-swappable drive bay and only accepts 3.5" drives. Note none of the single-bay models have HDMI ports. That's ok, because they don't have the processing poop to support video anyway.
Unlike the Synology DS115j that has only USB 2.0 ports, QNAP endowed the 112P with two USB 3.0 and one eSATA port to go along with the single front-mounted USB 2.0 port.
I couldn't find any callout diagrams in the hardware documentation, so you'll have to settle for unadorned front and rear panel views below.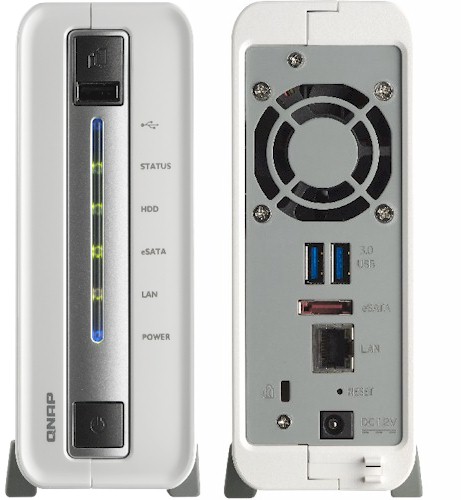 QNAP TS-112P front and rear panels
Inside
Since you have to install a drive, QNAP ships the 112P without the cover screws installed. So it was easy to slide back the cover and snap the photo below. Because this is going back to Amazon when I'm done, I didn't disassemble it any further.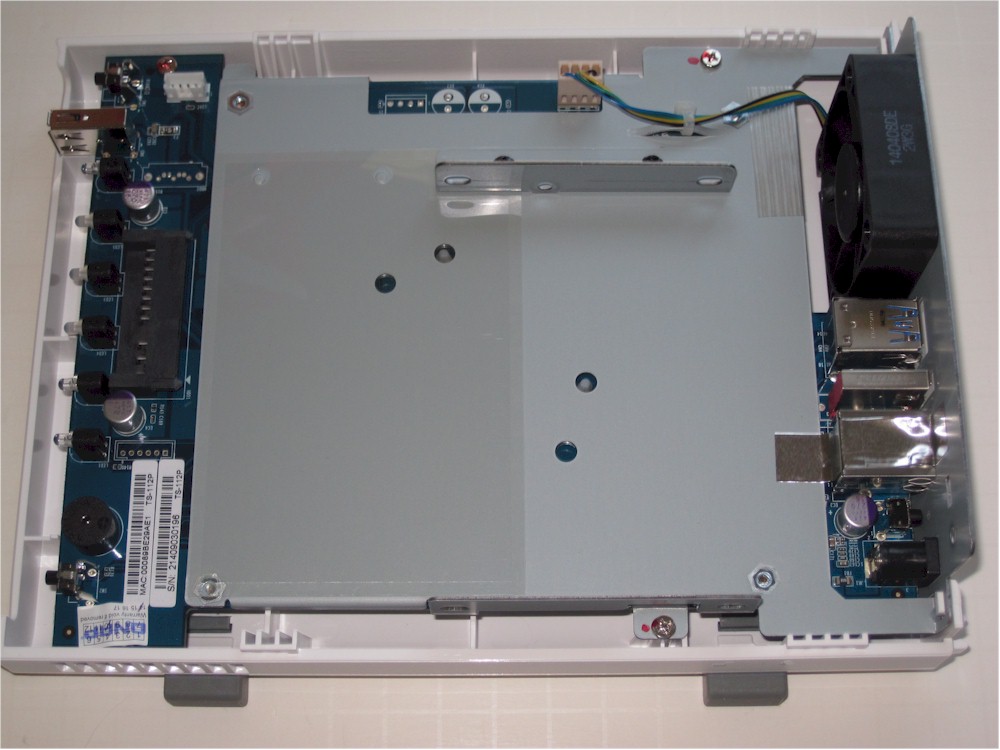 QNAP DiskStation TS-112P inside
Fortunately, QNAP calls out processor, RAM and flash capacities right in the product spec. The Ethernet PHY is an educated guess, based on the TS-420's components. The table below shows the Synology DS115j for comparison.
| | QNAP TS-112P | Synology DS115j |
| --- | --- | --- |
| CPU | Marvell 88F6282 Kirkwood SoC @ 1.6 GHz | Marvell Armada 370 88F6707 @ 800 MHz |
| Ethernet | Marvell Alaska 88E1318 | Marvell Alaska 88E1512 (?) |
| RAM | 512 MB | 256 MB |
| Flash | 16 MB | 8 MB |
Table 1: TS-112P component summary
I used one of our WD Red 3 TB (WD30EFRX) drives for testing, which brought total power consumption to 10 W with the drive spun up and 6 W with it spun down. The little fan didn't have much work to do to keep things cool; noise was rated Very Low.
Features
As noted above, the TS-112P runs QNAP's QTS 4.1 NAS OS (4.1.2 to be specific) and supports all its features, except those precluded by its reduced hardware configuration, i.e. no RAID, no video playback via HDMI, etc.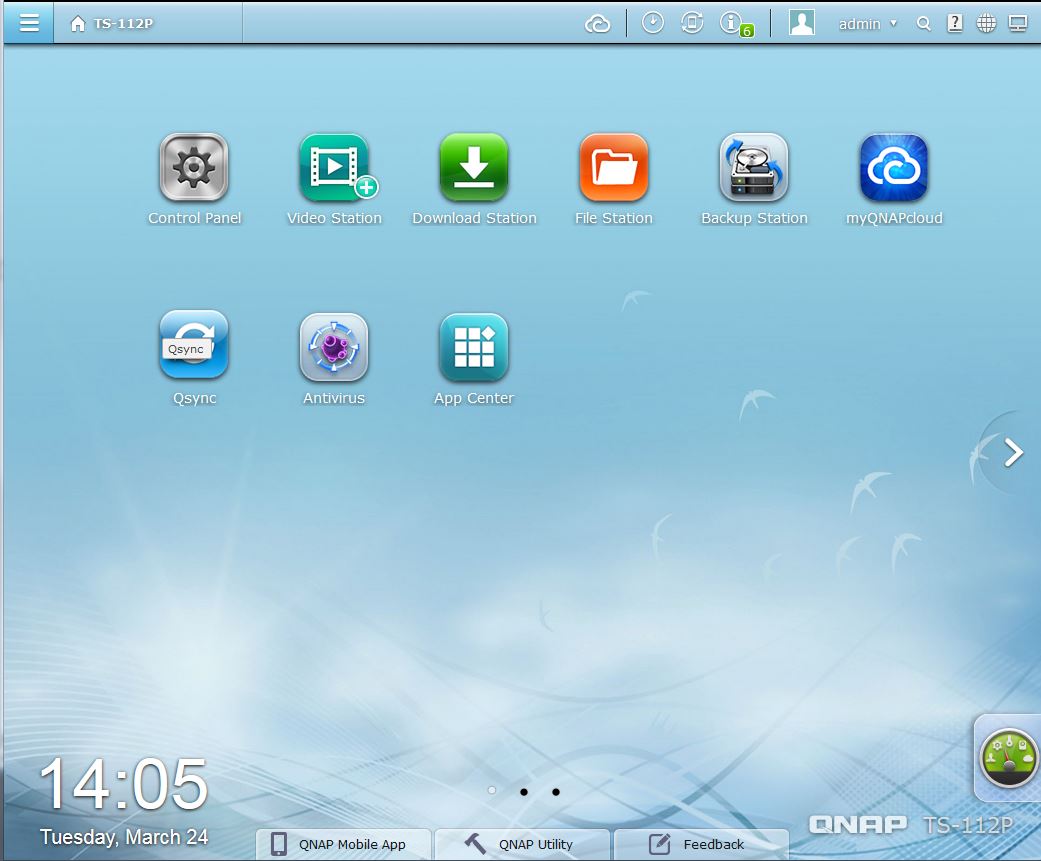 QNAP QTS Desktop
I counted 122 apps in the 112P's App center out of the 198 shown in the online App Center. The first 28 are shown below and the others are in the gallery you'll find a bit further down the page.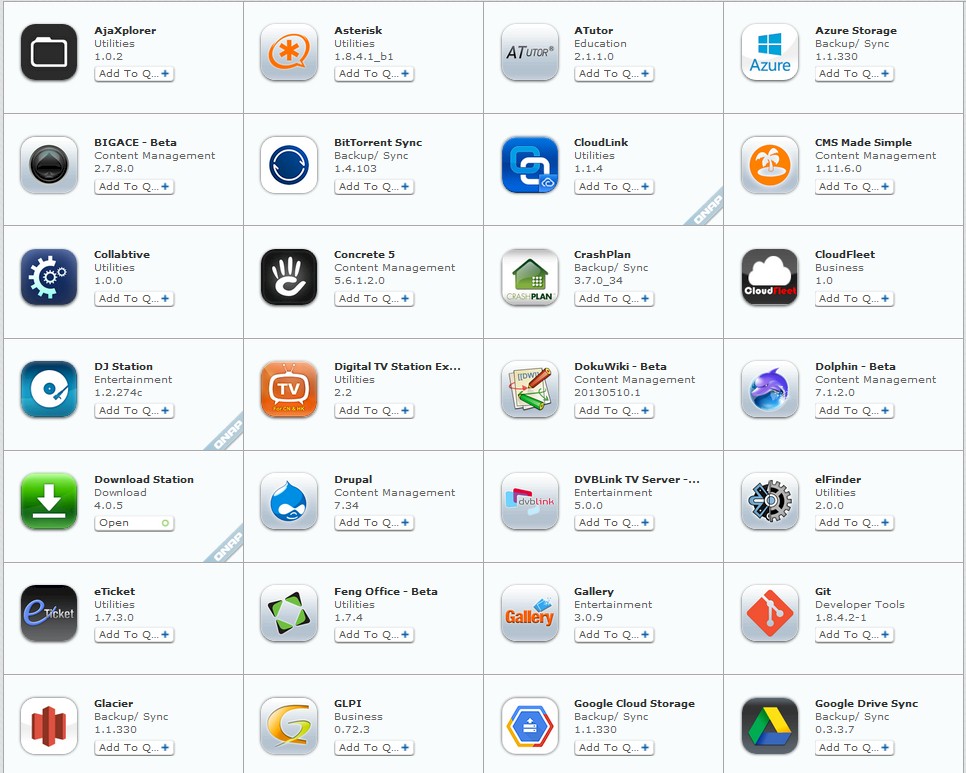 Some of the TS-112P supported apps
While this list is impressive, keep in mind the relatively low CPU power provided by the Marvell Kirkwood class SoC. I'm sure it will cause some of these apps to absolutely crawl.
Since it's been awhile since I reviewed single drive NASes, I had to readjust my expectations for response time when moving through the admin interface. The QTS desktop seemed to demand more from the Marvell processor than it was prepared to give.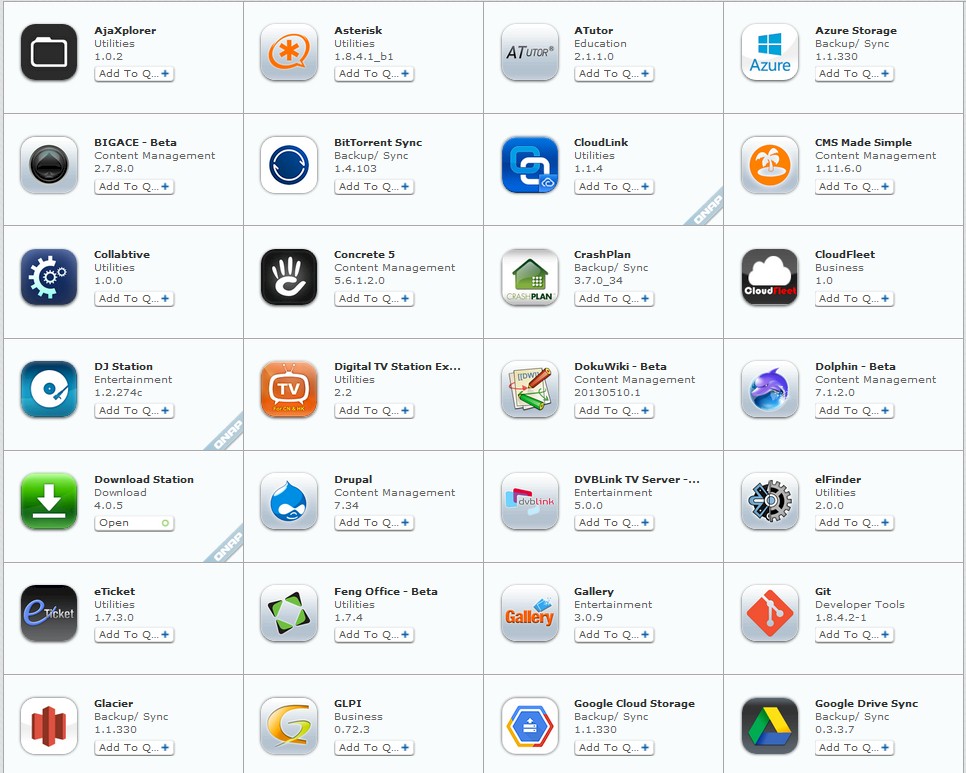 Add in app list, page 1
Add in app list, page 2
Add in app list, page 3
Add in app list, page 4
Add in app list, page 5
Performance
Performance tests were run using our Revision 5 NAS test process on a single-drive volume with a 1 Gbps LAN connection. The firmware installed was QTS 4.1.2.
The TS-112P's Benchmark Summary below shows an almost 2-to-1 difference between the Windows and NASPT File copy write results, while reads are about the same. I'm not sure what caused this.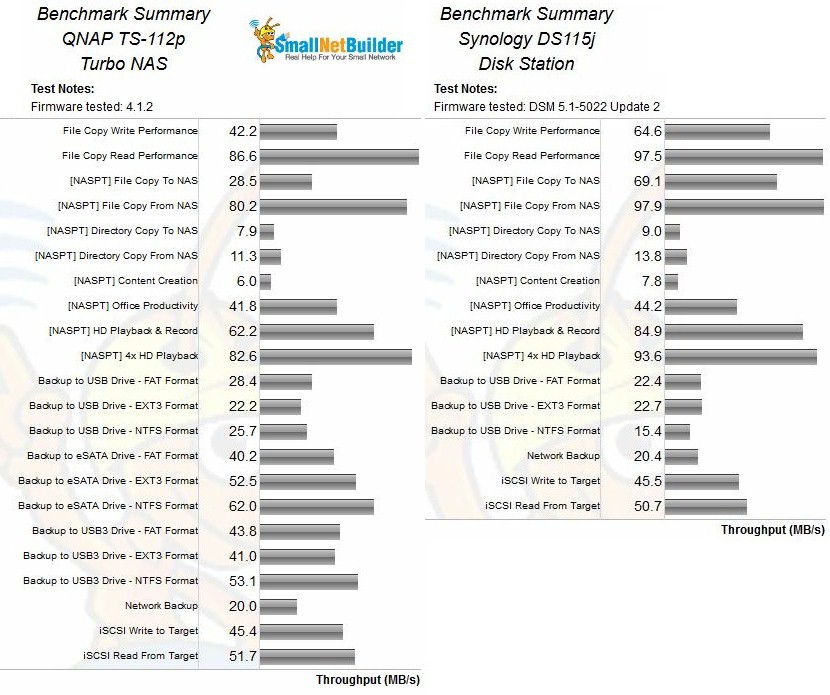 Benchmark Summary comparison
I included the DS115j's summary for easy comparison. It's clear the Synology does better than the 112P in many benchmarks, especially when it comes to large sequential file handling, as indicated by the File Copy and HD playback benches.
Since the DS115j review, we also reviewed Seagate's Personal Cloud. So with three single-drive NASes in the database, we now have something to rank! The NAS Ranker Performance Summary below shows #2 rankings for many of the benchmarks. Keep in mind when checking the rankings against the Benchmark Summaries above, that the Ranker treats values within 5% as equal. So some of the sub-rankings are ties, but aren't shown as such in the summary.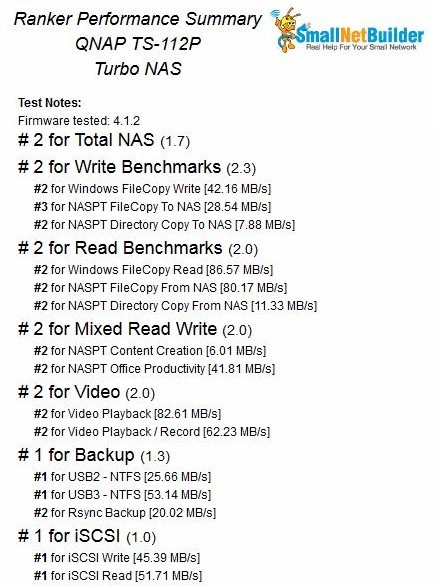 QNAP TS-112P Ranker Performance Summary
Closing Thoughts
So now we can answer the Synology DS115j vs. QNAP TS-112P question. If USB 3.0 and eSATA ports are important to you, you have only one choice, the TS-112P. But for overall performance, the edge goes to Synology's DS115j. Only you can answer whether you'd rather spend the extra $10 or keep it in your pocket.

Buy Turbo NAS from Amazon