Introduction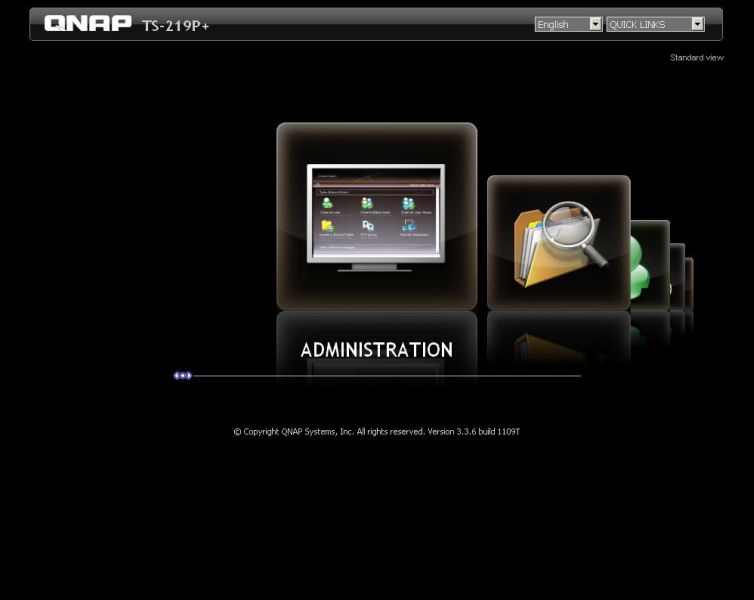 Like Synology, QNAP has adopted a unified OS for its broad NAS line. The current iteration is called simply "Turbo NAS Firmware V3.3" and can be explored through QNAP's live demo.
This review is intended to serve as a feature reference for our QNAP hardware reviews, so let's get to it.
Here is a summary of V3.3's features. Of course, volume types supported vary by the number of drives in a product. So don't expect to buy a two-bay NAS and get RAID 5 and higher support!
Here's the feature summary:
Volume Types, File Systems, Services
Network file sharing via SMB/CIFS, NFS, AFP
WebDAV support
Hot-swappable individual drive, JBOD, RAID 0, 1, 5, 5 + spare, 6 volumes
(volume support varies with number of drives)
Online RAID expansion and RAID level migration
Selectable EXT3 / EXT4 volume file systems
FTP (and -SSL, -TLS) with upload / download bandwidth control
HTTP / HTTPs file and admin access
iSCSI target and initiator (maximum number varies by model)
ISO mounts
CIFS Recycle Bin
Apache webserver
USB printer serving
iSCSI Features
Vmware Ready (varies by model)
Citrix Ready (varies by model)
Windows 2008 Hyper-V compatible (varies by model)
SPC-3, MC/S, MPIO support
Multiple target and LUN support with Thin Provisioning
CHAP authentication with Access Control List
iSCSI initiator (Virtual Disk Drive)
Accounts
Joins NT Domain / Active Directories for account information
Users (maximum number varies by model)
Groups (maximum number varies by model)
Quotas
Backup
Scheduled and immediate networked backup to other QNAP NASes using proprietary rsync-based protocol or standard rsync servers with compression and encryption options.
Client Backup: NetBak Replicator (Windows only, unlimited licenses)
Scheduled Backup to attached drives
USB device pushbutton copy
Apple Time Machine backup
Backup to Amazon S3
Multimedia
Media servers: UPnP AV / DLNA, iTunes
DLNA server transcodes AVI, M4V, MPG/MPEG, RM/RMVB, WMV
PS3 and Xbox360 media access support
Remote music and video access via web browser
Web photo album (CoolIris)
BitTorrent / HTTP / FTP download
IP camera recording and playback (select models, maximum number vary by model)
ioS and Android apps for remote music and photo access
Add-ons (QPKG)
phpMyAdmin
TomCat
Python
WordPress
Asterisk
MLDonkey
SqueezeCenter
Many more including Magneto, OpenLDAP, Optware, Joomla
Browse and download QPKG from admin interface
Power
UPS shutdown sync via USB
Network UPS
Programmable idle drive spindown
Scheduled shutdown / startup
Wake On Lan
Auto restart after power failure
Networking
IPv6
Link failover and aggregation (dual Network models)
Jumbo frames up to 9000 Bytes
Dynamic DNS support
UPnP
Bonjour
Admin Features
Email alerts
Logging
Syslog
Telnet / SSH root access
SNMP management
Resource monitor (CPU, memory, network usage graphs)
Missing Features
The main thing that QNAP is missing versus competitors is easy Remote Access. V3.3 has built-in Dynamic DNS support for dyndns.com, update.ods.com, www.no-ip.com and others. But it lacks a hosted remote access service like NETGEAR's ReadyNAS Remote or even simpler services like those offered by Buffalo, WD, Iomega and other NASes that would simplify remote access for less knowledgeable users.
Feature Tour
Using the live demo is the best way to get a feel for V3.3. Although its admin interface is browser and AJAX based, it maintains a more traditional look and feel vs. Synology's "desktop" and LaCie's "widget" styles.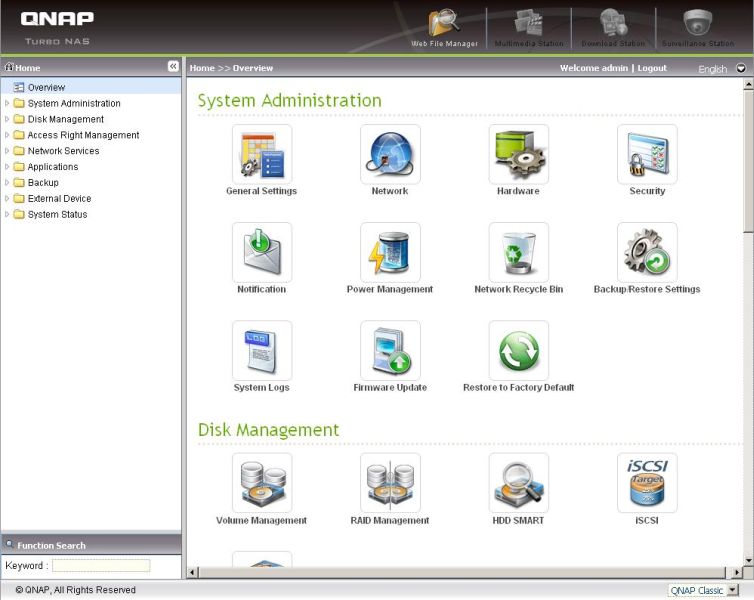 QNAP V3 Overview screen
The gallery below hits most of the highlights of V3's feature set.
The login landing screen displays the assortment of setup wizards available.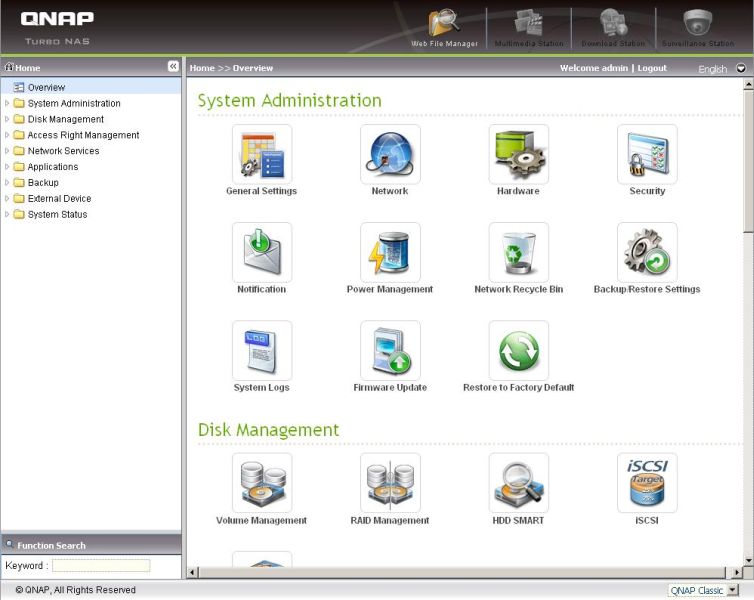 The Overview screen is just another way to access the same features shown in the left side collapsable menus.
Linux server admins will appreciate this process monitor screen.
This Status screen provides a quick overview of system services.
A summary of key system information is available via the System Status > System Information screen.
Folder access rights are controlled here. Note NFS and WebDav controls in the Action column and the ISO Share Folders tab
Folder access rights are controlled here. Note NFS and WebDav controls in the Action column and the ISO Share Folders tab
Share folder properties. Note the oplock enable for each share. Access rights can be individually set by Local Users and Groups and Domain Users and Groups on another screen.
This service allows browsing and download,but not upload.
Adding a User launches a wizard that walks you through setting a password, quota limit, private folder creation and other folder access. Group management screen has similar features.
The volume manager is where you configure storage. This screen shows the volume options for four-drive and larger systems. Multiple volumes are supported… if you have enough drives.
This shot of the RAID manager shows expansion and migration options, only if they are available.
Miscellaneous hardware settings. Note that write cache is globally controlled here.
iSCSI targets are created via Wizard with these options.
iSCSI name assignment
iSCSI CHAP authentication
iSCSI LUN creation. Thin provisioning allows iSCSI volumes to be resized
Virtual Disk is QNAP's term for its iSCSI initiator service. This allows you to expand storage by using iSCSI targets on other NASes.
External storage with eSATA drive attached. Note the numerous formats supported and formattable.
Backup settings for an attached drive. You can also back up on demand and automatically upon drive attachment. Backup types are copy (no destination files deleted and synchronize (destination files not on source will be deleted).
Setup for Amazon S3 backup.
Network backup can be done to QNAP or rsync targets. This screen shows failure when the rsync target connection was tested. Compression and encryption (SSL connection) options are available as well as scheduling.
The Download Station handles BitTorrent, HTTP and FTP downloads. A Torrent download is in progress here.
Settings for the Download Station.
You get access to all media server (TwonkyMedia) settings. Both PS3 and Xbox360 are supported.
The TwonkyMedia server supports media transcoding. Note that this is CPU intensive!
A MySQL server is already built in. phpMyAdmin can be installed as an add-in
QNAP calls its add-in modules QPKG. This handy list can be popped-up from the admin page. But QPKG modules must be downloaded to your computer, then uploaded to the NAS for installation.
Most users will find QNAP's V3.3 firmware more than adequate to access their NAS' many features.