At a glance
Product
QNAP Golden Cloud Turbo NAS (TVS-463) [Website]
Summary
Four-bay AMD quad-core powered SATA NAS with dual Gigabit LAN, USB 3.0 and dual HDMI ports. 10GbE & 4x1GbE PCIe expansion options
Pros
• SSD Cache option
• 10GbE option
• USB 3.0 & dual HDMI ports
• Cloud backup to Amazon S3, ElephantDrive, Symform
Cons
Typical Price: $749 Buy From Amazon
Introduction
QNAP has traditionally stuck with Intel and Marvell to power their NASes. The company's new "Golden Cloud" line, however, turns to quad-core G-series AMD processors to try to bring something new to the table.
The table below shows four, six and eight-bay models with 8 and 16 GB RAM options on the TVS-863+ model and 4 and 8 GB SKUs on the other three models. Note the 863+ also has a 10GbE port as standard, while it is optional on the other models.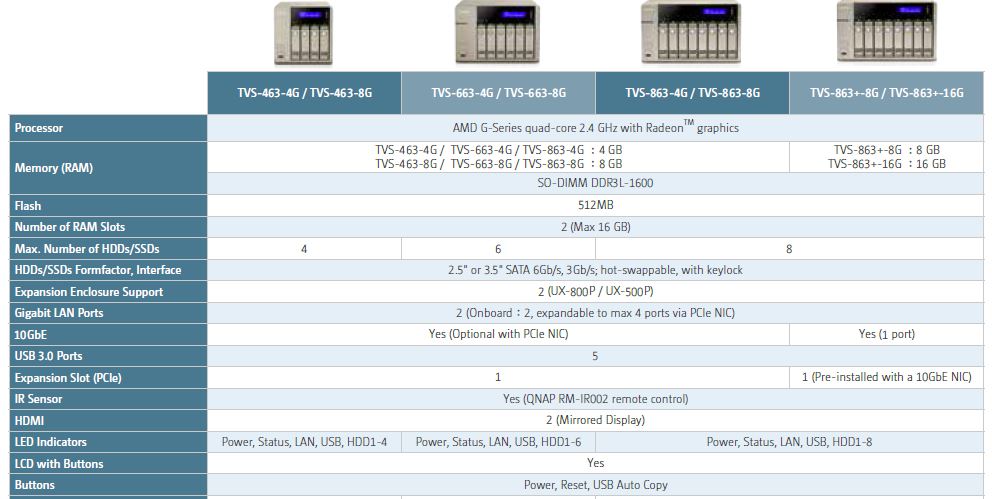 QNAP TVS NAS family
All of the TVS series support the accessories shown below, which include USB 3.0 connected expansion cabinets, RAM and various LAN port options.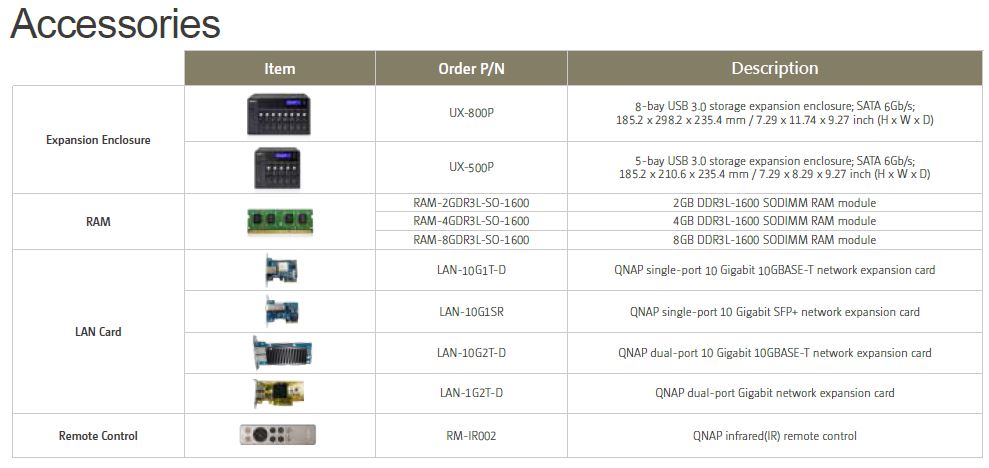 QNAP TVS NAS family accessories
QNAP has opted to use USB 3.0 exclusively for external storage and peripheral connection. Other unique features are two HDMI ports and a "Console Port" that looks like an audio out jack.

QNAP TVS-463 front and rear panels
Inside
Removing the outer case reveals two easily assessible SoDIMM slots, one of which is filled with an 8 GB module on the review sample QNAP sent. The built-in power supply isn't too hard to remove, but getting the main board out requires removing the rear panel and some tricky wiggling to get the mainboard free of the drive backplane.
QNAP TVS-463 inside
I didn't take the board out since I didn't want to wrestle with the heatpipe coupled to a hefty spreader plate bolted to the CPU. I was able to identify most components, summarized in Table 1, without removing the board anyway.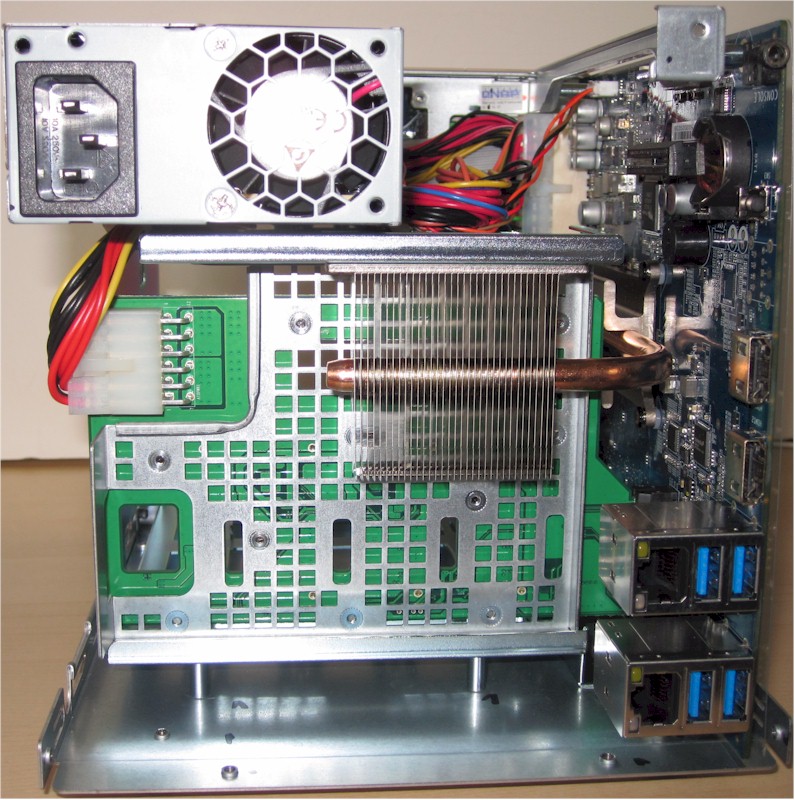 QNAP TVS-463 rear view with panel removed
| | QNAP TVS-463 |
| --- | --- |
| CPU | AMD 2.4GHz quad-core GX-424CC processor with Radeon graphics |
| Ethernet | Intel WG1210AT (x2) |
| RAM | 8 GB DDR3 SoDIMM |
| Flash | 512 MB USB DoM |
| USB 3.0 | Asmedia 1074 4 port USB 3.0 controller |
| SATA | Marvell 88SE9215 (x2 on backplane) |
| PCIe | PLX PEX8603 3-lane, 3-Port PCI Express Gen 2 (5.0 GT/s) Switch |
Table 1: TVS-463 component summary
I used four WD Re 3 TB (WD3000FYYZ) drives loaned by WD for testing, which brought total power consumption to relatively toasty 63 W with the drives spun up and 30 W with then spun down. I rated noise level as medium low, mainly due to clunks from the relatively noisy Re drives.
The case fan spun quietly for most testing, although it ramped up to high during the ~ 8 hour RAID 10 format / resync cycle due to high drive 3 temperature. The fan ran on high for five minutes at most and ramped back down after it brought the drive temp back to normal.
Features
As noted above, the TVS-463 runs QNAP's QTS 4.1 NAS OS (4.1.3 Build 20150408 to be specific) and supports all its features, including SSD Cache acceleration, Virtualization Station and QvPC NAS-as-PC features. We covered Virtualization Station in this piece a few months back.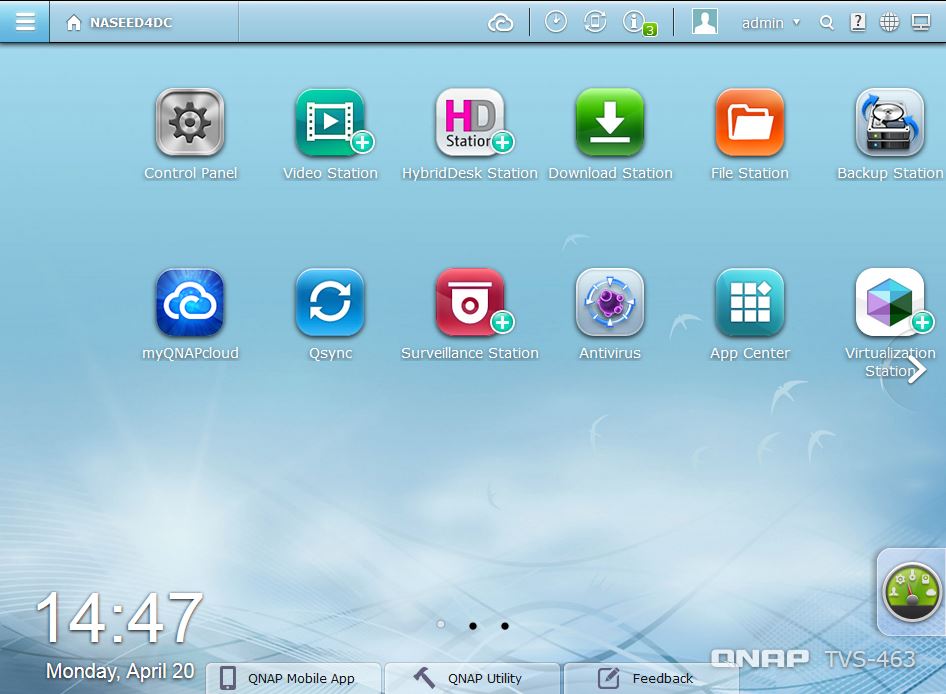 QNAP QTS Desktop
Check this review for more QTS 4.1 features and the online demo to test drive the admin interface.
Performance
Performance tests were run using our Revision 5 NAS test process on four-drive RAID 0, 5 and 10 volumes with a 1 Gbps LAN connection. The firmware installed was 4.1.3 Build 20150408.
The TVS-463's Benchmark Summary below shows pretty much all large sequential file copy benchmarks bumping up against the limits of the Gigabit Ethernet connection. The only exception was Windows File Copy read, which produced a relatively low 95 MB/s.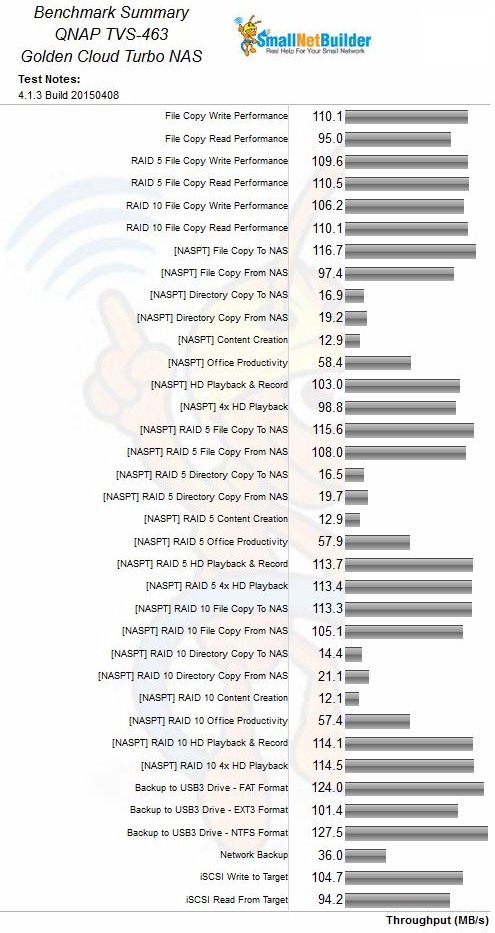 Benchmark Summary
Using the NAS Ranker is the easiest way to put the TVS-463's results into perspective. It ranked #2 among RAID 5 NASes tested with the most recent test process, behind ASUSTOR's AS7004T.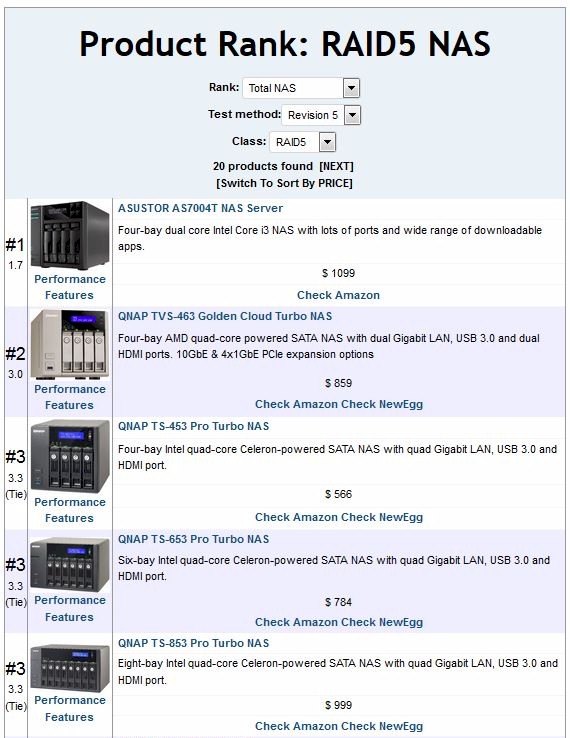 RAID 5 Ranking
Comparing NAS Ranker performance summaries shows not a lot of difference between the two products. It's mainly the combination of lower sub-ranks in Video, Backup and iSCSI benchmarks that drove the QNAP's score down. Of particular note is the TVS-463's significantly lower rsync backup throughput of 36 MB/s vs. the ASUSTOR's 68 MB/s.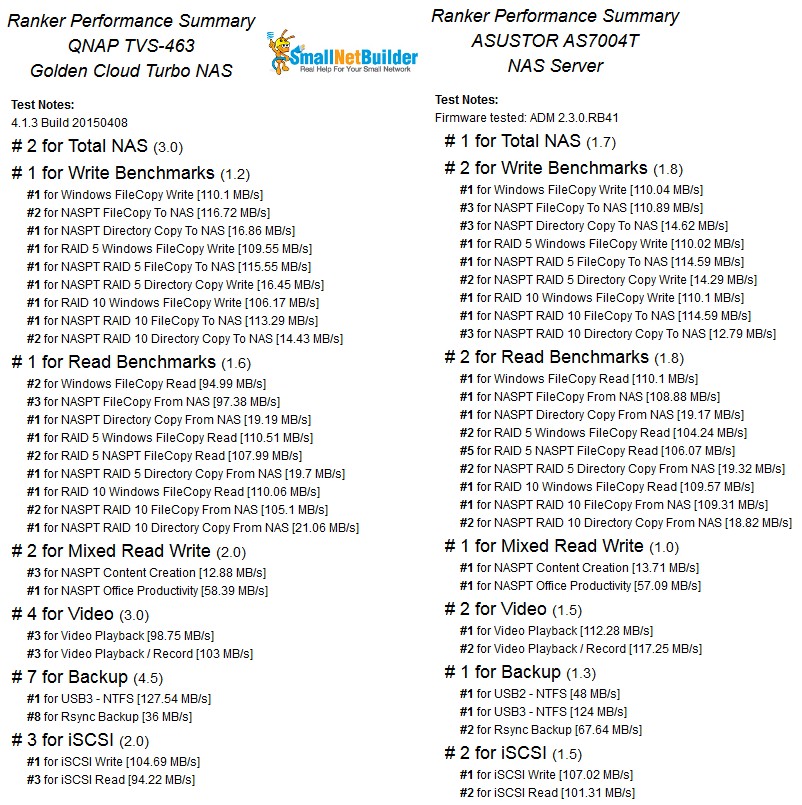 QNAP TVS-463 Ranker Performance Summary Comparison
Closing Thoughts
#2 rank for a new NAS platform isn't too shabby. But when you consider the TVS-463 is currently $240 cheaper than the #1 ranked Intel i3 powered ASUSTOR AS7004T, that could definitely influence some purchase decisions. And if you opt for the 4 GB model, the price gap grows to almost $300! I guess we know why QNAP decided to launch the AMD-powered Golden Cloud family.

Buy Golden Cloud Turbo NAS from Amazon