Introduction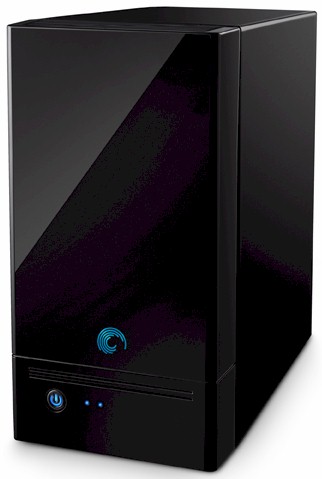 At a Glance
Product
Seagate BlackArmor NAS 220 (ST320005LSA10G-RK)
Summary
Two drive RAID 1 NAS with encrypted volume support, lots of backup options, media servers and secure web-based remote access.
Pros
• Good value ($ / capacity)
• 5 Windows client licenses for full-featured backup software
• Secure web-based remote access
Cons
• No Logging
• No MacOS backup client or Time Machine support
• No RAID migration / expansion
• Slow USB backups
• No eSATA support
Seagate must be pleased with the acceptance of its four-drive BlackArmor NAS 440, because they're back with a two-drive version. The NAS 220 supports most of the features of its higher-capacity sibling, which we've previously reviewed. So I'll just focus on what's different, review its new hardware platform and run through the performance test results.
The 220 is housed in a metal case with a plastic front panel. It's a no-frills design meant to convey a no-nonsense approach designed to appeal to its target small-biz buyer. It's a bit taller and wider than the Synology dual-drive NASes, but not quite as big as Cisco's Linksys Media Hub.
Figure 1 shows the front and rear panels. The front has status and drive activity indicators, the Power button but no USB ports, while the rear has two USB 2.0 ports and a Gigabit Ethernet port that supports jumbo frames up to 9K. Unfortunately, it has no eSATA port to help support faster backups to attached drives.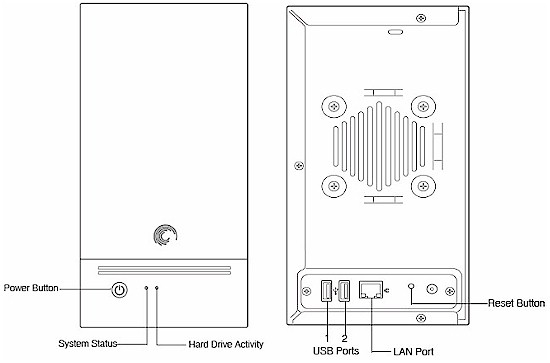 Figure 1: Front and rear panels
The single fan ran quietly and drive noise was low enough to make the unit barely audible in a quiet room. I didn't hear the fan speed ramp up during the load of our performance testing. Power draw measured 22 W active and 7 W with drives spun down via the HDD Standby feature. You can't set the spindown time and there is no programmable shutdown / startup feature.
Internal Details
The 220's metal case has a plastic front panel that doesn't easily remove to provide access to the two 3.5" SATA drives. For that, you need to remove three screws and slide off the metal cover to reveal the two toaster-style top-inserted drives (Figure 2). Our 2 TB review model came with two ST31000528AS Barracuda 7200.12 1 TB drives installed, which are EXT3 formatted.
Figure 2: Inside view
Figure 3 is a shot of the 220's board, which is mounted below the drive cage. The board is not the same as the BA NAS 440 and uses a slower version of the Marvell "Kirkwood" SoC line, an 800 MHz 88F6192 vs. the BA 440's 1.2 GHz 88F6281.
Figure 3: NAS 220 board
Other key components are a Marvell 88E1116R Gigabit Ethernet, 128 MB of soldered-on RAM, 32 MB of flash and a Genesys GL850A 4 port USB 2.0 Hub. Note the unloaded position for a second RAM chip.
Feature Summary
The 220 supports most of the same features as the 440, except for those that require four drives. So refer to the 440 review for details. Here is a feature summary, however, for quick reference:
JBOD, RAID 0, 1 volumes with optional encryption
Network file sharing via SMB/CIFS, NFS
HTTPS admin
FTP (by account and Anonymous)
Joins NT Domain / Active Directories
Immediate or scheduled backup to / from attached USB drive & rsync servers
5 licenses for BlackArmor Windows client backup (includes "bare metal" restore)
Secure remote access via web browser and Seagate Global Access service
User quotas with grace period
Email alerts
USB UPS shutdown synchronization
USB print server
Dynamic DNS (dyndns.com, no-ip.com)
UPnP AV / DLNA, iTunes media servers
FTP / HTTP download service (files only, not folders)
Along with these features come some weaknesses, however. Online RAID expansion and migration are not supported, there really isn't any logging and the bundled backup client is Windows only.
Performance
The NAS 220 was tested with our standard test process. I tested a pre-production model, loaded with two ST31500341AS Barracuda 7200.11 1.5 TB drives and running 2000.0312 firmware. Seagate told me that this release is identical to the 2000.0311 that is loaded in retail units, except that it has Telnet enabled for development debugging purposes. Tests were run with 1000 Mbps and 1000 Mbps with 4k jumbo LAN connections in RAID 0 and 1 modes.
Backup
I first checked backup performance to an Iomega UltraMax Pro Desktop Hard Drive configured in RAID 0 attached via both USB 2.0. The test copies a 4.35 GB ripped DVD test folder that I use in the NAS Chart Vista SP1 file copy tests from the NAS to the attached drive. I tested with the Iomega drive formatted in FAT32 by the 220's built-in USB drive formatter and formatted in NTFS by a Win XP system using the Windows Computer Management Disk Management tool.
The results are summarized in Table 1. Performance is similar between the 220 and 440 with both drive formats. But both products currently occupy the bottom two positions in the Backup to USB Drive – FAT Format NAS Chart.
Product
Seagate BA NAS 220
Backup Throughput (MBytes/s)
Seagate BA NAS 440
Backup Throughput (MBytes/s)
USB – FAT32
6.2
5.0
USB – NTFS
3.0
2.0
Table 1: Attached backup throughput test summary
I also tested NAS-to-NAS backup between the 220 and a Synology DS109+. As I have shown in the How To Back Up NAS To NAS series, most NASes use rsync to perform backups to other NASes. Using the information in the Part 2 article, I set up a networked backup of the same test folder that I used for the USB backup test to a Synology DS109+. The settings I used are shown in Figure 4.
Figure 4: NAS to NAS backup to Synology DS109+ settings
I measured 12.57 MB/s for the backup speed of the 220 to the Synology. This is on the low end of NAS-to-NAS backup speeds that I have measured.
Don't forget to use the new backup benchmark NAS Charts if you want to compare backup speed to other products.
Benchmarks
Figure 5 shows a summary of the benchmark tests run for the 220. There's a slight performance penalty between RAID 0 and 1 for write. But RAID 1 read is actually faster than RAID 0. The other notable thing is that write cache effects are very minimal, with very flat performance over the entire range of file sizes tested.
RAID 0 performance with a 1000 Mbps LAN connection averaged over the 32 MB to 4 GB file sizes and with cached results above 125 MB/s removed from the average comes in at 22.7 MB/s for writes and 34.8 MB/s for reads. Average RAID 1 results came in at 19.6 MB/s for writes and 37.7 MB/s for reads.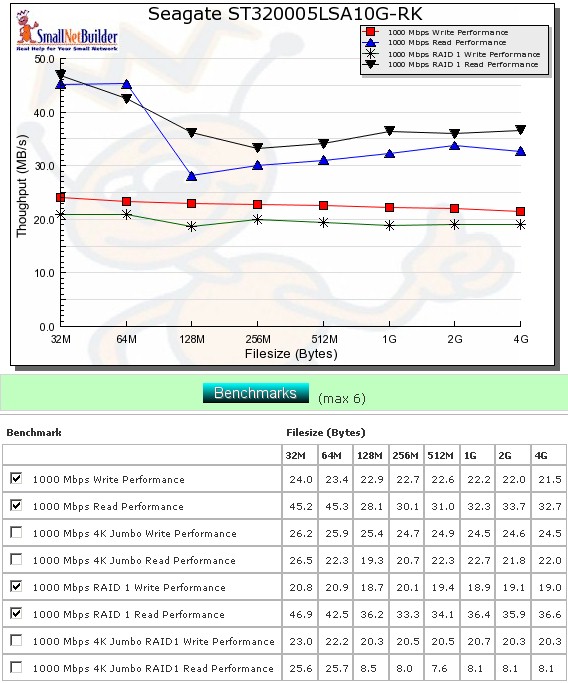 Figure 5: Performance benchmark summary – NAS 220
Performance – Competitive
For the competitive comparison, I included three dual-drive NASes of recent vintage: the WD MyBook World Edition II (white bar), Buffalo TeraStation Duo and Linksys Media Hub.
The RAID 1 write comparison is shown in Figure 6, which has a compressed vertical scale due to the WD's high cache boost. But if you look at the table below the plot, you see that the Buffalo is the clear winner. Its throughput is in the high 20 / low 30 MB/s for file sizes 512 MB and above, while the NAS 220 runs around 19 MB/s.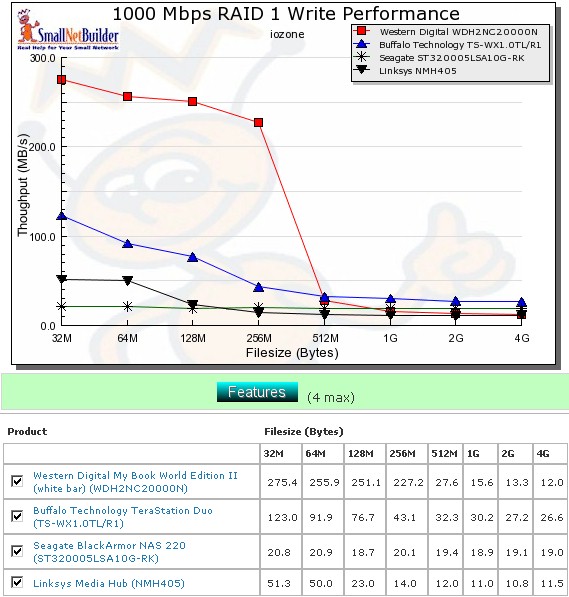 Figure 6: Competitive RAID 1 write comparison – 1000 Mbps LAN
Figure 7 compares the read performances, where, once again, the Buffalo produces the best results, except for a dip at the 512 MB point. But the NAS 220 comes in second, maintaining speeds in the mid 30 MB/s range for the largest file sizes.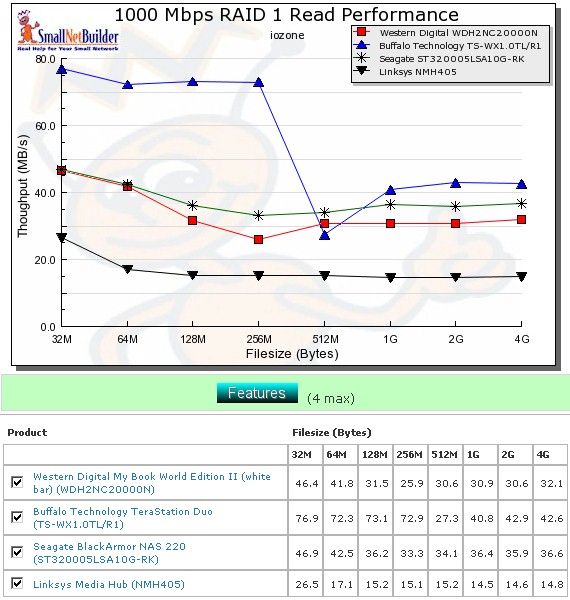 Figure 7: Competitive RAID 1 read comparison – 1000 Mbps LAN
Performance – File Copy
A different perspective on performance is provided by the Vista SP1 1000 Mbps RAID 1 file copy write results in Figure 8. The rankings are similar, but the throughput values are different. The TeraStation Duo once again bests the NAS 220, with the WD and Linksys NASes following.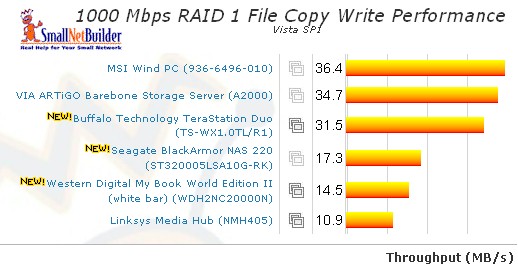 Figure 8: RAID 1 Vista SP1 File Copy Write
Figure 9 shows the 1000 Mbps RAID 1 File Copy read. The Buffalo Duo really jumps to the top of the chart, while the Linksys Media Hub stays at the bottom. The NAS 220 measured 42.6 MB/s, which is better than the iozone averaged results.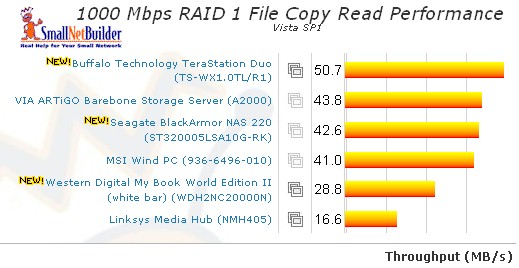 Figure 9: RAID 1 Vista SP1 File Copy Read
Use the NAS Charts to further explore performance.
Closing Thoughts
In the BA NAS 440 review, we concluded that its closest competitor was the Buffalo TeraStation III. And in this review, I have to say that a Buffalo NAS is again the closest competition, but this time it's the recently-reviewed TeraStation Duo.
However, the Buffalo TeraStation Duo has the 220 beat in performance, most likely due to is beefier Marvell Feroceon CPU and 512 MB of RAM. The Buffalo Duo also is a more Apple friendly since it can function as an Apple Time Machine store, has dual network ports and downloads Torrents.
On the other hand, Seagate has priced the 220 aggressively at around $400 for 2 TB vs. around $600 for the 2 TB TeraStation Duo. And Seagate offers a 4 TB 220 version for only $700 (MSRP), while Buffalo doesn't even have a 4 TB Duo model. Finally, if NAS-to-NAS backup capability is on your shopping list, the 220 will work with other rsync-based NASes, while Buffalo mainly likes to deal with its own kind.
If all this makes you want a BlackArmor NAS 220, you may have to wait just a bit. Seagate has just started shipping them and they will probably hit the Seagate store first (at list price, of course). But by the end of August, there should be plenty to go around.