At a glance
Product
Seagate Personal Cloud (STCR4000101) [Website]
Summary
Marvell Armada based single drive "personal cloud" NAS focused on media storage and playback from anywhere on any device
Pros
• DLNA server
• Very good backup and sync apps
• Easy remote access setup
Cons
• Nothing glaring
Typical Price: $240 Buy From Amazon
Retest
Our recent review of Seagate's Personal Cloud 2-bay revealed significantly better performance than found in our first review of its single-drive Personal Cloud sibling. Since Seagate said the newer 4.1.5.15 firmware used for the 2-bay review would also give the single drive NAS a performance kick, we agreed to do a quick retest using our Revision 5 NAS test process.
I'll note that the 4 TB review sample (model STCR4000101) had a Seagate 4 TB NAS series hard drive (ST4000VN000) installed. And with the new firmware, the drive properly spun down after the programmed idle time passed.
The Benchmark Summary comparison below shows the new and old results. It's obvious that large sequential file copy performance improved both write and read and for both Windows File copy and NASPT File Copy benchmarks. The prize for most-improved benchmark goes to NASPT File Copy From NAS (read), which jumped up to 94 MB/s from 36.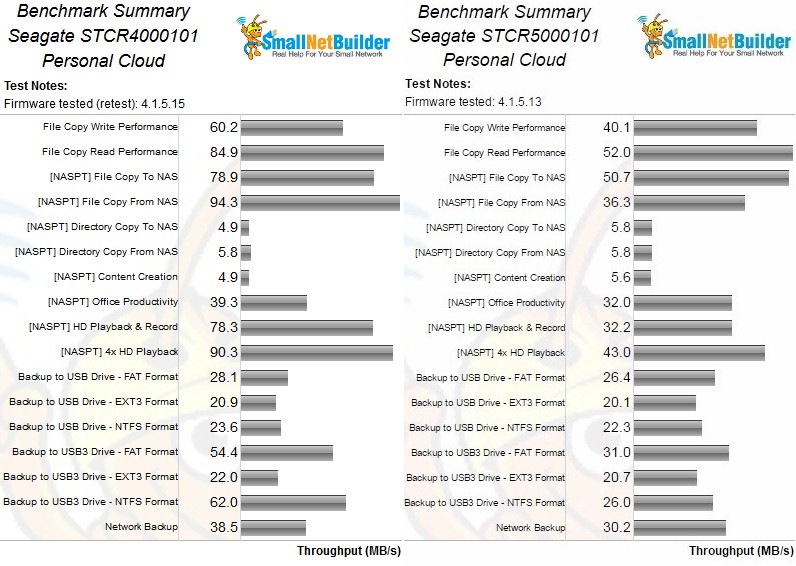 Seagate Personal Cloud Benchmark Summary
USB 3.0 backup benches also improved for FAT and NTFS formatted drives, but EXT3 results stayed the same. There was a nice throughput boost for both HD video benchmarks and about a 25% increase in rsync network backup.
Closing Thoughts
The improved performance is enough to bump the QNAP TS-112P down a step and claim the #2 rank for the Personal Cloud. The Ranker Performance Summary below shows the sub-ranks that earned it the new higher score. Synology's DS115j still remains the #1 ranked non-RAID NAS tested with the current test process.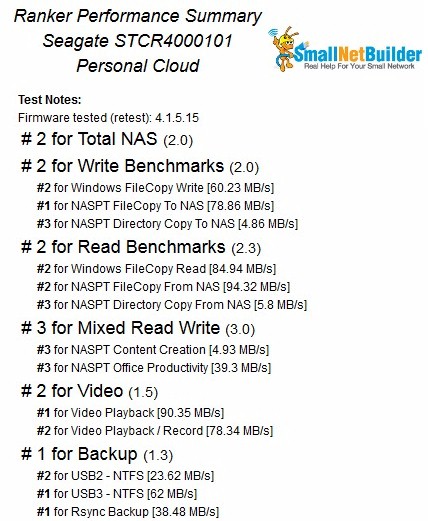 Seagate Personal Cloud Benchmark Summary
In all, not a bad little gift for current Personal Cloud owners, and added incentive for prospective buyers.

Buy Personal Cloud from Amazon