At a glance
Product
Synology Disk Station (DS115j) [Website]
Summary
Single bay Marvell Armada NAS with USB 2.0 ports
Pros
• Wide range of downloadable apps
• Quiet
Cons
• No HDMI or optical audio ports
• No USB 3.0 ports
Typical Price: $100 Buy From Amazon
Introduction
Top-end consumer routers now can write to and read from an attached USB 3.0 drive at over 60 MB/s and 80 MB/s respectively. They also support SMB network sharing, DLNA media serving and some even serve FTP and have built-in Torrent downloaders. So what's a NAS maker to do if they still want a piece of that albeit low-end and barely profitable pie?
Synology's answer is the DS115j DiskStation, which is currently the cheapest way you can add a Synology NAS to your network. As is the trend with pretty much all NASes these days, it supports the same features as its more expensive siblings (RAID support excepted, of course). What you don't get are USB 3.0 or eSATA ports, hot-swappable drive or blazing-fast performance. But for around the price of some AC1200 class routers, you get a very full-featured standalone NAS with quite usable performance.
The screenshot grabbed from its Quick Installation Guide, shows front and rear panel callouts. There is no front-panel USB port and only two USB 2.0 ports for attaching drives or printers and a single Gigabit Ethernet port for network connection.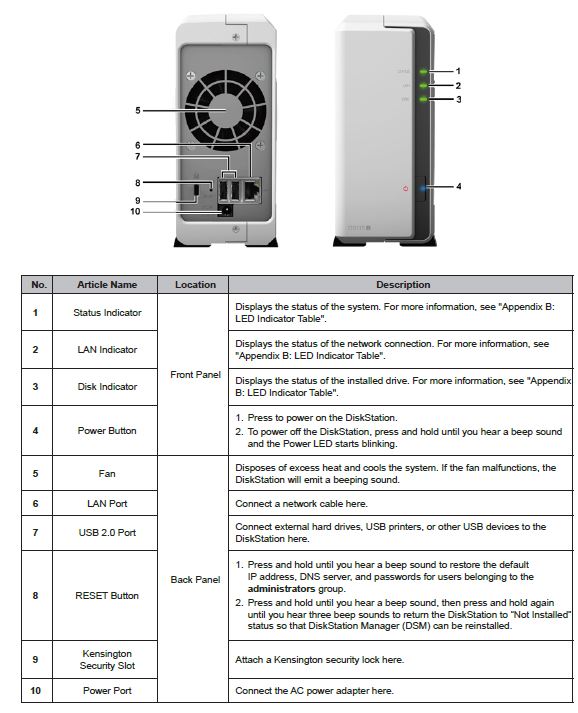 Synology DiskStation DS115j callouts
Inside
Getting into the DS115j to get the board shot below was easy, because the NAS has to be easy to open for buyers to install a 2.5" or 3.5" SATA drive.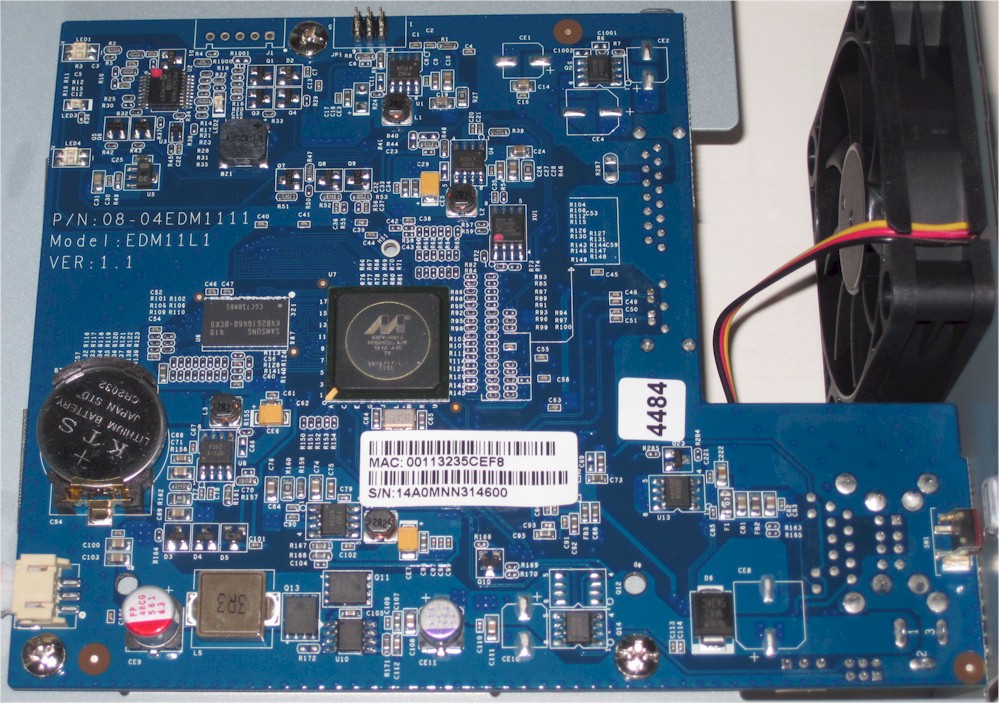 Synology DiskStation DS115j board
The Gigabit Ethernet chip is on the other side of the board and I didn't bother to take it off the metal mounting plate. So I only guessing that it's the Marvell Alaska device commonly used in other Synology NASes. Table 1 summarizes the key components.
| | DS115j |
| --- | --- |
| CPU | Marvell Armada 370 88F6707 @ 800 MHz |
| Ethernet | Marvell Alaska 88E1512 (?) |
| RAM | 256 MB |
| Flash | 8 MB |
Table 1: DS115j component summary
I popped in one of our WD Red 3 TB (WD30EFRX) drives for testing, which brought total power consumption to 10 W with the drive spun up and 6 W with it spun down. The little fan didn't have much work to do to keep things cool, so noise was rated Very Low.
Features
As noted above, the DS115j runs Synology's DSM 5.x (DiskStation Manager) OS, DSM 5.1-5022 Update 2 to be specific. So it has all Synology's standard bells and whistles.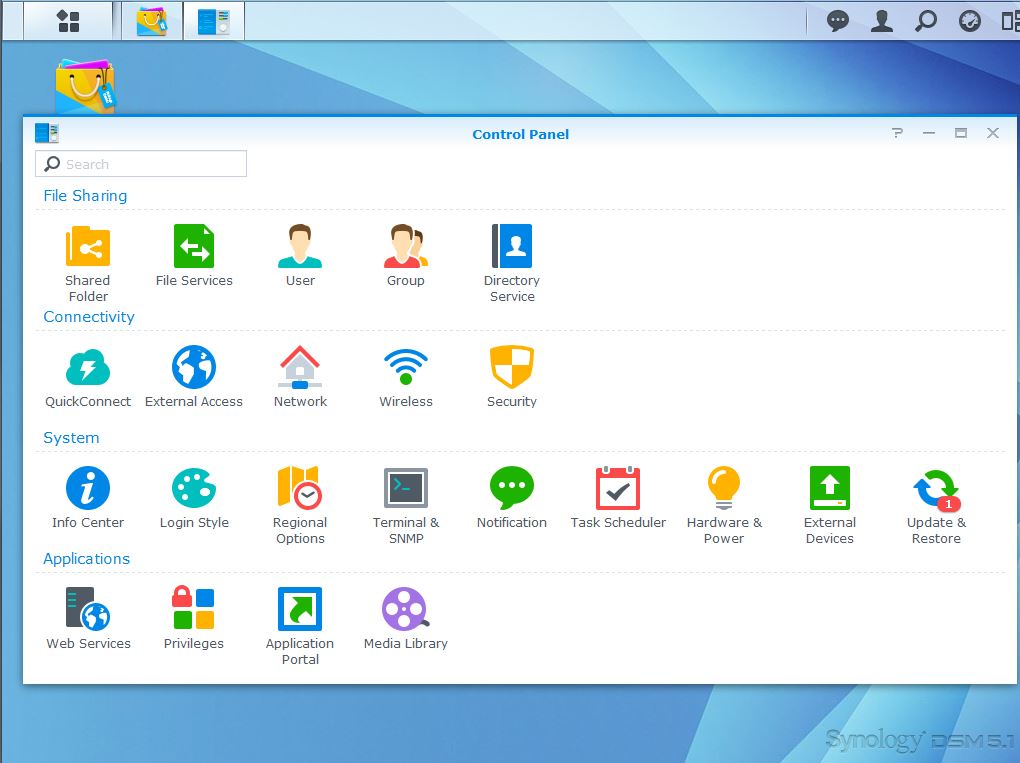 Synology DiskStation DSM 5.1 Desktop
It supports 65 out of 75 total add-ons listed in its Add-on Package Center as I write this. So you'll probably be able to find the app you want to properly trick out your DS115j.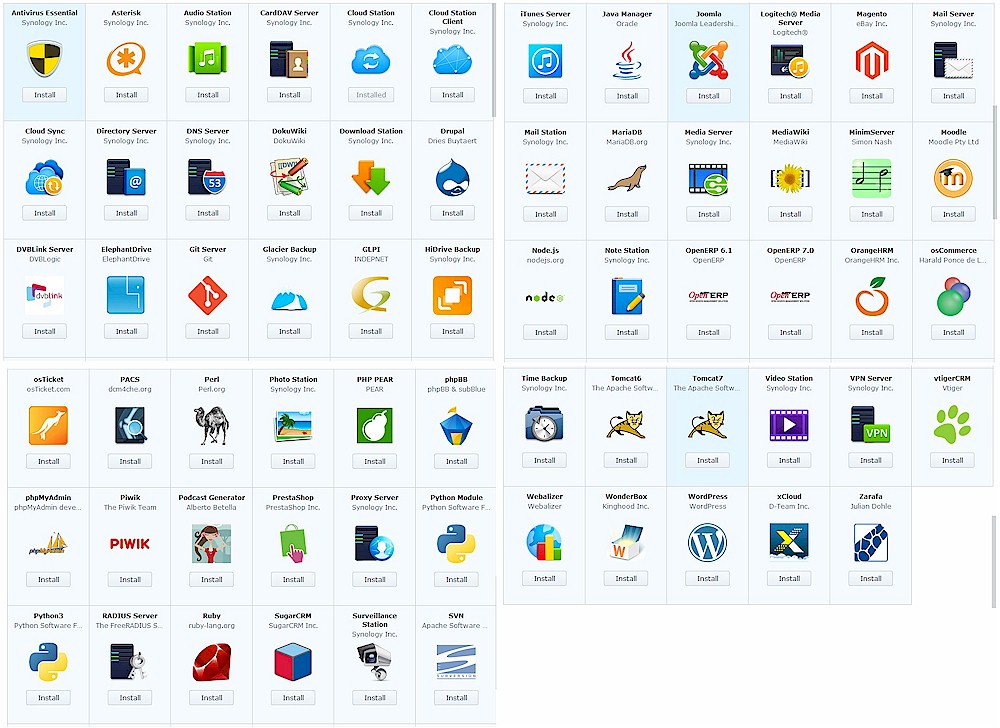 DS115j supported packages
See the DSM 5.0 review for a full rundown on Synology's latest OS features or test drive the online demo.
Performance
Performance tests were run using our Revision 5 NAS test process on a single-drive volume with a 1 Gbps LAN connection. The firmware installed was DSM 5.1-5022 Update 2.
The DS115j's Benchmark Summary below shows write throughput between 65 and 70 MB/s and read between 70 and 98 MB/s. Not bad at all for a Marvell-based NAS.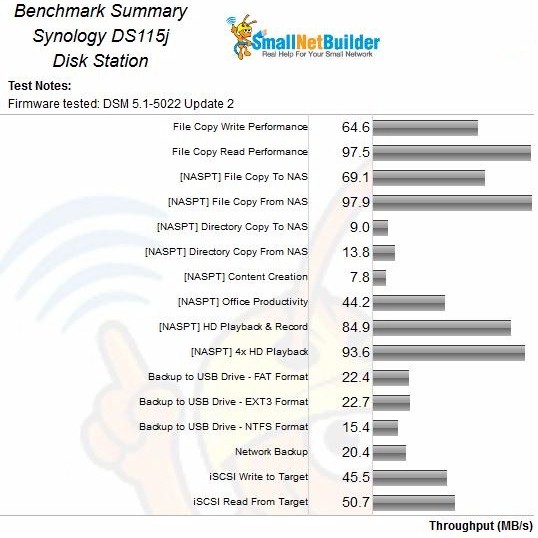 Synology DiskStation DS115j Benchmark Summary
The DS115j is the first single-drive NAS we've tested since switching to the current test process last April. So the NAS Ranker isn't any help, since it groups products by test method before ranking. So I'll have to do a little squinting and arm-waving to put the 115j's performance in perspective.
I started this review by comparing single-drive NASes to top-end routers with storage features. So that's how we'll look at performance. On the left below is write throughput for routers tested with NTFS-formatted USB 3.0 drives
connected. On the right we have
File Copy write performance for all single-bay NASes we've reviewed. Note the router storage performance test uses the same Robocopy test method as the NAS File Copy test.
The DS115j runs neck-and-neck with Linksys' WRT1900AC router. It also significantly outperforms QNAP's entry-level TS-120. Note, however, the TS-120 was tested with the previous NAS test process that used a different testbed, so that could account for some of the difference.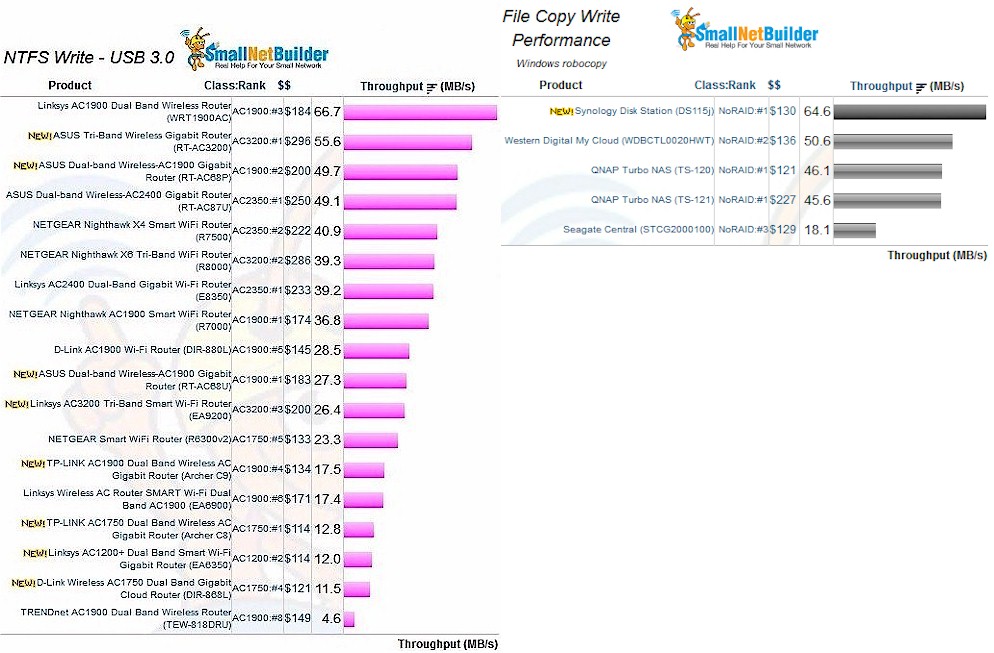 File copy write comparison – routers and single-bay NASes
The read comparison shows the DS115j with a significant 10 MB/s lead over ASUS' RT-AC3200 and, once again, QNAP's TS-120.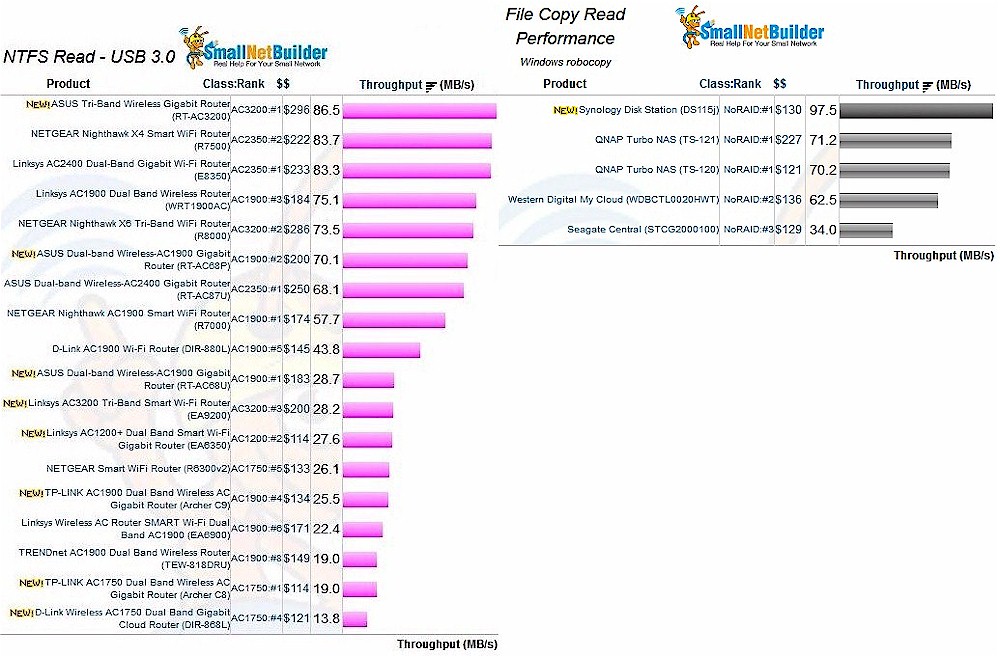 File copy read comparison – routers and single-bay NASes
The take-away is that the DS115j performs as well or better than the storage features on routers costing from $50 to $150 more. And, of course, the NAS has many more features than any of the routers. The comparison against other inexpensive NASes is less clear due to test process differences. But test process difference or not, it's safe to say the DS115j soundly spanks Seagate's Central, which uses a Cavium SoC.
Closing Thoughts
Today's top-end routers definitely compete with single-bay SoC-based NASes, including the DS115j, when it comes to performance. But if you're looking for features beyond basic file sharing and DLNA media serving, NASes are still the way to go.
At only $130, Synology's DS115j is quite afffordable. But I won't call it the best value in single-bay NASes until I test QNAP's TS-112P, which is on the way in for review.
Buy Disk Station from Amazon