At a glance
Product
Synology Disk Station (DS2015xs) [Website]
Summary
Eight bay quad-core Annapurna Labs NAS with dual Gigabit Ethernet and dual 10GbE SFP+ slots built in
Pros
• Dual Gigabit Ethernet & built-in 10GbE SFP+ interfaces
• Good bang for the buck
• Quiet
Cons
• No PCIe expansion slots
• Relatively low 10GbE iSCSI performance
• No front panel display
Typical Price: $1573 Buy From Amazon
Introduction
In December, Synology introduced a new member of its high end xs/xs+ NAS family, the DS2015xs. What sets this product apart is the processor, an ARM-based Annapurna Labs Alpine AL-514.
One of the advantages of the AL-514 is built-in MAC support for two 10GbE ports. This enables the DS2015xs to have two built-in 10GbE SPF+ ports without the cost of an add-in PCIe board like Thecus and QNAP use. SPF+ ports do require special cables with SPF+ modules on each end. But these can be had reasonably for around $25.
I'll be comparing the DS2015xs with the recently reviewed QNAP TVS-471-i3-4G. Both were tested using both our traditional Gigabit tests as well as 10GbE. In an interesting article, anandtech.com stated, "… the Cortex A15 really can't stand up to the Core i3 (on which the previous generation xs units have been based) in terms of raw CPU performance. There is no support for ECC RAM either. Synology clarified that the CPU performance would definitely not match up." We'll see later if that holds true.
The callouts below show the front and rear panels. The front panel has LED indicators for status and alerts (left set of LEDs), LAN activity indicators (right set of LEDs) and individual indicators for each drive on the drive tray. Each of the drive trays is lockable. Note, however, there isn't an LCD status display.

Synology DS2015xs callouts
The rear panel has two Gigabit Ethernet ports, two USB 3.0 ports and two 10GbE SPF+ ports. As you can tell from the power connector, the power supply is built into the DS2015. Just below the Gigabit Ethernet ports is an Expansion port that can be used to connect to Synology's DX1215 12-Bay expansion unit.
Inside
The photo below shows the main board with 4 GB of DDR3 memory mounted just above the heat sink, which covers the AL514 processor. In the upper right corner, you'll see the two 10 GbE SPF+ ports. Following down the right side, note the two Gigabit Ethernet ports and Infiniband expansion port.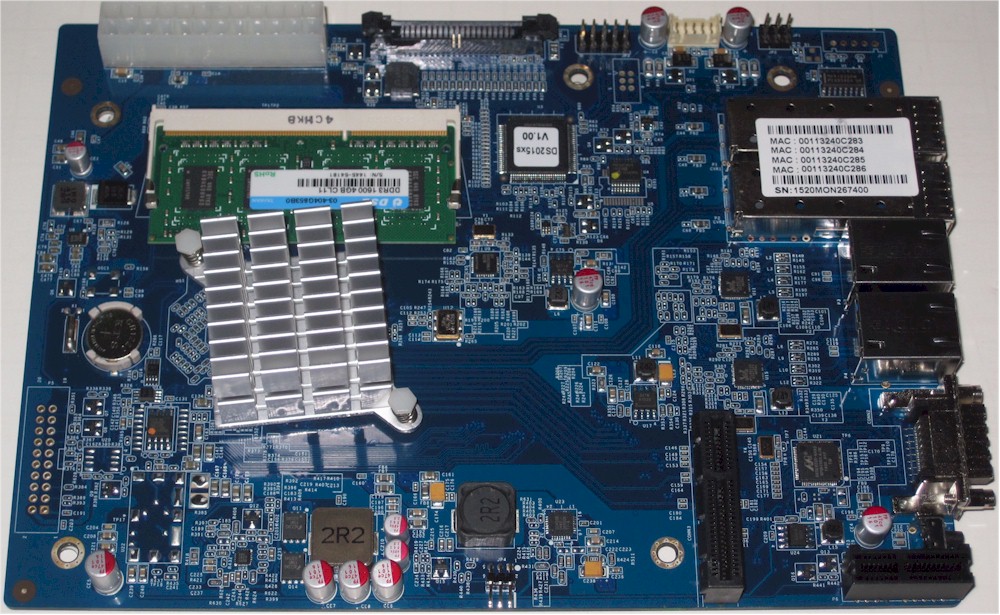 Synology DS2015xs Main PCB
The image below shows the DS2015 with the case removed and the bottom of the board exposed. Note the empty DIMM memory slot for memory expansion. An additional 4 GB can be added bring the total to 8 GB – the maximum amount of memory supported.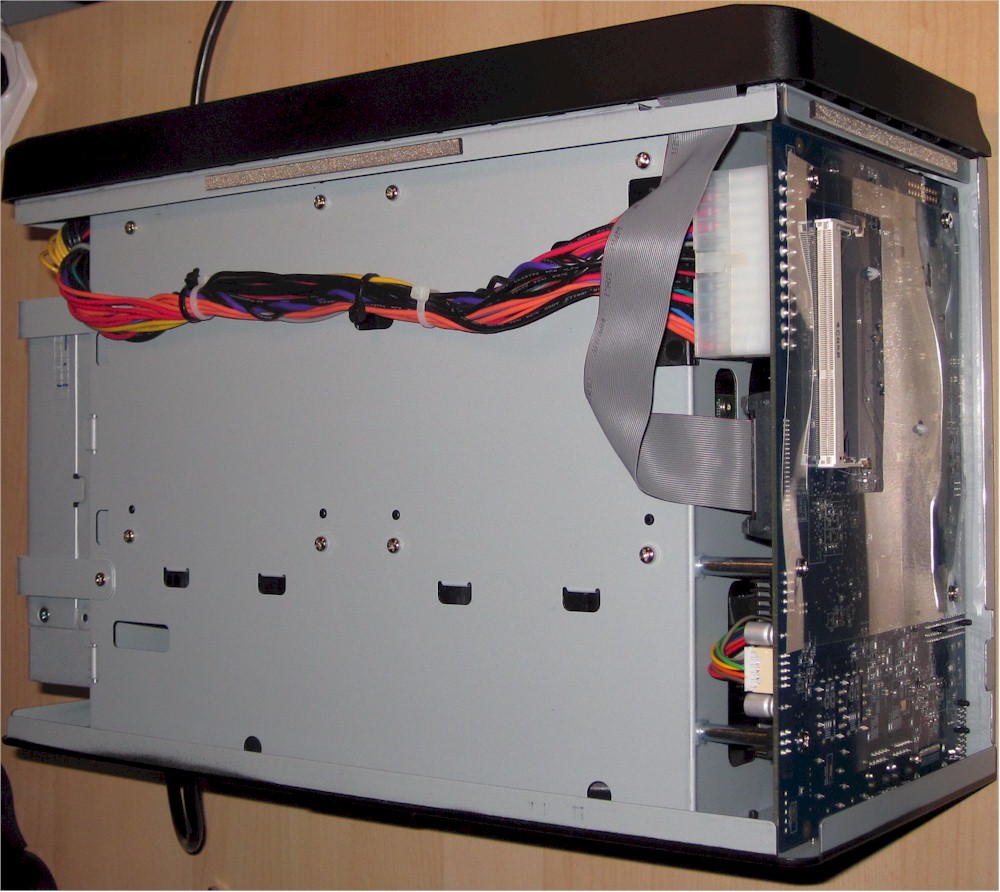 Synology DS2015xs with case removed to show the bottom of the main PCB
The next image is similar to the one above, but the case has been turned to show the internal power supply.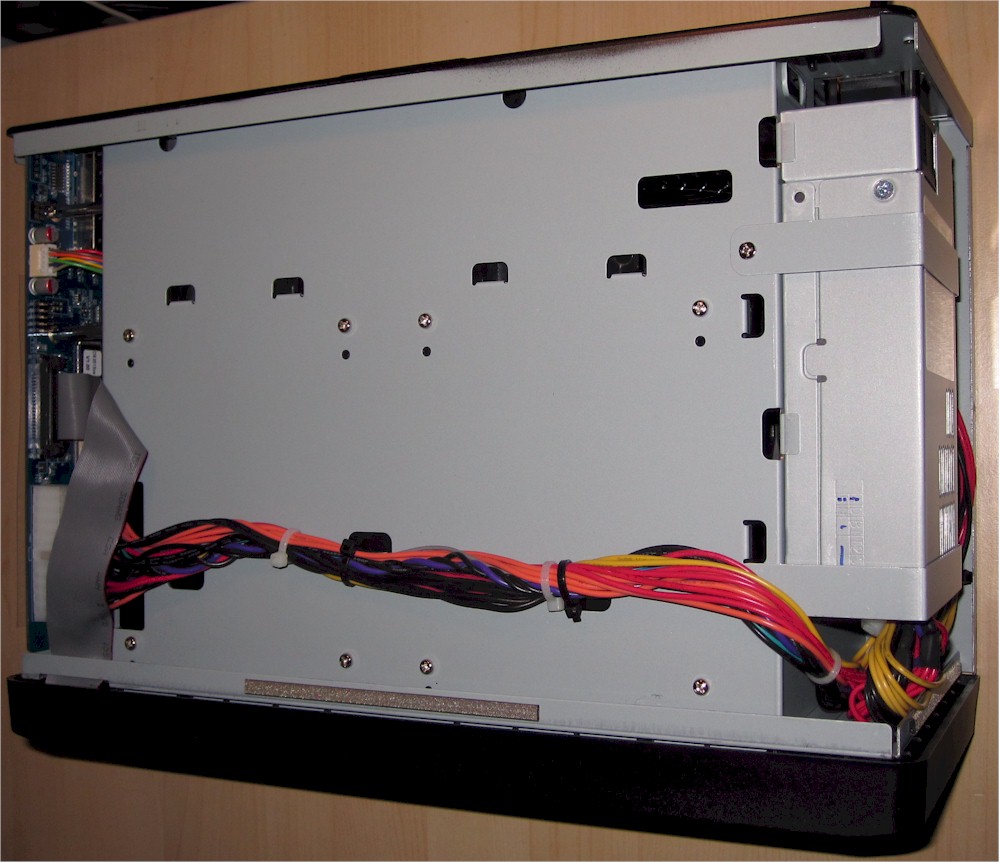 Synology DS2015xs with case removed to show the power supply
The DS2015 is cooled by two 120mm fans. The board below is used to connect to the fans and USB 3.0 ports. The two eSATA ports at each end of the board aren't functional, so aren't brought out on the rear panel. They're there because this board is used in other products.

Synology DS2015xs fan control and USB 3.0 port PCB
The QNAP TVS-471 was difficult to disassemble, so we weren't able to extract individual component part numbers as we normally do. However, I've taken what information that we were able to determine for key components and include it in the component summary comparison table below.
| Component | Synology DS2015xs | QNAP TS-471-i3-4 |
| --- | --- | --- |
| CPU | Annapurna Labs Alpine AL-514 (four ARM Cortex-A15 cores running at 1.7 GHz) | Dual-core Intel Core i3-4150 3.5 GHz |
| RAM | 4GB DDR3 (expandable to 8GB) | 4GB DDR3 (expandable to 16GB) |
| Flash | 8 MB Macronix 25U6435F serial flash | 512 MB DOM |
| Ethernet | Intel WG1210AT (x2) | Intel WGI210TA (x2) ? |
| USB 3.0 | Etron Tech EJ168A (on smaller board behind backplane) | ? |
| SATA | Marvell 88SE9235-NAA2 4 port PCIe to SATA Controller | ? |
| HDMI | None | ? |
Table 1: Key component summary and comparison
Power consumption with four SNB-provided WD Red 3TB (WD30EFRX) drives was 35W (active) and 19W (power save). RAID 10 rebuild time was about 1 hour without a bad block check for a 4 X 3TB configuration. The RAID 10 rebuild also took about 1 hour without a bad block check. Fan and drive noise was rated low.
It took multiple attempts to make an iSCSI connection when connected via Gigabit Ethernet. The Windows initiator would discover the target, but would appear to hang when trying to connect. It eventually connected when left alone. The iSCSI target connected immediately via 10GbE.

Synology supplied an Intel X520-DA2 1-GbE SPF+ NIC with cables for 10GbE testing, since our standard 10GbE NIC is Intel's 10GBaseT (copper) version.
Features
Synology uses a common operating system for all its NASes. I did a full review when DSM 5.0 was released a little over a year ago. Synology has since upgraded DSM several times, and the version used for this test is 5.2-5592 Update 4.
A list of DSM 5.2's updated features can be found here. Unfortunately, the link that used to take you to a live demo of DSM now takes you to a page full of tutorials. While there are lots of tutorials that contain good information, there's nothing like a live demo that lets you play with some of the features and explore the UI.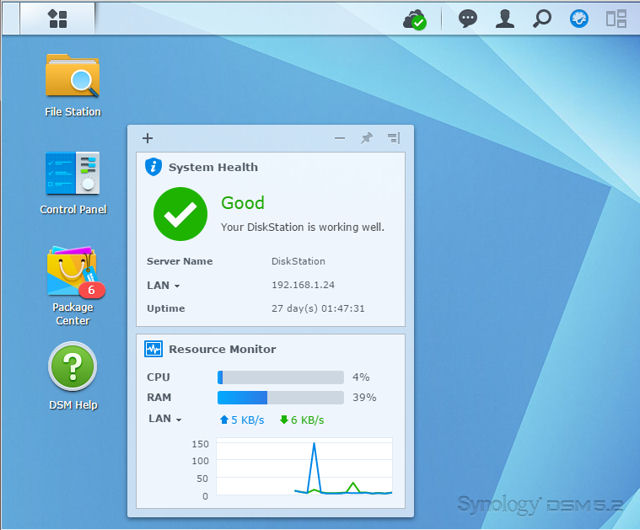 Synology DSM 5.2 Landing page
Since there's no live demo to try out, I created a couple of screenshots on a Synology NAS currently running in my office. It has been upgraded to the same firmware as tested.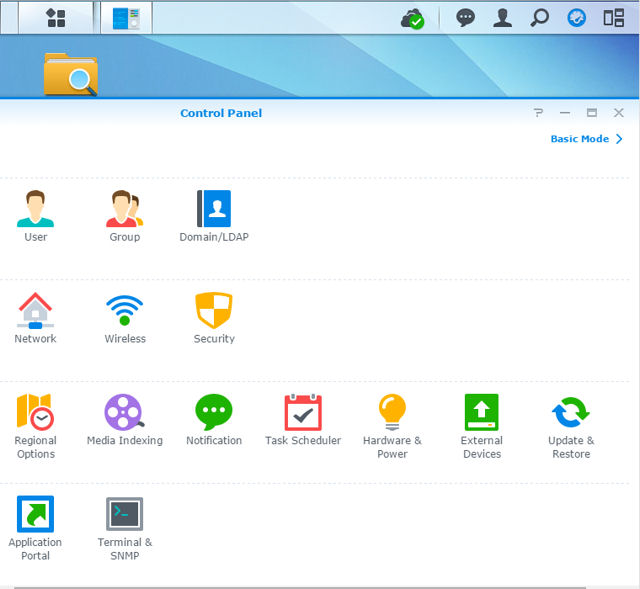 Synology DSM 5.2 Control Panel
Performance
Firmware version 5.2-5592 Update 4 was loaded onto the DS2015xs and performance tests were run using the Revision 5 NAS test process. All tests were run using four SNB-supplied Western Digital Red 3 TB (WD30EFRX) drives.
I filtered the NAS charts for the latest testing method (black bars) and RAID5. The composite image below shows the benchmark results for File Copy Write Performance (left) and File Copy Read Performance (right). For many NASes, performance is limited not by the ability of the NAS to handle a heavy load, but rather the limit of Gigabit Ethernet and a single client.
Many of the test results for File Copy Read and Write were between 109 and 110 MB/s – about the maximum you can achieve with Gigabit Ethernet. For File Copy Write, the DS2015, at 109.7 MB/s was just a very small percentage behind the chart topping 110.1 MB/s. For File Copy Read, the DS2015xs performance was 106.2 MB/s compared to the fastest throughput of 110.1 MB/s. Keep in mind we treat results within 5% of each other as equal for ranking purposes. So there is really no significant difference among products with results in the 105 – 110 MB/s range.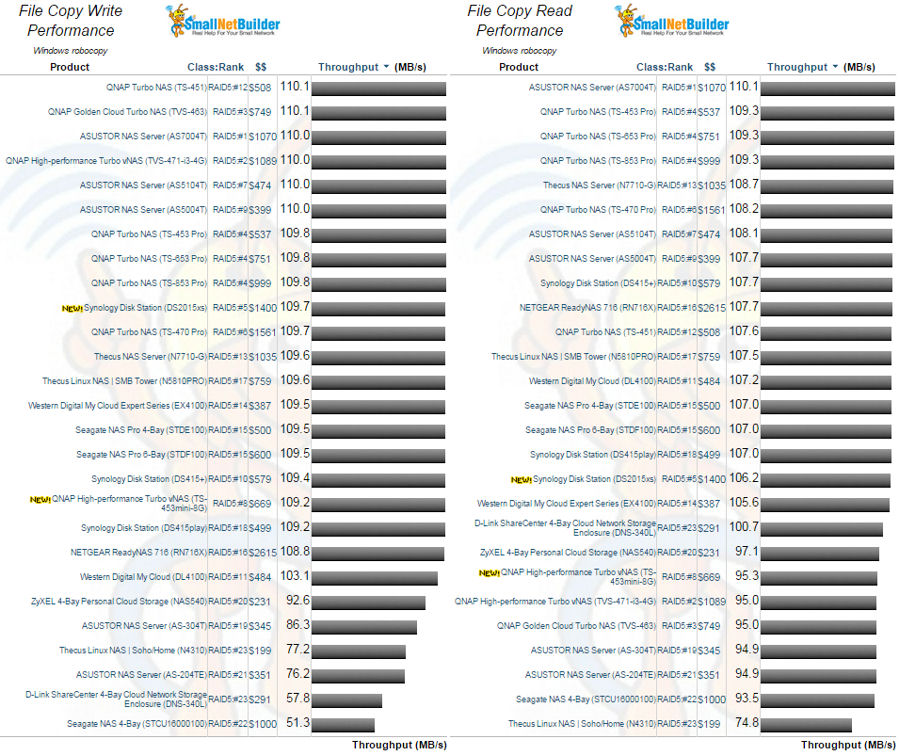 File Copy Write and File Copy Read benchmarks filtered for RAID5 and Revision 5 testing methodology
You can tell a lot more about performance by looking at the individual test results shown in each product's Benchmark Summary. For these comparisons, I've created two composite images that show the summaries for the Synology DS2015xs and the QNAP TVS-471-i3-4G. The first image shows the test results using a Gigabit Ethernet connection. The second chart shows test results using a 10GbE connection. We'll compare Gigabit Ethernet connected results first.
For File Copy Write and Read, both products had similar performance, except the QNAP had lower throughput for RAID 0 and RAID 10 File Copy Read tests. In general, the DS2015xs performed better on the NASPT HD Playback & record, NASPT 4x HD Playback and NASPT File Copy To NAS and NASPT File Copy From NAS tests for all RAID levels.
The TVS-471 tended to have better performance for NASPT directory copy to/from NAS, Office Productivity and Content Creation. The QNAP also outperformed the Synology for USB backup for all three file systems (FAT, NTFS and EXT3) as well as iSCSI read and write tests. The DS2015xs was significantly faster for Network Backup.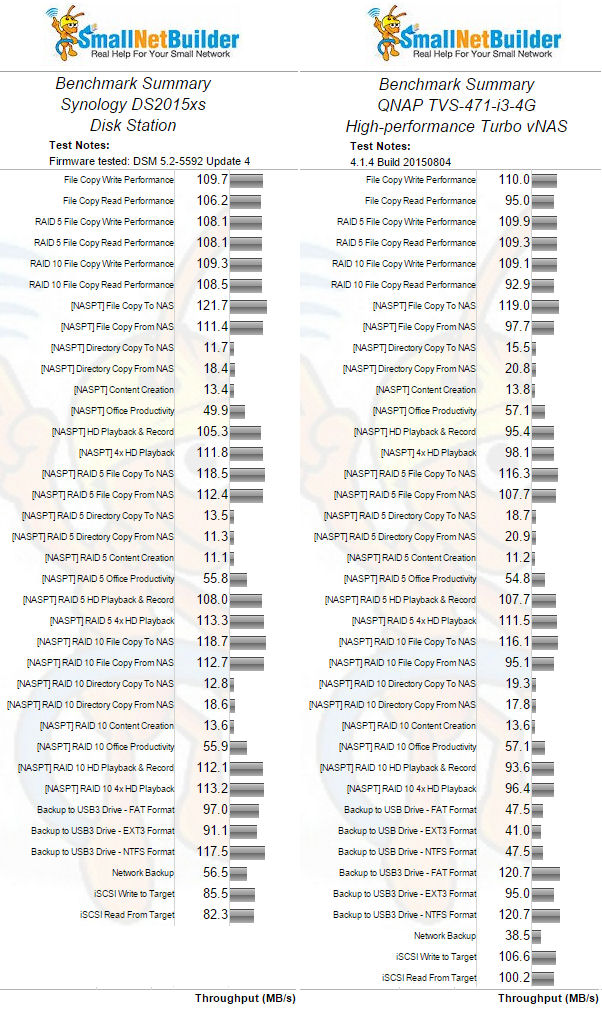 Benchmark Summaries for the DS2015xs and TVS-471-i3-4g using a Gigabit connection
Removing the limitations of Gigabit Ethernet by using a 10 Gigabit Ethernet LAN connection, you can start to draw better conclusions about performance. The image below shows benchmark summaries for the Synology DS2015xs (left) and the QNAP TVS-471-i3-4G (right) using a 10GbE connection. In general, 10GbE results trends tended to follow Gigabit results.
For example, the QNAP tended to outperform the Synology for NASPT Directory copy to/from NAS tests as well as Content Creation. In some tests, however, the results were magnified by the faster connection. For example, the QNAP had about twice the iSCSI throughput as the Synology for both read and write tests.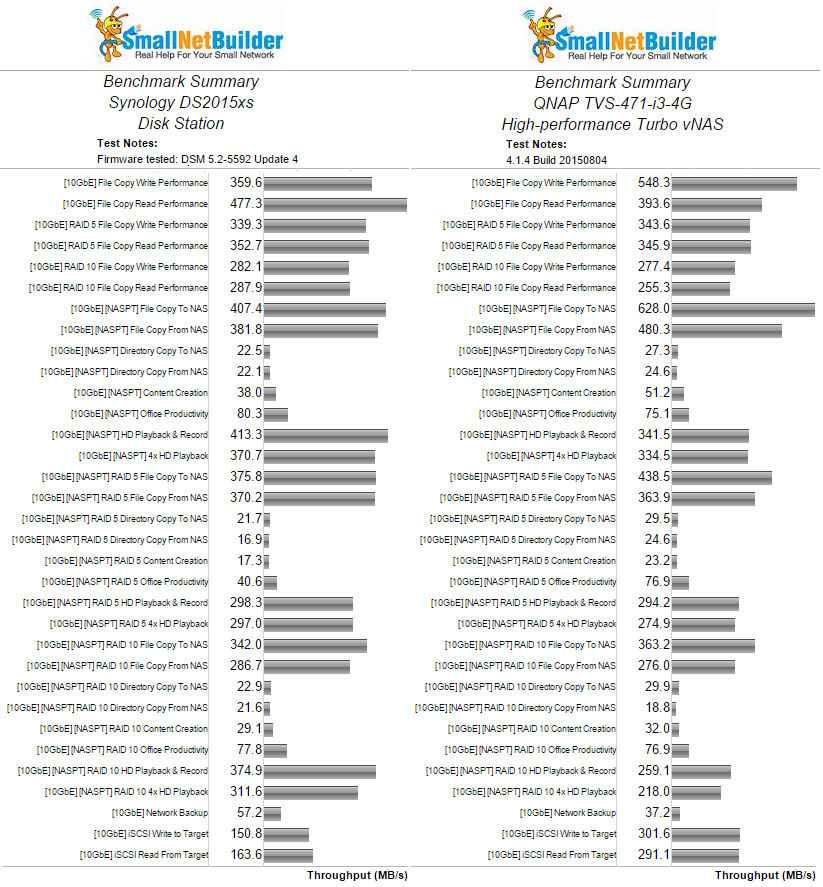 Benchmark Summaries for the DS2015xs and TVS-471-i3-4g using a 10GbE connection
Table 1 summarizes File Copy benchmarks for RAID 0, 5 and 10 with Gigabit and 10GbE connections so you can see the difference the 10 GbE connection makes.
| | Gigabit | 10 Gigabit | % Faster |
| --- | --- | --- | --- |
| File Copy Write RAID 0 | 109.7 | 359.6 | 228% |
| File Copy Write RAID 5 | 108.1 | 339.3 | 214% |
| File Copy Write RAID 10 | 109.3 | 282.1 | 158% |
| File Copy Read RAID 0 | 106.2 | 477.3 | 349% |
| File Copy Read RAID 5 | 108.1 | 352.7 | 226% |
| File Copy Read RAID 10 | 108.5 | 287.9 | 165% |
Table 1: Synology DS2015xs Performance comparison for Write and Read performance with Gigabit and 10 Gigabit connections. (MB/s)
We don't include 10GbE results in the NAS Rankings because not all products support it. And because we don't have many 10GbE products in the Charts, we don't have a separate Ranker for them. So to provide an idea of the DS2015xs' relative 10GbE performance, I updated the chart from the TVS-471 review that shows 10GbE File Copy Write and Read results for all RAID levels. We now have six products that have been tested with 10 GbE. Note we went back and got 10GbE results for the TVS-463 that were not in the review, by using the same QNAP 10GbE adapter used in the TVS-471.
NETGEAR's ReadyNAS 716 still tops the charts for RAID 0 and RAID 10 for both File Copy Write and File Copy Read performance. Note that for both RAID 0 and RAID 10, File Copy Read performance is significantly faster than the second fastest NAS. For RAID 0 File Copy Read performance, the DS2015xs grabbed second place with 477.3 MB/s. It also turned in the fastest File Copy Read performance for RAID 5. Surprisingly, the ReadyNAS 716 had the poorest performance for RAID 5 File Copy Write and Read.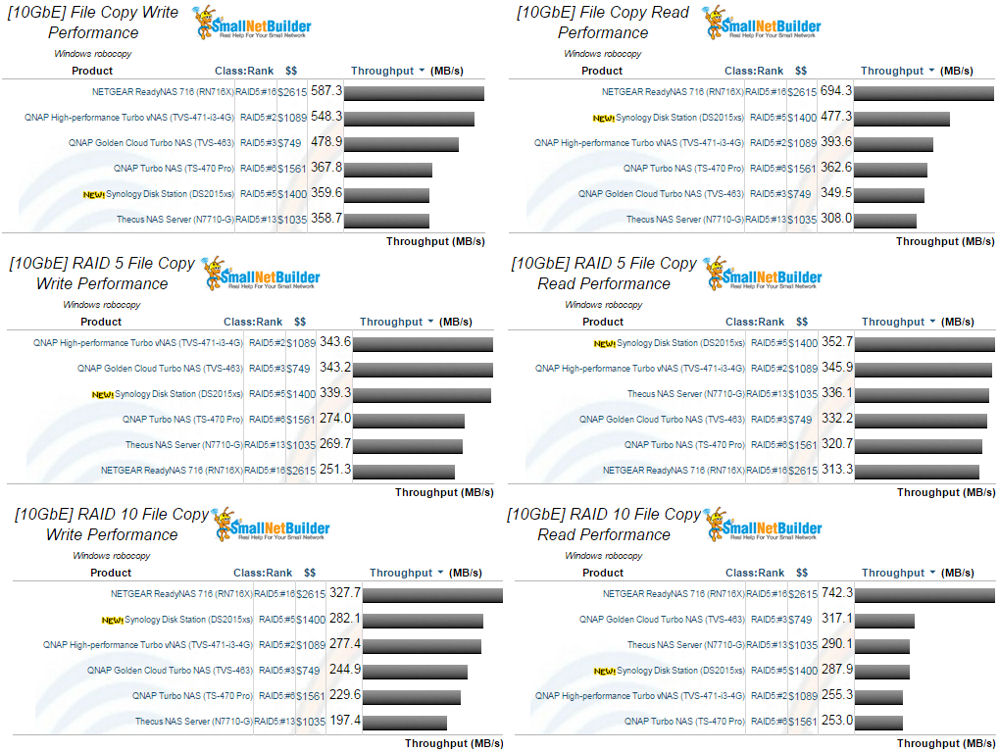 10GbE File Copy Performance comparison
Performance – Ranking
It's worth noting again that the Performance Ranking takes into account only Gigabit Ethernet performance. For this review, I filtered for RAID5 class NASes and Revision 5 Test Method. The ASUSTOR AS7004T still retains #1 ranking based on performance. QNAP still holds on to rankings 2 through 4, with the Synology DS2015xs landing at number 5.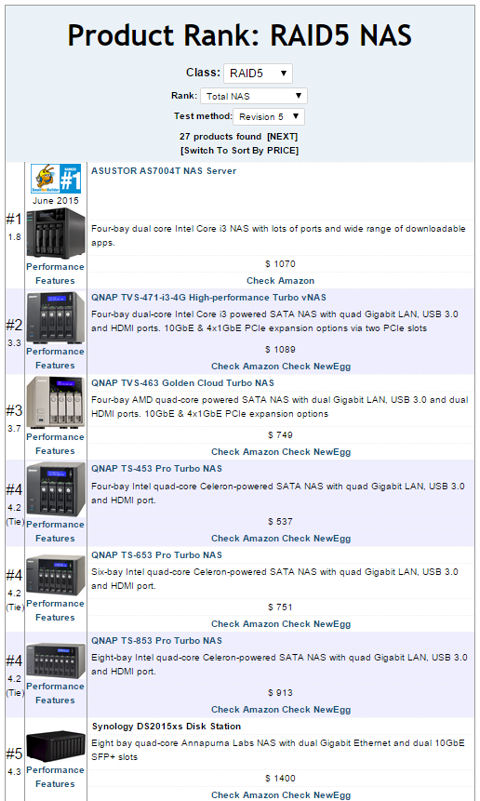 NAS Ranker filtered for RAID5 and Test Method Revision 5 showing Total NAS ranking
The composite chart below shows detailed performance for the Synology DS2015xs and QNAP TVS-471-i3-4G. The QNAP TVS-471 had category wins for Write Benchmarks, Read Benchmarks, Mixed Read Write and iSCSI. Based on the individual benchmark tests above, it's no surprise that the DS2015 had higher category scores for Video and Backup. QNAP's backup category score was dragged down by the relatively slow Rsync backup.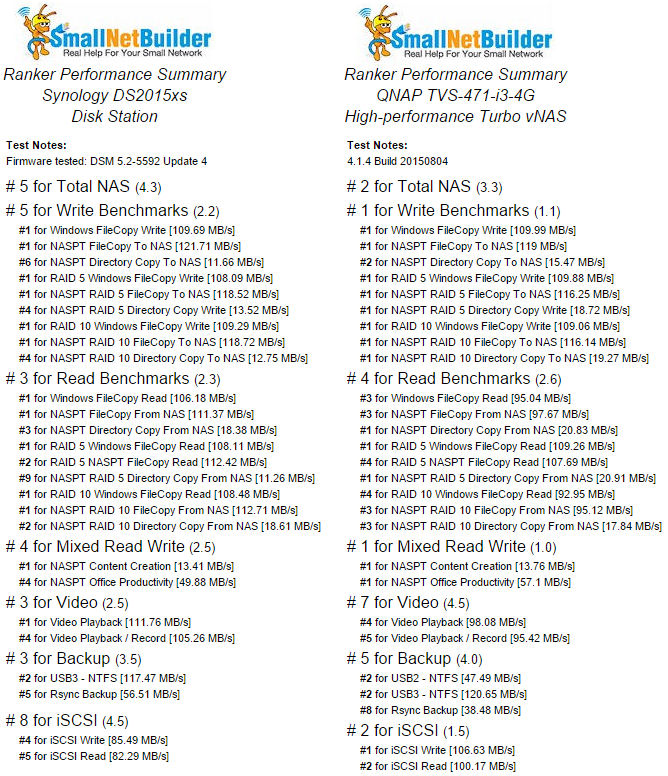 Ranker performance comparison for the Synology DS2015xs and QNAP TVS-471-i3-4G
Closing Thoughts
If you are in the market for an eight bay NAS, the options available start to dwindle compared to four bay NASes. By choosing the Annapurna Labs AL-514 SOC with built-in 10 GbE support, Synology's DS2015xs has carved out its own market niche as an eight bay NAS with built-in dual SFP+ 10GbE ports for a very impressive $1400.
But that price does not include some features found in its competition, specifically, an LCD panel and PCIe expansion, eSATA and HDMI ports.
So just how much of a value is the DS2105xs? Competing for your eight-bay NAS dollars is the eight bay version of the ASUSTOR AS7004T – the AS7008T. On Amazon, the AS7008T averages $1855, and that's without the optional $499 10GbE dual SFP+ expansion ports. Similarly the eight-port version of the reviewed QNAP TVS-471, the TVS-871 sells for $1449, without the optional $429 dual port 10GBASE-T expansion card.
If you can live with the compromises outlined above, the DS2015xs is hands down the best value for an eight bay NAS – even if you don't intend to use 10GbE. If you do intend to use 10GbE, the value proposition only gets better because of the included dual SFP+ 10 GbE ports.
Your final decision might come down to how you intend to use the massive amount of storage potential offered by an eight-bay NAS. If iSCSI via 10GbE is your focus, you might want to pass on the DS2015xs. The chart below shows the DS2015xs ranked last for 10GbE iSCSI both for Write and Read by a significant margin.

10 GbE iSCSI performance comparison
Buy Disk Station from Amazon