Introduction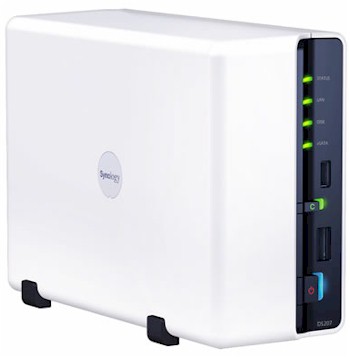 At a Glance
Product
Synology Disk Station (DS207)
Summary
Dual-drive BYOD SATA RAID 1 NAS with Active Directory and AFP support.
Pros
• LAMP webserver (HTTP, PHP and MySQL support)
• UPnP AV Media, iTunes, proprietary photo and USB print servers
• Built in BitTorrent, HTTP, FTP download service
• Gigabit Ethernet with 4K and 8K Jumbo frames supported
Cons
• iTunes server doesn't support Apple DRM files
• Can't modify created volumes
• Only RAID1 volume expansion supported
Update 11/13/2007: Also available as the faster DS207+, with Marvell "Orion" processor and 128MB of RAM.
Synology and Thecus are two aggressive NAS producers that have their sights set on stealing some of Buffalo Technology's dominant share of the consumer NAS market with full-featured BYOD NASes. Last year Jim Buzbee looked at the single-drive DS-106e and Bill Meade the quad-drive RAID 5 CS-406. You can think of the DS207 as something in between the two, with styling more akin to the CS-406, but hardware design closer to the 106e.
The attractive while plastic enclosure provides easy access to the innards for disk installation by removing two screws and sliding the larger cover forward. Front and rear panel details are shown in Figure 1. The "USB Copy button" arrow in the Front View below actually points to the front panel USB 2.0 port (the actual button is right below the port). Don't get too excited about the removable plastic plug above the Power button—there's no connector under it.
Two more USB 2.0 ports are found on the back with a 10/100/1000 Ethernet port that supports jumbo frames in increments of 1000 up to 9000, Reset button and power socket. The power cord clip below the socket is a thoughtful touch.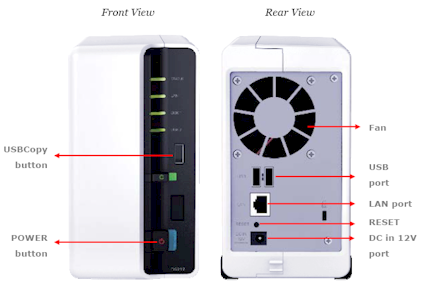 Figure 1: DS-207 Front and Rear Panels
As noted above, getting inside to install your drives is easy and Synology provides all the cables and screws that you'll need. Figure 2 shows the drives sit piggy-back held by two metal brackets that are removable from a metal base plate for mounting ease.
Figure 2: DS207 Inside view
The board detail shot in Figure 3 shows a design similar to that of the DS-106e, based around a 266 MHz Motorola Freescale MPC8241. Gigabit Ethernet support is provided by a Marvell Yukon 88E8001, the SATA controller is a Silicon Image SATALink 3512 and the USB controller is provided by an NEC D720101 USB 2.0 Host Controller. RAM and Flash have been doubled, however, to 64 and 4 MB respectively from the 106e.
Figure 3: Detail view of board
Due to popular request, we've started to measure NAS power consumption. The 207 averaged around 32W while active and 16W when in "hibernation".
Features
The 207's feature set is similar to that of both the CS-406 (minus RAID 5) and the DS-106e. So you can consult both those reviews for details while I just hit the highlights here. Or if you'd like a page-by-page walk through the features, use the slideshow link below.

Check out the slideshow for an admin interface tour.
Figure 4 shows that Synology has changed the interface a bit from the CS-406, but retained the basic approach and organization. The Site Map that is part of the Information > Summary page is something that other companies should copy.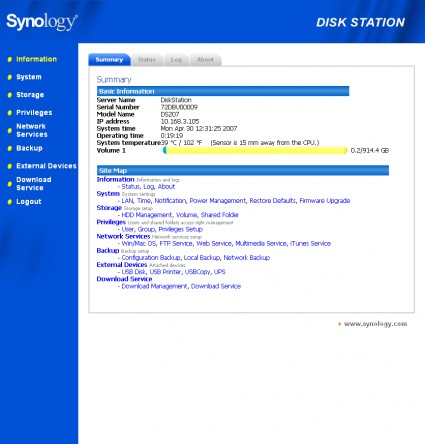 Figure 4: Login landing page
A key differentiation of the Synology line is the breadth of services it offers. If hosting a website is your thing, the 207 has its own MySQL server to host your database along with PHP support—features which are, I think, unique to Synology's NASes. Both anonymous and user authenticated FTP are also available for file transfer and include up and download bandwidth controls and IP block list.
Synology's Photo Station server is also included, which provides a personal alternative to web photo sharing services. You just upload your photos to a pre-made share on the 207, point a web browser to the /photo directory at the 207's IP address and start browsing photo albums.
There are also other options for media serving. You can enable a UPnP AV server for use with the increasing number of networked media players that grok that method. An iTunes server can also be enabled, but according to this AMUG review doesn't support serving Apple DRM'd media or work with Front Row. The article does, however, offer some workarounds.
File downloaders will be happy to learn that the Download Service feature can now download BitTorrent, FTP, and HTTP files without requiring an external computer running a redirector program.
Other feature highlights include:
IPP and LPR print serving is supported for one USB printer, but not for printers requiring bi-directional support. Mac OS users should note that only PostScript printers are supported.
Logging includes separate System, Connection, Backup, USB Copy and Network Backup Logs. All can be cleared and saved. Syslog logging isn't supported, but email alerts are. Note that username / password SMTP authentication is supported and…it works!
System> Power Management includes idle time 'hibernation' settings from 10 minutes to 5 hours. No programmable shutdown / boot schedule, though.
AFP is supported for Mac OS users, but NFS isn't. The 207 can also join both Active Directory and NT4 domains.
A built in Backup service can save selected shares to a USB-attached drive or networked share. Note that you can't browse for a network share or sub-folders to be backed-up. Synology also provides a Windows-only program for client backup.
The front panel USB Copy button will copy all the data from a USB device plugged into the front panel USB port to a selected share.
Performance
Average throughput for 32 to 1G filesizes comes in at 13.8 MB/s for both write and read with a gigabit 4K jumbo frame network connection. I used the NAS Charts to plot the comparison plots shown in Figures 5 and 6 for the DS-207, DS-106e and CS-406.
NOTES:
Firmware version tested was 2.0.3-0452
The full testing setup and methodology are described on this page
To ensure connection at the intended speeds, the iozone test machine and NAS under test were manually moved between a NETGEAR GS108 10/100/1000Mbps switch for gigabit-speed testing and a 10/100 switch for 100 Mbps testing.
Figure 5 shows write performance as expected, with the 207 in the middle of its siblings.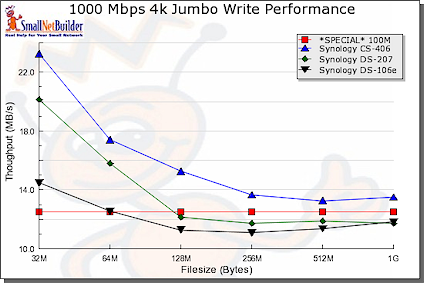 Figure 5: Gigabit 4K Jumbo Write performance comparison – Synology
Read performance (Figure 6) is a bit of a surprise with the 207 coming in below the 106e for most of the large file sizes.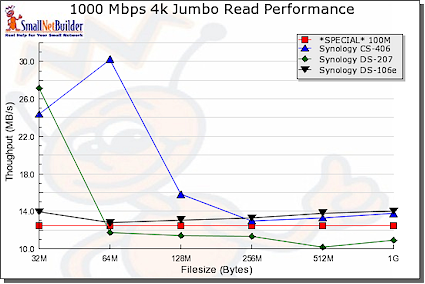 Figure 6: Gigabit 4K Jumbo Read performance comparison – Synology
But what about performance against the competition? Figures 7 and 8 show the DS-207, D-Link DNS-323, HP mv2020 and a newcomer to the market, Hammer Storage's myshare. I switched to a straight gigabit LAN connection for this comparison because neither the D-Link nor HP NASes supports jumbo frames.
Figure 7 shows the DNS-323 on top, followed by the Hammer myshare. The DS-207 and HP share bottom ranking, with performance that tracks closely for filesizes from 128MB to 1GB.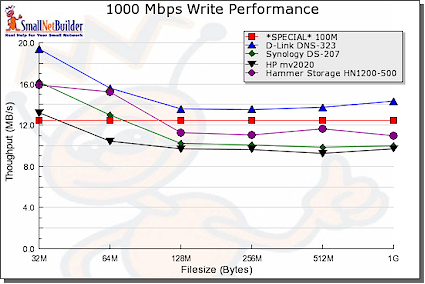 Figure 7: Gigabit 4K Jumbo Write performance comparison – competition
Read results (Figure 8) show that the Hammer myshare takes the top position, with the D-Link falling to third place. The DS-207 and HP part ways this time, with the 207 staying in the cellar.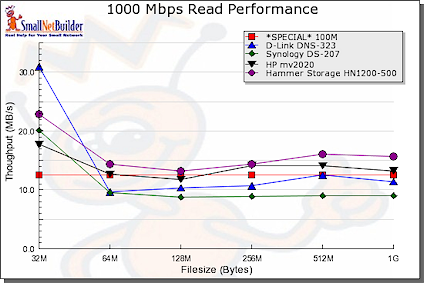 Figure 8: Gigabit 4K Jumbo Read performance comparison – competition
If you haven't had enough fun with performance plots yet, go over to the NAS Charts and make your own!
Closing Thoughts
Synology continues to evolve its Disk Station line with products that span from single drive desktops to a quad-drive RAID 5 rackmount. The DS-207 is a nice addition that adds the option of larger storage support via JBOD or RAID0, or data security via RAID1 at a price point between its single drive and quad drive models.
Competitively, the 207 is priced almost twice what you can currently get a D-Link DNS-323 for ($329 vs. $189), and remember, that's without drives. On the other hand, the 207's feature set is much richer than the 323's, which Synology must be counting on to push the buy decision in its favor. Performance is within range of other current two-drive RAID1 NASes, but tends toward the low end.
As I mentioned earlier, I think Synology has both Thecus and Buffalo Technology on its competitive radar screen. While Synology's products are slower than Thecus', Synology's are better in both usability and features.
The more interesting challenge is to Buffalo. Where Buffalo has split its NASes into business-focused "Pro" and home-oriented "Live" lines with different feature sets, Synology is taking a different approach. It, too, separates its products into "Home and Small Workgroup" and "Small Business & Corporate" groups. But the difference among products seems to be more in performance level than feature set, which is essentially the same throughout Synology's product line. So instead of forcing the buyer to choose, for example, between media serving or Active Directory authentication as Buffalo does, Synology just includes both.
But the networking product highway is littered with the carcasses of companies who tried to take down the established U.S. players without establishing a good support structure and brick-and-mortar retail network. If Synology is really serious about market share, sooner or later it will need to take that step.

Be sure to see the slideshow for an admin interface tour.