At a glance
Product
Noontec TerraMaster Private Cloud Storage (F2-NAS 2) [Website]
Summary
Marvell-based two-bay NAS supporting many network services and Personal Cloud features
Pros
• iSCSI support for server and target
• Built-in web server, MySql, PHP
• Time Machine target
• iTunes and DLNA server
Cons
• Lots of ports opened by default if UPnP is enabled on both your router and the F2-NAS2
• System logging fairly sparse; no support for syslog
• Relatively poor cloud access features
• No idle drive spindown
• Poor documentation
• U.S. support could be a problem
Typical Price: $135 Buy From Amazon
Introduction
If I were to ask you to name as many NAS manufacturers as you could, I'll bet you still wouldn't come up with the product that this review covers. Making its debut in the SmallNetBuilder charts is the TerraMaster F2-NAS 2 Private Cloud Storage NAS. The F2-NAS 2 is a 2 bay Marvell-based BYOD device featuring lots of network services. It has full LAMP capabilities, and even the root password is provided for you. But priced at $179, it faces stiff competition from nine other less expensive 2-bay BYOD devices we have reviewed. And those nine devices come from manufacturers that you probably named such as Buffalo, D-Link, Thecus, QNAP, Synology, NETGEAR, ZyXEL and TRENDnet.
As shown in the product shot above, the F2-NAS 2 has a compact form factor. The case design is quite sturdy and is made from what appears to be an aluminum extrusion. The case has a vapor blast finish which is highly resistant to fingerprints. On each side panel the TerraMaster logo is engraved giving the case a nice high-end looking finish. The top mounted handle is a unique feature that I don't recall seeing on any other NAS. It's quite handy for getting the product out of the packaging and for moving it, but it does prevent stacking.
The front panel accommodates two horizontally-mounted drives. When activated, the mechanical slide switch on the left side of each bay exposes a lever that enables easy drive removal. To install the drives, you have to first screw them into the included drive trays. It's not a big deal, but it does take a little longer to set up than NASes designed for trayless operation.
The front panel is fairly simple. There's a power switch and two LED indicators. A grill below the drive bays facilitates cooling. The image below shows the front panel callouts.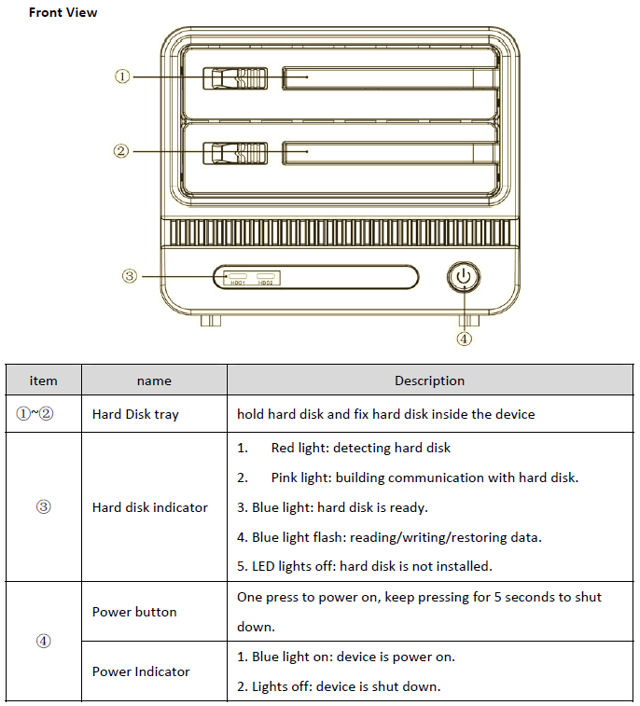 TerraMaster F2-NAS 2 front panel callout
The rear panel of t he F2-NAS 2 has a somewhat unique design. The fan protrudes from the rear of the NAS, but is encased in the same vapor blast aluminum casing. The perspective below doesn't show that very well, but it does show the rear panel connections. There's a power jack, a single Gigabit Ethernet port with indicators for link/speed and network activity, a USB 2.0 port for external storage, e-SATA connector and a pin reset button.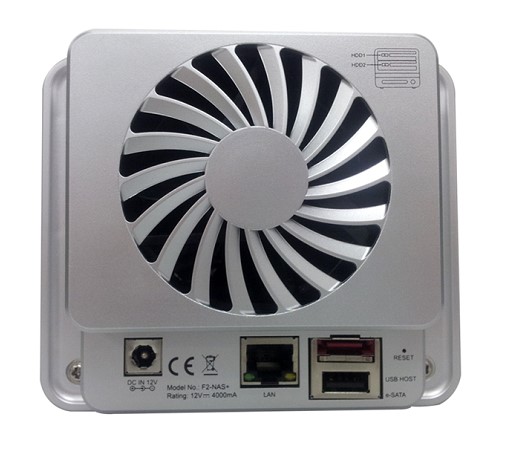 TerraMaster F2-NAS 2 rear panel
Inside
The F2-NAS 2 is powered by a Marvell 88F6282A1 running at 1.6 GHz. The Ethernet controller is a Marvell 88E1518 "Alaska" Gigabit Ethernet Transceiver that supports 4K, 8K and 9K jumbo frames. It features 512 MB of DDR3 RAM and 512 MB of flash. There's also a Marvell 88SM4140 Serial ATA II 1:4 port multiplier and an Atmel AT89LS52 8 bit microcontroller.
For the purpose of comparison, I've compiled a component chart that includes three other two bay enclosures. From both component and a price standpoint, the ZyXEL NSA325 comes the closest. The NSA325 has a USB 3.0 port whereas the F2-NAS 2 has an e-SATA port.
| | TerraMasterF2-NAS 2 | ZyXEL NSA320 | ZyXEL NSA325 v2 (and v1) | TRENDnet TN-200 |
| --- | --- | --- | --- | --- |
| Price | $179 | $90 | $174 | $91 |
| CPU | Marvell 88F6282A1 Kirkwood SoC @ 1.6 GHz | Marvell 88F6281 Kirkwood SoC @ 1.2 GHz | Marvell 88F6282 Kirkwood SoC @ 1.6 GHz | Marvell 88F62702 Kirkwood SoC @ 1.0 GHz |
| RAM | 512 MB DDR3 | 512 MB DDR3 | 512 MB DDR3 | 256MB |
| Flash | 512 MB | 128 MB | 128 MB | 128MB |
| Ethernet | Marvell 88E1518 | Marvell 88E1318 | Marvell 88E1318 | Marvell 88E1318 |
| USB 3.0 | N/A | N/A | NEC D72022F | N/A |
Table 1: Component comparison
Below is a photo of the component side of the PCB.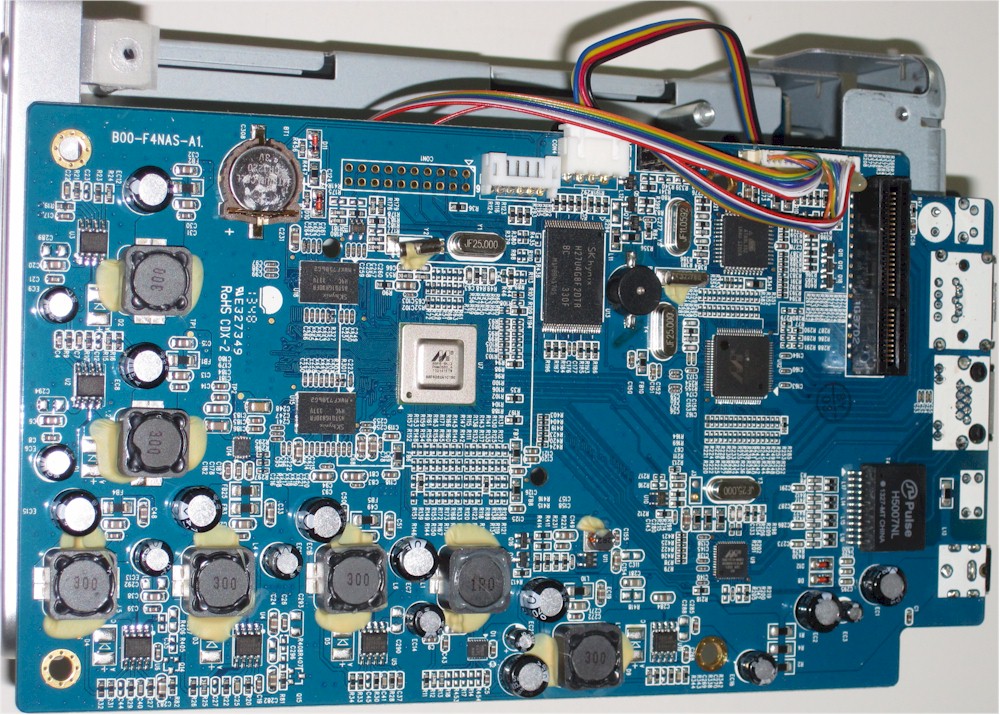 TerraMaster F2-NAS 2 PCB component side
Setup
As noted in the introduction, you'll have to mount your drives into drive trays before installing them. The drive tray come with a small bracket that's screwed between the rear two mounting holes. The bracket ensures that the drive tray will slide into the device if there's not a mounted drive. Once you insert the drives, attached the power and the Ethernet cable, you're ready to get started. Initially the front panel indicators will be red as the F2-NAS 2 searches for drives. The LEDs then turn pink as communication with the drives is established, then finally blue.
The F2-NAS 2 ships with a CD that includes software for both Windows and Mac OS. The software will discover the device and point you to it for initial configuration. Alternatively, you can point your web browser at the IP address of the NAS, assuming that you can determine it, and you'll be intercepted by the same first run wizard that the installed software points to.
I opted to go directly to the web UI after determining the device's IP address from my router. (Note: The MAC address for the F2-NAS 2 isn't shown anywhere.)The image below shows the seven step process for initializing the F2. You can't start the wizard until the device finishes examination of the hard disk(s). The gallery below shows the other steps of the device initialization. As noted, nothing gets committed until all of the steps have been completed.

TerraMaster F2-NAS 2 initialization wizard
This lets you change the device name and the admin password. There's an option (bad idea) to keep the default password.
Set your time zone and format preference and choose either Manual Setting or use NTP to set the system time.
Choose dynamic or static address assignment and Ethernet port speed.
Select the services that you want to be started when you start the NAS.
I ran into a problem with the setup. Even though the front panel indicators indicated that both drives had been recognized, the initialization wizard only appeared to find one of them. In order to complete the initialization, I set up the disk group with only the single recognized drive. After the device fully initialized, I logged in to the management UI to see if I could determine the problem.
Under Storage Manger >Hard Disk information, only Hard Disk 2 showed up. I unplugged drive one and plugged it back in again. This time, both hard disks showed up. I then had to delete the group, format both drives and then create a RAID 1 disk group configuration as shown in the screenshot below.
Following the creation of the disk group, the array started to synchronize. The Storage Manager >Hard Disk Group showed the status of the RAID synchronization, which took somewhat more than two hours to complete for the two 400 GB drives I was using for testing. During that time, I was able to create users and shares, map drive letters to shares and copy files.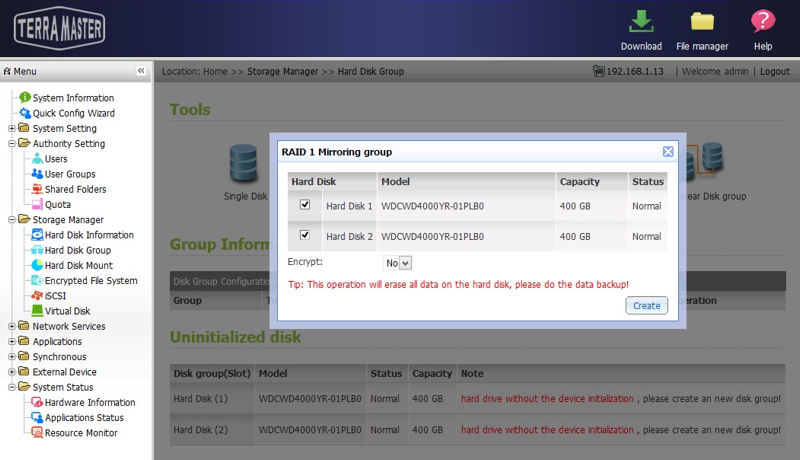 TerraMaster F2- NAS 2 create disk group
Features
The F2-NAS 2 has quite a few features. Here's a top level summary:
Networking

SMB/CIFS
AFP (required for Time Machine)
NFS
HTTP
HTTPS
WebDav
UPnP
Bonjour

Services/Applications

FTP
Secure FTP
Telnet
SSH
UPnP AV
DLNA (TwonkyMedia)
iTunes (firefly)
Download station (BT/HTTP/FTP)
MySQL Server
RSync
Web Server
DDNS
Virtual Disk
SNMP

File System/File sharing

Single Disk
JBOD
RAID 0
RAID 1
EXT4 (internal)
EXT3 (only for extremal hard disk)
FAT (only for extremal hard disk)
NTFS (only for extremal hard disk)
Max iSCSE Target – 10
Max iSCSI LUN – 10
User accounts – 2048
User groups – 256
File sharing – 256
Connections – 128

Other

Email alerts
Logging (no syslog)
Smart fan control
Power on/off scheduling
Auto restart after power failure
Disk Status Monitoring (S.M.A.R.T) and testing
Hands On
After completing the initial setup wizard, you log into the management UI shown below. The left hand pane shows the top level configuration menus presented in an "explorer-like" view and the right hand pane shows a top level status.
TerraMaster F2-NAS 2 landing page
Clicking on each top level menu reveals each of the submenus shown in the composite screen shot below.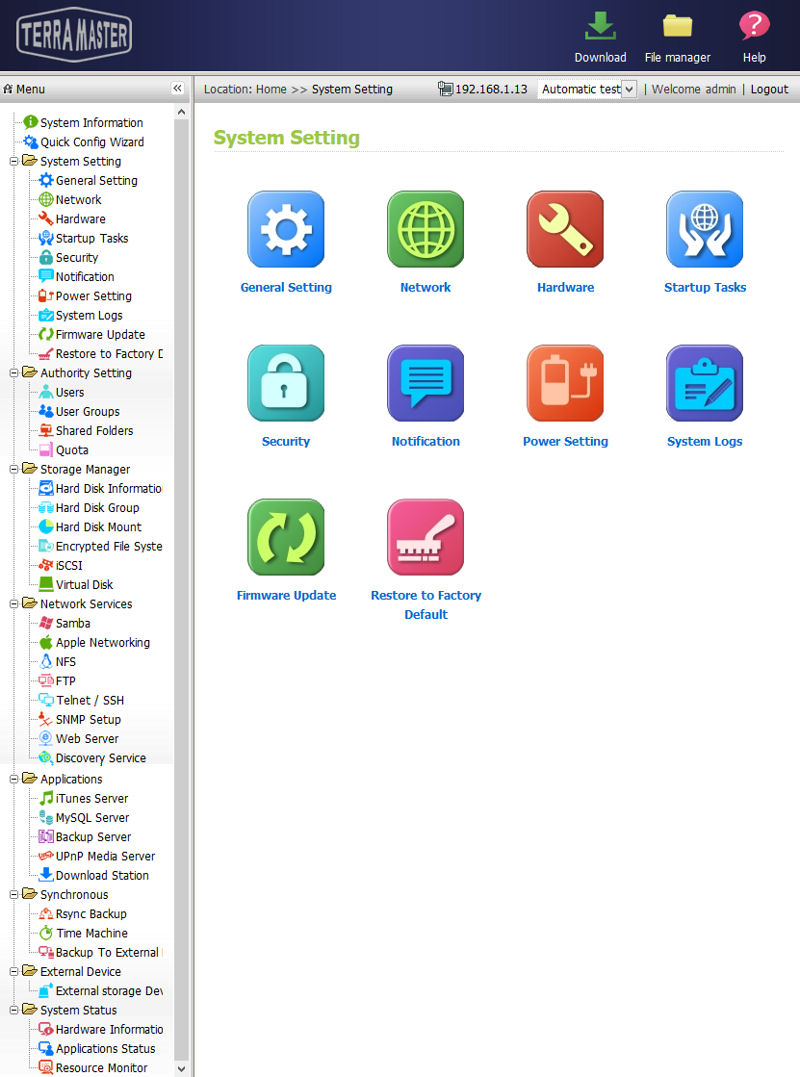 TerraMaster F2-NAS 2 menu tree
TerraMaster has an online demonstrator of both their web-based file access as well as access to the management UI. Rather than include an extensive gallery of images here, I encourage you to follow the login instructions found in the screen below. Upon logging in, you will land at the Web-based file management. You will be prompted for a login (admin/admin). If you want to explore the menu system, click on Device Setup at the top of the page.
TerraMaster F2-NAS 2 demo instructions
Hands On – More
DLNA Media server – I loaded my usual USB flash drive of demo files into the public directory on the F2. There was a mixture of different music formats, video formats and image formats. The DLNA server was discovered by my WDTV Live media streamer. Music, video and images streamed as expected. Images appeared full screen, and, unlike some media servers tested, were not pixelated thumbnails.
iTunes Server – By default, the iTunes server (Firefly) also scans the public directory, though you change the default location by logging into the iTunes server console on port 3689. As with some other NASes, I observed that on occasion, the iTunes server would drop offline and you'd have to disable and re-enabled the service for it to appear in iTunes. I tested it on both a Windows 8.1 computer and on a Mac. When the server was up, both platforms played the shared library as expected. However, I noted multiple instances when the iTunes server needed to be restarted.
TimeMachine – For TimeMachine to work, you have to enable the AFP protocol. As with most other NASes I've tested, you then have to manually do an "AFP Mount" (Go, Connect to Server and use afp://NAS_IP_address). The F2-NAS 2 creates a machine named "TimeMachine" and optionally, you can protect it with a password and set a capacity limit for Time Machine.
After mounting the drive and configuring TimeMachine preferences, the Mac started the backup to the F2-NAS 2. The composite screen shot below shows both iTunes on the Mac playing from the F2, as well as a TimeMachine backup in progress.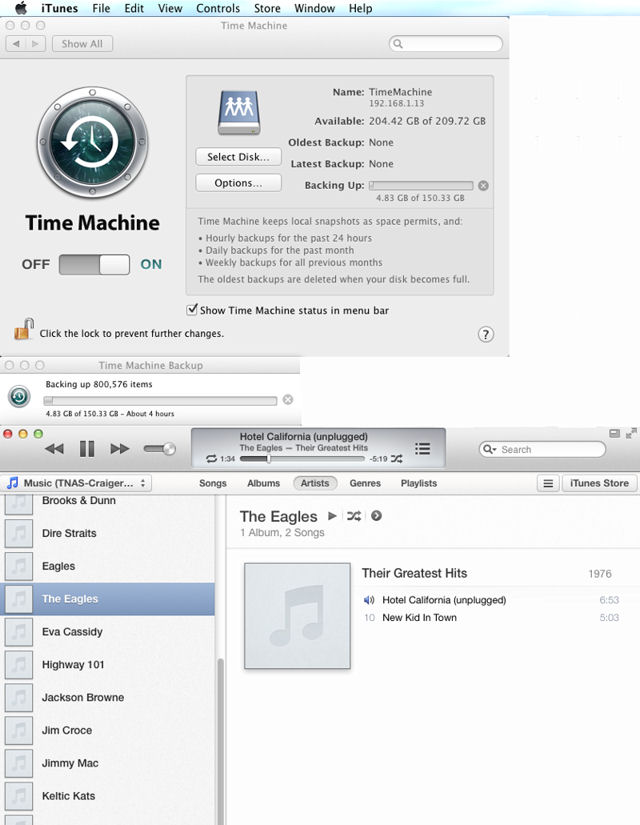 TerraMaster F2-NAS 2 iTunes and TimeMachine working on a Mac
Remote Access – For a product that includes "Cloud" as part of its product name, I was a bit disappointed with the remote offerings. For iOS, the manual directs you to the Apple store where you can purchase a third party app (AcePlayer by Ranysoft – $2.99). Similarly, for Android, you are directed to download ES file browser from either the TerraMaster website or Google Play/other apps markets. I didn't buy the AcePlayer for the iOS platform, but I tried ES file browser and it didn't seem to work remotely. It certainly lacked the ease of use/configuration found in other NASes, which have their own dedicated mobile applications.
TerraMaster has set up a cloud-based name resolution service that is available from the System Setting -> Network -> Cloud menu shown below. I found this configuration page confusing. I had enabled UPnP on both my router as well as on the F2-NAS 2. In the lower portion of the screen, you can see that UPnP is Enabled and UPnP port mapping is Disabled. However, the warning message says that the Cloud needs UPnP port mapping. If you click on the Disabled button, UPnP status changes to disabled.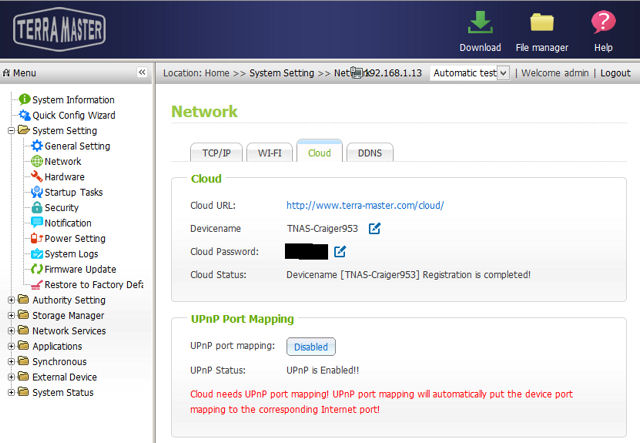 TerraMaster F2-NAS 2 cloud setup
I was also getting Cloud Status message "Cloud server connection with abnormal!". Reading through the instruction manual, I discovered that the cloud works on port 8181. So I manually forwarded port 8181 to the F2-NAS 2. After setting the port forward, the registration completed successfully.
If you go to www.terra-master.com/cloud and enter the credentials you established, you will be taken to the web file browser and have access to any of the files you would have locally with the exception of files on the external USB drive (if connected). Note: if you change the device name on this page, it also changes the device name for your local network the next time Samba is restarted. The image below shows a successful registration.
The screenshot below will give you an idea of the web browser-based file manager. You can download/upload individual files and view, copy and delete them. It's a fairly basic interface and it seemed to work both on Android and my iPad. Of course, on an iPad, the browser has no access to the file system or the camera roll, so it's of relatively little value on that platform.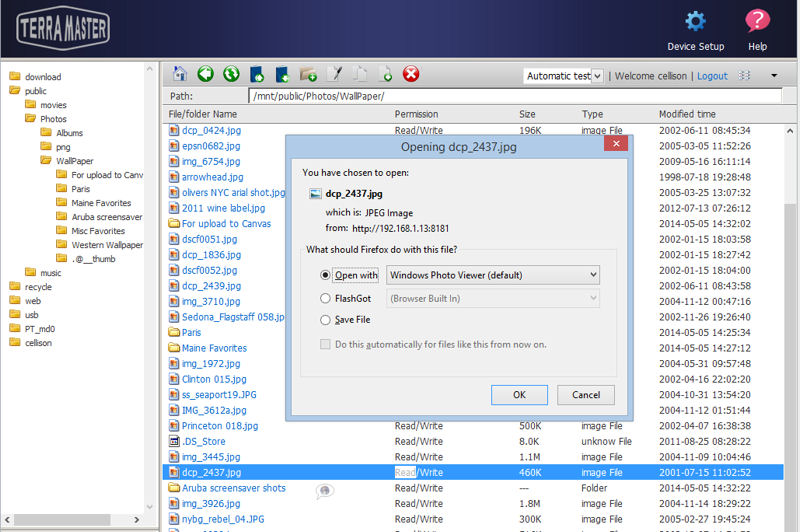 TerraMaster F2-NAS 2 Web File Explorer
Ports – By default, the F2-NAS 2 starts up a lot of services. While you are presented with options to change startup services during the initial configuration, many people will accept the defaults. I was a bit concerned because Telnet, SSH and FTP as well as UPnP were all enabled by default. For testing, I enabled UPnP on my router. Fortunately, my router is one of the few that lets you see which ports have been mapped by which host.
When I checked the port map, I found that the F2-NAS 2 had opened ports 20-23, 445, 8080 and 9091. Missing was port 8181, the default port required by the cloud setup software (Page 42 in the manual). Several hours after the F2-NAS 2 had been running, I checked the connection log. I discovered multiple attempts to connect as root to the telnet port. One of the attacks came from Bogata Columbia, and the other one came from China. Fortunately, TerraMaster had set a complex root password and the connection requests failed. I immediately disabled FTP, Telnet and SSH and enabled services/protocols that would be needed during testing. (AFP, iTunes Server, DLNA server, and TimeMachine.
Drive Pull Test
We always perform a drive pull test on RAID-capable NASes to see exactly what will happen. For the F2, I started a directory copy on one computer while the TimeMachine backup was still being performed by my Mac. I pulled disk 1. There wasn't a beep, but the HDD1 light went out. Within about 10 seconds or so, I received the email notification shown below.

TerraMaster F2-NAS 2 disk failure email
It wasn't very detailed, but it gave me the idea that something bad had happened. The message, cryptic by any measure, certainly lacked the plain language email that other NASes use to indicate a drive failure or drive removal. The good news is that the both the directory copy as well as the TimeMachine backup continued to run without dropping any data.
The main login page also didn't indicate a problem with the disk array, either. However, the Hard Disk Group menu, shown below, indicates the status as High risk.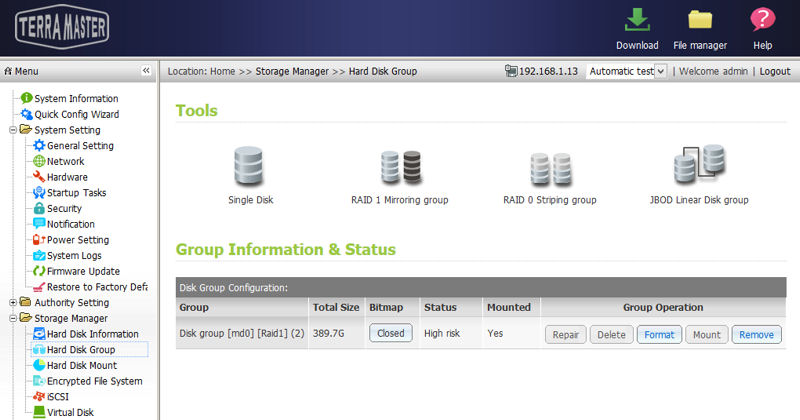 TerraMaster F2-NAS 2 Hark Disk Group showing RAID 1 array at high risk
Recovering from a disk failure in a RAID configuration is uncharted territory for the user guide, so I decided to just plug the drive back in and see what happened. The device is, after all, rated as hot swappable. The TimeMachine backup paused and the HDD2 LED (the one that was still running) turned red. Then the HDD1 light turned red, followed by both LEDs turning pink. Finally HDD2's LED turned blue and started flickering as the TimeMachine backup resumed. Apparently, TimeMachine waited patiently for the 30 seconds or so that it was interrupted. For the disk re-insertion, I did not get an email notification.
The Hard Disk group showed an uninitialized disk and said to create a new disk group. However, to create a new disk group, I would have had to delete the old disk group along with all of the data. I decided to click on "Repair" to see what happened. A pop up box appeared giving me the option to select Hard disk 1 (the one that I had re-inserted) and click OK. This seemed like a better option. Immediately, HDD1 was added back into the RAID 1 disk group, and the array synchronization started.
I'm not sure how long it took to synchronize, as I had to leave the office while the synchronization was running. I'm assuming that it took quite a bit longer than when I initialized the array, as the TimeMachine backup was continuously writing data while the synchronization was in progress. As a reference point, it was 42% complete after 104 minutes. the image below shows the uninitialized disk along with the repair option I selected.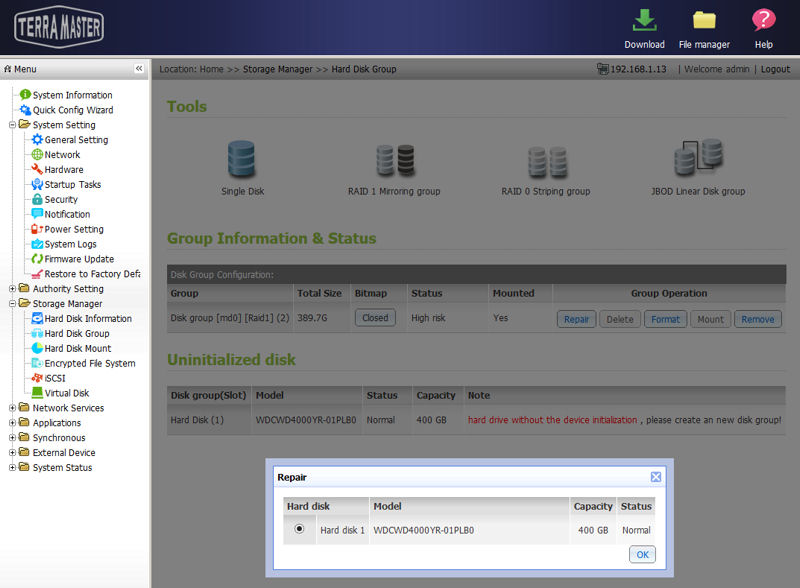 TerraMaster F2-NAS 2 RAID repair
Performance
Starting with this review, we have switched to a new NAS Test process. The Revision 5 process uses the same Windows Filecopy and Intel NASPT benchmarks as our previous process, but a new Intel i7 / Windows 8.1 testbed machine that also includes dual 10 GbE NICs.
The results for products tested with Revision 5 will vary slightly from the results created using Revision 4 and therefore are not directly comparable. Products tested with Revision 5 use a new, dark gray bar as compared to the lighter gray bar used for Revision 4. For all but the top performing model NASes, you should expect similar results from which you can draw relative performance conclusions.
The chart below is the benchmark summary for the TerraMaster F2-NAS 2. Windows File Copy tests in the Benchmarks summary below show read throughput 26% higher than write for RAID 0 (66.2 vs. 52.4MB/s) and also about 29% faster for RAID 1 (58.1 vs. 45.2 MB/s). Similarly for both read and write tests, RAID 0 held an edge over RAID 1 results. For read operations, RAID 0 was about 14% faster than RAID 1 (66.1 vs. 58.1 MB/s) and for write operations, the margin was about 16% (52.4 vs. 45.2 MB/s).
Window File Copy results were faster than NASPT File Copy results for both the corresponding RAID 0 and RAID 1 Tests. For RAID 0, Windows File Copy readwas 60 % faster (52.4 vs. 32.7MB/s). For RAID 1Windows File Copy write was 95% faster than the NASPT RAID 1 file copy to NAS (45.2 vs. 23.1MB/s).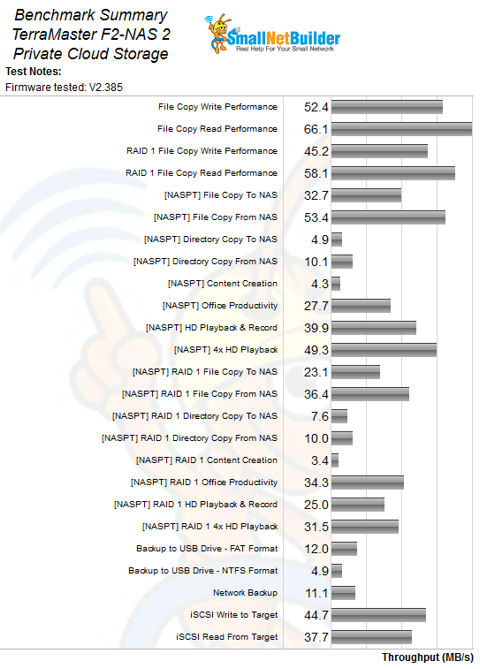 TerraMaster F2-NAS 2 Benchmark Summary
Performance – more
To see how the F2-NAS 2 NAS fared against other dual drive NASes, I filtered the results for two bay devices using a single core SoC and then generated charts for File Copy Read and File Copy Write performance. If you use the default sorting, i.e., by throughput, the TerraMaster F2-NAS 2 doesn't do very well. It ranks 11/25 for File Copy Write Performance and 19/25 for File Copy Read Performance. For Read, the F2-NAS 2's 66.1 MB/s is only about 66% of the $139 Thecus N2310, which turned in 100.1 MB/s. For Write, the F2-NAS 2 measured 52.4 MB/s (61%) vs. the top performing Thecus N2310's 85.7 MB/s.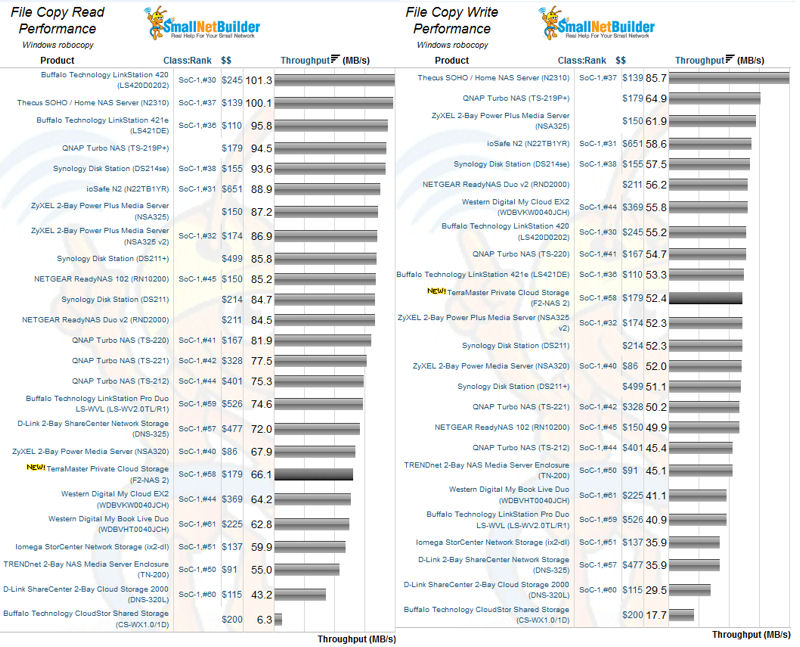 TerraMaster F2-NAS2 File Copy Read and File Copy Write Performance

For either File Copy Read or File Copy Write results, if you find the F2-NAS2 (with the "New" bug) and move up the chart looking at price, you'll find a number of better performing devices at lower prices. Another metric is to compare the price/performance of the F2-NAS 2 with the ZyXEL NSA325 v2. As noted in the component comparison above, both devices use the same processor and the same amount of RAM and similar prices, but the NSA325 v2 outperforms the F2-NAS 2 on both tests. And, of course, the Thecus N2310 outperforms both by a significant margin.
The table below compares the F2-NAS 2's backup performance with two sub-$100 NASes (TRENDnet TN-200 and ZyXEL NSA320) and a similarly-priced ZyXEL NSA325 v2. The F2-NAS 2 clearly lost all of the tests where there were results. Both ZyXEL products excelled at the USB 2.0 tests, and the NSA325 v2 showed the real advantage of USB 3 ports for direct attached backup.
| Benchmark | TerraMaster F2-NAS 2 | TRENDnet TN200 | ZyXEL NSA325 | ZyXEL NSA320 |
| --- | --- | --- | --- | --- |
| USB 2.0 FAT | 12 | 19.0 | 26.1 | 25.4 |
| USB 2.0 NTFS | 4.9 | 6.8 | 23.9 | 24.1 |
| USB 2.0 EXT3 | NA | NA | 26.3 | 24.9 |
| USB 3FAT | NA | NA | 62.0 | NA |
| USB 3 NTFS | NA | NA | 67.6 | NA |
| USB 3 EXT3 | NA | NA | 56.5 | NA |
| Network Backup | 11.1 | 18.5 | 16.3 | NA |
Throughput (MB/s)
Closing Thoughts
Ranking should be an important consideration when deciding where to spend your hard earned dollars. For Total NAS rank, which includes all products tested, the F2-NAS 2 ranked #58 out of a total of 70 products tested. Though its overall ranking was fairly low, for some of the individual benchmarks, all RAID 1 File Copy benchmarks, the F2-NAS 2 ranked well above its overall ranking of #58.
If you filter for SOC-1 processors and 2 disk devices, the F2-NAS 2 ranks #16 of 19 filtered results. If you sort the same filtered set by price, the F2-NAS 2 ranks #11 of 19 filtered results. Of the 10 less expensive NASs, nine of them have better Total NAS rankings that are better than the F2-NAS 2.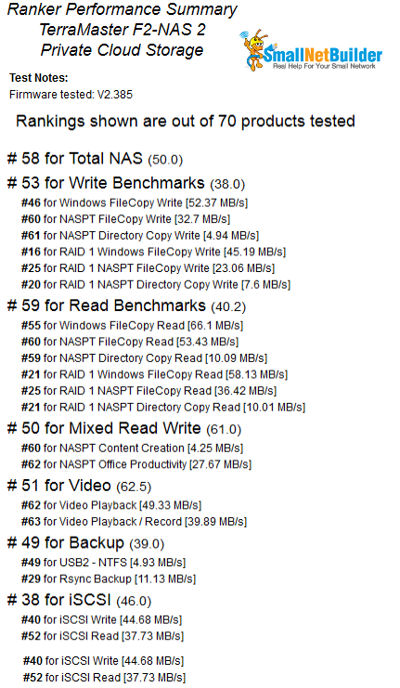 TerraMaster F2-NAS 2 Ranker Performance Summary
The F2-NAS 2 has a lot of features, but I found the lack of good documentation, very limited online help (FAQs) and non-based US support somewhat problematic. I ran into a problem and emailed their tech support. I have yet to hear back from them as I finish the review. They do offer Skype support, and, admittedly, I didn't try that.
There were some quirky things along the way such as discovery software that didn't discover the NAS after I did a factory reset; difficulties with setting up remote access, disk initialization issues, etc., that just didn't give me the warm fuzzies about the product. The industry is heading towards cloud-enabled NASes and the F2-NAS 2 just doesn't measure up. With so many better performing, less expensive choices with better cloud features from Synology, QNAP Western Digital and others, the F2-NAS 2 should not be on your shopping list.
Buy TerraMaster Private Cloud Storage from Amazon