Introduction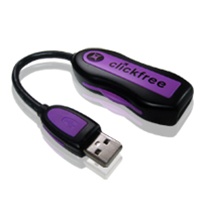 At a Glance
Product
Clickfree Transformer (CAB101)
Summary
$60 cable that turns any USB drive into an automatic backup drive for Windows PCs.
Pros
• Works with flash or USB hard drives
• Default settings provide comprehensive file coverage
• Up to 10 machines per drive
Cons
• Might have to reboot between each backup
• Doesn't do "bare metal" recovery
I first saw Clickfree at last year's CES. Their product concept was simple—make backup as easy and foolproof as possible to help save non-technical consumers from their well-intentioned, but procrastinating selves.
The product took two forms: a writeable DVD and largish USB external drive. Both came with the Clickfree backup software preinstalled that automatically launched and performed an automatic backup of all the application data files it found on the Windows PC.
Fast forward a year and Clickfree seems to be doing well. The DVD and large USB drives (it is now a 1 TB model) are still available and have been joined ay a series of smaller, more portable USB drives in 120 to 500 GB capacities. But the real news this year was the introduction of its Transformer.
The Transformer is a logical extension of the Clickfree family, essentially taking the backup software that resides on the DVDs and USB drives and encapsulating it in a USB cable. Viola! The same Clickfree backup experience in a BYOD (Bring Your Own Drive) format. And what's even better, the cable sells for only $60!
I didn't even have to ask Clickfree for a review sample; they sent one just before CES. I didn't have time to test it before I left, but sat down the other day and gave it a go.
In Use
The Transformer is just under 9″ long. One end plugs into a USB port on the machine to be backed up. The other is where you plug in a USB flash or hard drive. Up to 10 Windows (Vista, XP, 2000) machines can be handled on a single drive. The systems and backup configurations are stored on the USB drive. So when the drive fills up or if you have more than 10 machines, you just attach another drive and start again.
Using the Transformer is dead simple. You just attach a USB flash or hard drive to one end of the Transformer and plug the other into a USB port on a Windows 2000, XP or Vista machine that is up and running. Within 10 seconds or so, you get an initial splash screen that reminds you to attach a drive.
If the drive is in place, it won't be long before you get the obligatory license agreement screen that, despite the product's name, does require a click to get rid of. Then if all goes well, shortly after you get the "countdown" screen shown in Figure 1.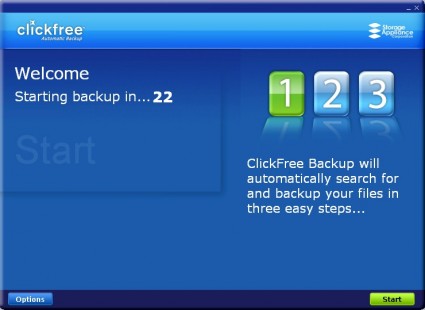 Figure 1: Countdown screen
The slideshow walks you through all the screens and gives you a good sense of what using the product is like and all the options that are available. Overall, it was pretty much as advertised, i.e. an automatic backup of application data files that required no intervention from the user.
A few highlights of the product are worth mentioning here, in case you don't want to click through the slideshow.
A full backup is run first, then only changed files on subsequent backups. Multiple versions of files are not stored and deleted files are not removed from the backup.
You get a nice Backup Summary screen when the backup completes. Figure 2 shows an incremental backup result, with separate "New" and "Total" columns. The files are organized by type, not drive or folder.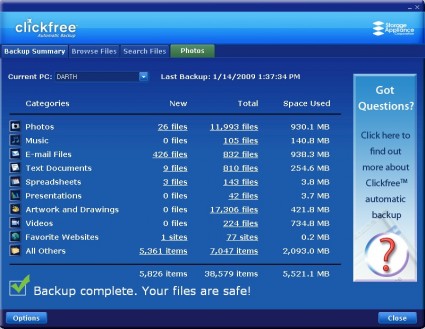 Figure 2: Backup Summary
Of course, if you want to know where files are, you can use the Browse Files (Figure 3) and Search Files functions.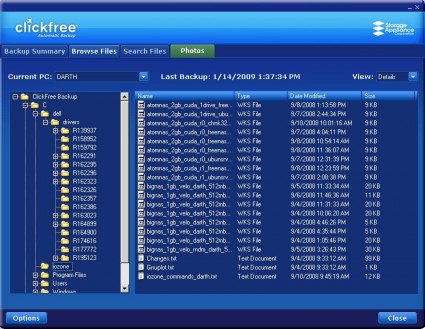 Figure 3: File Browser
Although Clickfree tries to do as complete a backup as possible, new file types appear all the time. So you can add file extensions to back up files that it doesn't hit by default. I was pleased to find that .php files were included, but surprised that .htm and .html files were not! I was easily able to add them, however (Figure 4).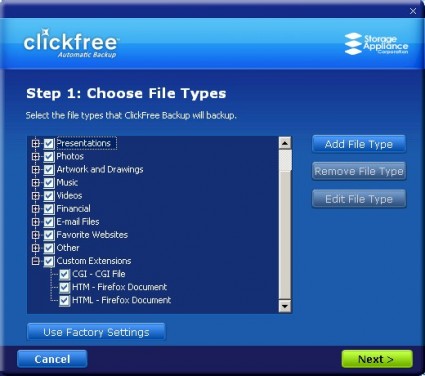 Figure 4: Adding new file types
Other screens allow you to skip TEMP and Windows System folders (enabled by default), search selected folders only and back up entire folders, regardless of file type.
The built-in photo browser (Figure 5) is a nice touch and includes options to browse (with auto thumbnail generation) and print photos, convert them to desktop "wallpaper", share with your MySpace or FaceBook account or attach as an email (Outlook and Outlook Express only).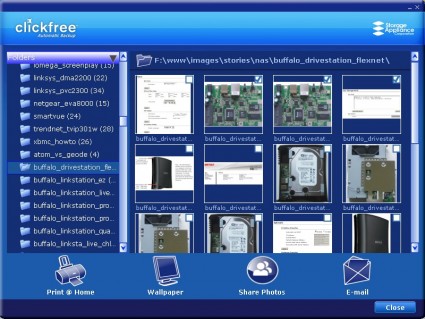 Figure 5: Browsing photos
Of course, no backup is any good without the ability to restore files and Clickfree does a good job there, also. You can back up selected (or all) files to their original locations, or to anywhere else that you choose. And if for some reason you should lose the Transformer or it goes on the fritz, all your files are directly available in unmodified, uncompressed form on the drive.
The main downside to the Transformer is that you might not be able to run multiple backups without rebooting your computer, or at least that's what I found on one of my XP systems. But on a notebook that was also running XP, I was able to unplug and plug the Transformer back in and got another backup.
I found nothing in the online FAQ or Hard Drive series user manual about this and there isn't yet a manual for the Transformer. I suspect it's some oddity in the USB controller driver; the problem machine has an Intel ICH9 USB controller and the notebook that was fine has an Intel 82801FB/FBM.
Closing Thoughts
I think the Transformer is a handy little product that would make a great gift for those not-so-tech-savvy friends and family that we all have. It's easy to use, doesn't permanently install anything on the system being backed up and at $60, it won't break the bank, either.
Sure there are plenty of other (and cheaper) ways to back up a system. But if simple, easy and no futzing with configuration settings are high on your list, give the Clickfree Transformer a try.

See the slideshow for a product walk-through