Last time, I talked a bit about Boxee and how it proved to be too much for the Acer Revo 1600 I'd bought on impulse. This time I'm going to get into some of the details that have convinced me to not make Boxee the centerpiece of my Internet TV experience.
But first, thanks again for the feedback that you've sent in. It's really helped to refine my thinking on the direction I'm heading in. I've also been thinking more about what I'm about to do to Ms. SmallNetBuilder, or more to the point, what she will do to me if I screw up access to her favorite shows.
Anyone with a DVR—even the crappy, non-Tivos built into most cable and satellite boxes—knows how they transform the TV watching experience. With the ability to automatically record anything we want to watch, we almost never watch live TV.
The basic mechanics are easy to master and we manage to keep up with the recorded programs so that we seldom need to weed through the queue to kill off programs before the DVR does it on its own.
So I've decided to try to model the DVR experience as much as possible in whatever solution I come up with. Unfortunately, for Internet TV, this is going to be difficult at best. The battle is still raging among content creators, their established distribution channels, i.e. the cable, satellite (and to a lesser extent) telecom providers like AT&T and Verizon, content owners' own web video experiments and independent Internet-based distributors such as Netflix, MediaMall Technologies' PlayOn and Boxee.
As a result, there is no one legal place on the Internet where you can access the same content that you can get from the cable, TV and telecom folks. That is, unless you pay for the privilege by signing up for the TV Everywhere scam service I covered in Part 2. So we're forced to use multiple sources to scavenge all the shows we currently watch.
The good news is that by using a computer instead of a dedicated media player appliance, accessing multiple sources is as easy as finding an application (or service) that has the desired content and loading it up. The bad news is that having to remember which program / service is used for what content is not conducive to a high WAF!
Note that the above list doesn't contain Hulu, which is a Frankensteinish creation of NBC Universal, News Corp. and, more recently, Disney. It's fair to say that, currently, any Internet TV solution's success is tied to its ability to source content from Hulu. The problem is that Hulu seems like it hasn't decided yet which partners it wants, if any at all. And that is just one of the problems standing between Boxee and success.
What's a Boxee?
So what is this Boxee thing? You can think of it as an amped-up media player that is meant to be the main portal for your digital media consumption. It is partially open source, since it is built upon the popular XBMC media player that started as a media player that ran only on hacked Xboxes. But Boxee's main twist is that it includes social networking functions that allow you and selected "friends" to share information about the media that you are consuming.
If you want to get a taste of Boxee in action, you can check out the video below. It has enough snippets of Boxee's major functions to give you an idea of what it can do.
Boxee comes in flavors that run on Windows XP, Vista and 7, Mac OSes 10.4, 10.5 and 10.6 (Intel hardware only), Apple TV and 32 and 64 bit versions of Ubuntu Linux. All are free downloads. But before you can use Boxee, you need to register to establish an account for those social networking features (and so that you can eventually buy stuff from Boxee).
The Boxee buzz ramped up last December when Boxee announced its first partner, D-Link, to produce a dedicated Boxee appliance (Figure 1) for those folks who don't like having a noisy computer sitting in their living room.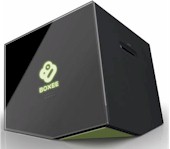 Figure 1: The Boxee Box by D-Link
The Boxee Box By D-Link (as they insist on calling it) is very small. But it packs a big computing punch by using an NVIDIA Tegra 2 (T20) platform, which features a dual-core ARM Cortex A9 CPU and NVIDIA GPU. Boxee says this chip will handle Adobe Flash 10.1 web content and up to local 1080p video without breaking a sweat. The Box also comes with an RF remote that has a handy QWERTY keyboard on the back.
The Boxee Experience – TV
I downloaded the most recent "beta" for Windows (boxee-0.9.20.10711) and installed it on both the Acer Revo 1600 (XP Home SP3) and an Acer Aspire 1810T notebook (Win 7 Home Premium, 64 bit).
The Boxee home screen is currently divided into four sections, a main activity bar across the top and three content-related sections: Feed; Featured; and Queue.
Figure 2: Boxee Home Screen
The Feed column is where you see content from social networking sources. It currently contains whatever the default boxee staff "friend" decides to put there. But it seems like that "friend" has lost interest because it hasn't changed in the weeks that I've been using Boxee on and off. This is tending to annoy users (me included) because you currently have no control over the column and can't even shut it off.
The Featured column is totally controlled by Boxee and does change from time to time. This will probably be a source of income for Boxee, who may eventually charge content partners to put items there or use it to sell pay-for apps.
The Queue column is the one area that you control by tagging content that you want to watch. There's only one queue and you can't control the sort.
Navigation can be done with a mouse or by using your keyboard's arrow, page up/down and Escape keys. I started by mousing, but have found keyboard navigation less frustrating. The mouse pointer tends to overshoot when you use it to scroll and it then seems to stay stuck one item below or above where you want it to go.
The Escape key always brings you back one screen and if you hit it enough you'll get the navigation shortcut overlay shown in Figure 4. This one little screen contains links to just about every major Boxee function. System level controls are on the top, main functions in the middle and shortcuts to applications and shows are on the bottom row.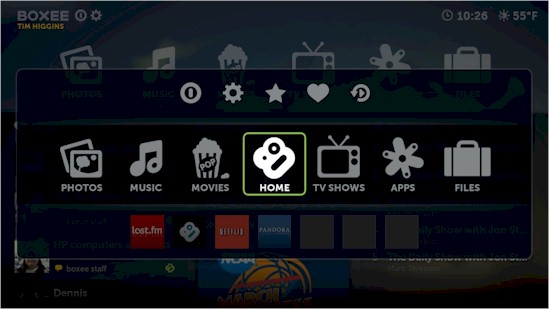 Figure 3: Shortcut overlay
There's also an iPhone / iTouch Boxee remote app that offers "gesture" (somewhat like using a trackpad) or "button" modes (Figure 4). I definitely preferred the button mode during the short time I've used it. But whoever chose the blacker-on-black color scheme needs to learn something about good user interface design!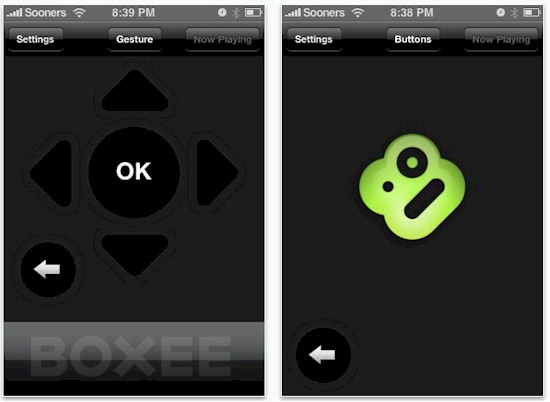 Figure 4: iPhone / iTouch Boxee remote app
Since my focus is using Boxee for TV, I'll jump right to that feature. A click on the TV Shows icon will bring you to the screen shown in Figure 5, unless you've been foolish enough to add a show to the My TV Shows list. Because, if you do, you get that screen every time you go to the TV Shows section when you first start Boxee. I'd much prefer that Boxee remember the screen I viewed the last time I was in a section, which most times, is the TV Show Library.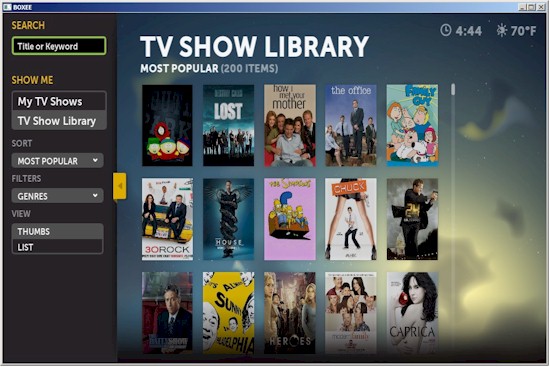 Figure 5: Boxee TV Shows library
The left column contains filters and a Search function for locating desired content. The only sorts available are Most Popular and Recently Added, the latter of which refers to when the show was added, not new show episodes. When you select a show, the screen scrolls left to hide the filters and expose a description of the show.
The TV Shows include many, but not every, show offered by the content owners represented, which include NBC Universal (and its NBC and SyFy and USA cable properties), CBS, ABC, Fox, PBS and Comedy Central. In some cases, you are presented with multiple sources for a show, usually Hulu and the content owner's site.
Most everything is "Ad supported" and, of course, you can't skip the ads. So as one SNB Forums poster commented, you'll acually end up watching more commercials using Internet TV (at least using Boxee) than you will by using your cable / satellite DVR.
As big as Boxee's bundled TV Shows selection is, there are plenty of networks and channels missing. In its Alpha days, Boxee had a feature that easily let you add RSS video feeds. But that feature disappeared from the Beta, supposedly to return in a later release. There are some who have crafted XML files to pull in RSS feeds, but I haven't tried that.
Your main alternative if you want more shows, is to hope that someone has written an App to access that content. Clicking the Apps icon in the main menu bar will bring you to a screen where you can explore what's available. Figure 6 shows apps that I was trying out.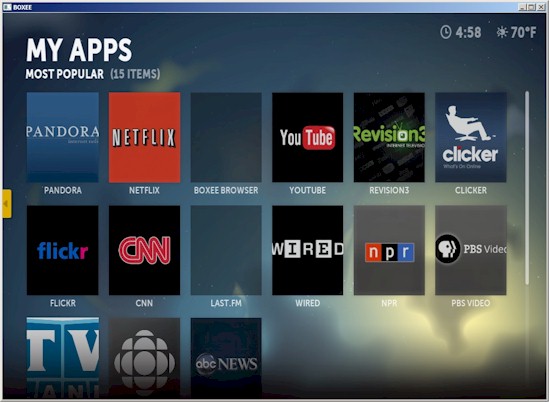 Figure 6: Boxee apps
Make sure you select the App Library filter to see all the apps that are available (177 as I write this). But don't get your hopes too high for finding things like Discovery, HGTV and other commercial cable-only content. And even when you find something like TVLand, you may find that it has mostly clips and not complete shows.
You will find plenty of Internet-only content, though, because those folks are hungry for as many eyeballs as they can get. But I'm not a big fan of that stuff, YouTube included, so there could be 1,000 apps for it and I could care less.
If the built-in apps aren't enough for you, you can add Boxee app repositories. But after trying some of the places in this list, I ended up taking advice found in the Boxee forum and just added the Boxee Repo (via My Apps > Extras > Repositories), which seems to be a superset of most of the apps found in the other repositories.
Boxee Browser
Of course, the easiest way to access Internet TV is via your web browser. Simple to do if you're using a computer, but no so much if you're using a dedicated media player. I've always wondered why media player makers didn't include a simple web browser. But a look at Boxee's implementation now makes me realize that it's more complicated than it looks.
The Boxee Browser is probably the single biggest thing that had me excited about Boxee. But, at least in its Beta form, it's the biggest disappointment and essentially unusable. Clicking on the Boxee Browser app icon brings up the screen shown in Figure 7. You can either enter a URL directly or search for content like I'm going to do.
Figure 7: Boxee Browser Search
You can set the Browser to Video Mode if you want to take your chances on Boxee's ability to do what it says in the explanation of Video mode in Figure 7. But that mode didn't work with any of the sites that I tried it with.
Figure 8 shows the result of my search. The only way you can select a link is to hit the right arrow key until you get to what you want. Each press moves you to the next link. For the page shown, this meant 14 links in the more menu and nine other links—including all sponsored links—until I got to the first search result!
But all those key presses were for naught. Because when I finally got to the site, there was the stupid red box again (Figure 9)! Try as I might, I could not select a video to play.
Figure 9: Website in Boxee Browser
I tried other sites, and on the rare occasion where I was able to select and start a video, it stopped playing in pretty short order. In all, a very big disappointment.
Other TV
Boxee doesn't support any DVR features for live TV capture, nor is there a built-in Torrent downloader in Beta. There was one in earlier versions of Boxee. But since Boxee wants to make nice with the big content owners, it's removing features that can be construed as encouraging access to unlicensed content. It will be interesting if RSS video feed capability gets added back in.
If you do have your own video content, Boxee can access it. But I didn't have any luck getting Boxee to show any video or even music content served up via UPnP from my QNAP TS109 Pro.
Boxee supposedly can pull down metadata from imdb.com for movies and TV shows. But it's fussy about how files are named and I didn't even try wrestling with this, since I don't have much stored video content and I sure as hell wasn't going to go through the hassle of renaming it for Boxee's convenience.
Playing Other Content
Of course, once I get my media portal set up, I'll also use it to access my own stuff, mostly still photos, music stored and managed by iTunes and some MJPEG video off my Canon digicam. There are also some 720p an 1080p movie trailers that I have for testing.
By default, Boxee will scan for content in your Windows Music, Pictures and Videos folders. But, if you're like me, and keep your content on a NAS, you need to go to Boxee's Settings > Media menu and point it to your media shares. Figure 10 shows three UPnP shares that I added to Boxee, which it frequently insisted were "Not Connected", even though I could browse to content stored in them.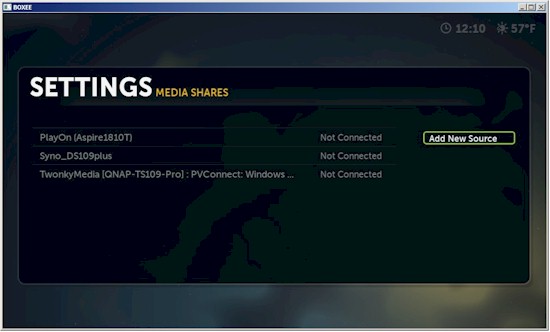 Figure 10: Boxee media shares
Figure 11 shows the settings for a media share. No matter how many times I clicked the Scan source button, content just wouldn't properly show up in the Music, Photos or Movies sections. At one point, I did manage to get my music to show up under Photos, though.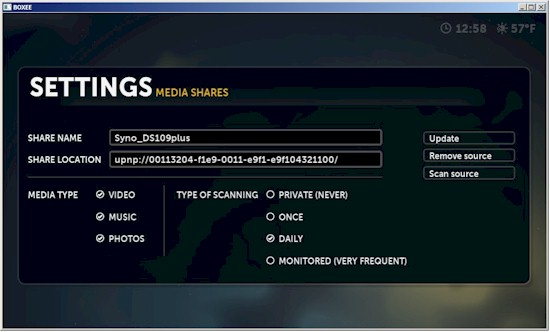 Figure 11: Boxee media share settings
I think this was because I was setting up only one UPnP share, which contained Video, Music and Photo content. I tried setting up three different shares and that seemed to fix the photo / music mixup. But I never managed to get Music to show up under the main screen icon. UPnP flakiness seems to be a known issue that is supposedly being worked on. But for now, it's not helping me easily access stored content.
File Browser
The last resort for stored content access is the File Browser (Figure 12), which is supposed to let you browse Boxee's local file system, plus SMB and UPnP network shares. I say last resort, because using it to find content is the most difficult way, with no filtering to help you get quickly to where you want to go.
In the screenshot, you see two UPnP shares, which I had previously added via the Media shares settings.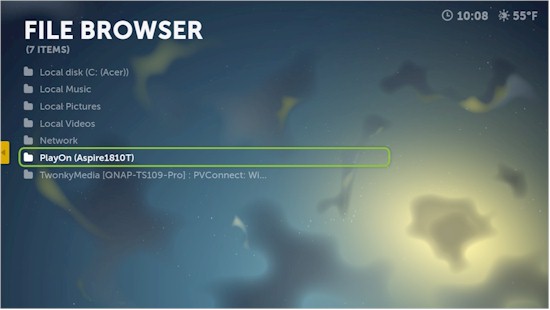 Figure 12: Boxee file browser
Clicking the Network folder should let you browse all SMB network shares. But it would only see one of my computer's network shares and none of the SMB shares on QNAP or Synology NASes.
Using the browser, I was able to get to and play music, photos and the little video content that I have. I was happy that Boxee easily played everything, even the MJPEG.avi files from my Canon digicam, which have thwarted all the dedicated media player boxes I've tried to date.
One last issue I found is that Boxee wouldn't play a slideshow from a UPnP share. It would see all the files in a folder just fine. But when I tried to start a slideshow, I'd get a screen like Figure 13, which told me that Boxee recognized only one photo in the folder that I was trying to play a slideshow from.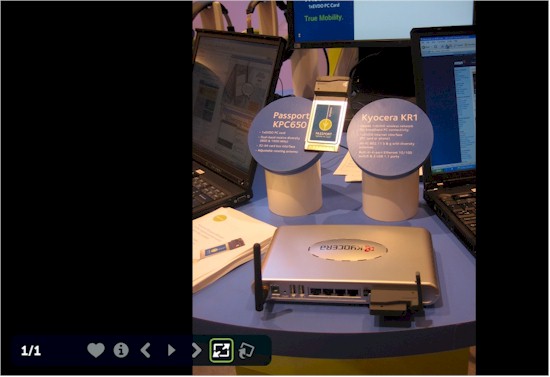 Figure 13: No slideshow for me from UPnP
I have to say, though, that Boxee (or someone) did an excellent job with the Netflix app (Figure 14). We have a Roku Netflix player, which we use only occasionally because of the dearth of decent "Play Instantly" content and because it's such a pain in the butt to have to visit Netflix.com to change our Queue.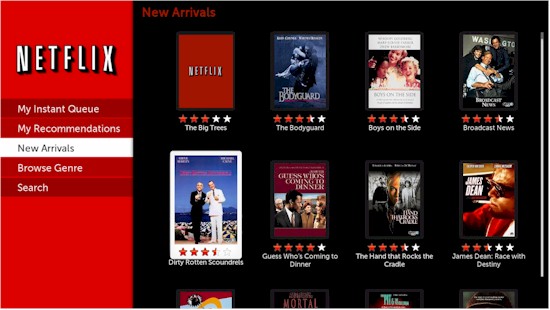 Figure 14: Boxee Netflix app
But I was very pleased to see that the Boxee app changed all that. You not only can change your queue, but also browse recommended and new content as well as search. Play quality was excellent, as it always has been using the Roku box, even with our only 3 Mbps down Internet connection.
And even the Acer Revo 1600 played Netflix content flawlessly. I may have to upgrade my Internet connection to the maximum 5 Mbps service that I can get so that Netflix will serve me HD.
It seems like Netflix has been getting a bit more quality content lately, a trend that I hope continues. Given my long history with Netflix (I've been a user since they started), my satisfaction with their product and the amazingly high quality streams they produce with relatively little bandwidth, I think they could easily kill off Hulu, PlayOn and any other Internet content aggregators. If only they could get the networks to come to the table with reasonable terms.
Closing Thoughts
Oh, Boxee. How I had wanted to love you and quickly end my search for my partner in accessing Internet TV. But, unless a miracle happens, you're not the one for me. I'm sure your entourage is working their butts off to kill off the swarm of bugs that threatens to engulf you, even as you continue to garner award after award. But I'd rather skip your awkward adolescent phase and let others help you make your way to productive adulthood. Adieu until then.
Next time, despite my bias against it, I'll be looking at Windows Media Center as a possible Internet TV dance partner.