Ms. SNB has continued to use the iPad and Hulu Plus as her downstairs entertainment source while we figure out how to replace her dead DirecTV DVR. She is not much of a tech experimenter, so hasn't even turned on the WD TV Live Plus that I installed the day that the DVR died.
So I thought I'd be a good husband the other day and add some shows to her queue to make them easier to get at. At first, I couldn't find how to add either show subscriptions or items to the queue using the iPad Hulu Plus app.
Of course, there was no help anywhere to be found in the app, since everything is supposed to be so intuitive in Apple land. So I went to Hulu web and added subscriptions and items to the queue there. When I went back to the iPad, though, I was surprised to see that some of the subscriptions entered on Hulu web didn't appear on the iPad.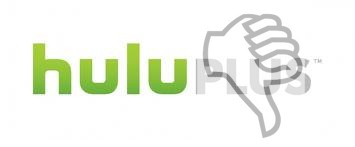 After browsing around Hulu web, it dawned on me that Hulu Plus doesn't provide access to everything available on Hulu web and Hulu Desktop. This, of course, is due to the ongoing wrassling between content owners and all the new distribution services trying to pry the owners away from cable and satellite exclusivity.
So for my $10 a month, I'm getting access to fewer shows than I can get from free Hulu, and I still get to watch commercials. Not so great a deal, at least at this point, but I'll keep paying for a few months to see if things improve.
I eventually figured out how to subscribe to shows on the iPad (press and hold while browsing shows to subscribe, press and hold on an episode to add to queue). But then episodes would disappear from my queue without explanation and I'd have to add them in again.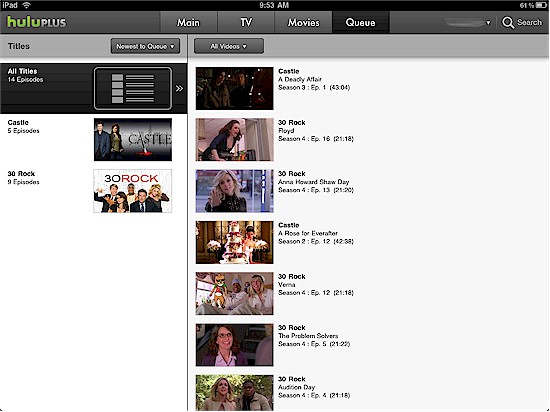 And what's up with the Queue view in Hulu Desktop? Everything appears in just one long unsortable list. Not so bad if you have a short queue, but definitely unwieldy if you like to keep a large queue.
If you've been anxiously waiting for your Hulu Plus invite to arrive, you can relax. Aside from access to more content on the iPad, you're not missing much.
On a more positive note, I'm happy to see that Roku has refreshed its line of small, inexpensive media players.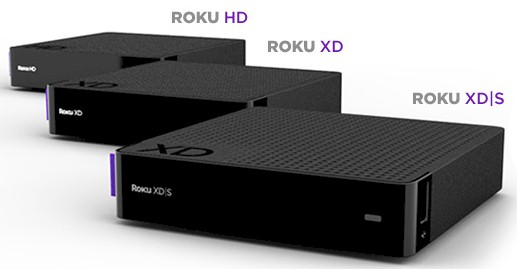 The new boxes are shorter than the old, but a bit wider, but still plenty small at only 5" wide. The table below taken from Roku's site summarizes just about all you need to know about the player differences.
The big draw for the XD and XD|S is supposedly support for 1080p video. But unless you're playing local files or like to watch Vimeo, there isn't any other 1080p content on any of the services that Roku supports. Besides, even with 802.11n, I found wireless 1080p streaming to be less than trouble-free.
Unless you're really on a budget, I'd just spring for the XD|S. It's the only model to support dual-band 802.11n wireless and the only one to have a USB port that will soon (November, if the note on Roku's site is to be believed) support media play from an attached USB flash or hard drive.
Engadget's review XD|S had a private Beta installed of the USB playback capability, which they found a tad buggy and limited to MPEG-4 video, MP3 audio, and JPG and PNG photos.
I put an XD|S on order this morning, which will make us a two Roku household. I suspect that it may soon replace the WD TV Live Plus in Ms. SNB's downstairs lair.
Finally, I thought this ad for the Sony Ericson Xperia X10 was a pretty clever way of getting the phone's differentiating features across. Be sure to watch a few of the other ads in the series. (Disclosure: I am not getting paid to show this ad. I just thought it was clever. And one of the "models" is a friend's daughter!)