The Logitech Squeezebox Radio is a smaller (approx. 5" x 8" x 5"), mono version of the popular Squeezebox Boom with a ¾-inch soft-dome tweeter, 3-inch woofer and built-in amplifier. A 2.4" color LCD, buttons, multifunction knob and volume control knob provide the user interface.
Other features include 3.5mm stereo headphone and line-in jacks, alarm clock, infrared remote control and optional battery pack (rated up to 6 hours).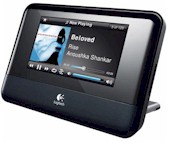 The Squeezebox Touch is a refreshed version of the original Squeezebox with new features and user interface. A 4.3-inch color touch screen provides a new user interface that includes album art and photo display.
A USB port and SD card slot provide easy playing of photos and music directly from attached storage devices.
The SB Touch has stereo analog (RCA), headphone jack, digital optical, and digital coax outputs and supports sampling rates up to 24 bit / 96 kHz. Other features include an optional wall-mount bracket and infrared proximity sensor to detect room activity.
Both players network connect via 10/100 Ethernet or 802.11b/g wireless supporting WEP, WPA, WPA2 and WPS wireless security. MP3, FLAC, WAV, AIFF, WMA, Ogg Vorbis, AAC and Apple Lossless file formats are supported.
The players require either a locally-installed SqueezeCenter server or SqueezeNetwork Internet service to play Internet radio and music services such as Pandora, Last.fm, Napster, Rhapsody and SIRUIUS as well as DRM-free personal collections.
Also supported are music recommendation sharing via Facebook and photo display from Flickr.
The Squeezebox Radio will be available this month for $199.99, with a "limited edition" red model available directly from Logitech and at "select" retailers. The Squeezebox Touch will ship in December for $299.99.
A Squeezebox Radio Accessory Pack (which includes a battery pack and IR remote) will be available in November for $49.99 and the Squeezebox Touch Wall-Mount Bracket will begin shipping in December for $99.99. All prices are U.S. suggested list.