The ITV2000 Internet TV Player has been reborn as the EVA2000 Digital Entertainer Live and now supports additional pay Internet video services.
The compact EVA2000 is operated via a simple IR remote control and connects to TVs and video displays via composite video and HDMI outputs (720p maximum resolution). Network connection is via a 10/100 Ethernet port or optional wireless adapter connected to one of the two USB 2.0 ports.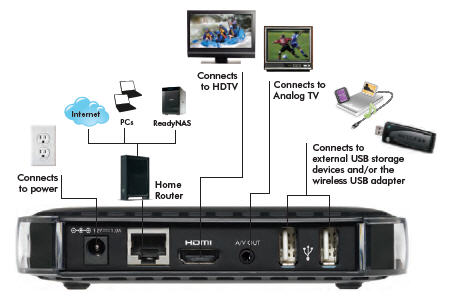 The EVA2000 can play local audio, still image and video files from networked UPnP AV / DLNA servers, Windows Media Player 11 Media Share or from attached USB flash and hard drives (FAT and NTFS formatted).
Supported video codecs are WMV 7/8/9, VC1, VP6, H.263, H.264, MPEG 1/2/4. MP2, MP3, WMA, AAC, WMA Pro, WMA Lossless, WAV, LPCM, Vorbis, AC3, M4A, Dolby Digital audio formats are supported, but only JPG still images can be viewed.
YouTube is the only free Internet video source supported, which can be accessed without the assistance of a networked computer. Other Internet-based content supported include pay-per-view movies from CinemaNow and Internet video, live Internet TV and live Internet radio from VuNow (trial subscription included).
The Digital Entertainer Live also comes with a free trial of PlayOn software, which runs on a networked Windows XP or Vista computer and provides access to Hulu, Netflix, Amazon Video On Demand and other services via the EVA2000.
The EVA2000 is available now for $149.99 MSRP. An optional EVAW111 802.11b/g/draft 802.11n USB wireless is also available for $39.99 MSRP.