Roku upgraded its OS and app and released its first 4K UHD player.
The Roku 4 runs the new Roku OS 7 and is the company's first player to have a quad-core processor, support 4K UHD and sport 802.11ac Wi-Fi.
It also has an optical digital audio and 10/100 Mbps Ethernet ports, IR receiver for compatibility with universal IR-based remotes, microSD card slot and USB port.
The included remote supports voice search, point anywhere use, headphone jack, motion-control for gaming and a speaker for the new Remote Finder feature. Just push a button on the Roku 4 and the remote will beep.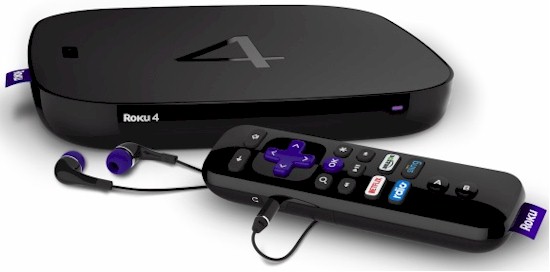 Roku 4 player
The Roku 4 specs 4K support as follows:
Up to 4K UHD (3840 × 2160) on 4K UHD TVs
Up to 1080p HD (1920 x 1080) on HD TVs
Up-scales 720p to 1080p HD on 1080p HD and 4K UHD TVs
Up-scales 1080p HD to 4K UHD on 4K UHD TVs
4K UHD 60 fps HEVC Playback
4K UHD 30 fps VP9 Playback (YouTube)
The Roku 4 can be pre-ordered direct from Roku now at its $129.99 MSRP, with deliveries starting Oct 21.
Roku OS 7 includes a " major" update to the Roku Feed feature. Users can now follow movies, TV shows, actors and directors to receive automatic entertainment updates about pricing and availability. A Hotel and Dorm Connect feature provides quick wireless connectivity in locations that require log-in credentials for network access.
Roku OS 7 will be rolled out to current-generation Roku players and Roku TVs through a software update beginning in mid-October and is expected to be completed in November.
Roku also announced a "major" update to the free Roku Mobile App for iOS and Android that is available now. Improvements include easier access to key features including Roku Search, Roku Feed, Remote Control and Play on Roku.
The app also displays notifications of new updates in the Roku Feed and supports "Pinch to zoom" for photo viewing, casting photos and creating new screen savers.