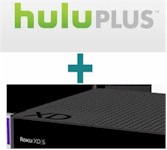 There are multiple reports that Roku's streaming media players could soon be sporting a Hulu channel.
Newteevee's report links to a Hulu partner page (since taken down) that refers to watching Hulu + content.
Dan Rayburn over at streamingmedia.com says he "was able to confirm with two of Hulu's content partners that Roku owners will soon be able to get Hulu content".
His post says he doesn't know whether this will be Hulu or Hulu Plus. But the NewTeeVee post, and common sense, seem to point to Hulu Plus.
More reports with essentially the same info at VentureBeat and CrunchGear.
Roku will only say "no comment" when asked.